It finally happened. The market went through a major move (in February) but the recovery wasn't enough. Sure, there were really good days in March (like the 3rd best single day performance in the Dow in its history) but it wasn't enough to make up with consistent losses or large swings in the other direction. U.S. Stocks and World Stocks recorded back-to-back monthly loses for the first time since Jan. and Feb. of 2016.
What makes this time special? Most commentaries point to President Trump's $50 billion in tariffs on China. We don't have a crystal ball, but in our Managed Futures 2018 Outlook, we did say President Trump's unpredictability always gives the possibility of shaking up the markets and more binary events:
Bottom line, the more ultimatums and deadlines we see out of Mr. Trump, the more binary market movement could become - with prices moving quickly to meet the new reality instead of building into a new reality over time.
Beyond the tweets, a correction was always on the horizon, we just didn't know when. Despite the market being off 10% from its highs, we are sure spending a lot of time talking the S&P 500 being down 99 basis points on the year. Here's our take on an anticipated correction in our 2018 Outlook:
We can get a correction AND the bull market continues. All we're talking about here is a return to some normal level of volatility, which tends to happen after a period of extremely low volatility.
Elsewhere, after years and years sitting at the bottom of the asset class scoreboard, Long Only Commodities hold the top slot, at least for now. Managed Futures licked their wounds in March, only losing 26 basis points in the month following one of its worst months in history. Finally, the ETF tracking Hedge Funds managed to stay above water in Q1, outperforming equities (or losing less) when it needed to and it's important to point out, this is just an ETF tracking hedge funds.
If you're reading this and wondering how to find true diversification in Managed Futures/Global Macro, we'll offer you this advice from our Outlook:
Beware the managed futures programs who have 'cheated' a little over the past few years to get additional return by adding short vol exposure to their models. They've been smarter than their peers for doing so the past few years, but may underperform should we see a more normal vol pattern. Of course, if they're really, really smart -they'll know when to turn off that model feature just as they knew when to turn it on.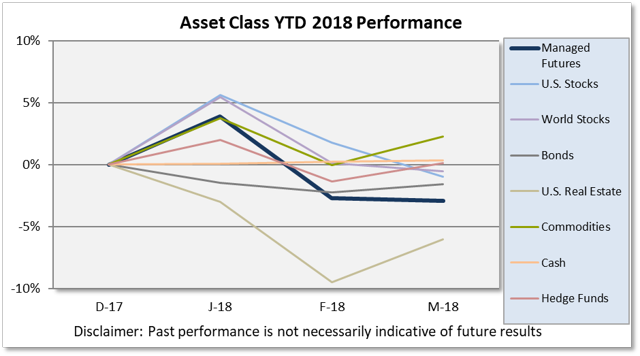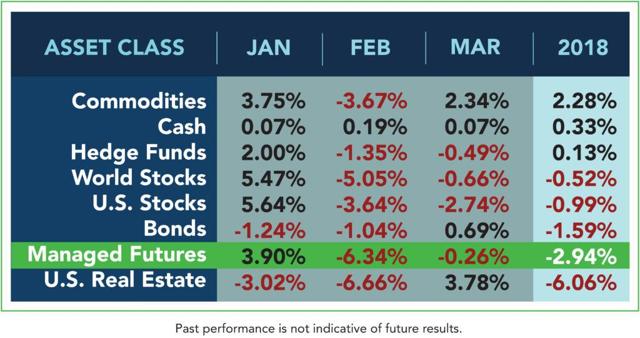 Source: All ETF performance data from Morningstar.com
Sources: Managed Futures = SocGen CTA Index, Cash = 13 week T-Bill rate,
Bonds = Vanguard Total Bond Market ETF (BND),
Hedge Funds= IQ Hedge Multi-Strategy (QAI)
Commodities = iShares GSCI ETF (GSG);
Real Estate = iShares DJ Real Estate ETF (IYR);
World Stocks = iShares MSCI ACWI ex US Index Fund ETF (ACWX);
US Stocks = SPDR S&P 500 ETF (SPY)
Disclaimer
The performance data displayed herein is compiled from various sources, including BarclayHedge, RCM's own estimates of performance based on account managed by advisors on its books, and reports directly from the advisors. These performance figures should not be relied on independent of the individual advisor's disclosure document, which has important information regarding the method of calculation used, whether or not the performance includes proprietary results, and other important footnotes on the advisor's track record.
Benchmark index performance is for the constituents of that index only, and does not represent the entire universe of possible investments within that asset class. And further, that there can be limitations and biases to indices such as survivorship, self-reporting, and instant history.
Managed futures accounts can subject to substantial charges for management and advisory fees. The numbers within this website include all such fees, but it may be necessary for those accounts that are subject to these charges to make substantial trading profits in the future to avoid depletion or exhaustion of their assets.
Investors interested in investing with a managed futures program (excepting those programs which are offered exclusively to qualified eligible persons as that term is defined by CFTC regulation 4.7) will be required to receive and sign off on a disclosure document in compliance with certain CFT rules The disclosure documents contain a complete description of the principal risk factors and each fee to be charged to your account by the CTA, as well as the composite performance of accounts under the CTA's management over at least the most recent five years. Investors interested in investing in any of the programs on this website are urged to carefully read these disclosure documents, including, but not limited to the performance information, before investing in any such programs.
Those investors who are qualified eligible persons as that term is defined by CFTC regulation 4.7 and interested in investing in a program exempt from having to provide a disclosure document and considered by the regulations to be sophisticated enough to understand the risks and be able to interpret the accuracy and completeness of any performance information on their own.
RCM receives a portion of the commodity brokerage commissions you pay in connection with your futures trading and/or a portion of the interest income (if any) earned on an account's assets. The listed manager may also pay RCM a portion of the fees they receive from accounts introduced to them by RCM.
See the full terms of use and risk disclaimer here.