Draw a circle around the businesses you understand… – Warren Buffett (Forbes, 1974)
This is good advice. Invest in what you know. Never invest in a business you cannot understand. You may miss out on a few opportunities, but you will also miss out on the inexplicable crashes. This is one of the reasons why I don't invest in certain digital assets.
But there is a mile of difference between what we currently don't understand and what we are unwilling to learn about. I feel that this is perhaps the biggest investment trap waiting to snag new and old investors alike.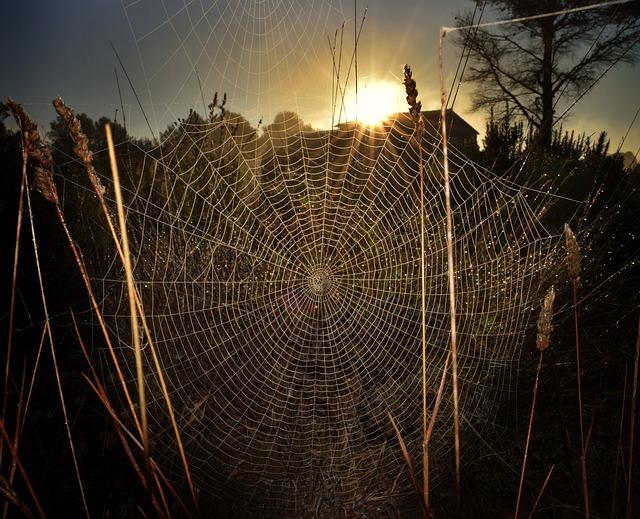 For example, which of these 5 companies do you think will make the best 10-year investment?
Many people would look at the list and see one or maybe two names that they recognize and limit their selection to those. But is this really what Warren Buffett was talking about? Focus only on giant-sized stocks because they are likely the only ones you have heard about up until now? Look at another quote of Buffett.
If I was running $1 million today, or $10 million for that matter, I'd be fully invested. Anyone who says that size does not hurt investment performance is selling. The highest rates of return I've ever achieved were in the 1950s. I killed the Dow. You ought to see the numbers. But I was investing peanuts then. It's a huge structural advantage not to have a lot of money. I think I could make you 50% a year on $1 million. No, I know I could. I guarantee that. – Warren Buffett (BusinessWeek, 1999)
Does it seem like Warren Buffett thinks the most money can be made doing exactly what he is doing today? Not at all. He has the burden of investing a ridiculous amount of money and trying to get above average returns on it. It is not worth his time to play with micro- and small-cap companies where big opportunities still exist.
But how important is the size factor? Is it as simple as buying a big basket of tiny stocks and holding for the next 10 to 20 years?
Is Size The Single Factor Secret To Outperformance?
Let's run some tests to see the link between size and returns with dividend growth stocks. We want to see if there is more long-term potential in smaller stocks than in large stocks on average.
This dividend growth size test will be split into two parts.
Annual factor backtest
100-stock buy and hold portfolio with 10-year rolling periods
Our universe of stocks will include all dividend growth stocks, which have a minimum of 5 years of consecutive annual dividend increases. I will exclude ADRs and OTC stocks. Furthermore, I will require that the indicated annual dividend is greater than what it was 52 weeks ago.
The 10 equal-weight portfolios will be re-balanced and re-constituted annually. All investable stocks are equally divided between the 10 portfolios based on their relative size to one another. The test will run from 1999 until today.
1999-2018 Size Premium Dividend Growth Stocks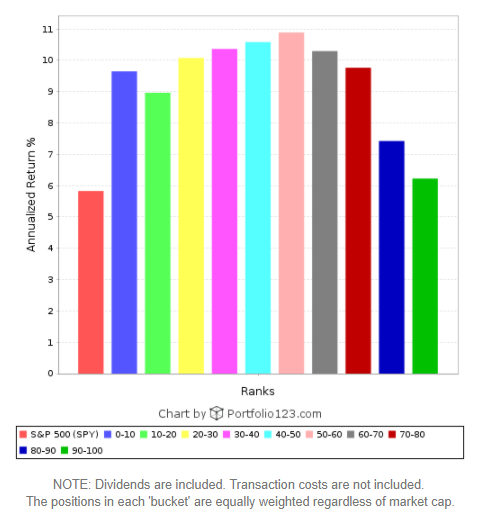 A quick observation is a portfolio of dividend growth stocks based on any cap-range (with annual re-balancing where the positions are held equal-weight) seems to beat the cap-weighted S&P 500 (SPY) over this period of time.
The first red bar represents the average annual return of the SPY between 1999 and today, which is 5.8%.
The next blue bar represents the smallest 10% of dividend growth stocks with an average annual return of 9.6%. Think NACCO Industries (NC) and Flexsteel Industries (FLXS).
As a general comment, we can say that the very largest dividend growth stocks underperform their dividend growth peers when re-forming our equal-weight portfolio annually. But what about a portfolio where we buy and hold over a 10-year horizon? Will the size premium dry up?
10-Year Rolling Period Test - 100 Smaller DG Stocks
For this next test, I form a new portfolio every month, which contain 100 dividend growth stocks. I will then hold the portfolio for 10 years. Stocks are only removed and replaced if they fail to increase their dividend annually. Furthermore, stocks can be added to the portfolio when dividends pile up enough to warrant a new holding. The 100-stock portfolio might end up being a 110-stock portfolio in 10 years.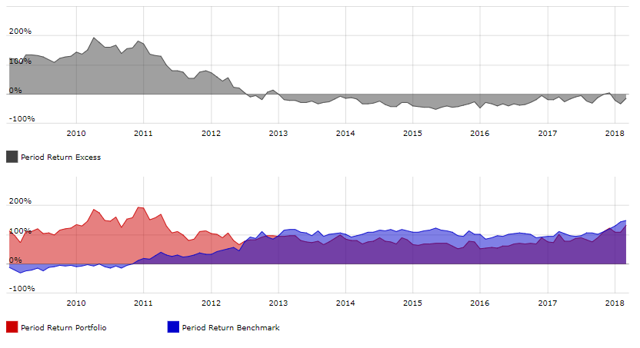 How do we read this chart?
Look at the top gray portion first, which represents 10-year excess returns between our portfolio and the S&P 500. For instance, in 2010, we see the gray line at 130%. This means that if you formed our small-cap dividend growth portfolio in 2000 and held until 2010, you would have 130% more returns than if you held the SPY.
The bottom portion shows the 10-year period rolling returns of our portfolio and the SPY. While the upper part of the chart tells us the relative difference between the two portfolios, the bottom portion tells us the absolute 10-year returns of our portfolio vs. the benchmark. The red line is our portfolio and the blue is the benchmark.
Well this paints a much different picture – does it not? The 10-year buy and hold dividend growth size premium is strong for investors, which formed their portfolios between 1999 and 2003. But any dividend growth portfolio formed after 2003 and held past 2013 did not result in total return outperformance when compared against the S&P 500.
10-Year Rolling Period Test - 100 Largest DG Stocks
But to have a fair comparison of apples to apples, we next need to form a portfolio of the 100 largest stocks followed by a 10-year holding period.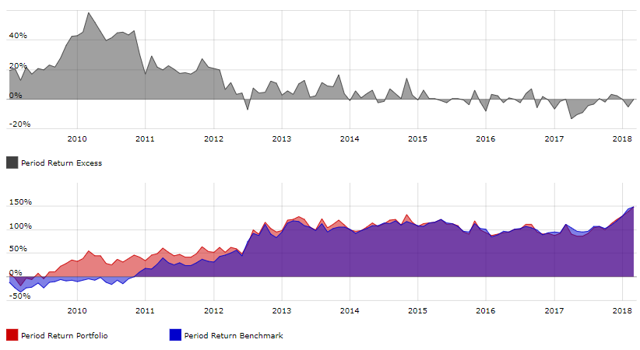 While there is modest outperformance for portfolios formed between 1999 and 2003, the 10-year rolling period results after this are inline with the S&P 500.
Now this next chart is going to be a jab at cap-weighted ETFs. If we take this a step further and cap-weight a portfolio with the 25 largest dividend growth stocks, what will be the 10-year period rolling results?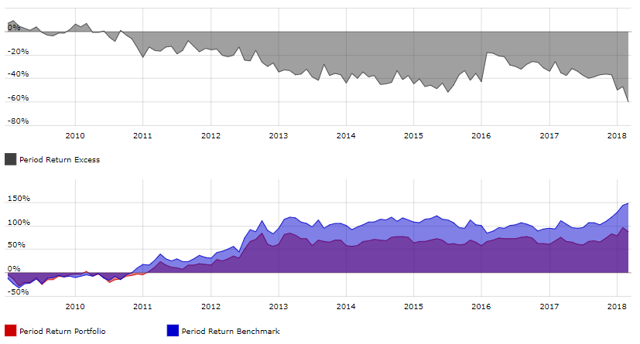 The more we tilt towards size, the worse our 10-year rolling period returns become. If you were forming this super-sized portfolio today, you would be cap-weighting names from a list of stocks such as this.
| | |
| --- | --- |
| Apple Inc. | (AAPL) |
| Microsoft Corp. | |
| JPMorgan Chase & Co. | (JPM) |
| Johnson & Johnson | (JNJ) |
| ExxonMobil Corp. | (XOM) |
| Wells Fargo & Co. | (WFC) |
| Visa Inc. | (V) |
| Walmart Inc. | (WMT) |
| AT&T Inc. | (T) |
| Pfizer Inc. | (PFE) |
| Cisco Systems Inc. | |
| UnitedHealth Group Inc. | (UNH) |
| Boeing Company | (BA) |
| Home Depot Inc. | (HD) |
| Chevron Corp. | (CVX) |
| Oracle Corp. | |
| Procter & Gamble Co. | (PG) |
| Verizon Communications | (VZ) |
| AbbVie Inc. | |
| Coca-Cola Company | (KO) |
| Mastercard Inc. | (MA) |
| Comcast Corp. | |
| Philip Morris International | (PM) |
| PepsiCo Inc. | (PEP) |
| Walt Disney Company | (DIS) |
Closing Thoughts
Underperforming the market is quite easy. Outperforming is exceedingly more difficult.
There appears to be more opportunities to outperform the market in under-followed stocks. So while you should stick with what you know, you should be willing to learn and investigate firms that you are currently unfamiliar with. But just because you invest in smaller-sized firms, this is not an ironclad guarantee for increased returns.
Some people might gravitate towards larger companies because they believe that a massive firm is better able to weather an economic storm. Or they may be concerned about liquidity. For the first point, a well-diversified portfolio of small to mid-sized stocks should remove much of that risk. And the potential for outperformance in smaller names can provide ballast to the one or two firms, which do fall harder than usual in troubled markets.
Going for the largest possible firms gives up a lot of portfolio potential for a doomsday scenario that has never happened and likely never will. And as for liquidity, how much of that do you need if you are a buy and hold investor? You have the advantage of adding slowly over time, which gives you the ability to accumulate stocks of low liquidity without undue slippage.
My advice to you? Follow authors who write about lesser known names in the dividend growth universe. But that's just a start. Brush up on your Buffett-isms and really analyze these companies to find a competitive advantage and good value. Find a wonderful company that others are not talking about because it is below their radar. Following the large-cap herd can be dangerous. These large-cap firms have more coverage and articles written about them because more people will read them – not because they are necessarily better stocks to buy.
Disclosure: I/we have no positions in any stocks mentioned, and no plans to initiate any positions within the next 72 hours. I wrote this article myself, and it expresses my own opinions. I am not receiving compensation for it (other than from Seeking Alpha). I have no business relationship with any company whose stock is mentioned in this article.
Editor's Note: This article covers one or more microcap stocks. Please be aware of the risks associated with these stocks.