China's Ambassador Strikes Back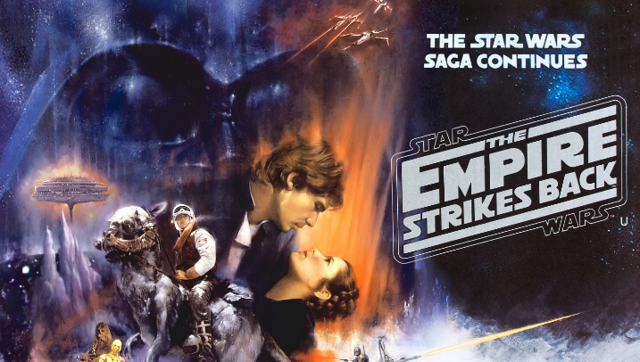 Trade war fears continue to predominate in the background. Monday's intraday plunge of 758 points in the Dow Jones Industrial Average (DIA) was a testament to that sentiment. Following President Trump's imposition of tariffs on steel and aluminum last week, he followed through with specific tariffs targeted at China. He imposed additional tariffs on $60 billion of Chinese exports to the U.S.
The Chinese responded with tariffs on $3 billion of U.S. exports to China, mostly focused on agricultural products, many of which are produced by the farmers in the very states that voted heavily for the president.
The tit for tat in these opening salvos to what may develop into a full-fledged trade war intensified as the Chinese ambassador to the United States warned that China would respond in kind if the U.S. administration tacked on any further tariffs.
Mr. Trump responded by reiterating his campaign rhetoric and distaste for China stealing technology and intellectual property from us. He went on to warn China that this week or next week he'd consider slapping additional tariffs on Chinese high-tech products like semiconductors as well as cheap electronics and other technology goods that Americans buy in large quantities.
Restrictions on Chinese investment are expected to follow in the coming weeks. Administration officials have said those rules will aim to restore reciprocity with the Chinese, though it is not clear if the United States will go so far as to bar Chinese companies from investing in the same industries that China restricts. The White House is also considering the use of an emergency economy powers act that could allow it to restrict Chinese investments.

Source: The New York Times
These continuing pot shots are beginning to scare the heck out of traders on Wall Street. The markets abhor uncertainty, and the president is stirring up large doses of it on a daily basis now.
Trump Sending Troops To The Mexican Border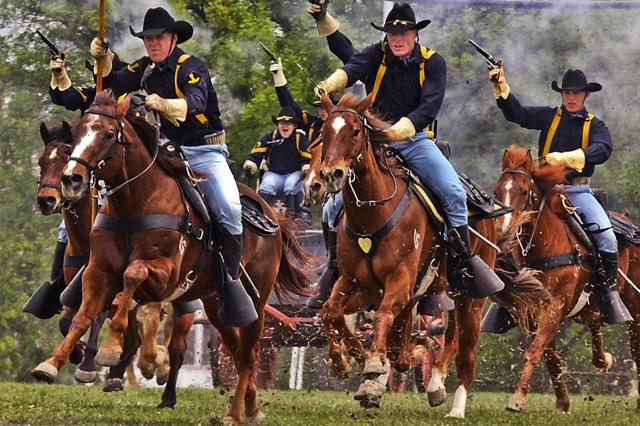 Adding to a growing list of geopolitical turmoil, the president announced in a tweet Tuesday that he was sending troops to "guard our border" with Mexico. He decried a "caravan" of about 1200 Central Americans headed towards Mexico with the ultimate goal of asking for asylum from the U.S. to enter the country. The president wasn't having any of this and blamed the Mexican government for not stopping the caravan. The Mexican president shot back that it wasn't Mexico's responsibility to enforce American immigration policy. The administration's picking of fights with adversaries as well as allies isn't giving much comfort to investors these days.
He Did It Again
Though economists try to correct the president's assertion that Amazon (AMZN) is not paying its fair share for the postal services it uses to deliver product to consumers, the president is having none of it. On Tuesday morning he tweeted: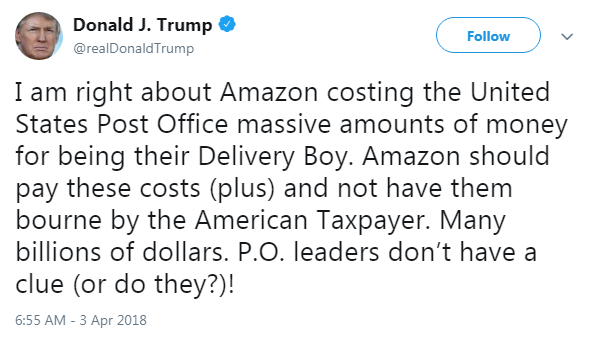 In fact, Amazon pays a standard bulk rate on all of its package shipments, the same as all bulk, e-commerce shippers. There has been no favoritism given to the company.

Amazon employs 500,000 people in the U.S. alone, compared to the federal government that employs about 1.7 million. So, this attack on Amazon could ultimately have an outsize, negative impact on a workforce that is about 30% the size of all federal workers. At a time when unemployment is at its lowest level of the past 45 years and the economy is humming, this would appear to be an irrational attack on the most successful company in the U.S. over the last 20 years.
At 9:54 a.m. on Tuesday, Amazon's stock was up 1.4%. A minute later, President Trump tweeted his latest attack on Amazon, arguing that it should pay "many billions of dollars" more to the US Postal Service.
Eleven minutes later, Amazon's stock had fallen into the red — and so had the Nasdaq. Amazon was down more than $16 per share, or over 1%, yet again.
Amazon's stock has dropped 8% and the company has lost nearly $60 billion in market value since Axios first reported last week that Trump wants to "go after" the company.
Trump has tweeted about Amazon five times since Thursday. He says the company takes advantage of the post office and does not pay its fair share of tax. In fact, as discussed earlier, Amazon pays the same lower rate that the post office charges other bulk shippers, and it collects sales tax in every state that charges it.
Amazon is the fourth largest company in America by market cap value. It is also one of the most widely held stocks. The presidential attack has dragged the broader stock market down along with the company. The Nasdaq has fallen 2% since Trump reinitiated his attacks on Amazon.
Trump hasn't taken action, yet, against Amazon. His actions have been confined to tweets. But investors' fears are intensifying. Will the president back up his anti-Amazon tweets with regulatory muscle and constrain the company's business model?
Vanity Fair reported late Monday that advisers are piling on and encouraging Trump to cancel Amazon's multi-billion-dollar cloud computing contract with the Defense Department. He could also ask Republican state attorneys general to open antitrust investigations into Amazon, but an antitrust case against Amazon wouldn't be easy: It's difficult to prove consumer harm when Amazon wins by lowering its prices. And consumers (voters) would be the ultimate losers if particularly tight regulatory constraints were imposed on the company.
It is obvious that Trump's tweets are worrying Amazon shareholders and more broadly, Wall Street investors. The president has already succeeded in hurting Amazon and its shareholders as the stock price is now off more than 16% from its 52-week highs. The rest of the stock market is suffering collateral damage.
The Amazon Brick And Mortar Reflex
Investors abandoning the Amazon trade had a reflexive reaction of their own. If Amazon were on the precipice of suffering possible regulatory measures that would constrain their business, this could have an out-size positive impact on the very brick and mortar stores that have found themselves in investor disfavor for many months. And this, by extension, could have a revenue enhancing affect on the brick and mortar retailers' landlords. Anything that can bolster their position at this point would restore investor confidence that their REIT landlords will be able to not only sustain, but grow their free cash flow and dividend stream to investors.
Two retail REITs, in particular, responded quite favorably to Amazon's woes. Kimco Realty (KIM), a constituent of the Fill-The-Gap Portfolio, and Tanger Factory Outlet (SKT), a part of the RODAT Subscriber Portfolio, both soared and outperformed the broad S&P 500 Index (SPY) by a factor of two.
Towards the close on Tuesday, KIM was up 2.60% while SKT was up an even stronger 2.80%. The S&P 500 was up only 1.30% at the time of this writing.
The Case For Investment In Tanger Outlets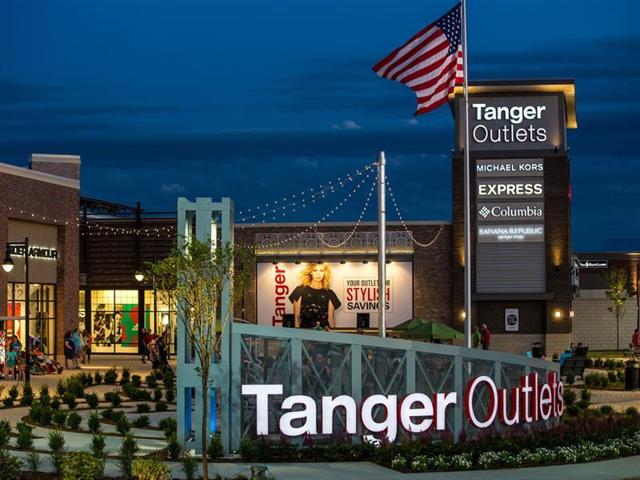 As the economy continues to strengthen, the labor market is beginning to tighten. The lowest unemployment rate in 45 years is reflected anecdotally in a state like Iowa, which has 350,000 more job openings than people to fill them. The same situation throughout most of the country puts upward pressure on wages. Employers feel the need to raise wages in order to attract and retain employees. Higher wages free up more funds for consumers to spend at the large variety of stores that Tanger leases to.
Geographic Diversity
Diversity of locations throughout the U.S. is very wide.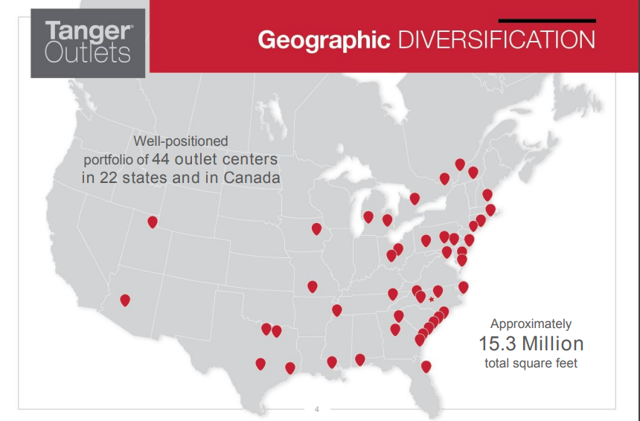 Organic growth is strong.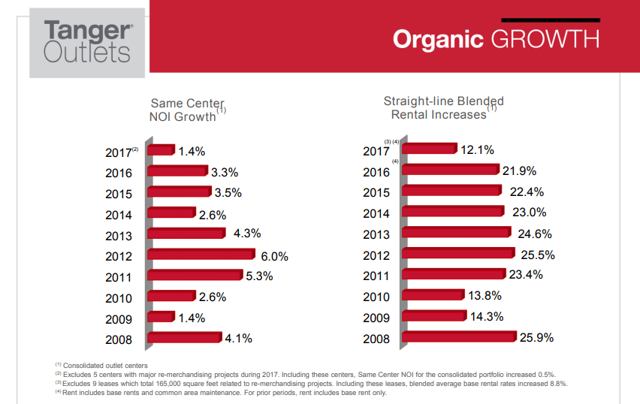 The company's balance sheet is stellar.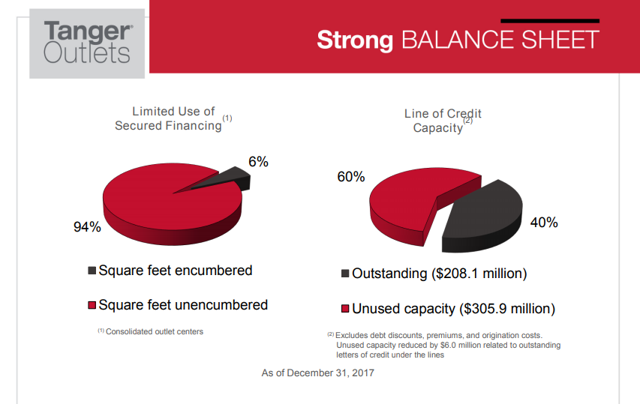 Its credit rating is a strong BBB+ with a stable outlook and interest coverage is more than 5X.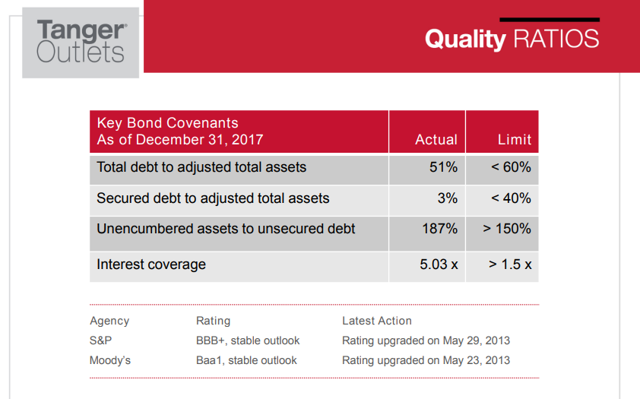 Income investors will be pleased to note a steadily climbing dividend, with a CAGR of 13% over the past three years.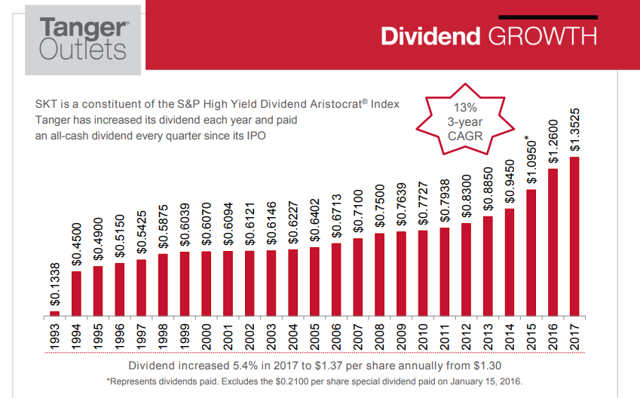 Earnings are estimated to grow almost 48% in 2018.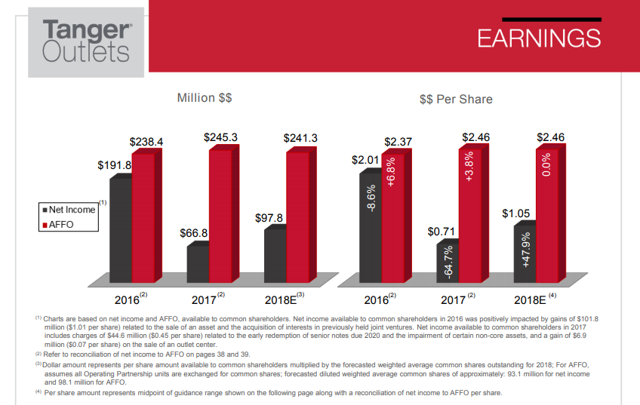 Occupancy at the end of 2017 was at 97% and has always exceeded 95%.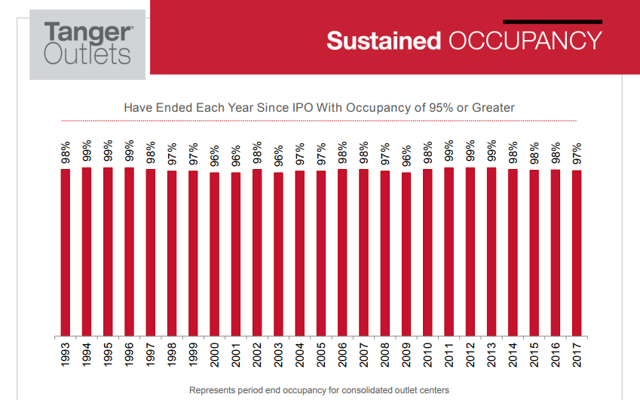 Tanger has exceeded total return of the US SNL REIT Retail Index over the past ten years.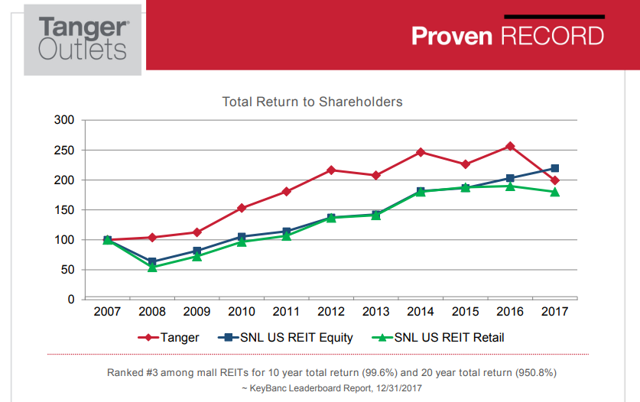 Tanger Outlets feature a strong, diversified tenant mix. The majority of their tenants are publicly traded companies with high credit quality and very recognizable brands.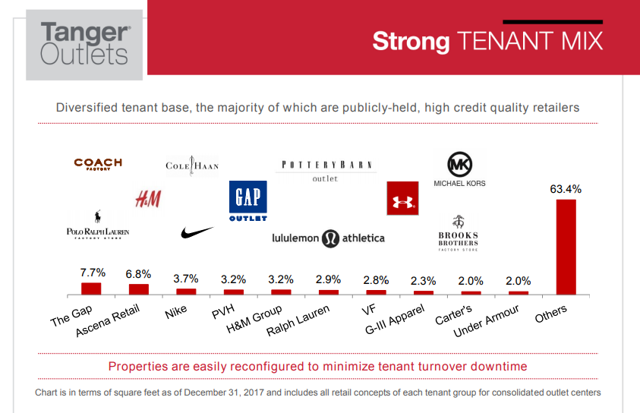 Slide deck source: Investor presentation
The Fill-The-Gap Portfolio
The FTG Portfolio contains a good helping of dividend growth stocks, like Kimco Realty and Tanger Outlets, which can be found in our subscriber portfolio. It was built with the express purpose of benefiting from this defensive strategy.
Three years ago, on December 24, 2014, I began writing a series of articles to demonstrate the real-life construction and management of a portfolio dedicated to growing income to close a yawning gap that so many millions of seniors and near-retirees face today between their Social Security benefit and retirement expenses.
The beginning article was entitled "This Is Not Your Father's Retirement Plan." This project began with $411,600 in capital that was deployed in such a way that each of the portfolio constituents yielded approximately equal amounts of yearly income.
The FTG Portfolio Constituents
Constructed beginning on 12/24/14, this portfolio now consists of 22 companies, including AT&T Inc. (T), Altria Group, Inc. (MO), Consolidated Edison, Inc. (ED), Verizon Communications (NYSE:VZ), CenturyLink, Inc. (NYSE:CTL), Main Street Capital (MAIN), Ares Capital (ARCC), British American Tobacco (BTI), Vector Group Ltd. (VGR), EPR Properties (EPR), Realty Income Corporation (O), Sun Communities, Inc. (SUI), Omega Healthcare Investors (OHI), W.P. Carey, Inc. (WPC), Government Properties Income Trust (GOV-OLD), The GEO Group (GEO), The RMR Group (RMR), Southern Company (SO), Chatham Lodging Trust (CLDT),Iron Mountain, Inc. (IRM) and Roku, Inc. (ROKU).
Though the market bounced higher on Tuesday as investors once again bought the dip from the previous day, readers need to keep in mind the capriciousness of everyday pricing in the markets.
Dividend growth investors are reminded that we are basically insulated from the fears that constantly weigh on price-focused investors, especially during scary corrections we are currently experiencing, or bear markets.
Fill-The-Gap Portfolio Close, April 3, 2018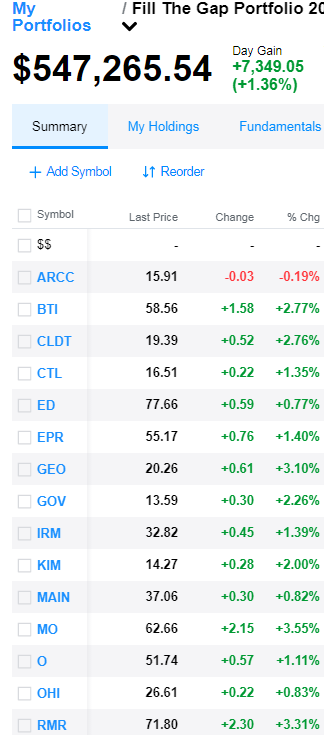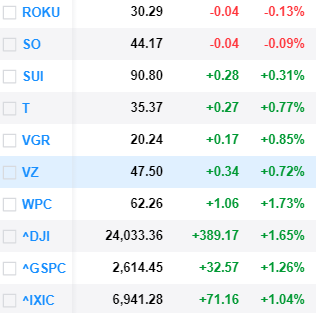 Readers are encouraged to look at the following table any time their stock market nerve is being tested by volatility. We have enjoyed nine very recent dividend raises in the FTG Portfolio.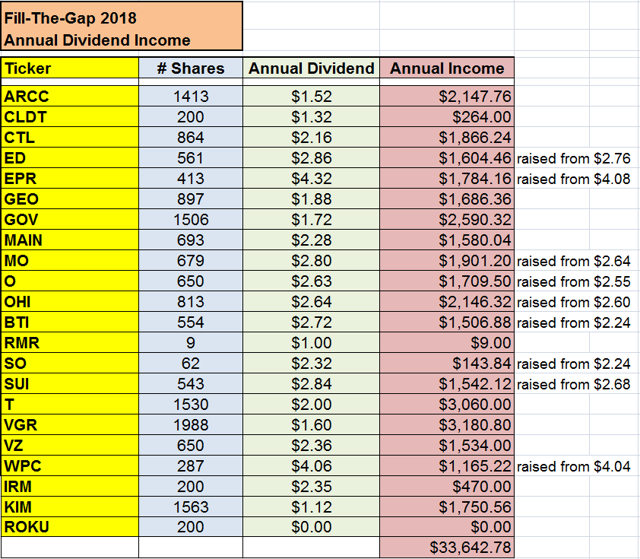 table credit: the author
Your Takeaway
Geopolitical risks are very real and varied. However, they need not scare long-term investors out of their positions if they are high quality stocks. If they also have long, dependable histories of paying higher dividends each year, better yet.
Current Tanger buyers will receive an annual dividend of $1.37 and a yield of 6.08% versus its 4 year average dividend yield of just 3.6%. Buyers at these levels can grab 69% more yield and income compared to the average yield point.
If your aim is to retire sooner with higher income, buy 'em when they're down and their yield is up. Who couldn't use a 69% raise today?
In these times of extreme fear, you may even outperform the markets as readers who mirror our portfolio have while investors seek safe haven in government bonds and the type of dividend stocks we've bought and continue to hold for income.
Your Engagement Is Appreciated
As always, I look forward to your comments, discussion and questions. Are geopolitical issues keeping you awake at night? Or do you ignore the implications and sleep well at night? Do you search for companies that profit from other companies' misery? Please let me know in the comment section how you approach these situations in your own portfolio and how you arrive at your decisions.
Author's note: Should you be interested in reading any of my other articles detailing various strategies to enhance your returns on a dividend growth portfolio, you will find them here.
If you'd like to receive immediate notifications as soon as I write new content, simply click the "Follow" button at the top of this article next to my picture or at the bottom of the article, then click "Get email alerts."
Disclaimer: This article is intended to provide information to interested parties. As I have no knowledge of individual investor circumstances, goals and/or portfolio concentration or diversification, readers are expected to complete their own due diligence before purchasing any stocks mentioned or recommended.
Thanks for reading. Interested in more dividend strategies and ideas?
I run Retire 1 Dividend At A Time to help investors stay focused on their portfolio income and long-term goals.
My promise to you: With every exclusive article, email, instant-text and chat, I'll help guide you to:
Increased income for retirement, one dividend at-a-time.
Under-valued stocks for a greater margin of error and higher capital appreciation.
Methods to safely diversify your portfolio.
Strategies to build, grow and protect your income for retirement.
Join today with a two-week free trial to get started on the next step of your investing journey!
Disclosure: I am/we are long ALL FILL-THE-GAP STOCKS. I wrote this article myself, and it expresses my own opinions. I am not receiving compensation for it (other than from Seeking Alpha). I have no business relationship with any company whose stock is mentioned in this article.