Note: This is a short summary of an article originally published March 9th on Value Investor's Edge. For access to the full article which contains further information on trade flow shifts, new refinery capacity, arbitrage opportunities, and global product stockpiles, please click here.
Product Tankers
Product tankers provide the marine transportation of the refined products such as bitumen, fuel oil, cycle oils, edible oils, diesel/gasoil, kerosene, gasoline, clean condensates, and naphtha, among other substances.
They have coated tanks, typically epoxy, making them easy to clean and preventing cargo contamination and hull corrosion, though they must be cleaned as different cargoes are introduced.
Companies engaged in this sector include, but are not limited to, Scorpio Tankers (NYSE:STNG), Teekay Tankers (NYSE:TNK), Tsakos Energy Navigation (NYSE:TNP), Ardmore Shipping (NYSE:ASC), Navios Maritime Acquisition (NYSE:NNA), Pyxis Tankers (NASDAQ:PXS), International Seaways (NYSE:INSW), and Capital Product Partners (NASDAQ:CPLP).
Background
Rates have seen a precipitous decline since the second half of 2015 and currently remain low.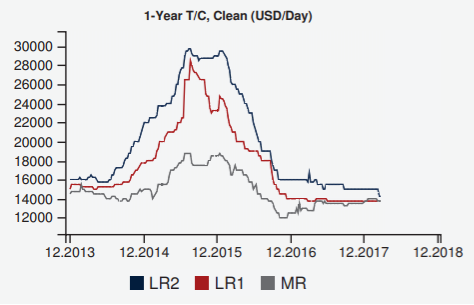 Source: Fearnleys
A major part in creating this low rate environment can be traced to large amounts of new tonnage hitting the water, which has outpaced demand growth, resulting in a supply-side-driven market disequilibrium. In this summary, we will take a brief look at where we are in the current cycle while utilizing a previous cycle as a guide. We will also examine the demand side outlook for various classes.
But other factors over the past couple years weighed on the market, including high product inventory levels, crude oil backwardation, a lack of arbitrage plays, relatively small new refinery capacity additions in 2016-2017, and China curtailing product export quotas in 2017. Those issues are discussed in the full version available to Value Investor's Edge subscribers.
Vessel Supply
First, let's take a quick review of how vessel supply impacts rates by looking at MR2 deliveries over the past years. Once again, take a quick look at the rate chart above and notice the trough to peak to trough action. What that chart doesn't show is that low rates existed for a few years prior to 2013, with the collapse starting back in 2009. The main contributor to this cycle was newbuilds hitting the water. Yes, there were other factors, but they played a minor role so for now let's focus on deliveries.
Below is the delivery schedule for the MR2 (41,000-54,999 dwt) fleet.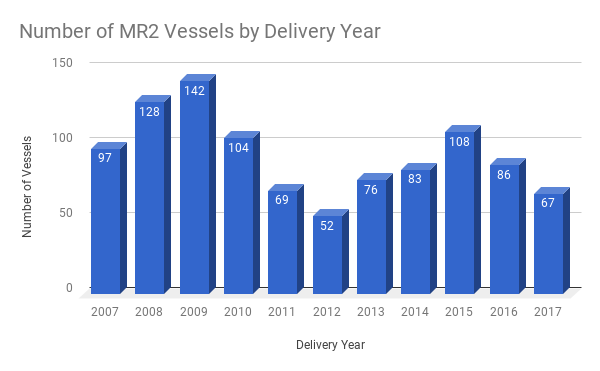 Source: Data Courtesy of VesselsValue - Chart by Author
A couple things to note about these charts:
First is the lag between deliveries and rates. As deliveries slowed, the market needed time to digest the tonnage before we saw a rebound in charter rates. Additionally, as deliveries started up again, it took a couple years before the growing disequilibrium resulted in lower rates. This lag effect is important when trying to determine future outlooks. On that note, 2017 was the first year where we saw a reasonable level of deliveries when compared to overall demand growth. In fact, net fleet growth came in at around 3.6%, after taking into account demolitions, which was a major contributor to market stabilization.
Second, the degree of this latest oversupply cycle is smaller in terms of overall vessel numbers compared to the last one. Additionally, we must take into consideration that the global fleet has grown since the previous cycle and demand for product tankers increased over that time as well. This means that the latest oversupply cycle is not only smaller in terms of absolute numbers but even smaller in magnitude relatively speaking.
Striking A Balance
Before we get to hard delivery numbers, it's important to have some sort of context to weigh the incoming vessel supply against. First, let's look at historical demand increases for the entire segment.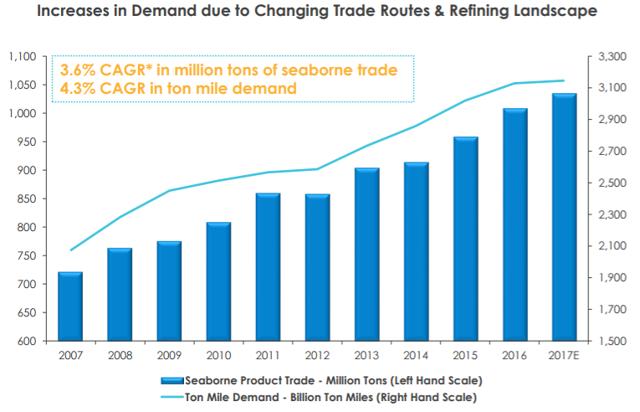 Source: Pyxis Tankers
Over the past ten years, volumes have seen a 3.6% CAGR while ton mile demand has experienced a 4.3% CAGR. Ton miles traveled is the most important factor in determining demand for product tankers.
For 2018, ton mile demand predictions for the LR class seem to have a strong consensus with gains averaging around 3.5 to 4.5%. For example, over the course of 2018, McQuilling expects LR2's to see an increase of 3.8% and LR1's a 4.4% gain in terms of ton mile demand.
But estimates for the MR class are all over the map. In that same report out of McQuilling, they expect MR2's to see a 1.2% gain while MR1's will see a decline of -4.9%. However, Ardmore believes that MR tonne mile demand growth will be in the 4-5% range over 2018. Now, that's quite a gap that is hard to reconcile. Of course, McQuilling is independent while Ardmore could be talking their book. But I think the truth lies somewhere in between.
So here are some thoughts regarding the MR1's. These vessels participate heavily in the intra-Indonesian trade, intra-China trade, as well as exports out of Russia and the USA. All of these routes with the exception of intra-China, which has been flat in recent years, have seen consistent increases in ton mile demand over the past years. Going a step further, there has been quite a bit of new refining capacity that has come online recently or is projected to come online this year in China which should contribute to demand for these vessels. Furthermore, export quotas for Chinese product have been relaxed this year following a very strict 2017.
Personally, I would be kind of surprised to see a decline of this magnitude that McQuilling is forecasting. But given the short haul nature of this fleet, it will be tough to produce major ton mile gains. Over the past couple years, ton mile growth for this class has been relatively flat and I expect we will likely see a continuation of that trend to possibly a 1% gain.
MR2's find a lot of their employment from US exports and this has been a very strong area of growth lately. VesselsValue reports:
US exports now account for about 25% of global ton mile demand for MR tankers. A look at VV trade data shows that ton mile demand for MR tankers is increasing, which in turn has supported returns in an otherwise brutal market environment for owners. US crude oil production has allowed US refiners cheap access to crude oil, which has encouraged higher throughputs over the past several years. The discount for US domestic crude is constantly in flux, but the trend of rising production should structurally support full utilisation of most US based refineries. With US demand for products rising only modestly, most of these additional barrels are exported, which benefits clean product tankers.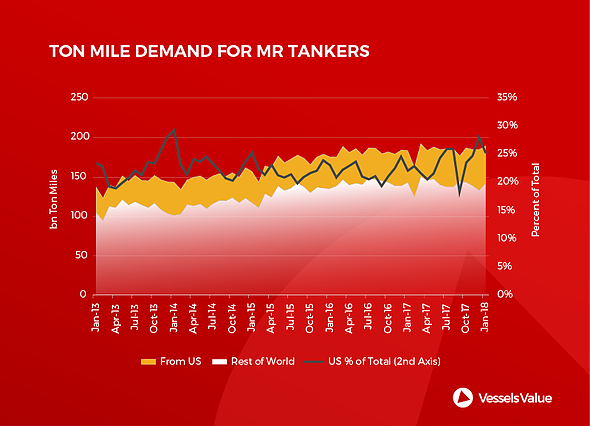 Source: VesselsValue
Long story short, it's entirely possible that McQuilling's estimates for 2018 may be a bit too conservative on the MR front and Ardmore's far too aggressive even with the ton mile gains described by VesselsValue. Perhaps a 3% growth estimate is appropriate here given past year-over-year increases coupled with a slight expected increase.
Fleet Growth
Measuring net fleet growth against possible ton mile demand gains, or declines, should provide some insight into charter rates. Net fleet growth involves making some assumptions such as slippage and demolitions.
The MR1 fleet has just eight vessels projected for delivery in 2018 which leads to about 1.35% gross fleet growth. But it's likely a couple of these won't be delivered. Given that there are 36 vessels on the water that are 25 years old or older, this leaves quite a bit of room for demolitions which means net fleet growth to actually be negative if we get more than six demos. Already this year we have seen four demos in this class. Demos outpacing deliveries would be the best case scenario as we assume that ton mile demand growth will be flat or barely positive. Therefore, prospects for this class will be largely determined by how many vessels are scrapped.
The MR2 fleet has quite a few deliveries scheduled for 2018, a total of 73 coming out to just under 4.9% gross vessel growth. However, slippage will likely be high in this category, coming in at around 30%, bringing deliveries down to 51 vessels. With just 29 vessels age 25 or older, there isn't quite as much potential for scrapping, but there has been a lot of activity lately. Since the start of 2018, there have already been seven demolitions in the MR2 class and in the back half of 2017 there were 12. Let's suppose that we do end up with 20 demolitions for this class over 2018, which seems possible given the current environment. This would bring net fleet growth down to 31 vessels or just 2%. If that 3% ton mile growth does materialize and this supply side forecast comes to fruition, it would mean demand outpaces supply by approximately 1%. Not a huge deal, but a step in the right direction.
The LR1 class is expecting 20 deliveries in 2018 leading to gross fleet growth of about 5.7%. Let's suppose there is 25% slippage which means 5 of these will be delayed. But demo prospects are thin with just four vessels on the water built before 2000 and only one has been sent to the scrapyard so far in 2018. In fact, since the beginning of 2015, only five demos have taken place in this class. So let's be optimistic and say we get three total this year. This would put net fleet growth at around 3.4%. So if McQuilling's forecast is correct, we should see demand outpace supply by approximately 1%.
Finally, the LR2 class is looking at 23 total deliveries over 2018 representing 6.7% gross fleet growth. Let's assume slippage of seven vessels. Furthermore, with 18 vessels 20 years or older and five of those being 25 years and older, it's likely we could end up with last years demo total of six vessels. If this happens, we would see net fleet growth of just 10 vessels representing 2.9%. Therefore, if that 3.8% ton mile demand growth materializes, this would mean demand outpaces supply by just under 1%.
There are a lot of assumptions in this forecast, as with any projection. But given historical data and some conservative estimates based on the current situation, it appears likely that the product tanker segment is entering a re-balancing phase, although progress will be very slow with a percentage or fraction thereof contributing to this recovery.
Now, as noted, my predictions are a bit conservative compared to many others. For example, Capital Product Partners projects that product tanker demand will grow by 3.8% in 2018, exceeding supply growth of 1.6%. Navios projects approximately 2.2% net fleet growth in 2018 which would still be the lowest since 2013. Finally, TORM estimates that during 2018-2020, the product tanker ton-mile demand is estimated to grow by a compound annual rate of approximately 5% with an estimated net growth in tonnage supply of approximately 4%.
Conclusion
When markets shift gears, the first stage of that transition is stabilization. Right now the product tanker market appears to be in that stage. Over the past year, MR rates have remained in a relatively predictable range with small exceptions here and there.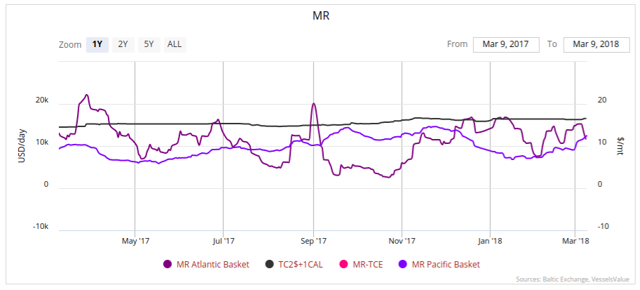 Source: VesselsValue
However, the next phase, recovery, is dependent on several factors which materialize at a slower pace than owners and investors might like. Fleet re- balancing is something that takes quite some time as noted in the beginning of the article. The current oversupply has left a bit of a hangover in the segment and the slight degrees of favorable adjustments will take some time to produce meaningful results.
2018 might not produce major shifts, but it does appear to be taking a small step in the right direction.
Thank you for reading and I welcome all questions/comments.
If you would like to stay up to date on my latest analysis, I invite you to follow me on Seeking Alpha (click the "Follow" button next to my profile picture at the top) as I continue to cover all aspects of maritime trade.
Value Investor's Edge
Value Investor's Edge is a top-rated research service dedicated to offering actionable trades and strategic income opportunities. We now cover a variety of deep value and income-driven sectors, while maintaining our focus and very profitable record of shipping industry coverage. Members receive exclusive access to over a dozen reports per month, including regular shipping and commodity macro analysis from James Catlin, exclusive content by top-tier deep value analyst J Mintzmyer, industrial and MLP ideas from Michael Boyd and international insights from Ian Bezek. This winning team has developed a dedicated following of highly knowledgeable investors and industry professionals who also share their own thoughts and ideas. For more information on Value Investor's Edge, simply click the link.
Disclosure: I am/we are long STNG. I wrote this article myself, and it expresses my own opinions. I am not receiving compensation for it (other than from Seeking Alpha). I have no business relationship with any company whose stock is mentioned in this article.
Editor's Note: This article covers one or more microcap stocks. Please be aware of the risks associated with these stocks.