By The Valuentum Team
We stand in awe of McDonald's (MCD) performance during the current bull market. We overestimated the risks associated with its business, and frankly, McDonald's deserves a lot of credit. We thought the company would feel the pain of higher minimum wage legislation, decreased efficiency as a result of its all-day breakfast initiative, and generally stagnant same-store sales growth due to an aging brand. We've been wrong. See what President of Investment Research at Valuentum, Brian Nelson, said on CNBC in 2014 here. McDonald's is a powerhouse, and while there are always risks to any investment, here are 5 reasons why Mickey D's fundamentals may be unstoppable.
McDonald's Brand Seemingly Cannot Be Tarnished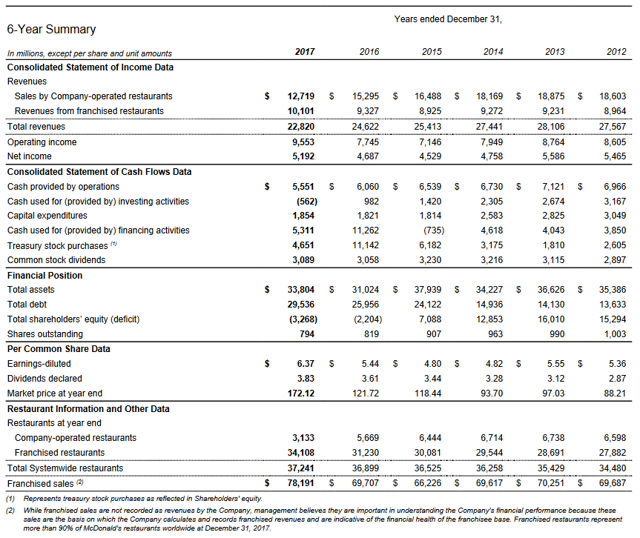 Image Source: McDonald's
Many thought McDonald's brand was finished when the documentary Super Size Me hit popular culture in 2004. The film showed how just eating McDonald's, and only McDonald's, for a month could take a toll on one's physical and psychological health. If you haven't yet seen the documentary, it may be worth a study, if only to get a feel for how things at McDonald's have changed during the past 15 or so years. Many probably don't even remember having the option to "Super Size" meals, but it was big deal back in the day.
What we're trying to say is that, much like the tobacco companies, society has been laying down the gauntlet for McDonald's, criticizing just about everything. McDonald's, however, not only has endured such criticism, but it has thrived. Some might have thought it would be impossible for McDonald's to bounce back from such negativism more than a decade ago, but it's bigger and better than ever. The company's brand is a positive asset, and we don't think anything could change that.
The 6-year table of McDonald's selected financial data tells the story quite well. Revenue declines have been a function of re-franchising initiatives, but one can see just how strong operating income expansion was during 2017, a multi-year high. Capital expenditures have also fallen as McDonald's business model has become more franchised, and while debt has ballooned and leverage magnified by share buybacks, we don't think the executive suite could have executed a better turnaround since shortly after the release of Super Size Me. If anything, the trend in operating cash flow could have been better, but operating earnings remain very strong.
McDonald's Has Passed Operational Risk to Its Franchisees
We had been worried about minimum wage legislation and how increased labor costs would weigh on the company's operations. However, management was ahead of the curve in its efforts to pursue increased re-franchising. What we had underestimated was the company's strategic flexibility at the corporate level to pass operational risk, namely the threat of rising labor costs, to the franchise level. With now nearly all its restaurants franchised, McDonald's (corporate) doesn't have much to worry about when it comes to rising minimum wage expenses. Its franchisees are its customers, and the risk lies with them.
Several years ago, we fell into the trap of taking the complaints of the franchisees to heart, too. We bought into the idea that all-day breakfast would over-complicate operations, but the initiative has been fantastic. There's just something about McDonald's breakfast that is hard not to like. As long as McDonald's keeps doing things right on the top line for its franchisees, things are looking up. Even if costs become an issue, the rise of robotics will likely start to replace jobs. We've already seen some self-service kiosks at some McDonald's locations, for example, and this trend is likely to accelerate as wage pressures intensify.
Upstarts Don't Have a Chance of Unseating Mickey D's
We are in an age where there are more restaurant concepts than we know what to do with. The restaurant business is over-saturated, and there are only so many types of things humans eat that can become mainstream. New concepts just aren't going to live up to the hype. Sure, consumers may try out the latest and greatest burger joint, but McDonald's menu just has something intangible to it that makes people keep coming back. From the Egg McMuffin and the Big Mac to chicken nuggets and the Filet O' Fish, what other burger joint is going to come close to Mickey D's. How about those French fries? The company's right: we're all lovin' it.
McDonald's is just super convenient, too. The franchisees seemingly have things down pat, and you can tell that food freshness has only improved in recent years. Just recently, McDonald's announced that it would move to fresh (not frozen) burgers in the majority of its restaurants. It just seems like it takes longer to get your food at other fast-food rivals as well. McDonald's fast service has played right into societal trends. For starters, we can imagine some consumers becoming irritated if fast food takes just a minute or two longer than it should. Every minute matters to McDonald's customers, and we think the company knows that better than anyone else.
From Five Guys to In-and-Out to Shake Shack (SHAK) and beyond, there are quite a few "new" burger concepts, but McDonald's isn't going to let them leapfrog it to better meet consumer preferences. If McDonald's has a weakness, it will work to close it. We're not even concerned with the likes of other fast-food rivals, even Yum! Brands (YUM) Taco Bell, whose Nacho Fries may have been the most successful new product launch for the chain in a very long time. We've tried Taco Bell's Nacho Fries, and while we liked them, McDonald's French fries are a different taste altogether.
The Innovation Curve Continues
This is a big one. McDonald's hit a homerun with McCafe, and we didn't think the company would be able to pull out another big hit to match it, but it did. The all-day breakfast initiative was tremendously successful. Maybe part of the reason why we didn't jump on the bandwagon of all-day breakfast so quickly probably had to do with the following: If something so easy in concept like breakfast all day could make a big difference at McDonald's, surely management would have rolled it out by now, right? It turns out this untapped opportunity had been right under the company's nose for decades.
We're no longer going to doubt McDonald's innovation initiatives, and it's quite possible its move to fresh, not frozen, beef will put its rivals backs against the wall... again. Of course the company has had some setbacks in the past and it will in the future, but if all-day breakfast can be a needle-mover (as it has shown to be), it's possible McDonald's can pull something else out of its bag of tricks. We think it's biggest opportunity might come from share gains from Starbucks (NASDAQ:SBUX), and it's possible the next decade might be defined by the "Coffee Wars." We won't be betting against McDonald's in any case.
McDonald's Has Dividend Yield Support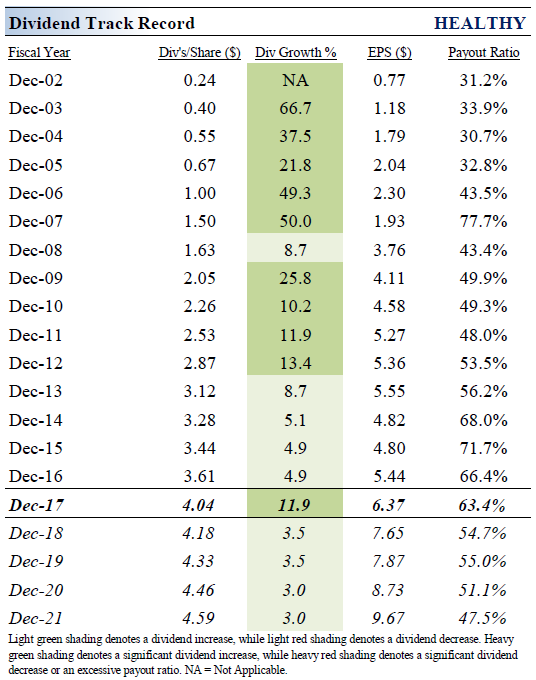 Image Source: Valuentum
We'd prefer that McDonald's not have so much net debt, but its free cash flow generation is strong and has comfortably covered cash dividends paid (2017 was a little tight, however). The company has a Dividend Cushion ratio lower than 1 because of its net debt position, and while we expect dividend growth to slow somewhat in coming periods, a ~2.5% dividend yield is still quite competitive relative to the 10-year Treasury yield, even if the latter is poised to march higher. Unlike other entities where the yield may be suspect, we think McDonald's yield can offer nice support to shares, preventing material downside risk in the event same-store sales eventually falter.
But same store sales haven't disappointed, and it doesn't look like they will anytime soon. During 2017, global comps advanced more than 5%, and the company said the pace of expansion reflected "positive guest counts in all segments." We continue to be in awe of how the executive team seems to be driving mid-single-digit same-store sales gains, almost with ease. McDonald's has been around for a long time, but its same-store sales rate is more reflective of a much younger concept, not a mature one. A mid-single-digit growth rate doesn't sound like much, but we're impressed.
Conclusion
For as long as people love burgers and fries (and coffee!), McDonald's is going to be serving them, and franchise fees will keep flowing in to corporate. The company continues to add more restaurants to its portfolio (1,000 new ones are expected in 2018), too, and its investments in efficiency in operations may only benefit traffic. We'd like to see better operating cash flow trends, a better Dividend Cushion ratio, and a better price (we value shares at $129 each), but when it comes to fundamental improvement, McDonald's has proven us wrong. The company is not immune to all risks, but we think the company's fundamentals may be as unstoppable as they get. Good for the Golden Arches!
This article or report and any links within are for information purposes only and should not be considered a solicitation to buy or sell any security. Valuentum is not responsible for any errors or omissions or for results obtained from the use of this article and accepts no liability for how readers may choose to utilize the content. Assumptions, opinions, and estimates are based on our judgment as of the date of the article and are subject to change without notice.
Disclosure: I/we have no positions in any stocks mentioned, and no plans to initiate any positions within the next 72 hours. I wrote this article myself, and it expresses my own opinions. I am not receiving compensation for it (other than from Seeking Alpha). I have no business relationship with any company whose stock is mentioned in this article.