Investment Thesis
Hess Midstream is a young master limited partnership with an eye catching 6% yield, but is it sustainable or possible for it to continue to grow? The answer is a resounding yes. How so? Take a look below.
Background
Master limited partnerships, aka MLPs, have had a rocky history since their invention in the 1980s. They issue K1 tax forms at tax time for investors who hold them in taxable accounts, and for those who hold them in IRAs, there are possible tax implications from income produced via unrelated business income. With the energy sector facing all-time lows, you wouldn't expect additional MLPs to arrive on the market to join in on the downturn.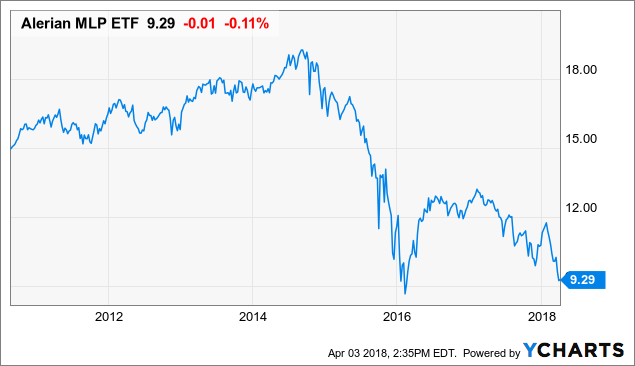 The energy sector has suffered since 2015 and has languished in lows since then. Hess Midstream Partners LP (HESM) is a Bakken focused master limited partnership. Hess Midstream is the second young MLP I've covered recently. Hess Midstream held its initial public offering in April of 2017.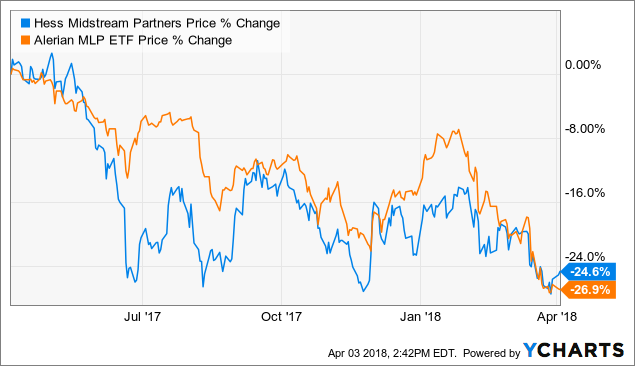 While the entire index has been trending downward, Hess Midstream has also; however, it has outperformed the index benchmark by 2%. Hess Midstream has a complicated sponsor structure that lends itself to confusion for the individual investor, but it actually allows for greater forecasting ability for dropdowns and acquisitions.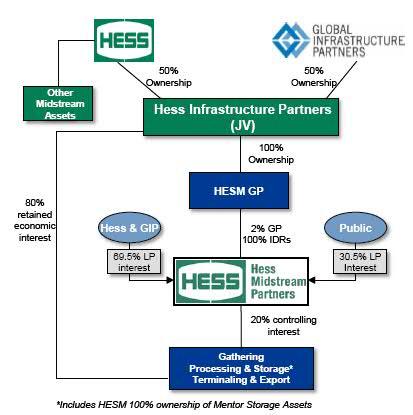 Hess (HES) and Global Infrastructure Partners, or GIP, together entered into a joint venture and founded Hess Infrastructure Partners or HIP in 2015. HIP is privately owned and operates as a subsidiary of Hess. HIP is the general partner of Hess Midstream and owns its incentive distribution rights. However, both Hess and GIP collectively own 69.5% of the limited partner units of Hess Midstream also. This means that both sponsors of HIP are heavily invested in Hess Midstream, which should lead to strong sponsor support.
Hess Midstream has the right of first offer on any potential drop downs from HIP as well as readily invests in joint ownership of various third party owned facilities within the Bakken regions.
The Current Situation
Hess Midstream is standing on an extremely solid footing financially. They primarily operate using minimum volume contracts, which provide a guaranteed minimum revenue for Hess Midstream. These 10 year contracts, which officially started in 2014 in when Hess Midstream was privately operated, are adjusted annually based on a rolling volume expectation. If the senders send greater volume amounts, they pay and Hess Midstream makes greater revenue, if they send less then the minimum, Hess Midstream still collects the pre-agreed to amount. Hess has projected volume increases of 15-20% annually until 2020, which will directly result in greater revenue for Hess Midstream.
Hess Midstream produces an excessive amount of free cash flow. How is this possible? Hess Midstream primarily holds 20% interest in various assets around the Bakken region, therefore it pays out very little in regards to maintenance as a capital expense. This chart below from Hess Midstream's investor presentation is telling, all of its revenue flows in connection to HIP.

Source: Hess Midstream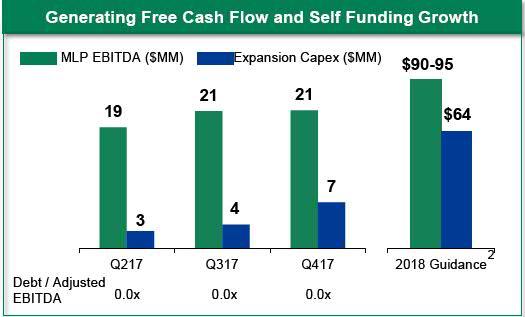 Source: Hess Midstream
The financial footing of Hess Midstream is further supported by is complete lack of debt. Hess Midstream has untapped revolving credit facility of $300 million dollars and has no other outstanding debt.
Hess Midstream has been expanding into having other clientele besides Hess itself. With a joint venture with Targa Resources, Hess Midstream gains revenue via a none Hess dependent channel, further developments and acquisitions are planned to further diversify Hess Midstream's revenue sources.
Investor Takeaway
Hess Midstream currently yields just over 6% annually, and with no debt expects to grow its annual distribution per unit by 15% while keeping a coverage rate of around 1.2x. Its a lofty goal. Adding to this is the second goal of completely self-funding its growth without debt, meaning all growth should be immediately accretive and allow this distribution growth. I personally rate Hess Midstream an extremely strong buy. The risks are present in its dependence on Hess for the majority of its income, although this is protected by its contracts.
Disclosure: I am/we are long HESM. I wrote this article myself, and it expresses my own opinions. I am not receiving compensation for it (other than from Seeking Alpha). I have no business relationship with any company whose stock is mentioned in this article.