Texas Pacific Land Keeps Pumping Out More And More
Summary
The Texas Pacific Land Trust had its best year in its history, and 2017 results are briefly summarized in this article.
Growth is estimated to continue at least at the same pace in 2018.
A conservative estimated price per sub-share for 2018 is $679. (The Trust uses the term "sub-shares" for what is commonly known as "shares").
2017 Results
It is not often a company can make a statement like this one:
2017 marked the most successful year for the Trust in its 130-year history.
Texas Pacific Land Trust (NYSE:TPL) said just that in its annual report, and it is justified in doing so. Both gross income and earnings per sub-share more than doubled in 2017:
Gross income was $132.4 million, an increase of 120.9%.
Earnings per sub-share was $9.72, an increase of 108.6%.
The Trust now reports its results in two segments: Land and Resource Management, and Water Service and Operations, both of which will be described more fully later in this article. The Water Service segment is the new "water business" announced last summer.
Land and Resource net income went from $32.014 million in 2016 to $57.598 million in 2017.
Water Service net income more than tripled from $5.226 million in 2016 to $18.763 million in 2017.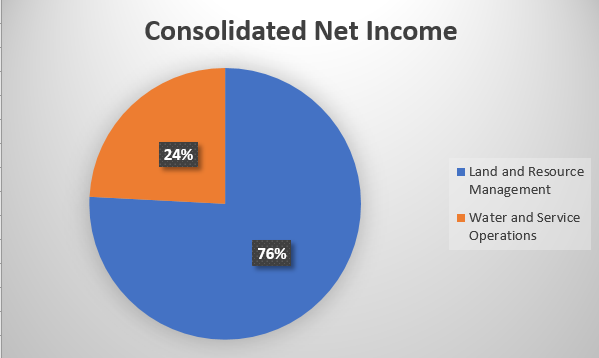 Source: Author chart derived from the Texas Pacific Land Annual Report
Much of the Trust's dramatic results came from activity in an area known as the Permian Basin, which is in an area of west Texas and New Mexico.
The Permian Basin
The Permian Basin (map below) is the largest oil producing area in the U.S. It has been producing oil for more or less a century, but production of shale oil started in 2012-2013. The Apache Corporation (APA) announced a gas and oil discovery in the area in September of 2016. The Trust's stock price, which had just doubled, went from less than $200 to more than $300 in two months. (As of this writing, the stock price stands at $505.42.)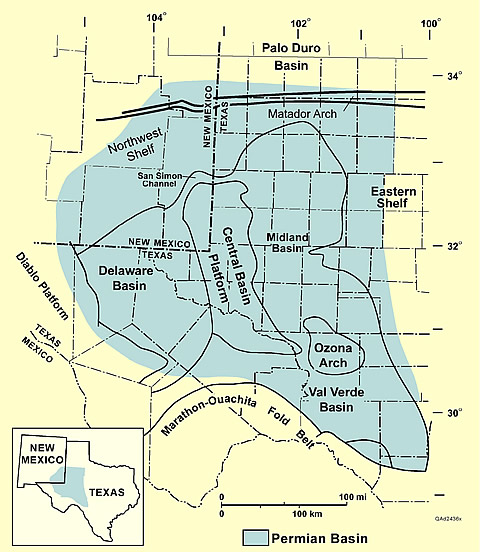 Source: National Energy Technology Laboratory
The Trust published a map of its surface coverage in an Annual Report. A snippet of that map is below, but a better, interactive map can be found on the Trust's website.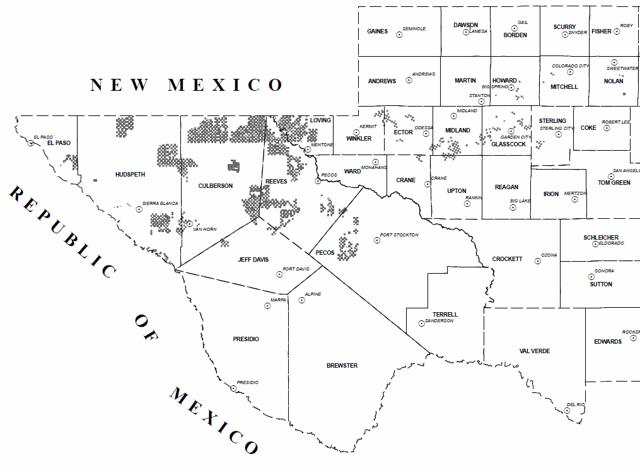 Source: Texas Pacific Land Annual Report
The Trust obtains most of its revenue from activities related to oil and gas production in the Permian Basin. The region continues to set records in oil production.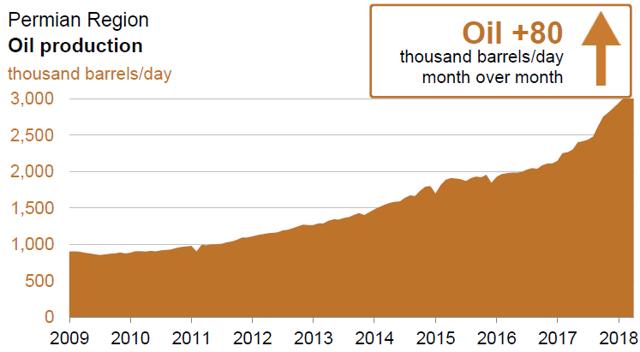 Source: U.S. Energy Drilling Productivity Report, March 2018.
The Permian is also setting records in natural gas production.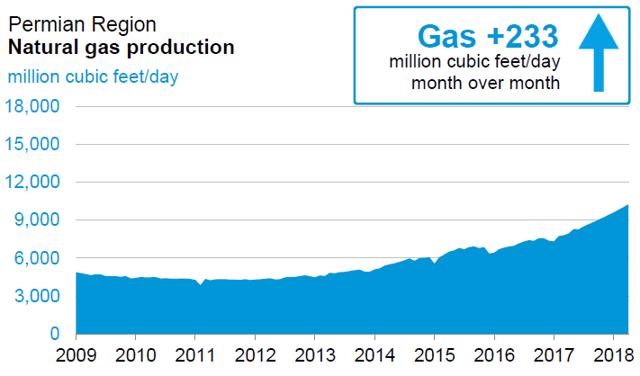 Source: U.S. Energy Drilling Productivity Report, March 2018.
Water Service and Operations
The Trust announced the formation of Texas Pacific Water Resources LLC (TPWR) in June of 2017. It is a wholly owned subsidiary.
TPWR services include "brackish water sourcing, produced-water gathering/treatment/recycling, infrastructure development/construction, disposal, water tracking, analytics and well testing services" to operators in the Permian Basin. The Trust reports that TPWR has a significant focus in large-scale water recycling, and is committed to sustainable water development.
The Trust invested $12.7 million into TPWR projects in 2017. Net income was $18.4 million. As the net income graph above shows, the segment contributed 24% to the Trust's net income.
Land and Resource Management
The Land and Resource Management segment contributed 76% to the Trust's net income. The Trust does not break out net income for each sub segment, but it does break out revenues.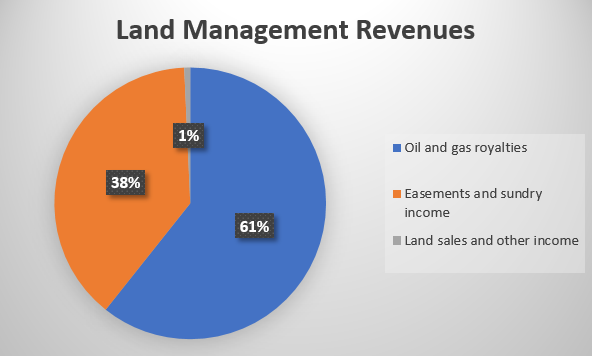 Source: Author chart derived from Texas Pacific Land 10-K data
Oil and Gas Royalties.
The Trust is not itself an oil and gas producer. Instead, it derives revenue from oil, gas, and water royalties. The increase in 2017 oil revenue was "principally due to the combined effect of a 43.8% increase in crude oil production, subject to the Trust's royalty interest, and a 22.6% increase in the average price per royalty barrel of crude oil during the year" (p. 11 of the 10-K).
Easements.
Revenue is generated from oil and gas pipelines, as well as subsurface wellbore easements.
Land sales.
The Trust is a passive seller of land.
2018 Estimates
The Trust reported in its Annual Report that "Drilling and completion activity in the Permian Basin to rise as operators increase their focus on development of leaseholds throughout the basin." In other words, the prospects for further growth is bright.
An Energy Information Administration 2017 Reference case projects the following:
U.S. tight oil is projected to be the fastest growing supply source in the global oil market through 2025, increasing from 4.6 million b/d in 2016 to 5.9 million b/d by 2025. In the longer term, projects in the United States are expected to account for almost 60% of the global growth in tight oil production between 2017 and 2040.
This is all well and good in general for the Trust, but such statements do not give much in the way of specific information. The Trust itself does not give guidance, and I have not seen any other specific estimates offered to date. The following estimates are an attempt to improve on that. Keep in mind, though, that the following figures are general estimates and could be considered speculative.
205 new wells were developed in 2017. The Trust has identified more 206 wells that have been drilled but not completed, almost the exact same number as were developed in 2017. Given that a standard oil well takes one to three months from drilling to the beginning of production, the first premise here is that these wells will be completed and begin producing in 2018. It seems possible that more than 206 wells can be completed, but that is difficult to predict. Assuming, then, that the same number of wells will begin production in 2018 as did in 2017, then production will increase by approximately the same amount in 2018 as it did in 2017. Given the current boom in the Permian Basin, such estimates may well be overly cautious, but the preference is given here to erring on the side of caution rather than on speculation.
Estimated 2018 Oil Revenues: $63,276,674
Oil production increased by 249,269 barrels in 2017. If oil production increases again by the same number in 2018, production will be 1,068,123 royalty barrels.
The Trust received an average price of $47.33 per barrel in 2017, which is 93% of the 2017 average WTI crude oil price of $50.88. For the first quarter of 2018, the average WTI price is $63.70. Oil prices have been rising since 2016, but $63.70 is taken as a conservative base number. If the Trust continues to receive 93% of the WTI price for its royalty barrels, it will receive $59.24 in 2018. (2018 YTD WTI price of $63.70 * 93% equals $59.24.)
An estimated 1,068,123 royalty barrels receiving a price of $59.24 equals $63,276,674 for 2018. This is a 61.2% increase over the $38,759,420 royalty revenue received in 2017. If oil prices continue to increase, or if oil production increases more, this could be significantly higher.
Estimated 2018 Natural Gas Revenues: $20,396,465
The Energy Information Administration expects that 2018 natural gas prices will remain relatively flat.
Like oil production, the estimated increase in gas production (MCF) is estimated to increase by the same amount in 2018 as it did in 2017. If so, production will increase by 1,561,726 MCF to 5,736,417 MCF. This is an increase of 37.4% over 2017 production. Therefore, a 37.4% increase in gas royalty will equate to $20,396,465. ($14,844,589 revenue for 2017 + an increase of $5,551,876 = $20,396,465 estimated 2018 revenue.)
Estimated 2018 (Land Management) Easement and Sundry Revenues: $59,658,000
Easements and sundry income increased by $20,656,000 to $39,002,000 in 2017. If it increases by the same amount in 2018, it will increase to $59,658,000.
Note that the Trust transitioned to term easements in 2016 and deferred $25.9 million in payments to subsequent years, in accordance with generally accepted practices. Some of the easement money has already been earned.
Estimated 2018 Land Sales: $718,000
The Trust is a passive seller of land, and past sales is not predictive of future sales. Sales were $718,000 in 2017 and 3,443,000 in 2016. The lower of the two numbers is taken here.
Estimated 2018 Water Sales and Operations: $42,947,000
Water sales and royalties increased by $17,411,000 to $25,536,000 in 2017. This is a new business, and difficult to estimate accurately. However, if it increases by the same amount in 2018, it will increase to $42,947,000.
Estimated 2018 (Water Service) Easements and Sundry Income: $11,516,000
Easements and sundry income for the water service segment was $5,758,000 in 2017 and was $0 in 2016. If it increases again by the same amount in 2018, it will increase to $11,516,000.
Estimated 2018 Revenue: $215,223,000
In the following chart, estimated 2018 oil revenues of $63,276,674 are combined with estimated natural gas revenues of $20,396,465, for a total of $83,673,139.
Revenues (in thousands)

2018 (est.)

2017

2016

Land and resource management

Oil and gas royalties

83,673

61,315

29,996

Easements and sundry income

59,658

39,002

18,346

Land sales and other income

718

718

3,443

Water service and operations

Water sales and royalties

42,947


25,536

8,125

Easements and sundry income

11,516

5,758

0

Total Consolidated Revenues

198,512

131,329

59,911
This estimate projects an increase of $67,183,000 in revenues in 2018, an increase of 51%.
Estimated 2018 Earnings:$115,136,960
Net income has ranged between 58% and 63% of gross income for the last five years, 2017 being the lowest at 58%. Reported gross income is slightly higher than reported revenue numbers, but 58% will nevertheless be used here. 58% of $198,512,000 estimated revenues equates to $115,136,960.
Estimated 2018 Sub-shares Outstanding: 7,721,175

The Trust will continue to buy back and cancel outstanding sub-shares. It bought 134,325 sub-shares in 2017, or 1.7% of the total. If the Trust buys back 1.7% sub-shares in 2018, it will buy back 133,530 sub-shares. The total outstanding sub-shares will then be 7,721,175.
Projected Earnings Per Sub-Share: $14.91
2018 projected earnings of $115,136,960 divided by 2018 projected 7,721,175 sub-shares outstanding equates to $14.91 per sub-share. This is a 53% increase over $9.72 per sub-share in 2017.
Projected 2018 Price per Sub-share: $679
The price per sub-share was is $444.09 at the end of 2017. If the stock price increases by the same 53% as the EPS does, it will increase $235.37 per sub-share to $679.46.
Summary
Texas Pacific Land Trust had the best year of a century in 2017. The boom in the Permian Basin continues, and the Trust stands to increase its profits at least as much as it did in 2018.
Given the estimated production increases and projected prices, revenue is estimated to increase by 51% in 2018, and earnings per share are projected to increase by 53%.
The estimated price per sub-share target is $679.46, an increase of 53% from $440.09 at 2017 year-end. The price as of this writing is at $505.42. The upside potential for the stock price is estimated at 34% yet this year.
This article was written by
The companies I invest in nearly always growing companies paying dividends, with exceptionally strong balance sheets showing little or no debt. Such companies are often small caps, but I have invested in all sizes of companies. I invest in both domestic and international stocks across a variety of sectors.
Analyst's Disclosure: I am/we are long TPL. I wrote this article myself, and it expresses my own opinions. I am not receiving compensation for it (other than from Seeking Alpha). I have no business relationship with any company whose stock is mentioned in this article.

Unless otherwise specified, data comes from the 2017 Texas Pacific Land Trust Annual Report, which includes a copy of the 10-K. Stock prices are from BigCharts and TD Ameritrade.
Seeking Alpha's Disclosure: Past performance is no guarantee of future results. No recommendation or advice is being given as to whether any investment is suitable for a particular investor. Any views or opinions expressed above may not reflect those of Seeking Alpha as a whole. Seeking Alpha is not a licensed securities dealer, broker or US investment adviser or investment bank. Our analysts are third party authors that include both professional investors and individual investors who may not be licensed or certified by any institute or regulatory body.