March 2018 is officially over, which closes out the first quarter of the year as well. I am always excited to see March results. We typically see a lot of dividend increases around the end of the year and into the beginning of each new year. So March is a pretty good representation of those increases and you can use the analytics from the first quarter to predict the progress of the rest of the year's dividend income.
Last December was my previous record holder for highest dividends collected in a single month. I am happy to announce that record has been broken! Here is how the stats are broken down from the eight companies that paid me in March.
Dividends
HCP- $19.34
CVX- $49.20
TGT - $28.55
ED - $9.61
O - $6.48
LTC - $3.33
D - $18.54
SO- $13.34
March dividends add up to $148.39, which represents a 36.8% increase from last year where I made $108.47. Here are some charts to show comparison and progress but you can always see the full dividend income breakdown here.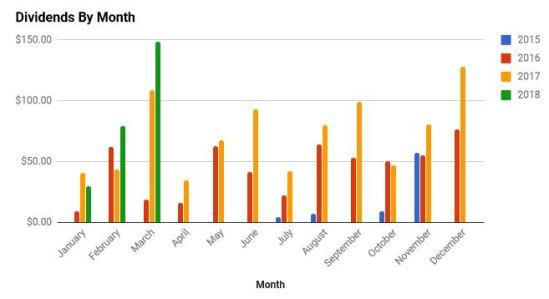 March always seems like a big month for me. Of the three times my portfolio has hit triple-digit dividends in a single month, two of them have been in March.
There has been a lot of activity in my portfolio within the past few months. I optimized it late last year and was able to increase the yield as well as the overall safety. I have also been making a lot of buys recently. Either adding to existing positions or adding a few new ones in the mix. Some of my recent buys are my new purchase of SO, adding to D and [[ABBV]], as well doubling my position in O. The market has had so much value lately, it is hard to resist. Perfect time to add to core positions. Along with dividend increases, these all helped reach the respected growth levels of this month/ quarter. I am very happy with these results and being able to break a new monthly milestone.
Quarter Updates
2017 Q1 Dividends: $192.38
2018 Q1 Dividends: $257.11
YoY% Gain: 33.6%
I use Personal Capital to track as well as my own spreadsheets to analyze a lot of my data. Last year I was able to collect $255.76 in the last quarter of 2017. I was able to barely edge that out with the $257.11 from Q1 2018. Although I don't believe comparing Q4 to Q1 is a completely fair estimate, due to companies like KO that pay you 2 times in Q4 and then not again until Q2. Which is why I always refer back to the same quarter from the prior year. I like to see respectable growth like this, especially when capital is limited for new buys.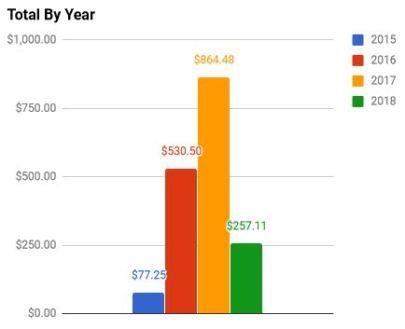 Not bad so far this year. A record high month, record high quarter, and have already collected half of the total dividends I received from 2016. Still lots of time left to make some big gains. Looking forward to seeing what the year has in store.
How did your portfolio perform in March? Did anyone break any records or post huge gains? What big accomplishments have you had this year or are still striving for? Your comments are welcome below.