SCANA Remains A Speculative Opportunity
Summary
Investors and potential investors gained useful lessons about the company over the first 3 months of 2018.
SCANA's stock remains speculative but some of the risks are receding.
Despite continuing to face headwinds, there are reasons for optimism.
It has been an interesting and educational first quarter for electric utilities in general, and SCANA (NYSE:SCG) in particular.

Euphoria early in the quarter about stronger economic growth along with corresponding higher interest rates pushed down utility share prices only to be followed by fears of a trade war, dropping Treasury yields, and a renewed interest in the relatively safe haven of electric utilities.
Investors who speculated that the 10-year Treasury yield would break 3% instead saw the bond close the quarter at 2.741% as compared to Utilities Select Sector SPDR ETF (XLU) yield of 3.47%.
Meanwhile, you have SCANA with a yield of more than 6% with a stock price that declined but only slightly more than XLU, which is made up of some of the most dominant utility companies in the country.
Not bad for an electric utility being investigated and castigated from all sides and one that seemed to teeter on the edge of possible bankruptcy.
The first quarter of 2018 was very educational to SCANA investors and potential investors, and they should think deeply about those lessons.
3 lessons learned in the past 3 months
Lesson 1 = A floor has developed in support of SCANA's stock price.
While SCANA's stock price fell near the $35 level, its adjusted closing price never crossed that line. Its $2.45 dividend, with a resulting yield of better than 6% and a book value in the mid-$30 range, is keeping the stock price floating along. As a result, over the first quarter of 2018, the stock lost just 4.2% of its value since the end of December, based on adjusted closing prices, compared to a 3.3% loss for the XLU. All the gyrations of Dominion Energy's (NYSE:D) offer notwithstanding.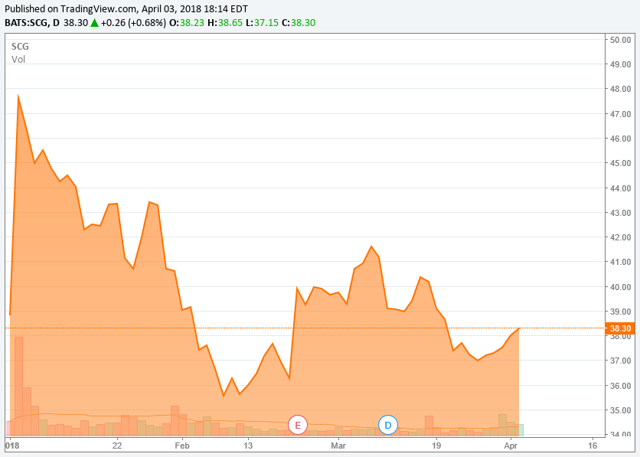 Source: SeekingAlpha.com
In comparison, the company pursuing the merger with SCANA, Dominion Energy (NYSE:D), saw its share price fall 16% in the first quarter.

Source: finance.yahoo.com
That raises lots of questions about which company is the better value at these prices. For an investor, a company's value is not only its potential earnings but also how much the investor has to pay for those earnings.
If the first quarter of 2018 is any measure, then perhaps investors are finding SCANA relatively cheap from a valuation viewpoint.
With a book value north of $36 and a modest debt-to-equity ratio, there is a business case to be made that SCANA continues to have value despite the gyrations of South Carolina politicians.
Which brings us to the second lesson.
Lesson 2 = South Carolina politicians want to punish SCANA but not to the point of pushing it into bankruptcy.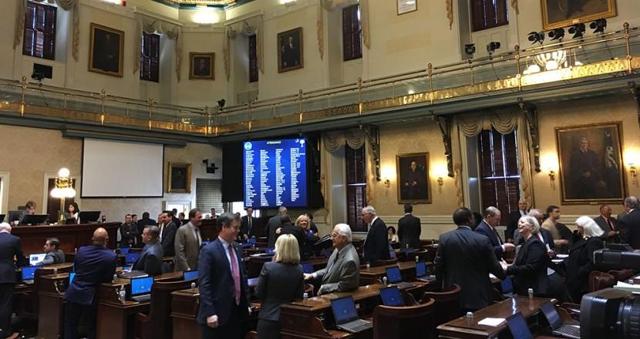 During the first quarter we learned that while there may be a consensus among South Carolina state legislators to punish the company and shareholders for the failed V. C. Summer nuclear project, there is an equal concern that punishment should not result in bankruptcy.
According to The State newspaper, a study conducted by Bates White Economic Consulting and commissioned by the South Carolina Senate aimed "to answer a question nearly everyone in South Carolina's energy debate is asking: How much can lawmakers strip out of SCE&G's highest-in-the-region power bills without financially crippling the utility."
Bates White analyzed three questions: (1) what options were available to SCANA (SCE&G's parent company) and SCE&G in response to an interim rate reduction; (2) what interim reduction in rates could be absorbed by SCANA and/or SCE&G without significantly increasing the likelihood of insolvency; and (3) what are the estimated impacts on SCE&G's financial metrics associated with various levels of rate reduction?
The answer, according to the Bates White's report was "that SCE&G's interim electric rates could be cut by 13% without significantly increasing the likelihood of insolvency for SCE&G and SCANA."
In the Charleston Post and Courier's April 1 opinion, Editorial: Go ahead and slash SCANA rates, the paper argues that "There are still lots of questions to be answered before pursuing a long-term solution to protect SCANA ratepayers. But in the meantime, lawmakers should go ahead and cut rates by at least 13 percent. SCANA won't like it, of course, but it certainly won't go bankrupt."
On March 28, the state Senate approved an amendment to temporarily reduce the rates by 13%, but even though the state Senate passed the amendment, Governor McMaster has said he will veto the measure in its current form.
Politicians in the state are coming around to the conclusion that bankruptcy is a bad idea, not because they are worried about the thousands of employees and shareholders living in South Carolina, but they are being educated that throwing SCANA into bankruptcy court takes away their only leverage over the utility.
In bankruptcy court, they will lose control over SCANA's future, which may result in a bidder for SCANA even less desirable than Dominion Energy, such as a hedge fund or an out-of-state corporation that may not agree to keep SCANA's headquarters in South Carolina.
Now I believe they underestimate the damage that eliminating SCANA's dividend would have on the company's future, but I believe that whatever final action is taken by the state legislature, they will be careful to not make it a death blow to SCANA.
So, we have two floors being built under SCANA's stock price. The first is its book value and the second is the elimination of bankruptcy as a probability.
Lesson 3 = Dominion Energy's current offer may not be enough to entice SCANA stockholders to agree to the merger.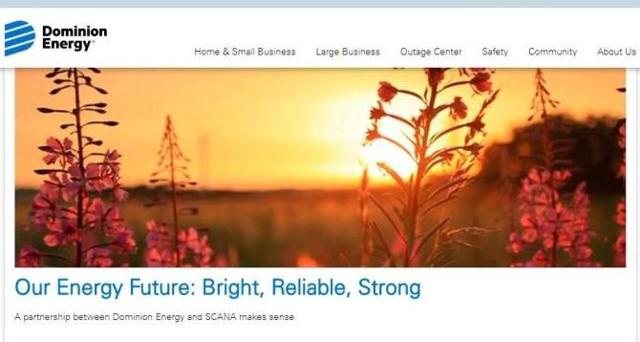 Source: Dominion Energy
While SCANA has focused on political risks, the first quarter has shown us that Dominion Energy's offer for SCANA may in fact turn out to be too low and that a bidder's war may be in the offing.
Dominion's all-stock deal, which appeared as a savior back at the beginning of January, was based on a share price that has not held up.
In their original announcement, SCANA claimed that Dominion's offer was worth "the equivalent of $55.35 per share, or about $7.9 billion based on Dominion Energy's volume-weighted average stock price of the last 30 trading days ended Jan. 2, 2018. Including assumption of debt, the value of the transaction is approximately $14.6 billion."
But time has proven otherwise. While SCANA's stock price may have declined 4% over the quarter, Dominion's price has dropped by 16%.
A combination of declining utility stock prices in general as well as Dominion's own decision to issue 20 million shares plus a 30-day option to purchase up to an additional 3 million shares of Dominion Energy's common stock upon the same terms, at $67.85/share has set a new lower price for SCANA shares.
At this price, each SCANA share is now worth only $45.39, a premium of less than 21%.
Dominion's declining share price opens the door to NextEra Energy (NEE), which is waiting in the wings to scoop up SCANA.
The diminished premium may force Dominion to either increase its offer or see the company go to a competitor, such as NextEra.
Where do SCANA investors go from here?
It is increasingly likely that whatever action state legislators take, as well as the courts, no one wants to force SCANA into bankruptcy.
Meanwhile, the company's stock price seems to have found a floor in the mid-$30 range.
If the utility keeps its current $2.45 dividend, then at these prices, that is a good deal for income investors.
If South Carolina does eliminate or scales back SCANA's dividend, it will make the utility a prime takeover target most likely from some company outside the state who will get its growth by slashing costs, including eliminating SCANA's South Carolina headquarters and cutting other employee costs.
In either case, time, which looked like it was working against SCANA, may now be in the company's favor.
Conclusion
Back in the beginning of March I wrote that "investors willing to bet that these issues will not be resolved before the November elections may see a nice short-term return on their investment through a combination of an attractive dividend at these levels and the possibility of some short-term upward bounces in the stock price. You may not want to become too attached to the company, but if you are willing to take some moderate risk, it could be an attractive play in 2018 at these levels."
Nothing has changed my opinion, although given Dominion's falling stock price, there is even more reason to believe that more than one utility might choose to bid for SCANA and/or Dominion may have to raise its offer before this drama has completed its course.
The stock remains a speculation, but one that has increasingly favorable odds for those willing to take the risk and be patient.
This article is for informational purposes only and is not meant to provide personal investment advice. You need to make investment decisions based on your own knowledge and research and not depend on any single opinion.
This article was written by
I am retired from the U.S. Department of Labor after a career that included 10 years as the U.S. Bureau of Labor Statistics's Southeast Regional Economist where I focused on U.S. labor markets. My main interest is in bonds, utility stocks, and REITS. Individual stocks and bonds are as much affected by the overall direction of the economy as the activities of individual firms, so when I focus on stocks, I include consideration of the political environment in which a company operates as much as on the company's financial situation. It is important to get underneath the top line data, as reported in the media, to really understand the direction of the economy. My goal is to provide knowledge and understanding of macro trends and add depth to the national statistics reported elsewhere.
Analyst's Disclosure: I/we have no positions in any stocks mentioned, and no plans to initiate any positions within the next 72 hours. I wrote this article myself, and it expresses my own opinions. I am not receiving compensation for it (other than from Seeking Alpha). I have no business relationship with any company whose stock is mentioned in this article.

SCANA remains a speculative stock and not recommended for long-term income investors.
Seeking Alpha's Disclosure: Past performance is no guarantee of future results. No recommendation or advice is being given as to whether any investment is suitable for a particular investor. Any views or opinions expressed above may not reflect those of Seeking Alpha as a whole. Seeking Alpha is not a licensed securities dealer, broker or US investment adviser or investment bank. Our analysts are third party authors that include both professional investors and individual investors who may not be licensed or certified by any institute or regulatory body.