Investing in biotech stocks can be a double-edged sword. When positioned in the right biotech names, investors can be rewarded with massive gains. On the other hand, the losses are also substantial if you pick the wrong stocks in the sector.
There is no infallible formula to picking winning stocks. However, quantitative indicators can be enormously valuable when making investing decisions based on objective and quantified data as opposed to subjective opinions or speculation.
Statistical data has proven that companies exhibiting some quantitative attributes tend to deliver attractive returns over the long term, so it makes a lot of sense to focus on these attributes when trying to find the best stocks in the biotech industry.
The following paragraphs will introduce a quantitative system aimed at selecting stocks with superior potential returns in biotech. In particular, the system is based on three powerful and time-proven return drivers: financial quality, valuation, and momentum.
System Design
The PowerFactors System is a quantitative system exclusively available to members in my research service: The Data Driven Investor. The system basically ranks companies in a particular universe according to a combination of three key quantitative attributes: financial quality, valuation, and momentum.

Some brief explanations about these factors:
Financial quality: This factor includes variables such as long-term growth expectations, profit margins on sales, and return on equity, among several others. It's easy to understand how this factor drivers shareholder returns, all else the same, a more profitable business with superior growth rates should generate higher returns over time.
Valuation: A high-quality business deserves an above-average valuation. However, overpaying for high-quality stocks is a very common mistake, and even the best companies can turn out to be mediocre investments when the stock price is excessively high. For this reason, the PowerFactors system includes valuation ratios such as price to earnings, price to earnings growth, and price to free cash flow.
Momentum: Winners tend to keep on winning in the market, and the PowerFactors system looks for companies with a proven ability to outperform. This means that the system invests in companies delivering earnings numbers above expectations, and also stocks doing better than average. Quantitatively, momentum is measured through variables such as reported earnings in comparison to expectations and the stock price performance versus the broad market.
The PowerFactors system basically considers multiple ratios and quantitative indicators across these three dimensions, quality, value, and momentum, and then it incorporates those numbers into a final PowerFactors ranking for each stock in the investable universe.

Leaving the numerical considerations aside, the main rationale behind the system is actually quite simple. The algorithm is basically looking to buy solid companies (quality) at a reasonable price (value) and at the right time (momentum).
Backtested Performance And Portfolio Recommendations
The following backtest excludes over the counter stocks from the universe, and it considers only companies with a market capitalization value above $300 million in the biotech sector. This size filter reduces potential returns, since smaller stocks generally have both higher volatility and higher expected gains. On the other hand, it also makes the system more realistic and easy to implement for investors with moderate risk tolerance levels.
Among the biotech companies that meet the size requirements, the system picks the 25 stocks with the highest PowerFactors ranking, and it builds an equally weighted portfolio with those names. The portfolio is rebalanced monthly, and it has an assumed annual expense ratio of 1% to account for trading expenses and similar considerations. The benchmark is the S&P 1500 Pharma and Biotech Index.
Since January of 1999 the system produced an annual average return of 14.24% per year, far surpassing the 4.05% annual return produced by the benchmark in the same period.
In cumulative terms, the system gained 1,197.27% versus 114.65% for the benchmark. This means that a $100,000 investment in the portfolio recommended by the system in January of 1999 would currently be worth almost $1.3 million, while the same amount of capital allocated to the benchmark would be worth around $214,600.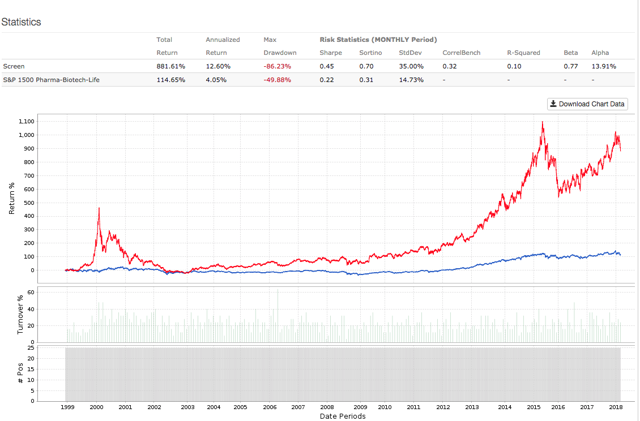 Backtesting data and chart source: Portfolio123.
The system is more concentrated than the benchmark, and volatility is quite high. When you build a portfolio concentrated in only one sector, and specially more if such sector is biotech, then you should expect some stomach-wrenching volatility. In spite of that, the system still beats the benchmark when looking at volatility-adjusted returns, as expressed by the Sortino ratio and the Sharpe ratio.
Past performance does not guarantee future returns, and investors should never make investment decisions based solely on backtested performance numbers. The point is not automatically replicating these kinds of systems, but rather using the recommended portfolio as a source of potential ideas for further research.
Investors looking for interesting candidates in the biotech sector may want to take a deeper look at some of the names in the list in order to evaluate the risks and potential rewards, not only in terms of quantitative indicators but also from a business perspective, considering factors such as the company's pipeline of drugs, management quality, and competitive strengths, among other soft variables.
Without further prologue, the table below shows the 50 stocks recommended by the system as of April 4, ordered by market capitalization.

| | |
| --- | --- |
| Name | Mk.tCap ($Millions) |
| AbbVie Inc (ABBV) | $144,231 |
| Gilead Sciences (GILD) | $96,465 |
| Celgene (CELG) | $65,930 |
| Biogen (BIIB) | $56,361 |
| Shire (SHPG) | $44,969 |
| Vertex Pharmaceuticals (VRTRX) | $40,105 |
| Alexion Pharmaceuticals (ALXN) | $23,893 |
| United Therapeutics (UTHR) | $5,006 |
| Ligand Pharmaceuticals (LGND) | $3,358 |
| Array BioPharma (ARRY) | $3,193 |
| Halozyme Therapeutics (HALO) | $2,729 |
| Emergent BioSolutions (EBS) | $2,559 |
| Myriad Genetics (MYGN) | $2,051 |
| Esperion Therapeutics (ESPR) | $1,811 |
| CRISPR Therapeutics (CRSP) | $1,730 |
| Enanta Pharmaceuticals (ENTA) | $1,567 |
| CytomX Therapeutics (CTMX) | $1,074 |
| AMAG Pharmaceuticals (AMAG) | $694 |
| Novavax (NVAX) | $679 |
| ChemoCentryx (CCXI) | $590 |
| TiGenix N.V. (TIG) | $559 |
| Concert Pharmaceuticals (CNCE) | $479 |
| PDL BioPharma (PDLI) | $457 |
| Medicinova (MNOV) | $457 |
| Vericel (VCEL) | $346 |
Members in The Data Driven Investor have access to quantitative systems to pick stocks and ETFs with the potential to outperform the market in the long term. In addition, the service offers multiple strategies to protect your portfolio in bear markets, and members know in real time when I make a buy or sell decision for my personal portfolio. A free trial is available now in this link.
Disclosure: I am/we are long GILD.
I wrote this article myself, and it expresses my own opinions. I am not receiving compensation for it (other than from Seeking Alpha). I have no business relationship with any company whose stock is mentioned in this article.