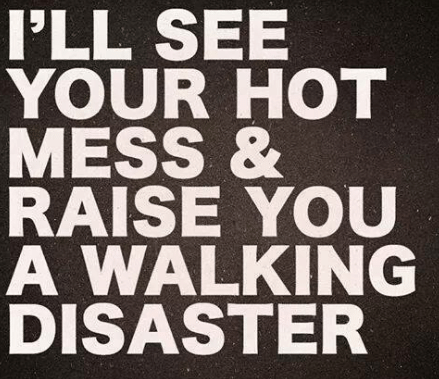 Tit for tat. That's the way it begins. Then it spins out of control and you've got yourself a full-fledged trade war with countries digging into their positions with fervor.
President Trump is famously known for his propensity to double down, even when his position appears untenable to observers. He likes to say, "hit me, and I'll hit you back ten times as hard".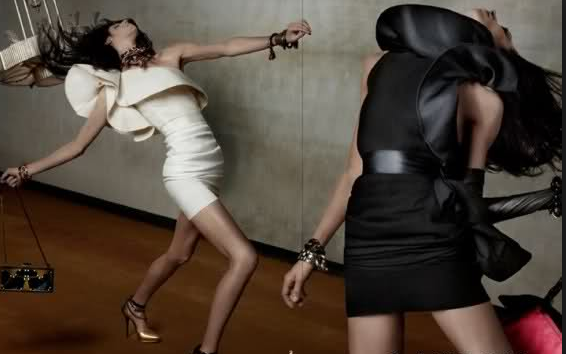 Trade tensions are now spinning out of control between the U.S. and China. The Trump administration imposed 25% tariffs on $50 billion worth of Chinese imports. China had initially responded with 25% tariffs on $3 billion worth of U.S. goods covering over 100 American products.
The U.S. has now moved to impose tariffs on over 1000 Chinese products, including cheap electronic products bought in large quantities by American consumers, TVs and assorted other goods.
Tuesday night, China retaliated against the U.S. by announcing $50 billion of its own tariffs on U.S exports to China.
Hinted at last week, and discussed in my recent article, China's newest tariffs will encompass agricultural products, produced in many of the same states that supported the president in the last election. Automobiles and alcoholic beverages will also be on the list.
This tit for tat began last week when the president announced 25% tariffs on Chinese steel and 10% tariffs on aluminum. China followed on with tariffs on $3 billion of U.S. exports to China.
China's ambassador to the U.S. explained his country's latest response, thusly:
We certainly don't want to have any trade war with anybody, but people have to understand who started all this."
Zhu Guangyao, vice minister of finance, said at a news briefing on Wednesday:
China has never succumbed to external pressure.
He added,
External pressure will only make the Chinese people more focused on economic development.
Investors' reaction to this escalation was immediate. Stock futures Wednesday morning were 1.2% lower in Europe. U.S. stock futures were down 1.70% before the opening. This comes after a large 350 point bounce in the Dow Jones Industrial Average (DIA) on Tuesday, which followed a 458 point drop in the average on Monday. The roller coaster was in full swing and the markets were now poised to drop another 400 points or so.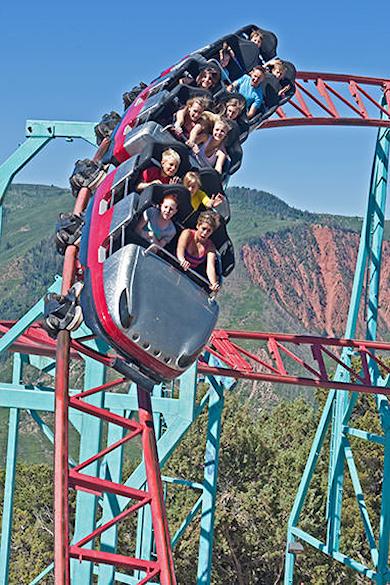 The dueling tariffs still do not impact the majority of trade between the two countries, which is valued at nearly $650 billion a year. Still, economists say that the clash could escalate quickly if the two sides fail to find a way to quickly resolve their differences, threatening a commercial relationship that is essential to the world economy.

The two sides are clashing with the future in mind. President Trump instituted his latest round of tariffs against China while citing Beijing's government-driven efforts to retool the country's economy to focus on the technologies of the future. Known as the Made in China 2025 program, the plan specifies efforts to build up cutting-edge industries like robotics, aerospace and electric cars.

Many companies in Europe and the United States say they fear the program will create state-supported competitors, an argument that has won backing in the Trump administration. Some companies say that Beijing finds ways to force them to hand over technology if they want to sell their wares in China, an allegation that Chinese officials dispute."

source: The New York Times
So, a large factor in this dispute centers around China's insistence that U.S. companies desirous of doing business in China must turn over their technology to their Chinese partners in order to do business at all. The president, by applying pressure through tariffs, is attempting to turn the tide and help advanced manufacturing and technology companies in the U.S. to retain their trade advantages derived through their technological advances they've made.
Bond traders, fearing a trade war might spread globally, calculated that worldwide trade might be on the verge of contracting. Slower growth could lead to lesser demand for money. Lesser demand, plus the flight to safety saw the 10-year Treasury off 2 1/2 basis points to yield 2.73%. This was off its recent high at 2.96%.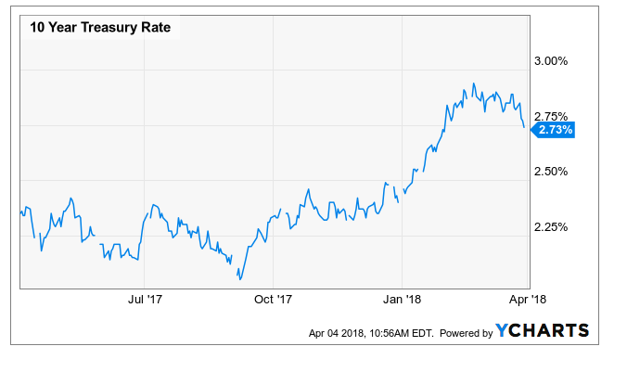 As I write this, mid-morning Wednesday, traders are acting on their fears that these latest moves are signaling an all-out trade war.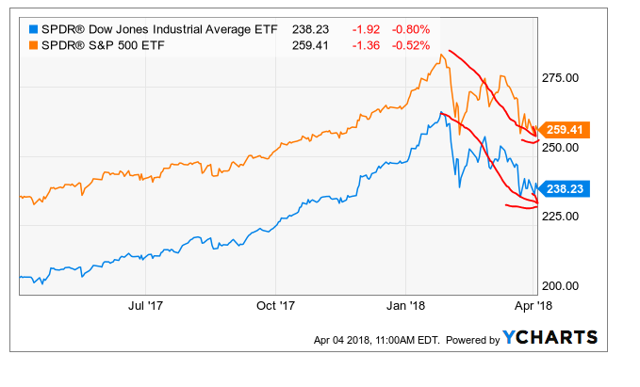 After a very long period of low volatility in the market, the CBOE S&P 500 Volatility Index (VIX) is on a tare, spiking convincingly to reflect trader fears for the future on the back of the presumed trade war.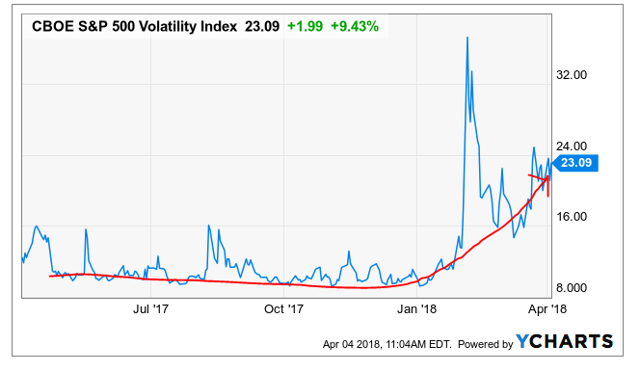 Fill-The-Gap Portfolio, mid-morning, Wednesday, April 4, 2018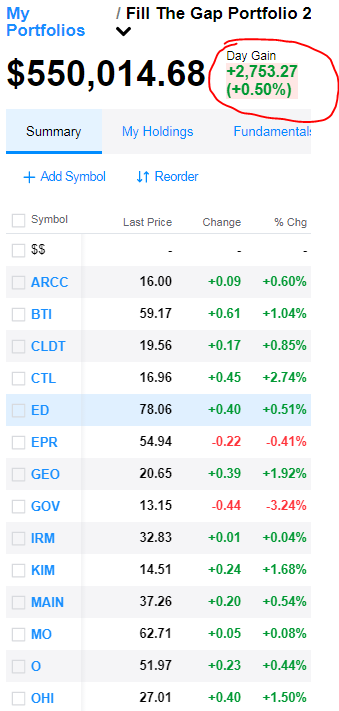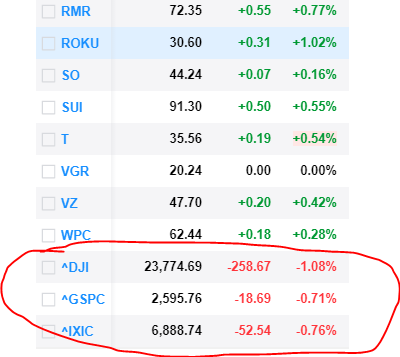 With the Dow Jones is down 259 points, or 1.08%, the Fill-The-Gap Portfolio was not only holding its own, but it was ahead a strong .50%. Out of 22 equities, 20 were in the green and only two were in the red.
Amazon (AMZN), down another $40, continued to be under pressure from the president's tweets and statements. And the beneficiaries from this attack on the e-commerce giant, Kimco Realty (KIM) and Tanger Outlets (SKT) continued to rise for the second straight day. Both of these REITs lease properties across the U.S. to brick and mortar retail chain stores. For months on end, investors referred to these REITs as has-beens, headed to their graves under intense pressure from Amazon and other e-commerce competition.
Back From The Dead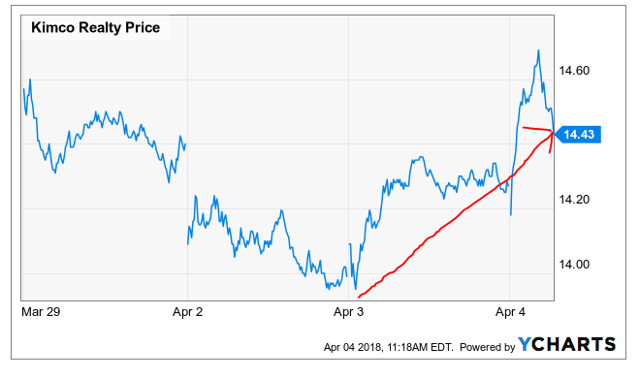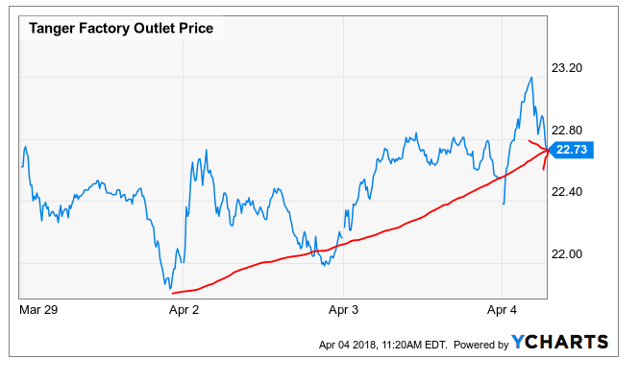 There appears to be lots of life left in these REITs. The additional effect of rate declines in recent days has done its bit, too, to give support and lift to their prices.
Telecoms like AT&T, Verizon and CenturyLink provided safe haven Wednesday as income investors turned to companies with large, free cash flows that support a growing dividend stream.
Tobacco stocks, like Altria, British American Tobacco and Vector Group found market support. Dividend investors are all too familiar with their recession-resistant demand qualities and know that this helps put a floor under their prices. Their dependable cash dividends also provide safe haven in times of market stress.
Knowing that consumers will not turn their lights off, and stop using their computers and communication devices, no matter what, investors were attracted to electric utilities like Con Edison, Duke Energy (DUK), Southern Company and WEC Energy (WEC).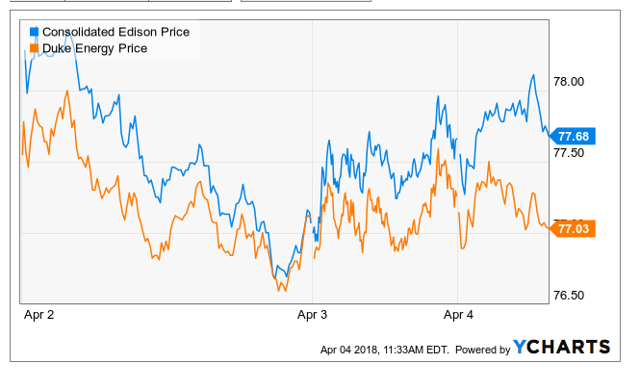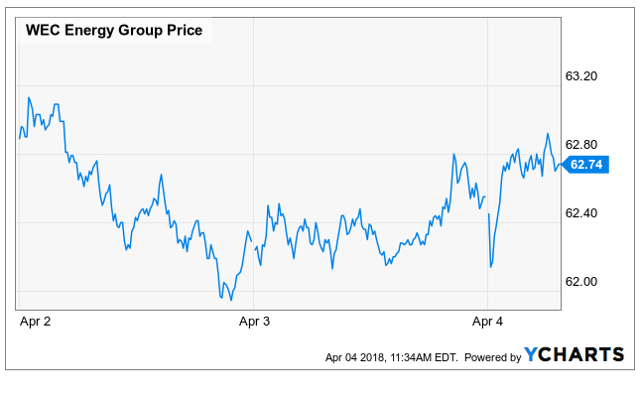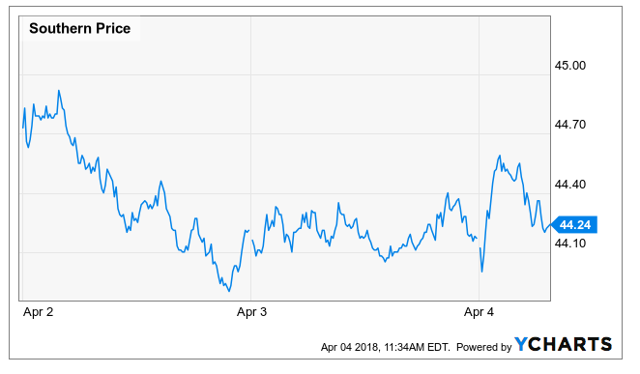 Most of the REITs in the portfolio were benefiting from the lower interest rate environment as well as from the insulation factor. Most, if not all, of their operations are domestic and not subject to the consequences that would occur due to the newly imposed and future threatened tariffs. Chatham Lodging, The GEO Group, Iron Mountain, Realty Income, Omega Healthcare, RMR Group, Sun Communities and W.P. Carey were among the domestic safe havens that were benefiting on Wednesday.
Business development companies, Ares Capital and Main Street Capital also drew strong bids because they, too, do little business in foreign markets. Domesticity, it seemed, had its privileges in the knock-down, drag-out fights going on in the international sphere of tariff trade wars.
The Fill-The-Gap Portfolio
The FTG Portfolio contains a good helping of dividend growth stocks, like Kimco Realty and Tanger Outlets, which can be found in our subscriber portfolio. It was built with the express purpose of benefiting from this defensive strategy.
Three years ago, on December 24, 2014, I began writing a series of articles to demonstrate the real-life construction and management of a portfolio dedicated to growing income to close a yawning gap that so many millions of seniors and near-retirees face today between their Social Security benefit and retirement expenses.
The beginning article was entitled "This Is Not Your Father's Retirement Plan." This project began with $411,600 in capital that was deployed in such a way that each of the portfolio constituents yielded approximately equal amounts of yearly income.
The FTG Portfolio Constituents
Constructed beginning on 12/24/14, this portfolio now consists of 22 companies, including AT&T Inc. (T), Altria Group, Inc. (MO), Consolidated Edison, Inc. (ED), Verizon Communications (NYSE:VZ), CenturyLink, Inc. (NYSE:CTL), Main Street Capital (MAIN), Ares Capital (ARCC), British American Tobacco (BTI), Vector Group Ltd. (VGR), EPR Properties (EPR), Realty Income Corporation (O), Sun Communities, Inc. (SUI), Omega Healthcare Investors (OHI), W.P. Carey, Inc. (WPC), Government Properties Income Trust (GOV-OLD), The GEO Group (GEO), The RMR Group (RMR), Southern Company (SO), Chatham Lodging Trust (CLDT),Iron Mountain, Inc. (IRM) and Roku, Inc. (ROKU).
In Wednesday morning's article, I said:
Though the market bounced higher on Tuesday as investors once again bought the dip from the previous day, readers need to keep in mind the capriciousness of everyday pricing in the markets.
Well, Wednesday certainly delivered more of that capriciousness, in spades, as the Dow sank an additional 350 points in early morning trade.
Dividend growth investors are reminded that we are basically insulated from the fears that constantly weigh on price-focused investors. This holds true, especially during correction periods that we are still in the midst of.
Readers are encouraged to look at the following table any time their stock market nerve is being tested by volatility. We have enjoyed nine very recent dividend raises in the FTG Portfolio.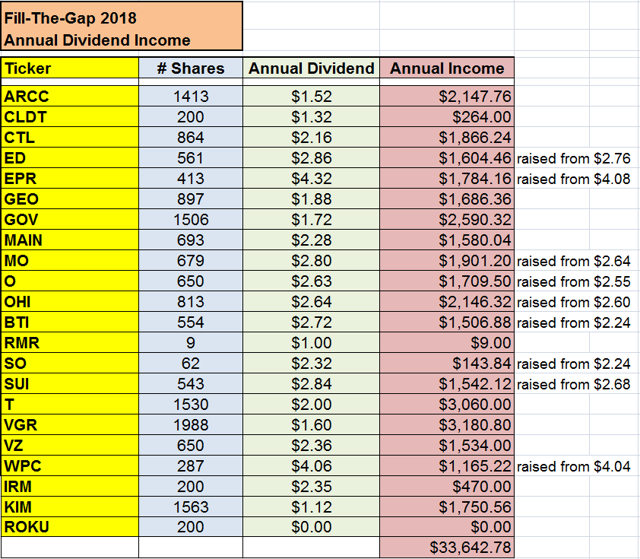 table credit: the author
Your Takeaway
The geopolitical risks we are faced with are intensifying daily, like a gathering storm. Which country (countries) will blink first? Though we haven't heard much from Europe lately as China takes central stage, our European friends weighed in last week when tariffs were initially imposed on steel and aluminum. They basically came to the conclusion that they, too, would feel forced to impose tariffs of their own in order to protect their home-grown industries. We haven't heard the last of this.
Larry Kudlow, the president's new economic advisor, has already recognized in his first week on the job, that walking back the president's statements is part of his job description. He hinted that negotiations over tariffs will be part of the campaign to bring China to heel.
Income investors would do well to see the glass as half-full in this environment. While we are currently outperforming the broad markets by a wide margin, the vicissitudes of the marketplace are such that bargains in the income-producing stocks are still available. Many opportunities are still on the table to grow our income. We only need to take the gifts that are handed to us as other investors abandon their high quality stocks.
Keep your hands nimble, ready to catch them as they fall into your open arms.
In these times of extreme fear, you may even outperform the markets as readers who mirror our portfolio have while investors seek safe haven in government bonds and the type of dividend stocks we've bought and continue to hold for income.
Your Engagement Is Appreciated
As always, I look forward to your comments, discussion and questions. Have you begun to tune out the noise to all the unsettling worldwide events? Are you in the process of sharpening your pencil and readying your watch list? Are you enjoying the benefits that come from your companies that perform opposite to those that are under attack? Please let me know in the comment section how you approach these situations in your own portfolio and how you arrive at your decisions.
Author's note: Should you be interested in reading any of my other articles detailing various strategies to enhance your returns on a dividend growth portfolio, you will find them here.
If you'd like to receive immediate notifications as soon as I write new content, simply click the "Follow" button at the top of this article next to my picture or at the bottom of the article, then click "Get email alerts."
Disclaimer: This article is intended to provide information to interested parties. As I have no knowledge of individual investor circumstances, goals and/or portfolio concentration or diversification, readers are expected to complete their own due diligence before purchasing any stocks mentioned or recommended.
Disclosure: I am/we are long ALL FILL-THE-GAP STOCKS. I wrote this article myself, and it expresses my own opinions. I am not receiving compensation for it (other than from Seeking Alpha). I have no business relationship with any company whose stock is mentioned in this article.