After a couple of years as one of the best emerging market currencies in the world, the Indian rupee has had a weak 2018 so far. I argue why the currency could fall even further in this piece.
Eyeing the Current Account Deficit
Much like the US, the value of goods and services imported by India exceeds that of its exports. It, therefore, has a negative current account balance each year. To correct for this imbalance it must have a surplus in the capital account which is financial jargon for saying foreign funds must pay for the trade deficit. When the capital account surplus exceeds the current account deficit, the Indian rupee tends to appreciate and vice-versa.
As a net importer of oil, the country enjoyed a brief Goldilocks period as oil prices crashed below $50. In 2016, the current account deficit deflated to its lowest-ever levels in nearly a decade. But thanks to a resurgence in crude prices, this advantage is withering away. The import bill on oil is expected to increase 25% to $87.7 billion for the year ending March 2018. The 25% increase would account for nearly a third of the country's annual deficit.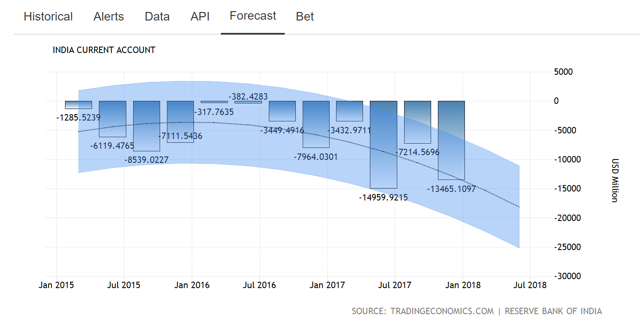 Foreign investors turn cautious
Capital inflows in the medium term are driven by investor sentiments about the economy. And recent developments have moved investors towards caution. A sign of this caution is the increase in yields of Government of India securities. Since September 2017, bond yields have increased by a whopping 80 basis points. The monetary policy rate in this period though remained unchanged. Now imagine a rise in Treasury yields without the Fed raising interest rates!

What does this tell about the economy? Yields rise when investors lose faith, sell the bonds and prices fall. The government is basically being forced to provide a higher yield for investors to hold on to the instrument. This loss of confidence is a direct consequence of fiscal slippage and other factors as the banking crisis acting as impediments to growth.
Bankers nervous about issuing new loans
Overreaction is commonplace when anger is triggered by the media. The discovery of a $2 billion fraud in one of its state-owned banks and the subsequent public anger spurred the Indian finance ministry into action. The ministry immediately released an order to investigate all loans above INR 500 million (~$7.5 million) for fraud. This is likely to make bankers nervous about having their names signed against any new loans even where the counterparties are creditworthy. After all an investigation in case of default would lead straight to them. Wrong business cycle decisions cannot be classified as fraud but an investigation by the government and a trial by media could be akin to harassment for these people. No one wants this kind of hassle especially when the individuals are honest. Public sector banks still constitute two-thirds of the banking system in the Indian economy. Their reluctance in providing credit is likely to be a short-term drag for growth which in turn could restrict foreign capital flows into the country.
Politics and uncertainty
India is due for a general election next year. In 2014, the incumbent government came to power with a full majority, a first in thirty years. While the current Prime Minister is widely expected to retain power, his ability to retain it with a full majority is suspect. As investors limit their exposure to this fog of uncertainty, I expect bearish sentiments to strengthen in the build-up to the election cycle.
Conclusion
The twin dynamics of increasing current account deficit and muted investor interest is likely to at best (for a bear) weaken the Rupee and at worst keep it range bound in the near to medium term. Considering that a weaker rupee aids the competitiveness of its exports, the Reserve Bank of India is also less inclined to intervene to support the currency. I, therefore, think this is an opportune time to short the Indian Rupee.
Coming Soon
A marketplace service that looks at companies which could be at the receiving end of tech disruption in a decade, finds alpha rich companies in the volatile retail sector and offers bespoke research for your portfolio needs. Hit the follow button to be in the loop for more insights on the free site and to be alerted about the launch of our marketplace service for your premium research needs.
Disclosure: I/we have no positions in any stocks mentioned, and no plans to initiate any positions within the next 72 hours. I wrote this article myself, and it expresses my own opinions. I am not receiving compensation for it (other than from Seeking Alpha). I have no business relationship with any company whose stock is mentioned in this article.