Several characteristics make Associated British Foods (OTCPK:ASBFF) (OTCPK:ASBFY) an attractive value stock with excellent growth potential. Among these, strong cash flow generation and high quality earnings give me additional confidence in the long-term prospects of the business. Last but not least, the recent drop in stock price has created a rare opportunity for value investors.
At a glance
Associated British Foods was founded in 1935 by the Weston family which owns 431,515,108 shares or 54.5% of all ordinary shares of ABF, through Wittington Investments and its subsidiary Howard Investments. The company has five main divisions - Retail, Grocery, Sugar, Ingredients and Agriculture. Although all five business segments deserve investors' attention, in this article I will focus mainly on the two largest which make around 70% of the group's operating profit - the fast fashion retailer Primark and the Grocery business.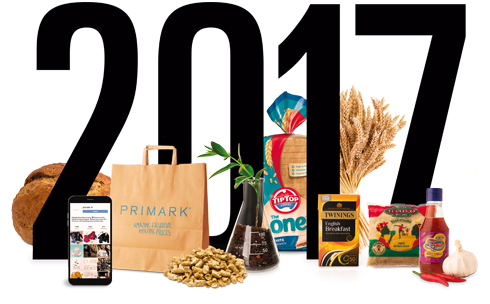 Source: Associated British Foods Annual Report 2017
Combining a growing fast fashion retail with more stable food business is a rare combination which at first glance might seem odd. Nevertheless ABF's management has done an excellent job in each of the five business segments, whilst diversity in operations allows ABF to deploy capital more efficiently.
The business is also well-diversified geographically, with almost 78% of operating profit coming from UK, Europe and Africa. This checks the list for investors looking to add exposure to the UK and European markets.

Source: Associated British Foods Annual Report 2017
Fast Fashion Retail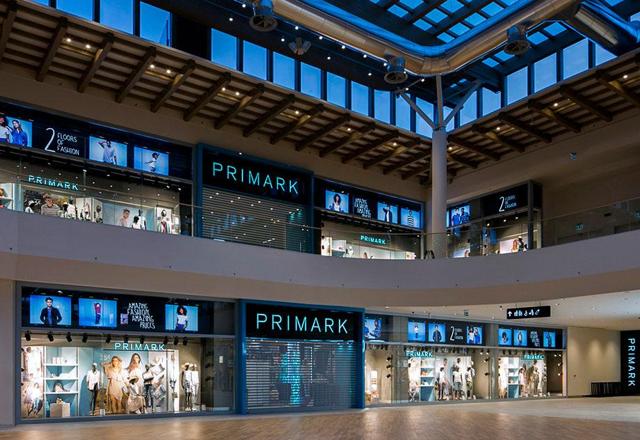 Source: www.primark.com
"The UK is on fire," AB Foods Chief Financial Officer John Bason said by phone. "Of the 20 largest retailers, our market-share growth has been the strongest over the last year.
Primark has seen a tremendous success not only in the UK, but across continental Europe as well. In 2015 Primark opened its first store in the US and has slowly been expanding its presence across the East Coast to 9 shops as of today. Its total sales have been growing at a 16.5% CARG since 2006 and yet Primark still lags behind its main competitors in terms of number of stores.

Source: Associated British Foods Annual Filings

Source: Companies' Annual filings
In the last earnings call, ABF's management indicated their commitment to continue their expansion in Europe, UK, France and Germany in particular, with new openings expected in some Eastern European countries as well.
Expansion in the US, where Primark operates only 8 stores as of end of FY 2017, also presents a huge opportunity. According to the company's latest earnings call between 15-20 stores in the US would be necessary for the business to break even in the country.
The cost leadership of Primark is a key competitive advantage of the business, especially when e-commerce is disrupting the brick and mortar retail sector. While most fashion retailers are suffering from increased competition from the likes of Amazon and ASOS, Primark is achieving significant topline and bottom line growth. The extremely low prices of Primark - $11 for a shirt, $4.5 for shorts, and $10 for a sweatshirt, are making the business to a large extent immune to competition from online retailers where delivery costs are taking away the price advantage. Primark has also been improving its instore experience and investing in licenses, such as Disney and Harry Potter, to differentiate its offerings from the competition.
Finally, the recent appreciation of both the sterling and euro against the US dollar are providing a significant tailwind for Primark's margins in the UK and Europe as input costs are priced in USD.

Source: Associated British Foods Annual Filings; Oanda.com
The Grocery Business

Source: dashboardsimulations.com
The grocery business of ABF has one of the most renowned food brands with significant presence in Ethnic Foods. The company has one of the most recognized brands in the UK - Twinings, Pataks, Blue Dragon, Jordan's, Dorset, Ovaltine and Ryvita. ABF also has a presence in the US, Australia and Asia Grocery markers with brands such as Mazola and TipTop as well as globally recognized Twinings and Ovaltine. ABF is also operating within the catering industry through the sale of some of Kraft Heinz's iconic brands - HP and Amoy sauces.
In 2017 sales ABF's Grocery business saw their first increase in sales since 2013 as re-branding of Blue Dragon, design refresh of Twinings and introduction of new products started bearing fruit. The operating margin has also been improving over the last few years, however it still remains below that of the global competitors. Premier Foods, another British company, is the only competitor from the list below with comparable margins.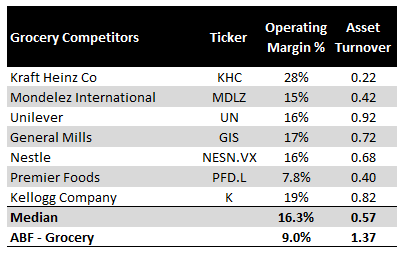 Source: finance.yahoo.com
Despite product and marketing investments, ABF has also been focused on small acquisitions that complement its product portfolio. Last year it acquired Acentum, an Italian vinegar manufacturer based in Modena and two Sports Nutrition companies – High5 and Reflex.
Cash Flow Generation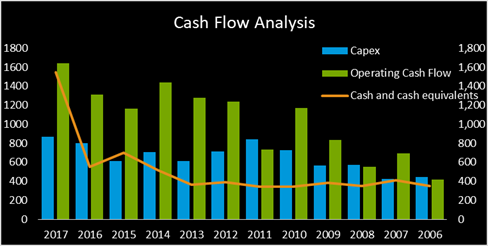 Source: Associated British Foods Annual Filings
ABF had a record year both in terms of Operating Cash Flow and Capex, whilst Cash on hand also reached all time high at GBP1.5bn, giving ABF a significant war chest for acquisitions or reinvestment in the business. The management is committed to gradual increases in dividends each year, so I do not expect this to be spent on a large dividend spike or a special dividend payment. Primark's business is growing organically so any acquisition on that front is also not on the table. On the last earnings call the management mentioned that most valuations of any potential targets are at very lofty levels at the moment, so I would not expect any large acquisitions either. The most likely scenario seems to be increased reinvestment in the business coupled with acquisitions of small food companies that would be easily integrated within ABF's existing business. As can be seen below, the main focus of capital expenditure for the last fiscal year has been reinvestment in the Retail and Ingredients divisions.

Source: Associated British Foods Annual Filings
Earnings Quality and Cash Flow
Below I look at the group's changes in receivables, inventories and payables relative to changes in sales. There seems to be a relationship between these ratios and following year change in Net Working Capital, which in turn is having a negative effect on Operating Cash Flow. In all years that were followed by an increase in NWC, except for 2008, we saw a higher growth rates of sales relative to these three working capital items.
Therefore given the higher increase in sales relative to receivables and inventories in 2017, it seems very likely that ABF would need to increase its investments in working capital over the next year which would reduce the cash from operations.

Source: Associated British Foods Annual Filings
Capex to depreciation ratio is at healthy levels, showing enough reinvestment in the business to more than cover depreciation expenses. Also it is worth noting that periods of high Capex/Depreciation ratios were followed by years of top-line growth and vice versa.

Source: Associated British Foods Annual Filings
Finally ABF's cash flow from operations is persistently above the company's operating profit, also signaling a good earnings quality.

Source: Associated British Foods Annual Filings
Improving Asset Turnover of Primark
Primark's improving sales density and asset turnover have been key drivers of ABF's Return on Equity. Since 2010 sales density of the retailer went up 21% from £421 to £509 per sq ft.

Source: Associated British Foods Annual Filings
As a result not surprisingly the retail segment has also been consistently improving its asset turnover from 1.17 in 2007 to 1.72 in 2017.

Source: Associated British Foods Annual Filings
Ingredients was another division that saw an increase in Asset Turnover, however given the segment small relative size the overall effect was negligible.

Source: Associated British Foods Annual Filings
During the same period ABF's asset turnover went up from 1.01 to 1.27 while Return on Equity (adjusted for non-recurring net income items) increased from 10.0% to 12.7%. Operating margin has also increased marginally over the period, however it is closer to the long-term average.

Source: Associated British Foods Annual Filings
Looking at competitors, Primark's asset turnover has further room to expand as store layouts and in-store availability improve.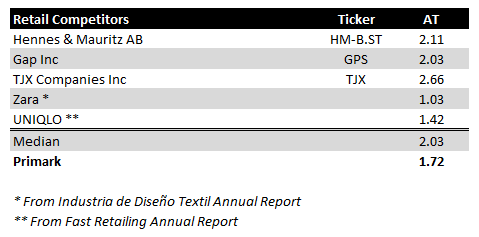 Source: finance.yahoo.com; Companies' Annual filings;
Valuation
Historical P/E Valuation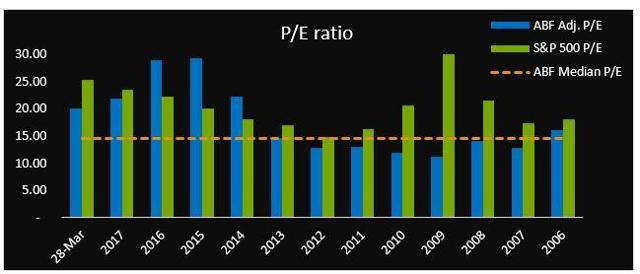 * ABF P/E ratio based on average price over the corresponding year
Source: Associated British Foods Annual Filings; www.multpl.com; finance.yahoo.com

Source: Associated British Foods Annual Filings
P/E ratio of ABF has been slowly decreasing over the past 3 years as the EPS growth achieved in 2014 (see above) has slowed down and market reacted accordingly. This is where I see a divergence between the ABF management's targets and investors' perceptions of ABF. Although ABF has significant future growth opportunities, the management seems to be aiming for a more prudent and sustainable growth approach as opposed to quick debt fueled expansion.
vs. Competition in Retail and Grocery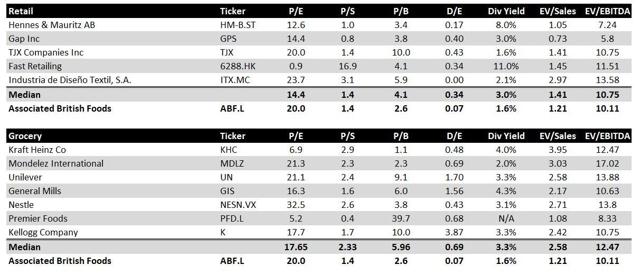 Source: finance.yahoo.com
ABF's Price to Book is one of the lowest among its peers in both Retail and Grocery. Although this low P/B ratio could be attributed to ABF's low debt levels, only 7% debt to equity ratio, the EV / EBITDA is also at the lower end in both business categories.
ABF's operating margins are indeed lower than those of competitors in both business segments, however there are a few key points worth considering:
Firstly, Primark's cost leadership strategy has been a huge success over the past few years despite the low margins. This has allowed Primark to significantly expand its foothold in the UK and Europe and is likely to fuel further growth not only in Europe but U.S. as well. Furthermore as Primark's sales density continues to improve its asset turnover should also increase to match that of its competitors. That would consequently translate into higher ROE and higher EV / EBITDA multiple.
Secondly, the Grocery business is also improving as ABF's increased investment in its iconic brands drives product differentiation. According to the company's latest earnings call, both Patak's and Blue Dragon have gained market share following the re-branding of the latter. Jordan and Dorset continue to expand internationally, thus improving operating profitability.
Finally, the management's prudent approach when selection acquisition targets combined with the significant cash holdings could also provide a significant upside within the food segment.
Sum of the parts
Using a conservative sum of the parts valuation of ABF's overall business and 2017 numbers as well as valuing the Sugar, Agriculture and Ingredients businesses at assets book value, thus ignoring EBITDA growth in 2018, I calculate the Enterprise Value of ABF at £21,256m, or 8.8% higher than current EV.

Source: Associated British Foods Annual Report 2017
Conclusion
Associated British Foods is a great business with rapidly growing fast fashion retail segment and a stable cash flow generation from its grocery unit. The company also combines an improving sugar business as well as small agriculture and ingredients operations. A strong cash flow generation would allow ABF to grow organically across United Kingdom and Europe, whilst also expanding its presence in the US market. ABF's management has been very prudent when growing the business either organically or through acquisitions which has benefited ABF's long-term investors. Finally, ABF is trading at reasonable valuation levels at x20 times earnings and has been consistently increasing its dividend per share since 2008.
Disclosure: I am/we are long ASBFF. I wrote this article myself, and it expresses my own opinions. I am not receiving compensation for it (other than from Seeking Alpha). I have no business relationship with any company whose stock is mentioned in this article.
Editor's Note: This article discusses one or more securities that do not trade on a major U.S. exchange. Please be aware of the risks associated with these stocks.