Monthly Waste Recap March: New Deals, New Tech, And Next Month
Summary
This monthly recap is focused on a quiet month.
We cover the evolutions of older stories such as China, Construction, and Organics.
We cover new stories such as MRF Automation.
Price action for the month along with next month's news is also included.
Slightly delayed due to Easter.
In my February waste recap, I predicted a slow month with a few conferences, Casella Waste (CWST) reporting their annual results, and little else. My predictions were accurate, and only non-expedient information was revealed during the month.
Waste Management (NYSE:WM) committed to an acquisition, the pressure on organic landfill volumes increased, and the predictions I made relating to construction waste were backed by a brand new report on C&D waste. MRF Automation is also covered as material new information has surfaced.
As always, the monthly price recap:
The S&P had yet another rough month down -1.7%. The big three outperformed materially with mean returns of -0.32%. The biggest loser was Waste Management down -1.44% while Waste Connections (NYSE:WCN) pulled ahead of the pack with a 1.17% return. Republic Services (NYSE:RSG) returned -0.7%
The entire universe returned -0.75%, but had extreme variance. Casella Waste Systems returned -8.13% while Suez ((OTC:SZEVF), (OTCPK:SZEVY)) returned 5.3%. Advanced Disposal (ADSW) returned 3.05%.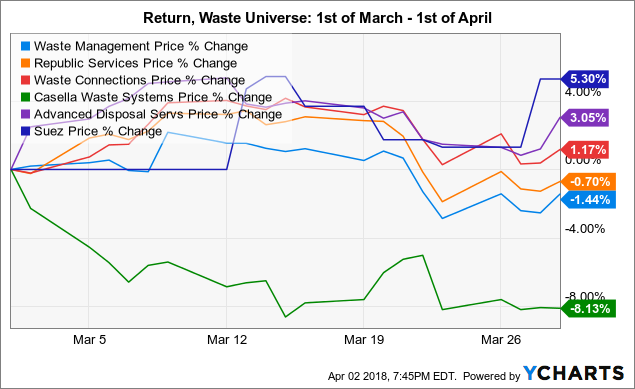 As always, even in quiet months, there was a plethora of news that occurred over the past month. I will focus on the ones with relevance to investors or occasionally out of general interest and respect.
Goodbye to Huizenga:
An example of non-financial news I do cover would be the passing of Wayne Huizenga. Mr. Huizenga founded Waste Management and co-founded several other companies (AutoZone, Blockbuster) and had many interesting aspects to his personality. Mr. Huizenga passed on the 22nd of March. Two Huizenga quotes stand out to me:
"Don't get greedy. Just look for win-win. Be fair. Take some off the table when it's reasonable."

"Why do you climb the mountain? Because it's there."
The Chinese Saga continues:
My favorite piece this month was from Wastedive.com. The interview with Brent Bell, the head of recycling, from Waste Management had some interesting insights and intriguing topics. I highly recommend checking it out. The two insights that stood out the most was the "update" on the Chinese waste ban and color on MRF automation.
For a reference guide on the initials of the story, consult my article "Waste Management: Tailwinds From China Ban On Foreign Waste".
As a quantitative update, Brent Bell outlined that the expectation is a 30% drop in import licenses, but that was the least interesting perspective on the topic.
The first interesting update/perspective was the price-volatility risk and operational difficulties associated with the excess of recyclables building up.
"We've always had the precedent to move material and worry about price second, just because moving it is our number one issue. It also becomes a safety issue when you have plants that have a lot of material stacked up. [...] What are you storing it for? Are you speculating the market's going to go up or down? And every month you hold onto material longer for, it just decreases in value." - Brent Bell
The capacity for velocity of trash is essential, and few companies have more extensive networks than Waste Management. Waste Management has consistently been a high-performer in the recycling space, with a higher % of sales originating from recycling than comparables. It seems that WM has generally been able to move consistent volume to countries such as India and other Southeast Asian countries for now.
The conversation turns to legislation in said countries, and an interesting question is implicitly brought up; what if every other outlet starts tightening the standards? Here is Brent on the 0.5% contamination standard:
"Hey, take China's name out of it. That could be 0.5% to India next year, it could be 0.5% to South America, wherever we move materials to." - Brent Bell.
If that happens, two key drivers will be reinforced; consolidation and landfill volumes.
Consolidation, because the necessary technology investments will drive out smaller competitors. Especially MRF (Material Recovery Facilities) has tremendous capacity for technological improvements.
Another potential impact of reinforced global ecological standards is an "adjustment period" where the cost of recycling will appreciate, and municipalities will be forced to adjust their environmental goals in relation to cost. The prices of recyclable material will also meaningfully depreciate.
An interesting tidbit of information is WM's capacity to move plastics.
"We don't move any of our plastics outside of the U.S. We've actually been fortunate to find domestic markets years ago, and we've really tried to encourage those markets to grow and support those markets." - Brent Bell.
The conversation continued, but no material unfamiliar material surfaced. The conversation moved to MRF labor.
MRF Automation
I've written enthusiastically about technology and the waste sector. In my article "Waste Megatrends: How Will Technology Transform The Waste Sector?", I covered MRF automation extensively.
To re-quote Antonis Mavropoulos, the president of the International Solid Waste Association:
"At first, it's obvious that manual sorting will be completely wiped out, maybe in less than five to six years." - What Robotics and AI Could Mean for the Future of the Industry, Waste360.
For the above timeline to hold, Waste Management and Republic Services would have to consistently implement technological innovations in the coming years. The interview with Bell has some interesting information; the adoption process key drivers have gained traction, and implementation has begun.
First of all, labor is still relatively tight regarding MRF sorters. The tighter the labor supply, the more MRFs will need to compete on prices with substitute jobs like Amazon (AMZN) warehouse packaging centers. As wages appreciate, so do the incentives for automation.
The really spectacular news was the recent implementation of a recently automated MRF. Below is the relevant quote: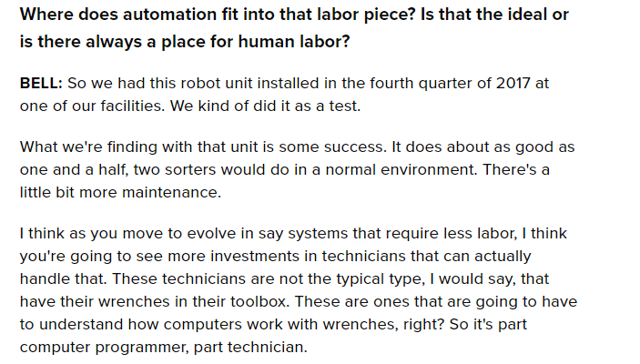 The rest of the interview dives into the dichotomy between recycling and landfill profitability, pricing, and carbon taxes. The interview is quite interesting. Read it here.
Acquisition News:
March was quiet in terms of material acquisitions. Waste Management acquired Anderson Rubbish Disposal and Moorpark Rubbish Disposal and a few private companies committed to minor M&A.
The Waste Management deals were both centered on California, specifically Los Angeles. Urban areas are usually associated with low-margin revenues, but:
The deals are small; and

The deal involves strategic assets.
Using Manta.com to check out the companies (links: 1, 2), the aggregate revenues seem to approximate 8 million USD. Operating at 20% EBITDA margins and assuming a 7x deal multiple, the cost is roughly 11.2 mm pre-synergies. At an 11 million valuation, the deal makes up approximately 0.2% of the total company equity.
So, why even look at the deal? Because it implies that Waste Management aims to consolidate around LA and increasingly focus on the city. This is fairly important as LA has recently provided much more lucrative contracts with price-hikes up to 5% annually (source) that have been wildly unpopular (source). The reason WM is buying in at this point in time might be that the program has recently seen vast improvements with a 68% drop for this month in complaints (source). The reason for the drop? An increased ability to impose fees on negligent haulers. The reason initially sounds onerous for WM but might have resulted in favorable prices and a higher chance of the favorable LA program staying in place.
Construction and Demolition:
Another update to a previous topic. In last month's recap (link), I estimated that the new infrastructure plan would drive increasing amounts of construction and demolition materials into the waste stream. ("Construction Boom! Which Waste Company Stands To Benefit The Most?"). This month, a new report was released titled "Construction debris volume to surge in coming years". The report is buy-to-read from Transparency Market Research, but predicts rapid growth in the North American Market.
This month, a new report from Stifel's Michael E. Hoffman also outlined construction waste as a material driver of growth. To quote takeaways from pages 9 to 12 of the report:
Housing starts support FY18 volume outlook of 1% to 2%.

Core non-residential construction growth is not expected to peak until 2019/2020.

The FY18 volume growth outlook for the group is flat to 2.2%, with an average of 0.8%.

Additional upside to growth as sustained new housing starts move towards normalized historical levels and continues to generate new core volume growth in 2018.
Organics, Technology Implies Negative Outlook, Policy Positive:
Another update to both previous waste editions. I wrote in my January update that:
"21% of landfill waste consists of food waste, and many countries (like France) have shown that drastically reducing food waste is quite easily done on a regulatory level. [...] even moving halfway towards french levels would decrease landfill volumes by 5%"
Organic waste had an extremely active March. A new app that cuts food waste in the supply chain got funded with 2 million, Amazon was forced to consider food waste under pressure from its investor base, the army ramped its food diversion program, but the State of New York decided not to include an extremely aggressive organics diversion program in its budget.
Starting with the "good" news: The State of New York decided to exclude a law that would force commercial establishments above a certain size to arrange for recovery and recycling of organics by 2021. Governor Andrew Cuomo is quite intent on increasing recycling and reducing landfill volumes, but is unable to enforce regulation for now.
But the other news speak for themselves. New technology is improving efficiency by the day, and the economics of recycling are increasingly starting to make sense. Food waste diversion is the first step towards a changing industry. In the middle of February, Van Dyk Recycling also released this video, which shows an increasingly automated MRF operating in Mexico. The MRF is able to separate organics from other waste types almost immediately. The new technology is increasingly making the waste industry less about landfills, but what does that entail?
Landfills have been a cornerstone of industry profitability for years and years. Reduced volumes require that operators will either hike fees (making recycling even more attractive) or find other ways to earn their money. Unfortunately, landfills are moated assets while collection routes are less so. No county wants new landfills unless necessary, so supply is tight, and the operator of the landfill can integrate and consolidate the surrounding area into a profitable natural monopoly through MRFs and collection routes.
However, with increased diversion, the industry will be forced to compete in commoditized spaces. The safest operators are those with exclusive and integrated routes, such as Waste Connections and Advanced Disposal, whereas both WM, Casella Waste, and RSG seem to be less prepared for the shift from landfill-to-collection profitability.
The policy outlook is moderately favorable in many states, but as technology continues to improve the economics of recycling, landfill volumes will be diverted. The industry will have to adapt financially and strategically.
Next Month:
The biggest conference in April is WasteExpo 2018 hosted by Waste360 (a source I frequently link). The conference will include all the topics we deal with in news recaps along with some less financially centered ones. The event will span from the 23rd of April to the 26th of April.
With over 600 exhibitors and 12.000 guests, I expect there to be plenty of interesting (and consequential) product reveals. For any investors nearby, I would recommend the Stifel investor summit with an agenda including IoT, price discipline, and a WCN talk on how to "be the best operator" in the industry.
While not technically in April, I would be remiss not to remind everybody that the 2nd of May is the Q1 date for most of the waste industry.
This article was written by
"I came, I saw, I bought" - - - - - - - - - - - - -Currently inactive due to work and other responsibilities.
Analyst's Disclosure: I/we have no positions in any stocks mentioned, and no plans to initiate any positions within the next 72 hours. I wrote this article myself, and it expresses my own opinions. I am not receiving compensation for it (other than from Seeking Alpha). I have no business relationship with any company whose stock is mentioned in this article.
Seeking Alpha's Disclosure: Past performance is no guarantee of future results. No recommendation or advice is being given as to whether any investment is suitable for a particular investor. Any views or opinions expressed above may not reflect those of Seeking Alpha as a whole. Seeking Alpha is not a licensed securities dealer, broker or US investment adviser or investment bank. Our analysts are third party authors that include both professional investors and individual investors who may not be licensed or certified by any institute or regulatory body.