The market easily shook off the news, suggesting that far-sighted investors believe that negotiations between the U.S. and China will forestall the implementation of both plans. The price action of the S&P 500 Index (SPX) in the last couple of sessions begs the question, "Is the market trying to establish a final low to end the 2-month-old correction?" We'll take up that timely question in today's commentary. The short answer is that while there are a growing number of indications which suggest a bottom could soon be established, the single most important ingredient for a bottom is still missing.
Stocks sold off in early trading on Tuesday but quickly rebounded and finished the day with solid gains. The S&P 500 closed up 1.16% after opening with a loss of around 1.5%. The Nasdaq Composite gained 1.45%, while the Dow Jones Industrial Average climbed 1%. The motive behind the day's early weakness was a revival of trade war fears after China unveiled a new tariff plan in retaliation to U.S. tariffs on Chinese goods. The Trump administration on Tuesday revealed a plan to impose tariffs of 25% on Chinese imports worth a total of $50 billion in total. China responded by announcing a similar plan, calling for duties of 25% on American imports worth nearly the same amount. Both plans are not yet official.
Putting aside the ongoing tariff saga, the stock market has shown some nice breadth divergences lately. While the Dow and SPX have been plumbing their year-to-date lows, the NYSE advance-decline (A-D) line has made a conspicuously higher low (below), which is a sign that the selling pressure of the last couple of weeks hasn't been as broadly based as it might seem to be at face value.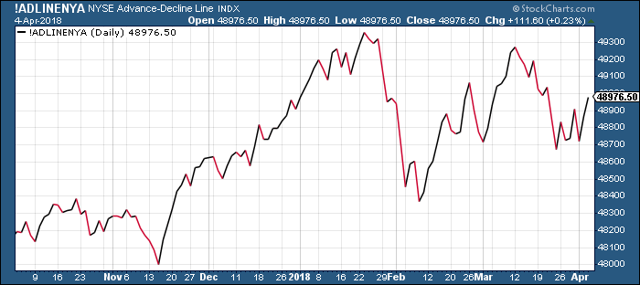 Source: StockCharts
Then there is the testimony of the NYSE cumulative advance-decline volume line. This indicator is also diverging higher against the Dow and S&P, as can be seen in the following graph.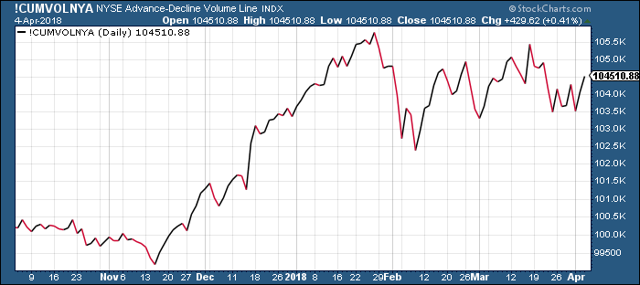 Source: StockCharts
The combined testimony of both indicators is striking. It suggests that despite the internal selling pressure of the last few weeks, there's enough buying interest to prevent the major averages from collapsing under the strain of selling in the few market segments which have been under serious pressure. In other words, the selling which has been reflected for so long in the new 52-week lows on the NYSE has been mainly in interest rate-sensitive securities, including in the energy and real estate sectors, but hasn't been widespread enough to suggest a bear market is imminent. This was the theme we examined in Wednesday's commentary, and the indicators shown above provide further elucidation.
So with breadth and volume showing signs of strength, are we to assume the final low is in for this correction? That would be a premature assumption considering that one of the most important signs of the stock market's overall health, namely the 52-week highs and lows, still hasn't recovered sufficiently to prove that the bottom is in. It's significant that the new high-new low differential on the NYSE has been negative every day since March 14. That is, more listed stocks have made new 52-week lows than highs. This was also the case on Wednesday as there were 85 lows compared with only 26 highs.
Moreover, as long as there are more than 40 stocks making new lows on either exchange the market's internal condition is assumed to be less than ideal. Therefore it's still too early to call this a bottom and buying now would be an undue risk in light of the lack of incremental demand for equities reflected by this important indicator.
Another aspect of the market which needs improving before it's completely safe to buy is the immediate price momentum of the major averages. Currently all six of the most important major indices - a list which includes the Dow, SPX, NASDAQ 100 (NDX), Russell 2000 (RUT), S&P 400 MidCap (MID), and NYSE Composite (NYA) - are below their 15-day moving averages. To confirm an immediate-term bottom, a majority of the six indices should close at least two days above the 15-day moving average. This would not only confirm that the immediate overhang of supply has been absorbed by the bulls, but it would also break the downward momentum which has held sway over the large cap stocks since mid-March.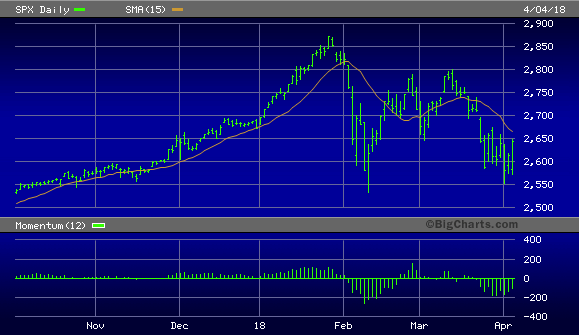 Source: BigCharts
A final consideration is market volatility. The volatility gauge I consider to be most salient right now is the CBOE S&P 100 Volatility Index (VXO) which measures large-cap volatility. VXO is still sloping upward along its rising 15-day moving average as shown in the following chart. As long as VXO remains above the 15-day MA there is still a danger that we could see another sudden spike in volatility. A close under the 15-day MA would break the proverbial back of volatility in that it would represent a reversal of the short-term VXO trend. Historically, whenever volatility indices like VIX and VXO have closed decisively below the 15-day moving average after a period of increased choppiness it has been followed by subsiding volatility and a return to normalcy for the broad market.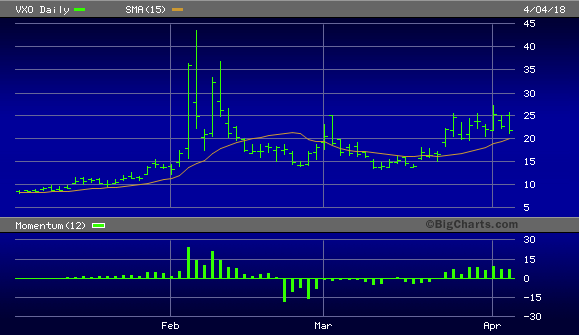 Source: BigCharts
Returning to our earlier discussion, with two out of three of the three essential components of the broad market "tape" in decent shape (namely breadth and volume), there is reason to believe that not only will a bear market be forestalled but a worthwhile buying opportunity should be shortly ahead. For now, though, traders should remain defensive and wait for the trend of too many stocks making new 52-week lows to diminish before plunging in. A heavy cash position is still warranted until then for conservative investors.
Disclosure: I/we have no positions in any stocks mentioned, and no plans to initiate any positions within the next 72 hours. I wrote this article myself, and it expresses my own opinions. I am not receiving compensation for it (other than from Seeking Alpha). I have no business relationship with any company whose stock is mentioned in this article.