BioSci Rounds Report: Unlocking Hidden Values In Omeros, Unum, And Nektar
Summary
Omeros Corporation rallied due to strong fundamentals of OMS-721.
The concerns regarding Omidria reimbursement are vanquished as the pass-through status is extended.
Unum Therapeutics went IPO to raise $69M for the innovation of the specialized form of TCR.
Unnum can be a potential acquisition target by its partner Seattle Genetics. The insiders already loaded up shares. FDA policies against painkillers improve the prospects of NKTR-181 for Nektar Therapeutics.
This is a sample of the Integrated BioSci Rounds Report that we wish to share with our readers.
"None of us likes to admit to himself that he has been wrong." - The Father of Growth Investing (Philip Fisher)
Trading Analytics
Welcome to another edition of Integrated BioSci Rounds Report for April 3, 2018. As usual, we'll elucidate notable trading analytics for the day, recent insider transactions, and interesting market developments. Without further ado, let's dive into the first notable trades with Omeros Corporation (NASDAQ:NASDAQ:OMER) - a bioscience focusing on the therapeutics innovation and commercialization to treat both large as well as rare diseases. Today, the company traded $1.36 higher at $12.15 for 12.60% profits.
Of note, the recent concerns about the Center for Medicare and Medicaid Services (CMS) reimbursement for lead product Omidria (phenylephrine and ketorolac 1%/0.3%) for maintaining the pupil size and reducing post-op pain during cataract surgery. In response, the market overly worried that Omidria will lose its pass-through status so that eyes surgeons (ophthalmologists) can only charge $992 for the operation (rather than the usual $492 on top). In response to the potential of the new bill being pass to extend the pass-through coverage, the shares rallied over 35% on March 22, 2018, as investors bet that the said bill will go through. As it turned out, that is exactly the case as the firm filed their 8-K on March 23 with the following update:
On March 23, 2018, President Trump signed into law the Consolidated Appropriations Act of 2018. A bipartisan-supported provision in the Act extends pass-through reimbursement status for a small number of drugs used during procedures performed on Medicare Part B fee-for-service patients for an additional two years, effective Oct. 1, 2018, through Sep. 30, 2020. The drugs that qualify for this extension are those for which previously existing pass-through reimbursement status expired on Dec. 31, 2017, and which became included as part of the packaged procedural payment as of Jan. 1, 2018. Omidria is one of the drugs for which pass-through reimbursement status was extended. As a result, each of these drugs, for the two-year period beginning Oct. 1, 2018, will receive separate payment at a rate of the average sales price plus six percent, consistent with almost all other physician-administered drugs that come off pass-through status.
Though the debacle of Omidria has resolved, we are most interested in OMS-721, the "crown jewel" of the pipeline. OMS-721 is a monoclonal antibody against the mannan-binding lectin-associated serine protease-2 (MASP-2) that, in and of itself, is a novel proinflammatory protein target involved in the activation of the complement system (an important component of the immune system per se). The said drug is currently being investigated as a potential treatment for atypical hemolytic uremic syndrome (aHUS), IgA nephropathy, hematopoietic stem cell transplant-associated thrombotic microangiopathies (HCT-HMA), and lupus nephritis. Except for lupus nephritis, all franchises are in their Phase III trials. And, we expect stellar data results that will lead to regulatory approvals (which, in turn, translate into blockbuster sales).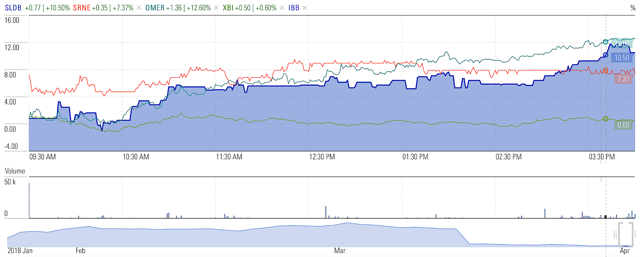 Figure 1: Notable BioSci movers. Source: Morningstar.
Re the broader bioscience market, the iShares of NASDAQ Biotechnology Index (NASDAQ:IBB) traded up $0.38 at $102.90 (for +0.37% profits). Moreover, the SPDR S&P Biotech (NYSE:XBI) exchanged hands $0.50 higher at $84.35 (for +0.60% gains). It's likely that investors were trading with somewhat better sentiment for the day. Regardless of the daily inclination, there are substantial prospects in the bioscience sector: one that delivers hope for patients while rewarding supporters with substantial wealth in the long haul.
Insider Transactions
In monitoring insider transactions, one should analyze the data with the grain of salt. That being said, we wish to share with you the quote from the Former Fidelity-Magellan Manager (Peter Lynch): "Insiders might sell their shares for any number of reasons, but they buy them for only one they think the price will rise." As shown in Table 1 below, three interesting transactions that made our list for the day came from Unum Therapeutics (NASDAQ:UMRX), a Cambridge, MA-based firm focusing on the development of novel immunotherapeutics designed to harness the power of the patient's immune system to cure cancer. The company leverages on the proprietary antibody-coupled T cell receptor (ACTR) in combination with various tumor-targeting antibodies (in partnership with Seattle Genetics (NASDAQ:SGEN) to brew a promising pipeline (as shown in figure 2).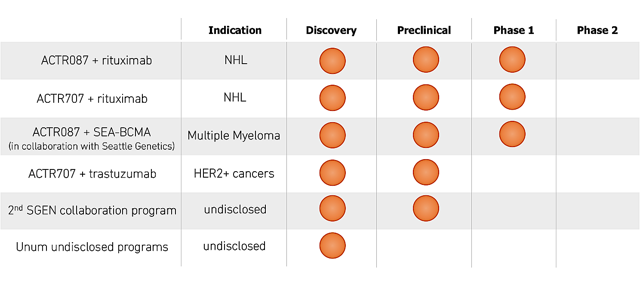 Figure 2: Therapeutic pipeline. Source: Unum.
On April 3, 2018, the company announced the closing of its IPO of 5,770,000 shares of common stocks at $12 per share to generate roughly $69.2M. Interestingly, Unum also sold 416,666 shares at the same price to Seattle Genetics (NASDAQ:SGEN) for $5.0M in a private placement. It is likely that Seattle Genetics must have acknowledged the promising prospects in Unum's pipeline to place an early bet. With Seattle Genetics search for growth through pipeline synergy, a potential acquisition in the future might be brewing.
Notably, there is the new trend of investing in immunotherapy that can leverage the body's own immune system to fight cancer. An example is CAR-TCR from Gilead Sciences (NASDAQ:GILD) that we discussed in another article. The aforesaid new approach to treating cancer is highly efficacious and safe. The results from operating in this field like Atara Biotherapeutics have been nothing short of stellar.
Perhaps the strong underlying fundamentals prompted the insiders to exercise their options to accumulate shares (at the share price of $12). As follows, Director (Bruce Booth) acquired 94,052 shares for the value of $1.1M, which increased his ownership to 3.3M shares. Moreover, Director (Liam Ratcliffe) purchased 550K shares for $6.6M and upped his stakes to 897K shares. Furthermore, the 10% owner Atlas venture Fund accumulated the similar amount as Mr. Booth. Whether these insiders continue to hold their exercised shares or not will give more information about their belief in the firm's prospects.
| | | | | | |
| --- | --- | --- | --- | --- | --- |
| Company | Insider | Shares Traded | Date | Value | Shares Owned |
| Unum Therapeutics (UMRX) | Atlas Venture Fund Ix, L.P. (10% owner) | +94,052 (+3%) | 04/03/2018 | +$1,128,624 | 3,361,535 |
| Unum Therapeutics (UMRX) | Bruce Booth (Dir) | +94,052 (+3%) | 04/03/2018 | +$1,128,624 | 3,361,535 |
| Unum Therapeutics (UMRX) | Liam Ratcliffe (Dir) | +550,000 (158%) | 04/03/2018 | +$6,600,000 | 897,773 |
Table 1: Notable insider transactions. Source: Dr. Tran BioSci, compiled data from Openinsider.
Bioscience Catalysts
On April 3, 2018, the FDA ordered the mandatory recall for all products containing Kratom due to the increased salmonella risks. The recall entailed all food products containing powdered Kratom by Triangle Pharmanaturals LLC after several were found to contain salmonella. In the midst of multi-state salmonella outbreak, several collected samples containing the said bug were traced back to the company. The agency gave the firm a chance to execute a voluntary recall; however, it did not comply. This is the first time the FDA issued a mandatory recall order to protect Americans from using contaminated products. According to the FDA Commissioner (Dr. Scott Gottlieb):
This action is based on the imminent health risk posed by the contamination of this product with salmonella, and the refusal of this company to voluntarily act to protect its customers and issue a recall, despite our repeated requests and actions. We continue to have serious concerns about the safety of any kratom-containing products and we are pursuing these concerns separately. But the action today is based on the risks posed by the contamination of this particular product with a potentially dangerous pathogen. Our first approach is to encourage voluntary compliance, but when we have a company like this one, which refuses to cooperate, is violating the law and is endangering consumers, we will pursue all avenues of enforcement under our authority.
Kratom (Mitragyna speciosa) is a plant grown naturally in Southeast Asia and Papua New Guinea. It is considered a psychoactive substance (mitragynine and 7-hydroxymitragynine) that activates the same opioid brain receptors as morphine. Hence, it can cause addiction, abuse, and dependence. The FDA recommended against the alternative use of this compound the placement of conventional pain medicine.
The aforesaid catalyst highlights the needs for companies to promptly complied with the FDA in recall or any formalities. Moreover, it alluded to the prescription painkiller (opioid) abuse. Dr. Gottlieb has been doing a stellar job to encourage companies to develop new compounds that can reduce the addiction. Notably, the agency's focus on curbing the prescription opioid abuse epidemic will most likely work in favor of Nektar Therapeutics (NASDAQ:NASDAQ:NKTR), a growth bioscience focusing on the innovation and delivery of drugs to treat cancers, autoimmune diseases, and chronic pain. In our prior research we stated:
As the first-in-class selective mu-opioid agonist, NKTR-181 can be potentially used to treat moderate to severe lower back pain. The said drug is unique because it fixes the problem of opioid abuse at the molecular level. In specific, NKTR-181 does not enter the brain rapidly that, in and of itself, can cause the associated 'high.' Even if the patient crushes the drug, it, nonetheless, slowly enters the brain to prevent the mentioned 'rush' while still demonstrating efficacy. Of note, NKTR-181 already passed the phase 3 trial with flying colors. And, the firm intended to file its New Drug Application by April 2018.
Final Remarks
It's true that the market will be quite volatile going forward, and no one can predict the precise future movement. Despite a skittish trading day for the bioscience market, if you invest for the long term this sector will procure substantial wealth for you. In addition, investing in bioscience serves the purpose that is greater than that of ourselves: the delivery of hopes for countless suffering patients worldwide.
In this Rounds Report, we went over Omeros trend reversal in trading that is due to strong underlying fundamentals. The concerns about Omidria reimbursement have abated. The company is brewing several potential blockbuster franchises, of which we expect stellar data outcomes. That aside, Unum recently went IPO and partnered up with Seattle Genetics for the promising innovation of the next generation cancer treatment a form of TCR. Unum has a chance to be acquired by its partner but that depends on whether the company can post robust clinical outcomes. Last but not least, the FDA's tireless effort to ensure public safety (that entails solving the prescription opioid abuse epidemic) should help Nektar Therapeutics.
Author's Notes: We're honored that you took the time to read our market intelligence. Founded by Dr. Hung Tran, MD, MS, CNPR, (in collaborations with Analyst Vu, and other PhDs), Integrated BioSci Investing is delivering stellar returns. To name a few, Nektar, Spectrum, Atara, and Kite procured over 441%, 107%, 166%, and 83% profits, respectively. Our secret sauce is extreme due diligence with expert data analysis. The service features a once-weekly exclusive Alpha-Intelligence article, daily analysis/consulting, and model portfolios. Subscribe to our marketplace now to lock in the current price and save money for the future.
If you are a real-time follower, you will be notified immediately of our new research for you to continue to benefit from our due diligence. You can also gain access to all of my old articles and much more by taking the two-week free trial of Integrated BioSci Investing.
This article was written by
The #1 Biotech Service for Growth Investing and Catalyst Power Trading
As an astute devotee of Warren Buffet, Ben Graham, Phillip Fisher, Sir John Templeton, and Peter Lynch, Dr. Harvey devoured any resources/books on these gurus to learn their craft for over two decades. In the process, he refined their investment approaches specifically to biotech and founded Integrated BioSci Investing: The Number #1 Biotech Service for Long-Term Growth Investing and Power Catalyst Trading. 

Since inception, our flagship portfolio has delivered over 31.23% annual average (i.e. 187.39% for roughly six years). As you can appreciate, we're adept at assisting and serving institutional/retail investors/traders who are looking for alpha. Dividend investors wanting to boost your return can also benefit greatly from our investment research. We currently have over 20 docs in our service for us to tap into their clinical insight for your gains.

Check out some of our binary event forecasts that lead to meteoric gain like the 359% single-day pop from Madrigal Pharmaceuticals (MDGL)'s NASH data release. During his training at the world-renown Columbia University, Harvey Tran, M.D., M.S., developed a passion/edge for analyzing the intricacies of various preclinical/clinical studies, biostatistics, and science/medicine. Importantly, it allowed the physician-scientist Harvey to realize the internal working of various therapeutic in-development that the market tends to overlook.

In recent years, Dr. Harvey founded and led two healthcare roll-up companies. The endeavor helped him gain deep insight into the inner working of a corporate board. His experience as a consultant to common/professional investors and institutions gave him a huge advantage in biotech analysis. The combination of elite training and a passion for biotech provided Dr. Harvey with an aptitude for delivering highly accurate clinical data forecasting that is crucial to picking winning biotech investments for you.

Follow us for the latest research. And, take our FREE 2-week trial to Integrated BioSci Investing to start your winning process now!

Check out Dr. Harvey's LinkTree for his complete experience. You can make your one good decision a year as Mr. Buffett recommended by checking out  Integrated BioSci Investing!
Analyst's Disclosure: I/we have no positions in any stocks mentioned, and no plans to initiate any positions within the next 72 hours. I wrote this article myself, and it expresses my own opinions. I am not receiving compensation for it (other than from Seeking Alpha). I have no business relationship with any company whose stock is mentioned in this article.
Seeking Alpha's Disclosure: Past performance is no guarantee of future results. No recommendation or advice is being given as to whether any investment is suitable for a particular investor. Any views or opinions expressed above may not reflect those of Seeking Alpha as a whole. Seeking Alpha is not a licensed securities dealer, broker or US investment adviser or investment bank. Our analysts are third party authors that include both professional investors and individual investors who may not be licensed or certified by any institute or regulatory body.