Concho Resources: A Sign Of Industry Consolidation
Summary
With Concho's acquisition of RSP Permian, a larger firm can lead as an American low-cost producer.
The role of consolidation and activism in the industry may bring other opportunities.
With oil prices in a moderate station, the drive for efficiency and shareholder value will continue.
When the news of Concho Resources (NYSE:CXO) purchasing RSP Permian (RSPP) was released, the consolidation theme I had expected was finally confirmed. The idea of consolidation in the Permian was floated during the oil price rout of 2015-2016. Former CEO of Pioneer Natural Resources (PXD), Scott Sheffield, suggested this would take time for consolidation to fully materialize, owing to challenged balance sheets deterring would-be purchasers. Any purchaser would not want to be saddled with another's debt unless the value proposition far outweighed the liabilities.
With oil prices in a more or less predictable pattern, the industry is finding its new rhythms. Consolidation also can be seen as contiguousness. Trading acreage also is a practice happening more often in the shale patch to achieve more favorable swathes of acreage to drill longer laterals. Concho spoke of this in its merger transcript, and Pioneer in an earlier interview with me. The asset consolidation between Concho and RSP Permian illustrates what an optimal strategy is: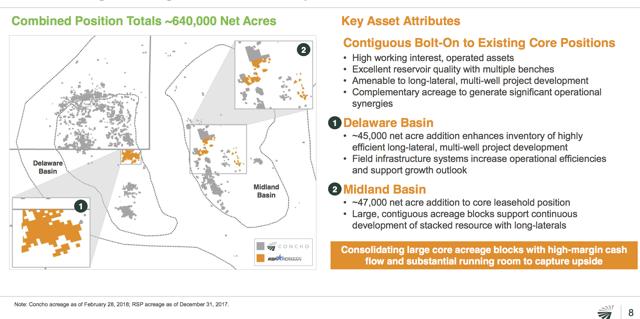 Note how RSPP's assets combine with Concho's to drill longer laterals, bring efficiencies in terms of shared infrastructure, and add scale to the enterprise in general. Importantly, scale of operations matters more in an oil price band of $50-65. And for the foreseeable future, even if oil prices rose to $70-80, this consolidation would be happening. The Bass acquisition by Exxon (XOM) was another proof of concept. Exxon both affirmed the operating rationale and the necessity of having scale and efficiency in operations.1 (Pioneer has had this modus operandi for a number of years, having both asset size/locations and contiguous acreage locations). The prospects are lower cost producers have a place in U.S. oil markets in the years ahead.2
Additionally, the role of the investment community cannot be ignored. Recently activists have engaged in the shale patch. This was first observed when Energen (EGN), a top Texas producer, had to replace part of its board owing to activist participation. The idea that energy related firms have performed less well than the broader indices is true. However, that's also a reflection of sentiment following a bruising price crash and ensuing fallout. Investor confidence was shook, except with those firms that have reformed, right-sized and made financial peace with themselves and investors. Remember this is the first price bust the unconventional oil industry has weathered (though shale gas experienced a fallout in 2008-09).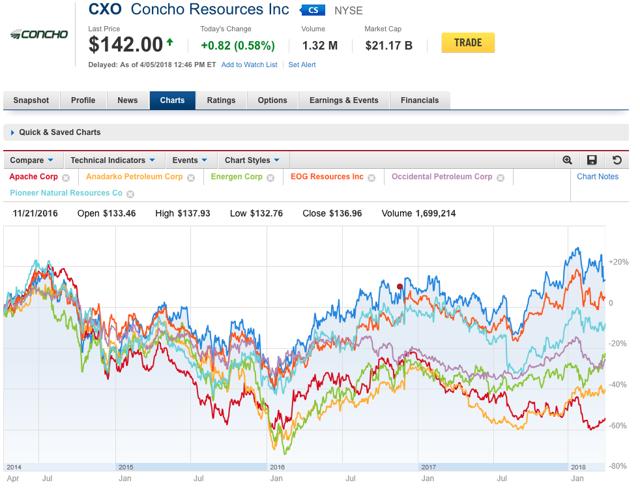 Concho, EOG Resources (EOG) and Pioneer, in that order, have recovered better than other shale peers since their peaks in the middle of 2014, the height of shale oil's gale force tailwinds. Energen has received a performance bump, partly owing to activist involvement.
For future reference, academic research shows that activist involvement generally leads to better future performance. In the case of M&A activity, acquirers make better, more profitable acquisitions.3 There's also an industry effect regarding activist attention. In order to avoid being an activist target, peers tend to shape up and reform their management practices and financial profile to better serve shareholders. These may be early days in the shale patch, but a possible trend worth watching.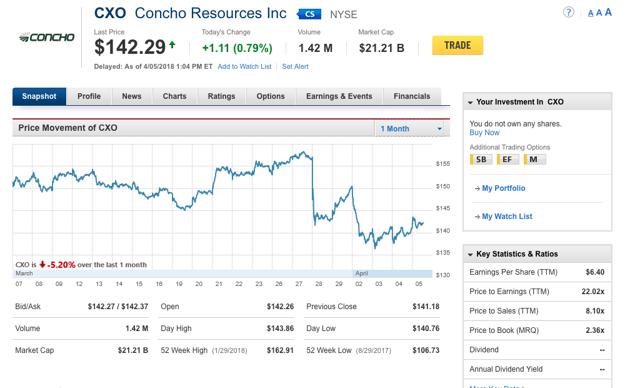 While the initial reaction to the deal March 28th was negative, oil prices settling slightly down have not helped. That said, the power of shale is in the long term. RSP Permian was a solid shale firm with good Midland basin assets, alongside its newer Delaware assets. Concho has been a premier Delaware Basin player since 2010, being an early first mover there.4 In fact, in the "early days" of shale oil, Concho led the pack in the Delaware as did Pioneer in the Midland Basin. The combined Concho will now have a better foothold in both, providing a path toward being another solid American shale player.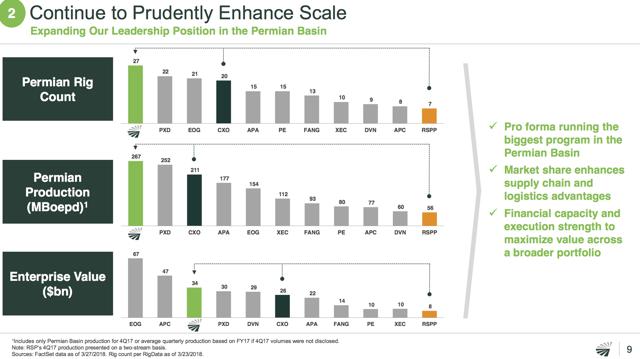 Concho's Mad Shale Oil Skills In The Permian's Delaware Basin. Plus two earlier pieces to 2013, via profile (CXO).
This article was written by
Jennifer's areas of expertise include energy trends —their economic and geopolitical implications—and resource sustainability issues. She considers her investment approach eclectic, drawing from a multidisciplinary pool of work. Lately, she is working on market making in an impact area, trying to match capital to beneficial projects. With partners, she works from the ground-up through to a final end game, with some projects that are enduring or long-lived.Other interests include the energy transition, the impact of shale oil and natural gas, climate change, clean and efficient infrastructure, China, India, and the energy-water-resources nexus—all interrelated in various ways. Her work has been published in various academic, policy and business publications such as Far Eastern Economic Review, Economist Intelligence Unit's Executive Briefing, Journal of Structured Finance, Lloyd's List, D CEO, Energy Trends Insider, Financial Sense, and many others. From Dec 2010 to April 2013, she was the CEO/President of a global affairs organization focused on cutting edge geopolitical and macroeconomic trends. She organized and moderated panels on global gas, energy security, energy infrastructure finance, and urban development. She has a master's degree from London School of Economics, and bachelor's in finance/marketing. She is principal of Concept Elemental, a strategic communications consultancy focusing on knowledge work, and includes over fifteen years of financial services industry work. She works with a top University, "translating" cutting edge research as well.Recent interview:https://podcasts.apple.com/us/podcast/wednesday-may-10-montana-world-affairs-council/id1511606812?i=1000612517083
Analyst's Disclosure: I am/we are long XOM. I wrote this article myself, and it expresses my own opinions. I am not receiving compensation for it (other than from Seeking Alpha). I have no business relationship with any company whose stock is mentioned in this article.
Seeking Alpha's Disclosure: Past performance is no guarantee of future results. No recommendation or advice is being given as to whether any investment is suitable for a particular investor. Any views or opinions expressed above may not reflect those of Seeking Alpha as a whole. Seeking Alpha is not a licensed securities dealer, broker or US investment adviser or investment bank. Our analysts are third party authors that include both professional investors and individual investors who may not be licensed or certified by any institute or regulatory body.