The last piece I wrote here at Seeking Alpha was focused on one of my favorite DGI ideas in today's market: Constellation Brands (NYSE:STZ). The unfortunate conclusion to that piece (unfortunate for me, anyway) was that while STZ is certainly a very high quality company, the stock remains too overvalued for me to comfortably purchase shares. Well, that led me to this piece, which will focus on another company that has very high dividend growth prospects, but trades at a multiple that is well below the broader market's: Comcast (CMCSA).
Comcast is trading just a tad above its 52-week low. The company's shares are down more than 25% from their recent 52-week high set during the market's peak in late January. CMCSA is in the midst of a perfect storm of negativity at the moment. Shares sold off during the broader market volatility and then management seemingly added insult to injury as rumors of a bidding war involving three of the largest media names no the planet (Comcast, Disney (DIS), and Fox (FOX)) arose around Sky about a month ago.
Not only would a bidding war for Sky result in a weakening of the balance sheet, but many analysts are bearish on the notion of television in the first place and this potential move is viewed by many as doubling down on a market in secular decline. Sure, it's thought that only the largest companies will survive (and potentially thrive) in the media space, with scale becoming ever more important for ad content through traditional distribution platforms in the digital era, and this move would certainly give CMCSA incredible global scale. But, at what cost?
I've heavily invested in the media industry due to a belief that as society becomes more efficient (via disruptive tech such as AI/automation) demand for entertainment and content will continue to rise. To a certain extent, content is being commoditized; however, I still believe that over the long-term, the market will realize the value of strong content IP and place premium valuations on the companies that have it.
I've read compelling arguments from analysts sitting on either side of the fence regarding the demise of the traditional ad based entertainment in the face of more flexible OTT platforms. It's hard to argue with Netflix's (NFLX) success when it comes to its growing sub base. Cord cutting is real and the market has hopped onto the coattails of this trend, bidding up companies with exposure to streaming and selling off traditional distributors. However, costs are rising at NFLX as competition ramps up in the streaming space and while NFLX's content portfolio is impressive, I don't think the company has built an insurmountable moat. On the contrary, I think other companies in the media/entertainment space have wider moats (whether that be specifically regarding their content IP library or their much more diversified business structures).
Comcast falls into this latter group. Not only does Comcast provide content via NBC Universal properties, including numerous popular cable channels and networks and Universal Studios, but the company is the nation's largest home internet provider, one of the largest home telephone providers, and a leading theme park operator with Universal Parks and Resorts. I know some investors prefer more focused, streamlined operations, but I actually like the conglomerate structure due to its ability to help smooth out revenues over varying business cycles and to give talented managers increased cash flows to allocate throughout the overall operations in an attempt to widen the moat and generate growth.
Regarding the potential for a Sky deal specifically, MoffettNathanson Research's Craig Moffett recently put out a bullish note regarding Sky's IP portfolio and how it might help CMCSA better compete in the OTT space that NFLX is currently dominating.
On March 12th, Moffett wrote, "Sky brings with it a trove of exclusive content and rights that could be the basis of an OTT service with a genuine moat, capable of rivaling Netflix itself."
I agree that this deal could potentially put a hurting on NFLX, especially in international markets where much of the remaining OTT growth is at stake. I think the markets have unfairly discounted the likes of Comcast and Disney (NYSE:DIS) when it comes to their cord cutting issues in the cable arena. As I said before, the demand for content isn't going anywhere and I find it hard to believe that these companies won't adapt their distribution models. Sure, in the short-term, OTT will be less profitable as the traditional ad model changes; however, I am pretty confident when I say that neither CMCSA nor DIS will go the way of the dodo, which is why I'm surprised to see such a discrepancy between their valuations and Netflix's.
Actually, my biggest concern when it comes to Comcast is not content related (though I have to admit that the AT&T (T)/Time Warner (TWX) trial is concerning because if that judge rules against AT&T, I have a hard time believing that Comcast won't have legal issues with its NBC Universal assets), it actually has to do with Comcast's hardwire internet business as competition with 5G rises in the future. The increased spending on content with the potential Sky deal takes away capital that could be deployed building out internet related infrastructure and I can't help but wonder if this isn't going to end up being a more important segment for this company long-term.
CMCSA's leading position in the internet space has always been attractive to me. I like companies that own the pipes as well as the content that flow through them. What's more, the pipes are attractive because not only are they used for CMCSA's content, but for content from all of the other creators. I've seen CMCSA's internet exposure as a nice hedge against OTT competition on the content side and while I'm sure that my understanding of the potential of 5G is fairly naïve, I've read reports that put CMCSA's market share in the internet space in danger, and I'm sure this is playing a role in the company's low valuation.
It seems to me that even if we entered into a future where wireless internet was as fast or faster as top notch wireline service, that wireless network would still require backend infrastructure, which CMCSA would likely be in a nice spot offer. I've heard some say that maybe CMCSA should be dedicating billions in M&A towards buying a tower company to capitalize on the 5G trend, which seems like an interesting alternative to me. Maybe there are internet/5G experts who would be willing to share their opinion on the matter. At this point, I think this concern is speculative at best regarding its potential to harm CMCSA's future growth (heck, for all I know, CMCSA will make a deal to acquire someone with a lot of spectrum and be a leader in the 5G space); however, I do think it's fairly clear that we're heading towards a wireless future and I hope that CMCSA management doesn't lose sight of this as it focuses on the content wars.
With that being said, CMCSA's numbers haven't been effected yet by these perceived risks and analysts are bullish on growth for the foreseeable future. Comcast reported GAAP EPS of $4.75 for 2017 which represented 166% growth, yet I'm paying more attention to the reported number of $2.06 because it seems more in-line with comps forward and backwards looking. CMCSA's reported and GAAP EPS results are typically fairly close to one another; 2017's big beat had to do with one-time items. This means that using ttm reported EPS, CMCSA is currently traded for ~16.5x and looking ahead using the average analyst estimate for 2018 EPS of $2.49, CMCSA is trading for ~13.6x forward estimates (which is cheaper than Disney's ~14.5x forward P/E ratio and much cheaper than Netflix's triple digit forward looking P/E multiple).
As you can see on this F.A.S.T. Graph below, Comcast shares are currently trading at their cheapest valuation since 2011. Risks aside, it's pretty incredible that this company is trading at ~13.5x when analysts are expecting 20%+ EPS growth in 2018 and double digit growth in both 2019 and 2020. CMCSA has a long history of tremendous EPS growth. The company has posted double digit bottom line growth twelve out of the last thirteen years, with ten of those twelve figures coming in above 20% annually. CMCSA's topline growth results aren't nearly as impressive, yet revenues are trending upward. Comcast's revenue growth during the last 5 years was 3.9%, 6.4%, 8.3%, 7.9%, and 5.1%. I expect to see mid to high single digit revenue growth moving forward, further solidifying my belief that the stock is cheap.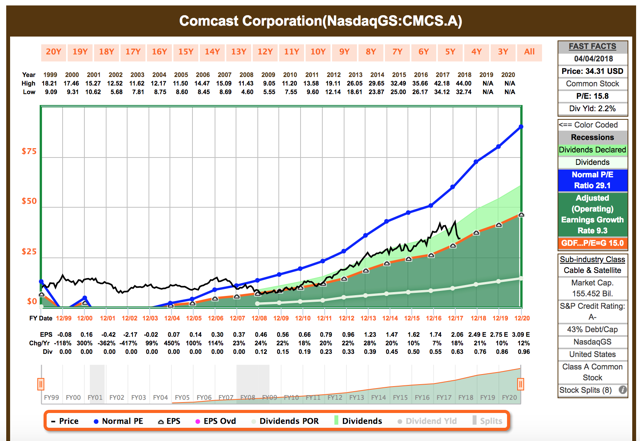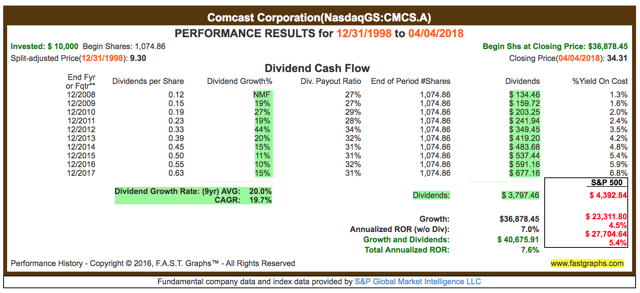 Source: F.A.S.T. Graphs
And lastly, I come to the dividend growth statistics, which is why CMCSA is one of my larger holdings. Comcast is an up and coming dividend growth star, in my opinion. According to David Fish's CCC list, Comcast is a dividend Contender with 11 consecutive years of annual dividend growth. As you can see on the chart from F.A.S.T. Graphs, CMCSA has given investors a double digit annual increase every year since initiating its dividend. Comcast's most recent dividend increase, from $0.1575/share to $0.19/share, came in at 20.6%. Even after such a large series of increases, CMCSA's forward payout ratio remains low at ~30%. With this payout ratio in mind, combined with analyst estimates for double digit bottom line growth moving forward, I expect to see the double digit annual dividend growth trend continue. Recent weakness in the stock has driven the yield up above 2.2%. Give me a stock with a 2.2% yield and double digit dividend growth prospects and I'm a happy camper.
Disclosure: I am/we are long CMCSA, DIS, T. I wrote this article myself, and it expresses my own opinions. I am not receiving compensation for it (other than from Seeking Alpha). I have no business relationship with any company whose stock is mentioned in this article.