Greek Banks: Which one do you pick for 2018?
To keep the tradition going, I will compare the Greek banks (National Bank of Greece S.A. (OTCPK:NBGIF), Piraeus Bank SA ADR (OTCPK:BPIRY) (OTCPK:BPIRF), Alpha Bank S.A. ADR (OTCPK:ALBKY) (OTCPK:ALBKF) (OTC:ALBQY), Eurobank Ergasias SA ADR (OTCPK:EGFEY) (OTCPK:EGFEY)) once again based on the full-year figures. Let's assess the banks on the following criteria:
- Capitalization and reserves
- Liquidity position
- Profitability
- Dependence on Greece and interest income
- Valuation
Capitalization and reserves

Source: FY 2017 results & Author
Just as last year, capitalization levels are at comfortable levels (CET1) and all banks have been able to strengthen them this year. Nevertheless, they are still below the Eurozone average of ~18%. In that regard, some additional capital might not be inappropriate. The NPL coverage ratios seem to be conservative (especially if you would factor in collateral coverage). What stands out is that National Bank of Greece and Piraeus Bank have increased their NPL coverage ratio with roughly 100 basis points compared to last year, while they stayed flat for Alpha Bank and Eurobank.
The non-performing loans (NPLs) are still the major headache for the Greek banks. After some years without any improvements (due to the delay of implementing effective bankruptcy/foreclosure laws), things finally started moving in Q4-2017: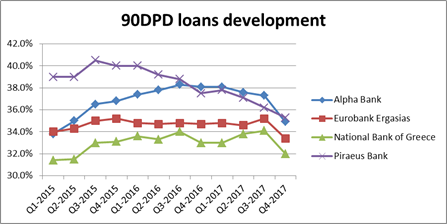 Source: Quarterly results & Author
Although the reductions have been very marginal (better said: 'rounding errors'), Piraeus Bank has been able to lower its NPL ratio the most. I expect the ratios of all banks to improve significantly in the coming years, thanks to the implemented improvements on the foreclosure framework. In all honesty, I expected these legal improvements in 2016 already (here), but as always I was too early. This time, however, I really believe NPLs will come down as all banks have communicated ambitious NPL reduction targets for the coming years. They wouldn't do so if they were not confident about their foreclosure options. We will see what happens in the coming quarters, for now we can only conclude that the Q4 data-points are promising.
Liquidity position

Source: FY 2017 results & Author
The liquidity figures are improving every quarter because deposits are returning to the banks. Last year, National Bank of Greece was the most solid among its Greek peers from a liquidity point of view. This year, all banks have improved their Loan/Deposit ratio and only Alpha Bank is still lagging. The situation at Alpha Bank can be explained by the fact that ~70% of its assets consist out of loans, while the other banks have less loans on their balance sheets (~50-60% range). It's easier to cover half of your assets with deposits than 70% of your assets. This is also immediately the reason for the strong liquidity position of National Bank of Greece: only ~50% of its assets are loans (their balance sheet has a heavier weight on marketable securities).
All banks are still dependent on Euro-system funding, but this is decreasing fast. National Bank of Greece is leading the group by a wide margin. I think we can expect significant progress this year on this liquidity figure.
Profitability
Real profitability figures are very volatile under current conditions, so I have selected the more stable C/I ratio and NIM (Net Interest Margin) as rough proxies for profitability.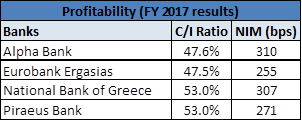 Source: FY 2017 results & Author
All banks have been able to improve their C/I ratios. Just like last year Alpha Bank and Eurobank are the most competitive by a fair margin. Alpha Bank and National Bank of Greece have been able to report the highest NIM. The NIM of Eurobank is low compared to its peers, but it is making great progress in closing the gap, while Piraeus bank did not improve at all: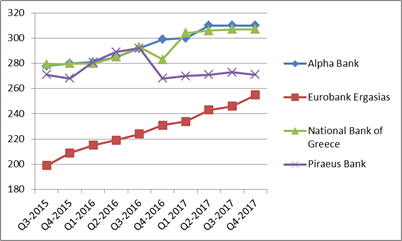 Source: Quarterly results & Author
Dependence on Greece and interest income
Banks are very dependent on the economic/political environment of the countries they serve and the general interest rate environment. A mitigation for these risks is to check whether the banks are somewhat diversified outside of their home country and whether they have income sources other than interest income.
Eurobank is least dependent on the Greek economy as roughly a quarter of its operating income is generated abroad. On the other hand, Piraeus bank is virtually a Greek-only bank:

Source: FY 2017 results & Author
Although all Greek banks rely heavily on interest income, both Alpha Bank and Eurobank have been able to diversify more towards fee/commission income:

Source: FY 2017 results & Author
Note: Due to the fact National Bank of Greece reported negative trading income this year, the 95.9% figure is unusually high. I expect it to be lower in a 'normal' situation.
Valuation
All Greek banks are still trading at a fraction of their tangible book value (TBV). Just like last year, Piraeus Bank is trading at the biggest discount although Eurobank is a close second. An additional note: The introduction of IFRS9 will impact the TBV of the Greek banks as well in the coming years. My estimate is that TBV will come in 10-20% lower.

Source: FY 2017 results & Author
My pick
My pick is still Eurobank. Although I have built my position way too soon (I am the worst market timer), I still feel comfortable with the long-term prospects of the bank. It has a very competitive cost structure and it's one of the cheaper picks. At the same time, I feel the operational risks are less than its peers' as it has a big international footprint and diversified earnings. Although not covered in the article, I also like the investor-friendly management in place.
I might take a position in another Greek bank when I see significant improvement in the non-performing loans. My experience with Bank of Cyprus (here) is that even though fundamentals are improving, the stock price might not immediately follow.
Which one would you pick? And why?
Disclosure: I am/we are long EGFEF. I wrote this article myself, and it expresses my own opinions. I am not receiving compensation for it (other than from Seeking Alpha). I have no business relationship with any company whose stock is mentioned in this article.
Editor's Note: This article covers one or more microcap stocks. Please be aware of the risks associated with these stocks.