Billion Dollar Unicorns: How Will Ellie Mae Handle Looming Mortgage Worries?
According to a study by the Mortgage Bankers Association, the US lenders are expected to issue a smaller amount of mortgages in 2018. Total mortgage originations are expected to fall to $1.60 trillion this year from $1.69 trillion in 2017. The amount of new loans to refinance a home are expected to drop 28.3% to $430 billion and the amount of new mortgages to buy a home will grow 7.3% to $1.2 trillion in 2018. The market is being impacted by low housing inventory and rising interest rates. Despite the weak market projections, Billion Dollar Unicorn club member and mortgage origination services provider Elli Mae (NYSE:ELLI) is continuing to do strong business.
Ellie Mae's Offerings
Ellie Mae was founded in 1997 by serial entrepreneur Sig Anderman. Prior to founding Elli Mae, Sig had set up CompuFund, Inc., a computerized mortgage banking company, and Inspectech Corporation, a computerized home inspection company.
Ellie Mae provides a platform that electronically connects mortgage professionals to the mortgage lenders, investors, and service providers to help with the origination and funding of residential mortgages. Its proprietary offering Encompass automates the mortgage management solution and services in a single platform that helps cut costs for lenders. It is a system of records that keeps data secure and documentation accurate. Lenders can originate, underwrite, and close loans using one system, instead of shifting across different applications.
Its other offering AllRegs provides research, reference, education, and publishing resources for the entire mortgage industry to ensure that the vendor remains compliant to the various regulations. It also offers a sales engagement software that streamlines the mortgage sales cycle so that teams can close business faster.
Ellie Mae's Financials
Ellie Mae earns revenues in the form of licensing and subscription fees for its tools. Fees are charged on a per closed loan basis. For its recently reported fourth-quarter results, the company saw revenues grow 17% to $112.9 million. During the quarter, net income fell from $10.9 million a year ago to $9.9 million. Adjusted earnings came in at $0.33 per share. The market was looking for revenues of $108.2 million and earnings of $0.25 per share.
Among operating metrics, Ellie Mae recorded an addition of 11,000 Encompass seats over the year. It now has more than 41,000 Encompass seats and 242,000 contracted users.
It ended the year with revenues of $417 million and a profit of $52.9 million, or $1.48 per share.
For the current quarter, Ellie Mae expects revenues of $107-109 million with an EPS of $0.07-0.09. It expects to end the current year with revenues of $495-505 million and an EPS of $1.68-1.78.
Ellie Mae's Automation Offerings
Ellie Mae has been delivering growth by automating the mortgage origination market. During last year, it continued to drive that automation. According to its research, the complexity of the origination process has led to a growth in the cost to originate a loan from $3,700 in 2009 to more than $8,000 today. It believes that the increased cost is attributed to the additional work required by mortgage originators at the back end, especially to run manual processes and manage regulatory requirements.
Ellie Mae's platform continues to work to build a mortgage solution that offers a seamless workflow across the origination process, to support loan officers, processors, underwriters, compliance managers, auditors, and the investors who purchase the loans. It is driving toward this goal by rollout of services like the Encompass NG Lending Platform, which boasts of an open API architecture that helps lenders achieve better integration with other business systems and a broader ecosystem of innovation.
It also released an Encompass Data Connect Solution on a limited basis that will initially allow customers to leverage their own data in the cloud. Later this year, the solution will add business analytics and machine learning capabilities to drive intelligent workflow automation. These functions are perfect for deployment of AI engines. Ellie Mae does not disclose detailed plans on leveraging AI, but it appears to be investing in the realm. Last year, it added former SAP Ariba CTO Dinesh Shahane as its engineering SVP to oversee its AI investment.
Last month, it also announced a tie-up with Utah-based Finicity, a financial data aggregator that specializes in credit decisioning. The integration will leverage Finicity's data validation tools to help lenders using Ellie Mae's solution to accurately validate borrower assets.
Questions for Ellie Mae's Board
Ellie Mae may be delivering a strong product for loan originators, but the concerns about the mortgage industry continue to cloud its performance. The Federal Reserve has already increased interest rates this year, and is expected to increase them some more during the year. The rising interest rates, coupled with tax deduction law changes, are likely to hurt the housing sector in the US. I would like to know how does Ellie Mae plan to deal with this upcoming macroeconomic condition?
Its stock is trading at $94.26 with a market capitalization of $3.2 billion. It touched a high of $114.95 in May last year. It has recovered from the low of $79.71 that it had fallen to in August last year. Ellie Mae had listed on the exchange in 2011 by raising $45 million at $6 a piece.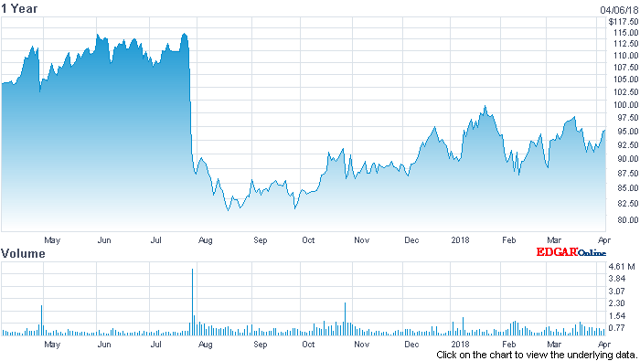 This article was written by
Sramana Mitra is the founder of One Million by One Million (1M/1M), a global virtual accelerator that aims to help one million entrepreneurs globally to reach $1 million in revenue and beyond. She is a Silicon Valley entrepreneur and strategy consultant, she writes the blog Sramana Mitra On Strategy, and is author of the Entrepreneur Journeys book series and Vision India 2020. From 2008 to 2010, Mitra was a columnist for Forbes. As an entrepreneur CEO, she ran three companies: DAIS, Intarka, and Uuma. Sramana has a master's degree in electrical engineering and computer science from the Massachusetts Institute of Technology. Full bio can be found at http://www.sramanamitra.com/bio/