Danielle's Biweekly Market Update
Apr. 06, 2018 8:03 AM ET
VT, ACWI, GLQ, DGT, FIGY, RWV, GLOF, USPX, DIVI, ESGF, FIHD, WBIL, ESGW, HACW, HDMV, XMX, DTEC, VWID, SPY, QQQ, DIA, SH, IWM, TZA, SSO, TNA, VOO, SDS, IVV, SPXU, TQQQ, UPRO, PSQ, SPXL, UWM, RSP, SPXS, SQQQ, QID, DOG, QLD, DXD, UDOW, RWL-OLD, SDOW, VFINX, URTY, EPS, TWM, SCHX, VV, RWM, DDM, SRTY, VTWO, QQEW, QQQE, FEX, ILCB, SPLX, EEH, EQL, SFLA-OLD, QQXT, SPUU, IWL, FWDD, SYE, SBUS, SMLL, SPXE, PPLC, PPSC, UDPIX, JHML, OTPIX, RYARX, SPXN, USSD, HUSV, RYRSX, SCAP, SPDN, SPXT, SPXV, USWD
2 Comments
Danielle was a guest with Jim Goddard on Talk Digital Network talking about recent developments in the world economy and markets. You can listen to an audio clip of the segment here.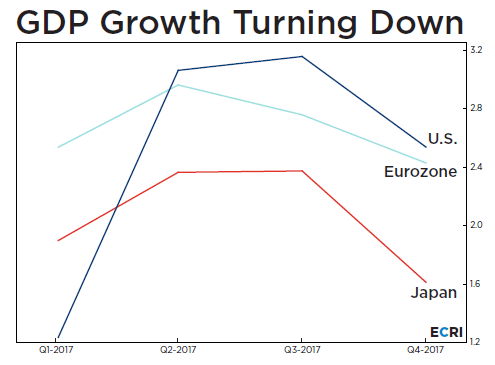 This article was written by
Portfolio Manager, financial analyst, attorney, finance author, a regular guest on North American media. Danielle Park is the author of the best selling myth-busting book "Juggling Dynamite: An insider's wisdom on money management, markets and wealth that lasts," as well as a popular daily financial blog:www.jugglingdynamite.com Danielle worked as an attorney until 1997 when she was recruited to work for an international securities firm. A Chartered Financial Analyst (CFA), she now helps to manage millions for some of Canada's wealthiest families as a Portfolio Manager and analyst at the independent investment counsel firm she co-founded Venable Park Investment Counsel Inc. www.venablepark.com. For two decades, Danielle has been writing, speaking and educating industry professionals and investors on the risks and realities of investment behaviors. A member of the internationally recognized CFA Institute, Toronto Society of Financial Analysts, and the Law Society of Upper Canada. Danielle is also an avid health and fitness buff.