Energy Transfer Partners LP: Somebody Is Wrong
Summary
Much debate has occurred around Energy Transfer Partners LP and its 13%+ yield.
Energy Transfers bonds, on the other hand, yield ~5% -- right in line with peers such as Williams Partners and Enterprise Products Partners.
The bond market often represents the "smart money."
This can only mean one of two things: either bond investors are wrong, or Energy Transfer Partners bears are.
On April 3, David Alton Clark (head of Discovered Dividends Newsletter) released his latest article to Seeking Alpha's readership: Oversold MLP To Buy Now: 14% Yield, 40% Upside, Asymmetric Risk/Reward, Solid Coverage.
It's well worth a read. Its concisely reviews all the high-level facts that add up to one thing: Energy Transfer Partners LP (ETP) with its 13.65% yield is a buy.
Mr. Clark makes a strong case. And in the interests of furthering the public debate about this high-yield stock, what follows is my modest contribution. I won't rehash the tale (Mr. Clark does an excellent job), instead focusing on key points and the company's publicly-stated plans for the future.
You see, stock market investors can debate the merits of a stock whose yield crushes the long-term returns of the stock market until everyone is blue in the face. But there is a third party with an (incredibly valuable) voice in the affairs of any corporation: bond investors.
One of these Energy MLP's is not like the others…
First, here are a few key financial ratios for Enterprise Products Partners and four of its peers:
| | | | |
| --- | --- | --- | --- |
| | Price/Book | Dividend Yield | Interest Coverage |
| Energy Transfer Partners LP | 0.6 | 13.65% | 1.8 |
| Enterprise Products Partners LP | 1.8 | 6.91% | 3.9 |
| Enbridge Inc | 1.4 | 6.4 | 1.2 |
| Kinder Morgan Inc | 2.4 | 3.3 | — |
| Williams Partners LP | 4 | 7.1 | 2.2 |
Source: Morningstar.
As the famous Sesame Street segment goes, "One of these things is not like the other."
Energy Transfer trades for a sizable discount to its peers. There could be any number of reasons for this, which is why I went to the bond market to see what the credit-quality focused money lenders had to say:
| | | | | |
| --- | --- | --- | --- | --- |
| | Bond Description | Due | Latest Trade Price | Yield to Maturity |
| ENERGY TRANSFER PARTNERS LP | 8.25% US Corporate Debenture | 11/15/2029 | $123.92 | 5.41% |
| ENTERPRISE PRODS OPER LLC | 3.95% US Corporate Debentures | 2/15/2027 | $100.63 | 3.86% |
| ENBRIDGE ENERGY PARTNERS LP | 5.95% US Corporate Debenture | 6/1/2033 | $107.31 | 5.24% |
| KINDER MORGAN ENERGY PARTNERS LP | 7.4% US Corporate Debenture | 3/15/2031 | $119.50 | 5.25% |
| WILLIAMS PARTNERS LP NEW | 3.75% US Corporate Debenture | 6/15/2027 | $95.66 | 4.33% |
Data Source: finra.org.
My jaw hit the floor.
The bond market is long-known to represent the 'smart money'. That Energy Transfer Partner's units yield 2-3x more than its peer pipeline operators while its bonds trade right in line with those of these same peers can only mean one thing: either the bond investors are seriously underestimating Energy Transfer's ability to meet its future obligations or (2) shares are drastically undervalued.
True, there is a third option. Theoretically, in today's low-yield environment, bond investors could be that desperate. Willing to accept risks in Energy Transfer that ordinary investors just aren't. But that seems like a leap. One could also argue that low rates and sky-high bond prices mean bond investors have every incentive to make sure Energy Transfer can pay its liabilities.
After all, it's a long way down from 123% of par.
Why the disparity?
I spent a good bit of time wondering just this question. Wall Street can be irrational at times but to do something foolish takes some doing. So why is Energy Transfer stock undervalued?
The answer appears to be that Energy Transfer investors are jaded and (in the case of some) confused.
First, there was the merger with Sunoco Logistics Partners. Many have about had it with the Energy Transfer "family." Other writers have elucidated on this point far better than I, and they aren't wrong to be leery of management's ability to campaign the ship. They've taken on water (read: debt) before and it's not wrong to avoid the stove once burned.
Far more interesting is the second reason Enterprise Products units don't seem to be attracting any love from investors: its cash flow profile: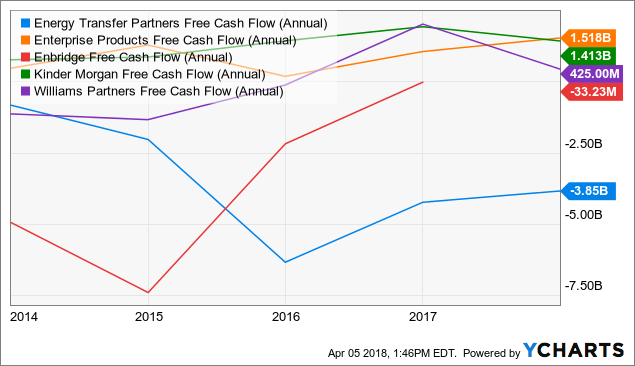 There we have it. MLP investors, burned by practically the entire sector, should run from any company burning through cash like that.
Their recent experience with companies like Kinder Morgan (which cut its dividend several years ago to fund its growth projects when capital markets dried up) no-doubt serves as a cautionary tale.
But the above reflects the past, and investors in search of yield have a lot to like in ETP's future.
Repent, repent and sin no more
Management is more than aware that they have worn on Wall Street's patience. But it appears not to have been in vain.
Years of expansionary investments are about to pay dividends. Energy Transfer has had a large number of projects come online in recent years (with more expected). The trees planted with billions in capital expenditures are starting to bear fruit. Leading (finally) to gains in operating cash flows: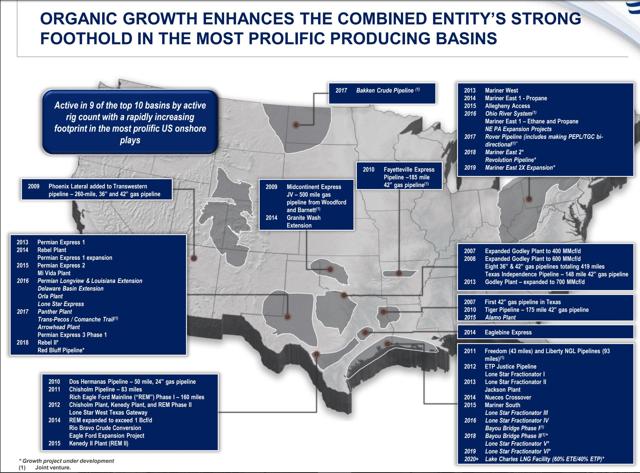 Image Source: Energy Transfer Partners Morgan Stanley Conference Presentation. February 28, 2018.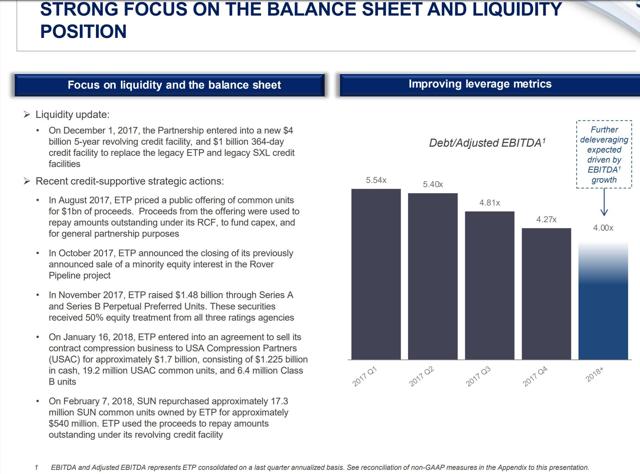 Image Source: Energy Transfer Partners Morgan Stanley Conference Presentation. February 28, 2018.
Management, led by CEO Kelcy Warren, went out of their way at February 28th's Morgan Stanley Conference to point out that the company was about to complete its long slew of growth projects and that owners should expect a marked improvement in the company's EBITDA beginning this year.
Like Kinder Morgan and the rest of the space, the company had to choose between maintaining a stellar financial rating or getting a piece of the growing natural gas pie.
They made the right decision.
What you need to know
Of course, Mr. Clark and I could be wrong. Management could go off the rails and make an odd capital outlay decision. Or the industry itself could fall under the duress of regulatory changes. Worse still, natural gas demand growth could fail to pan out in favor of other energy sources.
But I doubt it.
Natural gas remains cheap and plentiful. It also serves as an excellent companion to renewables like wind and solar. As for Energy Transfer's future actions, it seems more likely than not that management is content to sit back and watch the cash pour in after years of expansion.
With a distribution coverage ratio of 1.3, and the bond market telling investors the coast is clear, Energy Transfer Partners LP is a buy.
This article was written by
At Western Reserve Strategies, we don't just want to be right. We want to know why. Twitter: @WestResStrat
Analyst's Disclosure: I/we have no positions in any stocks mentioned, but may initiate a long position in ETP over the next 72 hours. I wrote this article myself, and it expresses my own opinions. I am not receiving compensation for it (other than from Seeking Alpha). I have no business relationship with any company whose stock is mentioned in this article.
Seeking Alpha's Disclosure: Past performance is no guarantee of future results. No recommendation or advice is being given as to whether any investment is suitable for a particular investor. Any views or opinions expressed above may not reflect those of Seeking Alpha as a whole. Seeking Alpha is not a licensed securities dealer, broker or US investment adviser or investment bank. Our analysts are third party authors that include both professional investors and individual investors who may not be licensed or certified by any institute or regulatory body.