We have been in and out of Dave & Buster's (NASDAQ:NASDAQ:PLAY) stock numerous times in the last two years after our very first visit to this cash cow of a concept restaurant at the end of 2015. However, this growth stock has been crushed recently, somewhat justifiably, after it experienced a reduction in expected sales and earnings in the second half of 2017. While some of this is certainly justifiable, we believe shares have fallen too far, too fast.
We issued a BAD BEAT trade alert on the name in the $37 range last night based on technical alone, but in this column, we seek to back it up with a fundamental discussion of what is happening. It is our belief that although the company is experiencing headwinds, it is still in growth mode and is now attractively priced for reentry into the stock. Let us discuss.
Price action suggests a dud
First, you would think the name put out a dud of a quarter with its just reported earnings given the after hour and pre-market action in the stock, with shares down well over 7% in extended trading, and down into the $37 range on the open market at the time of this writing.
While the quarter will be digested over the next few days, initial reaction is indeed quite negative. Do the many articles that have espoused a long thesis in the last few months change with these numbers? In our opinion, the quarter was far stronger than the Street is giving the name credit for and guidance was a bit of a sandbag job by management, implying they may be underpromising so they can over-deliver.
Sales
In the company's just reported Q4 2017, we actually saw some records made. First, the sales numbers. Total revenues increased a strong 14.9%. They came in at $304.9 million, up from $270.2 million in Q4 2016. The results may have given some investors pause, as Dave and Buster's just barely missed consensus expectations by $0.6 million. However, the trajectory of sales remains higher: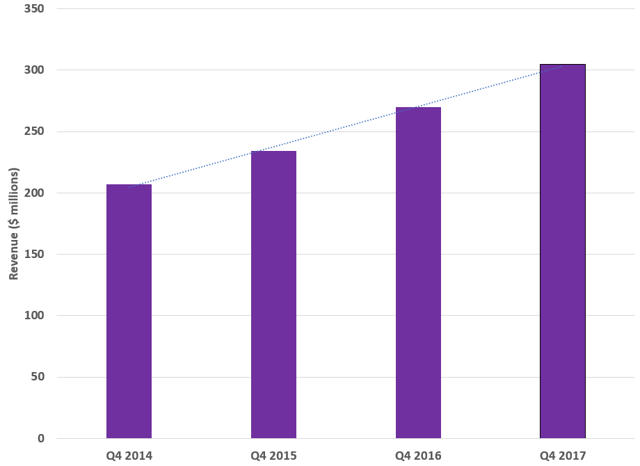 Source: Historical quarterly earnings and authors calculations (excel)
As you can see, sales continue to propel higher at a steady pace. The slight miss does not concern us whatsoever. But we need to be mindful of what is going into sales.
Food and beverage versus gaming
Digging deeper into the sales numbers, we see that sales consist of revenues from gaming, and from food and beverage sales. Food and beverage revenues were strong once again. They rose 10.0% year over year to $138.6 million. This represented 45.5% of all sales. Gaming of course remains the stronger, higher margin money-maker, which brings in the business. The so-called 'amusements and other' revenues increased 15.3% to $166.3 million year over year and represented 54.5% of total revenues in Q4 2016.
Fundamentally, we need to keep in mind the drivers of revenue growth for an entertainment and dining play like Dave and Buster's, which is entirely dependent on consumers having disposable income. Besides having disposable income, we need to ask what brings in customers to the stores? It is of course gaming as we alluded to above, as we saw this segment still represents more than half of sales. While this attracts customers, the tricky part is to keep customers coming back.
Repeat business
There is no easy solution for Dave & Buster's here. They offer emailed coupons to guests. They aggressively market in new games and takes out old ones. They offer to let you try new games for free, provided you spend at least $10 to charge up your game cards. This is the difficult side of the business, getting return customers.
Make no mistake, it is very expensive to bring a family for a night of food and gaming. In fact, it can easily run you (based on anecdotal evidence and author experience) almost as much as a day at a theme park in some cases. To keep repeat business, the company replaces games frequently with new attractions, often in line with new movie releases, but also is focused on its menu offerings as well.
The company used to be heavily focused on its menu and dining: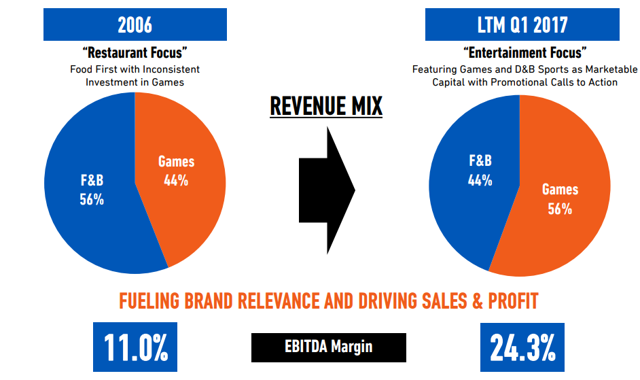 Source: Investor presentation
We would argue that a return to focusing on revamping the menu offerings is necessary. We are not encouraging the company to return its focus on being a restaurant, or insinuating that this company be a restaurant with games as an afterthought. We like that the focus shifted to games this decade, given the margins are much higher on gaming. Make no mistake, gaming, and promotions to bring customers in for said gaming, is the chief strategy.
Food and beverage however needs to be a better focus. We would like to see the company study its customers' patterns to know if stores are attracting customers solely to its dining amenities, or if dining simply is secondary to the gaming. Understanding these patterns can help the company shift to serving higher quality food and targeting the right clientele with higher margin alcoholic beverages. It has done this somewhat already as stores are already featuring happy hours and sporting promotions.
Comparable sales are key
Overall we are pleased with the continued demonstrated growth trajectory in sales. However, the one key indicator that we watch for in any entertainment and dining businesses is comparable store sales growth. In many businesses in this sector, comps have been negative. If comparable sales are positive, but shift negative, it suggests a contraction in foot traffic and/or average revenue per customer. If sales are negative but trending higher, this can be a good sign. Right now, the stock has suffered because comp sales have fallen, and this rightfully concerns the Street.
Comparable store sales flipped from being positive to negative throughout 2017. They fell 5.9% in the fourth quarter, and this is a major reversal from last year's 3.2% increase in comparable sales. What is going on here?
What is driving comparable sales
Well, the same-store sales decline was mostly driven by a surprising 6.4% decrease in walk-in sales. However, there was also a decrease in special events sales, like birthday parties, of 2.9%. This was a huge stain on the quarterly report. This suggests that marketing and promotions failed to bring in customers. Some of this could be due to the lack of innovative new games. Some of this could also be related to perceived declines in mall traffic as a whole where many of the company's stores are located.
In addition, it should be noted that this was a rougher than average winter in the United States, which certainly could have had a negative impact later in the quarter. The weakness in comps was acknowledged in the earnings release by Steve King, CEO:
"…recent sales trends in our comparable stores have been disappointing and we are working diligently to re-build momentum by evolving the brand"
Brand evolution
We await color on what this brand evolution may entail. However, we believe it may include opening of more of the new "17K" format stores. The 17K format is smaller than the big large centers that require more space. In addition, this benefit will allow the company to enter smaller markets than its larger designs have allowed in the past.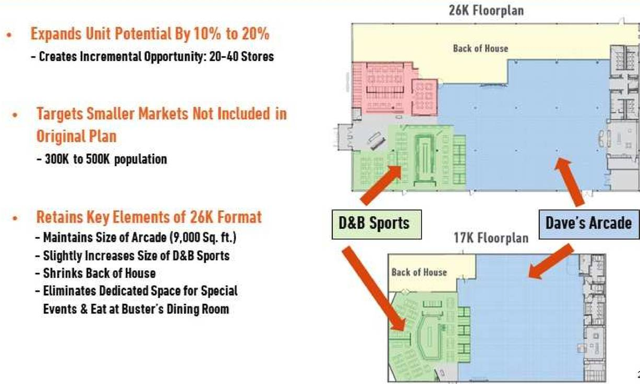 Source: Investor presentation
Briefly, the 17K format will retain the gaming components of the large store and existing smaller stores, but actually works to combine this with a much larger sports viewing area and maintain the ability to eat and drink throughout the facility. We think our idea of refining the menu items fits in with this new concept, and could deliver a win. These new formats with an emphasis on enhanced sports area provides an attractive opportunity to attract clientele year round and offer promotions tied to popular sporting events and other pay-per view activities. We think this is a strong opportunity for the company's growth prospects.
How are revenues growing?
There is no doubt that growing comparable sales is an absolute must. So, with comp sales falling, how are revenues growing? Well, new stores are contributing growth. This has always been the primary driver of the revenue patterns we have seen, but in the past positive comp sales were an added benefit.
The one thing investors should really keep in mind is that management has not chased dollars by over expanding too fast. We believe management has been wise to continue its expanding at a manageable pace. In the most recent quarter, thanks to some new openings, non-comparable store revenues increased $29.7 million or 67.5% over last year to $73.6 million. The company has historically expanded about 10% each year based on store count.
Expenses
One of the key indicators for a growing company is the costs to do business. We need to watch these figures closely. This is of course because while rising sales are meaningful, they are offset if the costs to generate those sales prevent increased profit.
That said, total operating costs were $262.5 million in the fourth quarter. Margins are being hit a bit, as these costs were 86.1% of sales, rising from 83.5% of sales. Taking into account revenues, operating income actually declined to $42.5 from $44.6 million in Q4 2017. As a percentage of total revenues, operating income actually decreased to 13.9% from 16.5%. While that may seem bleak, we remind you shares have fallen nearly 50% from their 52-week highs. In our opinion having followed this stock for two years, this decline is more than priced in.
Profit matters
Despite the pain, we saw another strong quarter for earnings. We were pleased to see that net income rose to $35.6 million, or $0.85 per share, compared to a net income of $27.4 million, or $0.63 per share, last year. Factoring in adjustments, earnings per share were $0.61 per share. This was a beat of $0.01 per share versus what the Street consensus was, though was a decline from last year. However, annual earnings growth continues to be quite strong: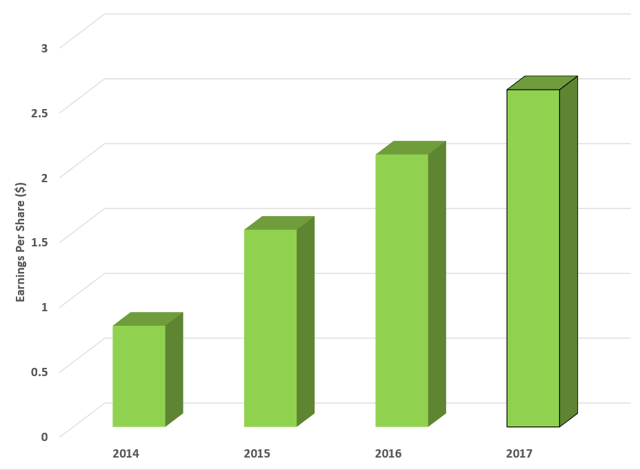 Source: SEC filings
While this is a strong trend, we want to point out one last piece of strength in the quarter in the form of EBITDA, which is largely being ignored. For the year, EBITDA increased 12.4% to $268.5 million from $238.8 million. Further, adjusted EBITDA increased 15.8% to $302.7 million from $261.5 million. That is a sign of strength that is being hidden.
Performance relative to expectations and guidance
Despite the strength in annual EBITDA and earnings growth, if you are trading, the company's quarterly performance relative to the Streets expectations in conjunction with technical and guidance should be closely watched. That said, longer term the fundamentals matter. When we look at multiple quarters of data, the company remains strong. However, shares took another hit after earnings given lower than expected guidance. Management called for several results that put investors on edge.
Management has guided fiscal year revenue to be between $1.20 billion to $1.24 billion. This was relative to a $1.25 billion consensus. In addition, management saw EBITDA of $255 million to $275 million, about flat at the midpoint from 2017, while earnings per share were guided to be $2.32 to $2.86. This is below the $2.80 consensus, and of course, could be below the 2017 figure of $2.60.
In the opening, we stated that management could be underpromising to overdeliver. This is not without precedent. In fact, the company has surpassed its own guidance and that of analysts on the top and bottom line nearly every time it reports: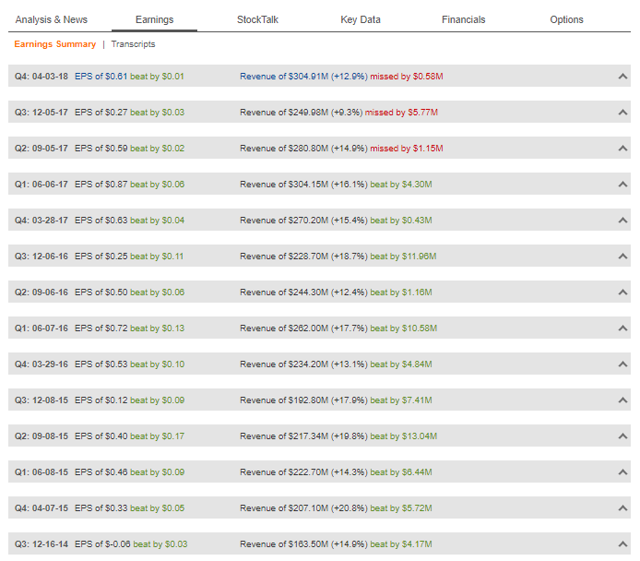 Source: Seeking Alpha earnings summary page for Dave & Busters
Basic valuation attractive
What matters to us is the trend in performance. We buy stocks to get a piece of future earnings. So while shares have fallen almost 50% from their highs, we are looking at perhaps flat earnings per share on the midpoint while the company adjusts and refocuses its efforts.
We believe shares are at an attractive entry point in our opinion at $37 a share. At the low end of guidance, the stock is trading at 15.9 times forward earnings. This is attractive, even if the company is guiding conservatively. At the high end of guidance, the stock is trading at 14.2 times earnings. Do not forget the value added in the company having a repurchase program that has nearly $100 million left in authorization. At these levels, we expect buying has increased heavily.
All things considered
All things considered the company is experiencing headwinds that we believe are temporary. A new store concept will help the company come to new markets. Looking ahead, we expect continued growth. Management predicated their assumptions on a mid single-digit same-store sales decline.
We think that is too conservative considering the economy is still the strongest it has been in nearly a decade, the tax cuts have led to more disposable income in consumer's pockets, and the company is laser-focused on targeted growth. Not only is this a buy for a trade in our opinion, it is a good entry point for an investment.
Quad 7 Capital has been a leading contributor with Seeking Alpha since early 2012. If you like the material and want to see more, scroll to the top of the article and hit "follow." Quad 7 Capital also writes a lot of "breaking" articles, which are time sensitive, actionable investing ideas. If you would like to be among the first to be updated, be sure to check the box for "email alerts" under "Follow."