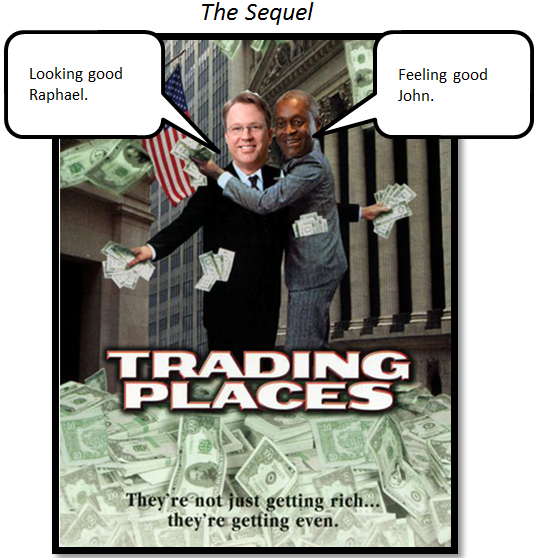 As President Trump has taken us all back to the eighties, so the Fed has followed suit. Social and economic policy engineering have now been synthesized into President Trump's thesis and the Fed's counter-thesis. Chairman Powell has the unenviable job of managing the two agendas in a way that does not kill the recovery. The interface of the two agendas comes through inflation and their impacts on it.
The last FOMC meeting was the first opportunity for capital markets to get a good sense of Chairman Powell's intentions and capabilities. The interest rate hike that came was widely anticipated so that the new Chairman's communications were of more value. His commentary signals that he will be truly data dependent and will not seek to anticipate expected economic developments based on the dogmatic adherence to some cherished and latterly discredited economic theories, including the hotly debated Philips Curve. Of the latter, Powell opined that "There is no sense in the data that we are on the cusp of an acceleration of inflation" and "We have seen moderate increases in wages and price inflation, and we seem to be seeing more of that." Projecting his layman's understanding of the Philips Curve, he then debunked it by saying that "The theory would be if you get below the sustainable rate of unemployment for a sustained period, you would see an acceleration of inflation" and also that "We (the FOMC) are very alert to it. But it's not something we observe at the present."
A previous article suggested that Fed communication policy is going to be reformed and that Cleveland Fed President Loretta Mester will spearhead this process. In the context of Chairman Powell's data dependent lack of academic or intellectual interest in economic outcomes and policy, guidance may become more direct. If the data, however, remains equivocal, no amount of candor will remove the ambiguity surrounding Fed guidance. Furthermore, the initiative, driven by ex-San Francisco Fed President John Williams, to have inflation targeting accepted as a policy tool may find a poor reception from Powell unless it comes with some very solid empirical evidence to support it.
Since Williams has now replaced outgoing New York Fed President Bill Dudley, given the enhanced significance of the New York Fed in policy-making terms, he is in a much stronger position to get inflation targeting included in the reforms that Mester and Powell are contemplating. His appointment highlights the Fed's Byzantine way of counteracting the encroachment onto its independent territory that Donald Trump's appointments have made. Chairman Powell may be a Trump prisoner, but the Fed has its own ways of getting its own agenda prioritized.
The last article in this series observed that Chairman Yellen's missing inflation "mystery" ball had been dropped in transition to Chairman Powell. The new Chairman's lack of intellectual curiosity further consigns this "mystery" to posterity, until it shows up on his dashboard with a strong warning light. The Chairman has said that he doesn't observe capacity pushed inflation, but neither does he see its absence as a cause for concern either. The initiative to push inflation targeting into the official policy tool mix, may, however, go a long way to compensating for the dropping of the "mystery", by tolerating an overshooting of the target with no commensurate tightening of monetary policy. This would neatly illustrate clearly how the Fed can use its own box of tricks to maintain its independence and set its own agenda in the Trump era.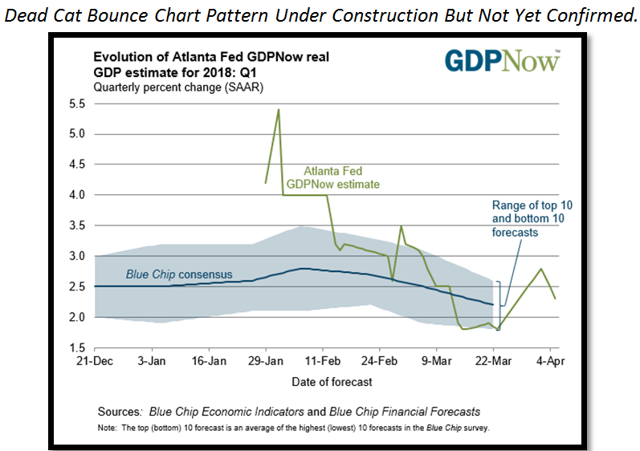 (Source: Atlanta Fed)
Just as the Fed has guided the markets to anticipate a more aggressive approach to interest rate increases going forward, the incoming economic data and signals from the markets suggest that its timing is poor. It should, however, be noted that the Fed is still way ahead of the global central bank curve.

(Source: Econoday)
The global backdrop is particularly challenging, even before President Trump's trade war threats are factored in. It now remains to be seen if the Fed will press on with its signaled course of action or if it will wobble and hide behind its gradual mantra whilst it pauses to assess the damage. The Fed will also have to figure out how much of the global pessimism is based on expectations created by its own guidance to expect three to four rate hikes this year. How much of the recent sell-off in markets is related to these expectations rather than coincident trade war headlines remains to be seen. The Fed is taking a very sanguine view, however and has not yet adjusted its baseline scenario, for at least three interest rate increases this year, based on the new trade war threats.
Atlanta Fed President Raphael Bostic shows no signs of being deterred by either the data or the threat of trade wars for now. Although, data dependent on his current expectation is that, "if the economy evolves roughly" as he suspects, he "will likely support further increases over the course of the year." He is waiting to see the actual factual details of tariffs that get levied rather than the threatening headline announcements. In the absence of conflicting data, however, he feels that the Fed still needs to gradually "get back to neutral". His agenda should not, however, be misconstrued as Hawkish.
Bostic has also added his support to the growing list of Fed officials who wish to get inflation targeting onto Chairman Powell's agenda. He has, in fact, become audibly more voluble on the subject, since Williams got the NY Fed Presidency, suggesting a hidden agenda within the Fed to get inflation targeting prioritized over the normalization. This agenda should also be heavily qualified with the observation that the objective is to tolerate an overshooting of the inflation target. Bostic's recent commentary on the subject leaves nothing to the imagination. As he sees it: "I (Bostic) am actually very comfortable going above the 2 percent by some amount -- 2.2, 2.3 -- I don't think that is a crisis of overheating," and "I have some concerns we have been below for so long that if we go to 2 percent and do a hard stop and act aggressively to hold it at 2, that will send a signal that we really view 2 percent as a ceiling."
Tolerating an inflation overshoot may also translate into prolonging the economic recovery by delaying further monetary policy tightening. Faced with the threat of trade wars, there is much to commend taking this approach. John Williams has not yet been as succinct as Bostic, but presumably, he will be soon from his elevated position of NY Fed President.
It should also not be ignored that Williams' appointment was controversial since it ignored a policy brief to introduce greater diversity into the Federal Reserve. The Fed has, therefore, responded by boosting the profile of Bostic, who is the doyen of diversity within the Fed. In a potential win-win, diversity and inflation targeting have been linked and promoted. Bostic is now the Fed's go-to guy on a number of subjects, ranging from cryptocurrencies to inflation targeting. Presumably, he is being groomed to climb the slippery pole to become Fed Chairman one day.
This growing list, of those of the inflation targeting persuasion, will be difficult for Chairman Powell to ignore if and when empirical evidence from incoming data supports it. Bostic's personal twist on the adoption of inflation targeting is extremely persuasive. He would not throw out the 2% target, but rather use it as an average guide. Thus, in current conditions of low inflation, this would allow a tolerance for overshooting which is reflected in the gradual approach to normalization. More importantly, in this new world of the low neutral rate of interest, such an adoption of this average guideline would help the Fed achieve its dual mandate without having to radically adjust its current monetary policy stance. Powell may not be one for intellectual pursuits, but he is certainly in favor of the kind of practical expediency which Bostic's take provides.
In the face of softer data and potential trade wars, the support for the latest Fed interest rate increase from Minnesota Fed President Neel Kashkari was surprising. To be fair, he also later qualified his support by insisting that interest rates are very close to the neutral rate, a view also held by St Louis Fed President James Bullard, so that there will be little need to raise them much further.
As attitudes in Washington and Beijing hardened, Fed officials were nudged into taking a more practical rather than academic view of the trade situation. This had the knock-on effect of softening their rhetoric about further interest rate increases since previously the headwinds of a trade war had not factored into their scenario forecasting. By default, therefore, the threat of trade wars is nudging the Fed towards adopting a tolerated overshooting of the inflation target. The Fed, in effect, is trading trade war risk for inflation risk.
For St. Louis Fed President James Bullard, the current economic forecasts should remain but the uncertainty surrounding them should increase. Given that he feels that interest rates are almost at the neutral level, this implies that the Fed should stop raising interest rates immediately. An inflation target overshooting is implicit in this view also.
Adopting Bullard's approach, Fed Governor Lael Brainard similarly stated that uncertainty has risen "materially". She is not as pessimistic, on the level of the neutral rate as Bullard, so her view should translate into a slower process of interest rate increases than at present. An inflation target overshooting also remains inherent in this view, however.
Robert Kaplan's Dallas Fed have analysed and gamed the outcomes of a trade war. Whilst only shaving a little off the current US growth rate, should the latest tariff announcements degenerate into escalated and reciprocal actions, then they see American GDP taking a 3.5% hit at worst. This analysis makes a strong case for tolerating an inflation overshoot.
Neel Kashkari, as always, prefers to be uniquely different and an eternal optimist and sees tariff induced trade negotiations and bargaining leading to a substantial opening up of global trade to the mutual benefit of all concerned. The Fed would, thus, be better served to wait and see the final outcome, before either pressing on with interest rate increases or easing aggressively if the talks fail. Kashkari's view of wait and see does not conflict with tolerating an inflation overshoot, yet it may lead to significantly higher interest rates later as a consequence.
Kashkari is not predicting a trade war, so things are finely balanced. Similarly, Dallas Fed President Robert Kaplan is not falling for the current trade war rhetoric; which he thinks might just be extreme bargaining tactics. He, therefore, advises patience before reacting to the trade friction risk. Fed Chairman Powell has not yet changed his positive view of the economy based on the trade war risk. Cleveland Fed President Mester sees symmetrical risks from overheating fiscal stimulus and trade war headwinds. In the absence of certainty over the outcome of these two opposing forces, she councils further interest rate increases based on the current economic tailwinds. Mester could, therefore, hold out against tolerating an inflation overshoot, until she is paid off with further interest rate increases in the short term.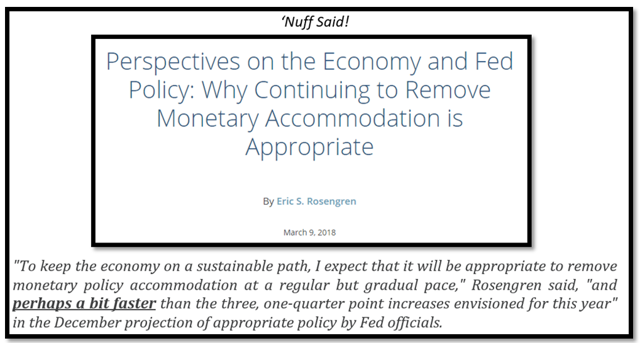 (Source: Seeking Alpha)
Boston Fed President Eric Rosengren was seen as being a good barometer for the zeitgeist within the Fed in relation to the outlook for monetary policy. On that occasion, he was in the tighter realm of normalization.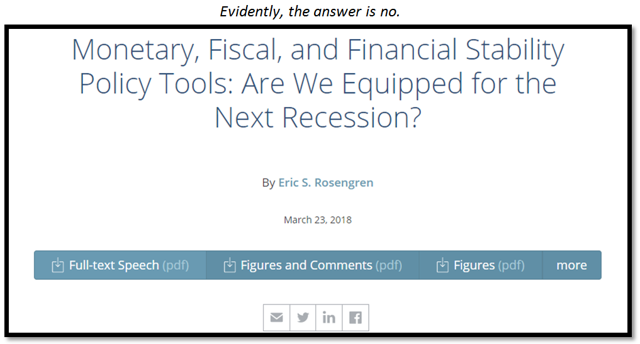 (Source: Boston Fed)
More recently, Rosengren has taken his next thought experiment step of guidance and moved his focus towards dealing with the fallout from the Fed's current attempt at normalization. He even dared to consider this as a misstep ending in recession. In his latest speech, he accepted that the ceiling for interest rate increases is lower than in previous cycles because post-crisis, the neutral rate of interest has dropped to a lower new level. With this in mind, he proposes that future monetary policy should use financial stability tools to create a systematic buffer to deal with the next crisis. Given Rosengren's view of the new lower neutral rate, it is clear that his enthusiasm for interest rate increases is very limited. His view may be born out of his pessimism at the scope to build up the conventional monetary policy cushion, to deal with the next crisis, in the absence of progress on the financial stability tool creation side.
President Trump's enthusiasm for rolling back post-crisis regulation is a significant barrier to the creation of the financial stability tools envisaged by Rosengren, which may, in fact, be creating a bubble risk-prone environment in capital markets. Since the Fed is limited by the lower neutral rate, in what it can do to raise interest rates, then this bubble risk is much larger. Rosengren can see the next crisis erupting in capital markets, leading to recession, well before the Fed has built up a conventional interest rate cushion to address it. This is something much more dangerous than a Taper Tantrum. Clearly, this is what is keeping Rosengren up at night.
The banks should have been building capital buffers, but they have been paying bonuses and dividends (big ones to the Government in some cases!) instead. President Trump's regulatory rollback further reduces the scope for any kind of counter-cyclical reserve building process. In addition, fiscal policy has just been given a further pro-cyclical boost. The capital markets and asset prices are overheating, in excess of the slower heating process in the real economy. Rosengren would like to narrow this gap with rules and regulations. Chairman Powell is walking a fine line on removing rules and regulations to boost the economy. This will be a test of how independent Chairman Powell is from the President who nominated him.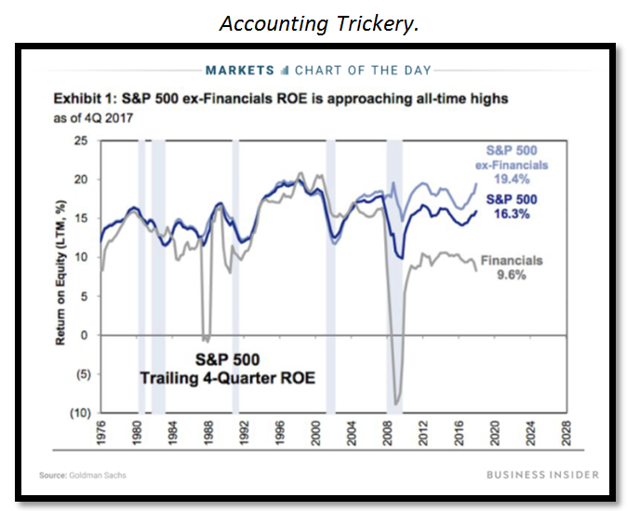 (Source: Business Insider)
Atlanta Fed Chairman Bostic has also responded with alacrity in support of Rosengren's thesis. Focusing on the Trump spending and tax cut plans, Bostic says significant uncertainty surrounds their outcome. This is code for saying that they may provide gains in asset prices, without commensurate gains in the underlying real economy. Goldman hints that these gains will be driven by accounting application of the new tax rules, rather than genuine real economic growth per se, that will then boost ROEs to new post-crisis highs. Bostic, thus, sees the destabilizing forces building but does not want to harm the real economy with ostensibly tighter monetary policy. He also sees the risk to inflating the asset bubble further, by tolerating an inflation overshot, in an environment where the neutral rate of interest is at a new low. Monetary policy has been compromised, by inflation targeting and the low neutral rate, so that financial stability rules and regulations are, therefore, the only option to mitigate the risk in the absence of higher interest rates.
The dilemma facing the Fed was neatly summarized by Fed Governor Lael Brainard. Faced with stretched asset values and market volatility, Brainard is struggling with the signals being created. She has looked in the rear-view mirror for inspiration and precedent but does not have confidence in what she sees. As she opined: "It is hard to know with precision how the economy is likely to respond. Historically, such episodes tended to see a risk of accelerating inflation in earlier decades or a risk of financial imbalances in more recent decades." Projecting this view onto Powell's own guidance, that he will wait for the data to show him the way, one can see the pace of Fed gradualism slowing even further until the numbers divine the correct response.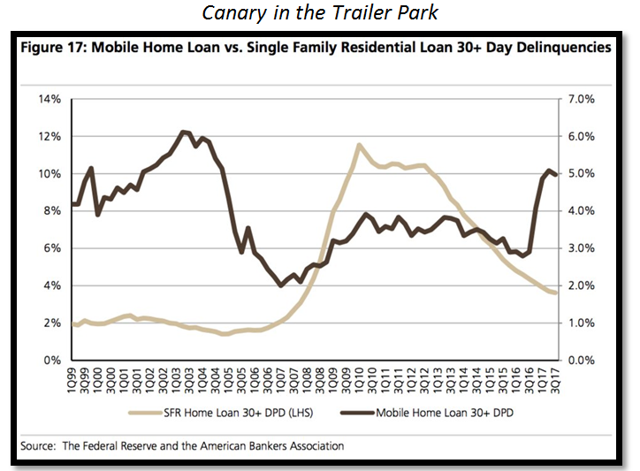 (Source: DS News)
President Trump faces a unique dilemma, broadly represented by a statistic that UBS is watching closely. Loan delinquencies by Americans that inhabit mobile homes are at alarming levels. This signal may be isolated in this cohort because, in general, they have had no stake in the asset-based economy that the Fed has stimulated with QE. Mobile home loan delinquencies, which spiked during the Credit Crunch and never returned to pre-Crunch levels, are now knocking on the door of the Dotcom Bubble crisis level. This may also be a sign of spreading contagion, from the weakest part of the economy outwards, as the Fed begins to unwind QE.
This distressed cohort is important to President Trump because it is widely perceived to have bought into his promises and elected him. After the enacting of his fiscal stimulus and alleged protection from trade barriers, if the plight of this cohort does not rise in time for his re-election, there will be serious consequences for his administration.
The Fed will be watching the "Canary in the Trailer Park" for signals of a new subprime event. President Trump will be focusing policy on retaining this cohort's loyalty. The combination of both efforts will result in fiscal and monetary policy stimulus. It remains to be seen if either or both will have the expected inflationary consequences, however!
Disclosure: I/we have no positions in any stocks mentioned, and no plans to initiate any positions within the next 72 hours. I wrote this article myself, and it expresses my own opinions. I am not receiving compensation for it (other than from Seeking Alpha). I have no business relationship with any company whose stock is mentioned in this article.