The stock market always looks ominous during a correction. Market pullbacks and corrections can be a test of fortitude and perseverance for investors. It is best to maintain a rational thought process during these situations.
It is important not to panic during market corrections (defined as losses of 10% to 20% in the broad market). The Dow Jones Industrial Average (DIA) recently dropped about 11.7%, while the S&P 500 (SPY) fell about 10% from peak to trough during the recent correction.
Not panicking means to leave your 401K and retirement plans in place and reap the benefits of dollar cost averaging. It also means to understand that corrections are normal for the stock market. Large investors will take profits after run-ups in price which leads to pullbacks in stock prices. However, corrections end and stock prices continue their rise over the long-term. We can also look for bargains in this type of situation.
Although it is difficult to pick an exact bottom during these situations, investors should look at key indicators to determine their next move. First, I like to look at where we are in the interest rate cycle. Although interest rates have been increased by the Federal Reserve over the past few years, the rates are still historically low and conducive for business and personal lending.
The yield curve reinforces my view that we are not nearing a recession, which would lead to a larger bear market. The yield curve inverted (when short-term Treasury rates are higher than longer-term rates) prior to the last 7 recessions. That is 7 out of the last 7 recessions, which goes back 50 years.
The yield curve is currently normal (upwardly sloping). This means that short term Treasury rates are lower than longer term rates. Since the yield curve tends to invert prior to recessions, we have a good indicator to adjust our investing strategies before the market tanks. The yield curve will invert when interest rates have been raised to a point where lending is at risk of slowing down the economy. With that said, interest rates are still on the low side and conducive for business/consumer lending.
Conditions look positive for continued economic growth. The U.S. tax reform which went into effect this year will help stimulate the economy as companies have more money to invest in employees and business expansion. Most workers have more money to spend as a result of the reduced taxes, which will help provide a boost to the economy.
The auto industry just reported higher sales for March 2018 as compared to the same month last year. For example, General Motors (GM) and Fiat Chrysler (FCA) posted sales increases of 16% and 14% respectively. Millions of new vehicles will be coming off lease this year, which could stimulate strong sales of pre-owned vehicles.
Sales of new and existing homes have been trending higher over the past few years. Growth in new and existing homes is stimulative for the economy as consumers spend money on furniture, appliances, paint, and other goods associated with their abodes.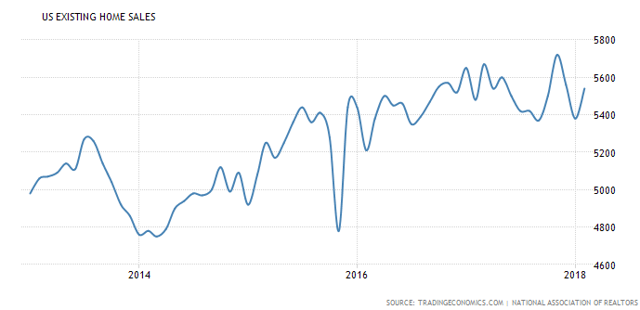 With growth in key economic areas, a normal yield curve, and with interest rates still at attractive levels for lending, I don't think that a recession is likely any time soon. So, I don't think the sell-off will go much lower from here. Most of the fears in the market are a result of worries about a trade war between the United States and China. However, actual policies have not been put into place yet - it is just talk at this point.
I'm sure that the United States and China will find a compromise to find a good trade balance for both countries. Neither country wants to have a significant disadvantage in trade. So, I think rational policies will be put into place that will find a balance that will be beneficial for both countries.
We could still see a tug-of-war in the market in the form of volatility until more clarity comes from the trade situation. Of course, there is a risk that a trade war does occur. An actual trade war between the U.S. and China could have negative implications, which could lead to a slowdown in the economies of both countries.
Hopefully, the trade policy that is finally agreed upon will enhance the United States competitiveness without harming economic growth and access to foreign markets. That is what I think will happen since the Trump administration is getting advice from Republicans to do exactly that.
More clarity on the trade policies that will be implemented will eventually come. If those policies are reasonable and conducive for the U.S. and global economy, then the correction and market volatility will subside. In that case, the market is likely to continue to move higher.
Market Valuation
The correction improved the market's valuation. Before the correction the forward PE for the S&P 500 was about 18.4. The S&P 500's forward PE is now 16. Although this is below the 10-year average of 14.3, it is 13% below where it was trading before the correction.
The improvement in valuation lowers the risk for investors because they can make purchases at a discount to the valuations found at the market's peak. Considering that we are not likely to enter a recession any time soon, the market is likely to make higher highs when we get past the correction. So, we are looking at a better buying opportunity right now.
Where to Invest
I tend to focus on strong growth companies in my research. These are companies that I think are likely to perform well over multiple years. The reason for that is because they tend to have above average revenue and earnings growth, which drives the stocks to outperform the S&P 500.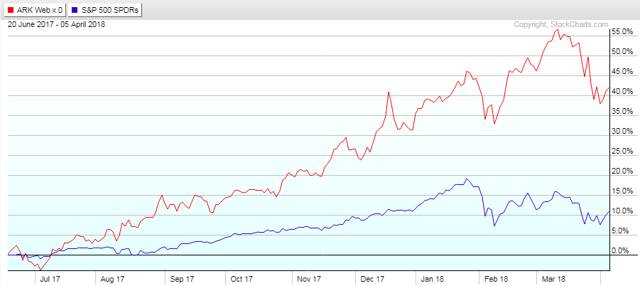 I see the recent market correction as a good time to buy or add to the high growth stocks. So, I decided to buy the ARK x.0 ETF (ARKW) which owns about 40 high growth technology-based companies. ARKW is now trading about 9% below its peak.
ARKW gives you exposure to many high growth companies, while diversifying your position among many companies. So, if one or two of these companies failed or performed poorly, it wouldn't significantly effect the entire ETF. I expect to reap the benefits of strong market outperforming price appreciation from ARKW.
Let me know what you think in the comment section below. If you like my analysis, click on FOLLOW at the top of the article near my name. That will allow my articles to display on your homepage as they are published.
Disclosure: I am/we are long ARKW.
I wrote this article myself, and it expresses my own opinions. I am not receiving compensation for it (other than from Seeking Alpha). I have no business relationship with any company whose stock is mentioned in this article.
Additional disclosure: The article is for informational purposes only (not a solicitation to buy or sell stocks). I am not a registered investment advisor. Investors should do their own research or consult a financial advisor to determine what investments are appropriate for their individual situation. This article expresses my opinions and I cannot guarantee that the information/results will be accurate.