Dividend growth investing is a hot topic here on Seeking Alpha. However, not every company that grows its dividend is per sé a proper DG investment. This article will show you why and will give 10 examples of companies that are suitable for dividend growth investments.
What makes a dividend growing company a good DG investment?
There are two simple classes in which I categorize DG investments: companies that can grow their dividend and companies that cannot grow the dividend but do it anyway. The main criteria in this division is a high pay-out ratio or a growing pay-out ratio. The important difference between those two groups will be highlighted in the example of Coca-Cola (KO).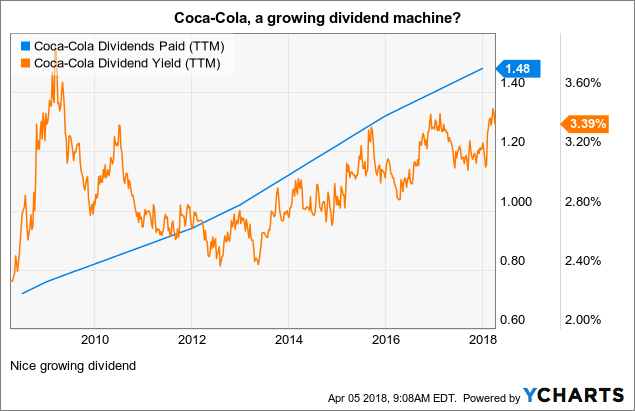 At a first glance it seems like Coca-Cola is an excellent DG investment. With an ever growing dividend, investors receive more money from Coca-Cola annually. However, why has the yield been increasing since 2012? The next graph will reveal this oddity.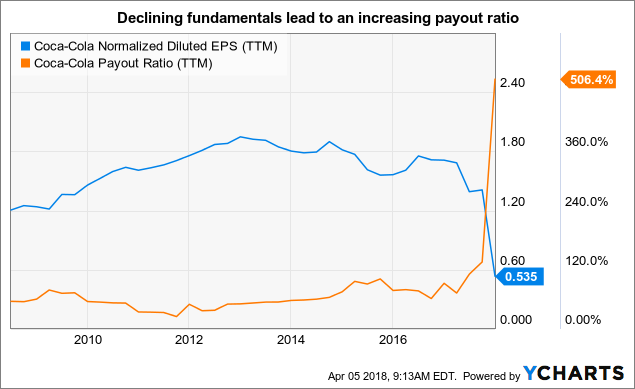 Actually, Coca-Cola was overstretching its financials. Even if we ignore the most recent EPS drop, it seems evident that stagnating EPS did not cover the increasing dividend. Ten years ago, the payout ratio was around ~50% and currently we are at +100%.
Now it becomes clear why the yield has been increasing - a lot of investors realize this is just a shift in capital allocation, which does not make the company more valuable. The stock price did not increase as much as the dividend increases, resulting in a higher yield. This is exactly the type of investments which I call: "Companies that cannot grow the dividend but still do it".
A DG investor should therefore not pay attention to dividend growth but aim towards EPS growth. Only companies that show consistent EPS growth are in my opinion "true" dividend growth stocks.
Ten strong companies that show growing EPS and dividends
Are there companies out there that show excellent EPS grow with growing dividends? Yes! I selected 10 companies based on their "quality characteristics" such as superior products, balance sheets and earnings growth.
1. A. O. Smith (AOS)
A. O. Smith produces heaters and boilers, with most of its revenue in North America. As the graph shows, this company has consistently shown earnings growth. A very stable payout ratio with ever increasing dividends makes this stock an excellent DG investment.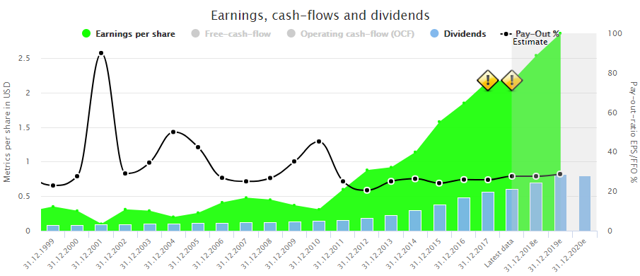 (Source: DividendStocks.Cash)
2. Church and Dwight (CHD)
This household name is even more stable than #1, EPS grows very stable while the payout ratio remains flat below 50%.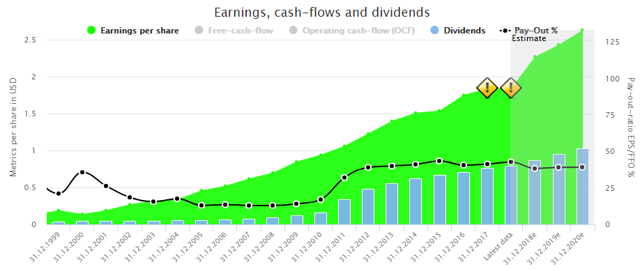 (Source: DividendStocks.Cash)
3. Ecolabs (ECL)
Ecolabs, a producer of cleaning products, shows less strong EPS growth than #2, but it is very interesting to see that despite the growing dividend, the payout ratio is in terminal decline. This dividend is very save.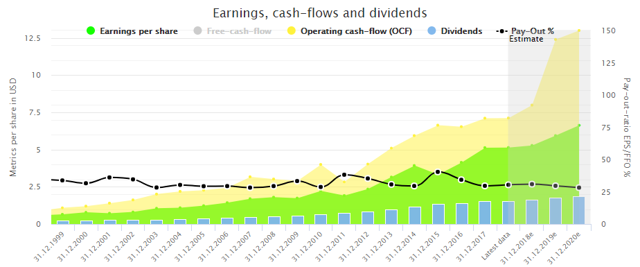 (Source: DividendStocks.Cash)
4. McCormick (MKC)
This company produces spices and grows the dividend very consistently. The payout ratio had been very stable in the last few decades but has recently been shrunken even more. A very safe DG name.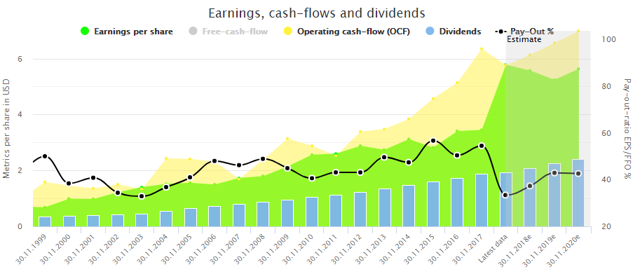 (Source: DividendStocks.Cash)
5. Brown-Forman (BF.B)
This producer of whisky has managed to grow both the dividend and EPS while maintaining the payout ratio between 40 and 60%.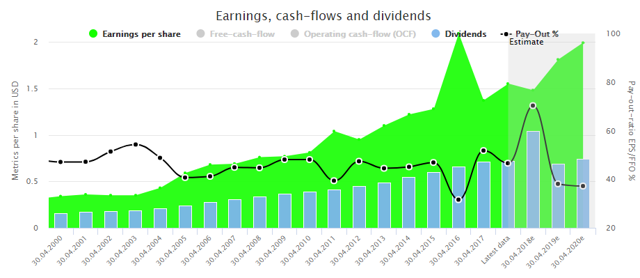 (Source: DividendStocks.Cash)
6. Starbucks (SBUX)
The coffee restaurant holder is not a very old dividend paying stock. However, its strong EPS and dividend growth, while maintaining a conservative payout ratio, gave SBUX its rightful place on this list.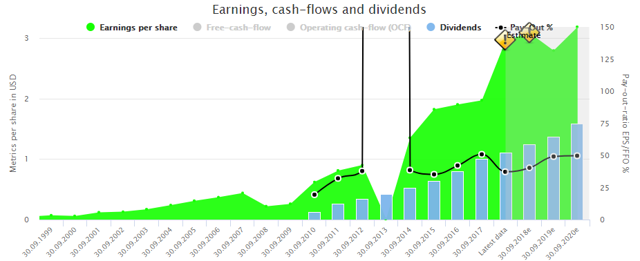 (Source: DividendStocks.Cash)
7. Fresenius (OTCQX:FSNUF)
This German medical giant has proven to be a very stable grower. While the dividend had grown aggressively, Fresenius managed to keep the payout ratio low at 25%. A more detailed report about this company can be found here.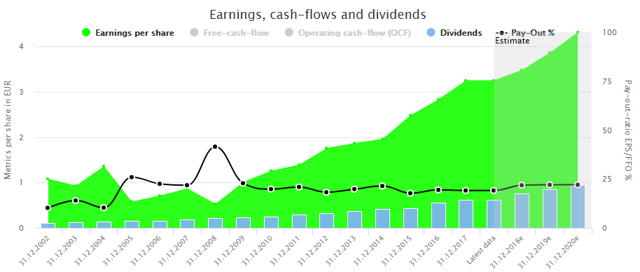 (Source: DividendStocks.Cash)
8. Abbot Labs (ABT)
This producer of medical equipment does not have the most consistent EPS growth, partially due to a large spin-off and some recent large acquisitions. That being said, this company has shown strong dividend growth while maintaining the payout ratio consistent. The stock has earned its place on this list.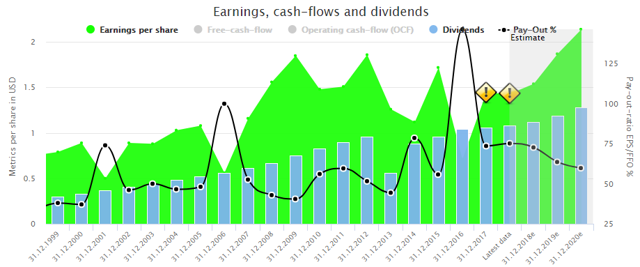 (Source: DividendStocks.Cash)
9. Honeywell (HON)
The cyclical industrial giant has shown strong growth in EPS, despite its cyclical nature. With this negative feature in mind, it is incredible that Honeywell managed to grow the dividend while maintaining a payout ratio below 40%.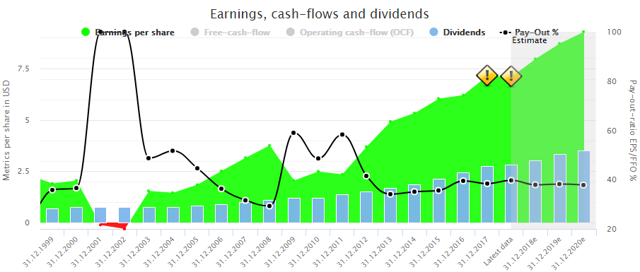 (Source: DividendStocks.Cash)
10. Sherwin-Williams (SHW)
This producer of dyes has shown, just like Honeywell, that it is capable of growing EPS and the dividend, while showing a stagnating payout ratio.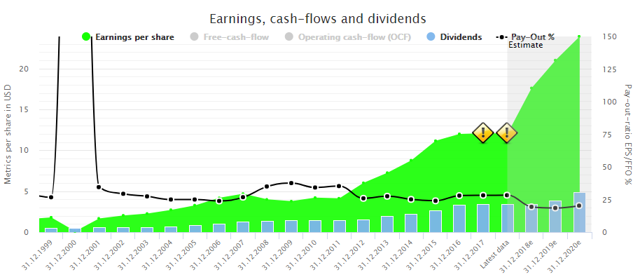 (Source: DividendStocks.Cash)
Yield
So far we have discussed what is truly important in DG investing and ten companies that apply to this rule. Even though all ten companies are quite different, they have one metric in common that is very much alike: the yield. None of the above mentioned companies have a "fat" yield. In fact, barely any of them have a yield higher than 2%!
This can be explained by the low payout ratio. Once more cash is retained, the company has more opportunities to deploy cash in EPS-growing activities such as new investments, acquisitions, buybacks and paying off debt. A second reason for the low yield is the high P/E ratio for all stocks mentioned. Quality has its price and a 40% payout ratio is at a P/E of 10 a yield of 4% while at a P/E of 20 the yield is only 2%.
Valuation
Even a good company should not be overpaid for. Some kind of valuation method should be used to quantitatively characterize good and bad investments. I am not a fan of the P/E ratio as a "stand alone" metric, because this metric is highly sensitive for different sectors and growth prospects.
I have made my own model to determine the value of a company that is discussed in great detail in this article.
priced in growth% = stock price/(2 *EPS) - 8.5/2

(Actual expected growth%) - (priced in growth%) + (dividend yield) = parameter of value
The following two formula will give us the "parameter of value". This number is indicating if a company is overpriced or underpriced compared to its growth profile. At zero, the stock trades at fair value, below zero it is overvalued and above zero it is undervalued. Actual expected growth will be discounted by 30% to make sure there is enough "margin of safety".
| | | | | | | |
| --- | --- | --- | --- | --- | --- | --- |
| Company | Stock price | EPS | Growth (%) | Yield (%) | Priced in growth% | Parameter of value |
| 1. AOS | 64.885 | 2.54 | 18.00 | 1.14 | 8.52 | 5.22 |
| 2. CHD | 50.17 | 2.27 | 10.70 | 1.78 | 6.80 | 2.47 |
| 3. ECL | 140.01 | 5.28 | 12.47 | 1.22 | 9.01 | 0.94 |
| 4. MKC | 104.775 | 3.72 | 10.59 | 2.00 | 9.83 | -0.42 |
| 5. BF.B | 55.06 | 1.48 | 12.65 | 1.95 | 14.35 | -3.55 |
| 6. SBUX | 59.015 | 1.97 | 16.84 | 2.21 | 10.72 | 3.27 |
| 7. FSNUF | 63.43 | 3.27 | 11.09 | 1.23 | 5.45 | 3.54 |
| 8. ABT | 59.625 | 1.54 | 11.76 | 1.92 | 15.11 | -4.96 |
| 9. HON | 145.60 | 7.97 | 10.00 | 2.09 | 4.88 | 4.21 |
| 10. SHW | 395.385 | 17.6 | 18.48 | 0.89 | 6.98 | 6.84 |
(Source: 4-traders.com and Reuters)
The results are clear: MKC, BF.B and ABT are overvalued. All other names trade close to fair value or trade below it. Especially SHW and AOS seem cheap at the moment due to their high parameter of value.
Conclusion
We have discussed which companies need to be avoided and which metrics are important for DG investing. Based on the demand for growing EPS and stable payout ratio, ten companies were analyzed and tested with my personal valuation method.
Despite the nice past, McCormick, Brown-Forman and Abbott labs are trading at expensive prices. All other tested names trade at fair or favorable prices and are therefore worthy names for any buy and hold DG portfolio.
Question To my readers
Do you own any of the names mentioned above? Do you think another name should be added to the list? Let me know in the comment section below!
I invite you to follow my personal blog towards my own dividend growth goals and to click the "Follow" button so you never miss any of my comments, blogs or articles.
Disclosure: I am/we are long CHD, MKC, SBUX, FSNUF, ABT. I wrote this article myself, and it expresses my own opinions. I am not receiving compensation for it (other than from Seeking Alpha). I have no business relationship with any company whose stock is mentioned in this article.
Editor's Note: This article discusses one or more securities that do not trade on a major U.S. exchange. Please be aware of the risks associated with these stocks.