Signature Chaotic Style Visited Upon The Markets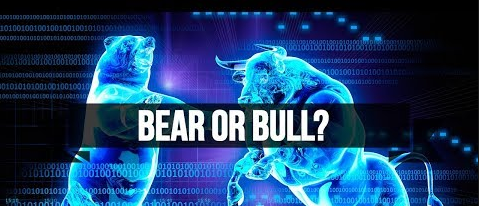 Well, if you thought we were out of the clear because the Dow Jones Industrial Average (DIA) rose 241 points on Thursday, you stand to be corrected.
The Larry Kudlow rally could only take us so far. Kudlow, the president's new economic advisor tried to calm the markets by informing us that the threat of $50 billion in tariffs on China was just that, a threat. It was only a negotiation tactic meant to bring the Chinese to the bargaining table from a position of strength. The president didn't really mean to impose such large tariffs, $50 billion worth on Chinese electronics, petroleum products, and others.
The market reacted as Kudlow intended and welcomed the respite from the ongoing tit-for-tat.
So much for a respite.
At 7:03 p.m. ET Thursday, Reuters reported another bombshell had been dropped, causing Dow futures to drop 1.7% on the latest salvo launched by Mr. Trump. The president is a strong believer in chaos. He famously used the technique at his private Trump Organization. He believed if his aids constantly fought among themselves, good solutions would always follow. A sort of survival-of-the-fittest approach to business.
He visited his signature chaotic style on the stock market Thursday evening when he announced that he wants his trade representative and advisers to take a look at imposing yet an additional $100 billion of tariffs on China.
It's as if we're watching a very high stakes poker game, where one player bets big, the other player calls the bet and raises, then the first player takes his prerogative to raise yet again, only this time it's double the original wager.
Doubling Down
The president commonly doubles down on his positions. With this latest salvo, he's literally doubling the initial $50 billion in tariffs to an additional $100 billion, effectively tripling the first bet.
Trump said:
In light of China's unfair retaliation, I have instructed the USTR to consider whether $100B of additional tariffs would be appropriate under section 301 and, if so, to identify the products upon which to impose such tariffs.
In reaction, after hours, the Dow immediately gave up 400 points. This is how all-out trade wars begin. Each side imposes stiffer penalties on the other. Each is trying to bluff the other party. These types of negotiations are normally conducted privately, behind closed doors where positions can be presented, discussed calmly, and compromise is reached.
The trouble is, this is being done now in a very public forum. It's more difficult for the parties to back down in public for fear of losing face before their own people. So the public nature of these diatribes makes it that much harder to reach consensus.
Is the president bluffing as part of a strategy to bring the Chinese to heel? Or is he playing a game of good cop (Kudlow), bad cop (himself) in order to bring about enough pressure on the Chinese to make them agree to stop stealing our intellectual property and technology? Is this a strong-arm tactic, playing hardball to stop China from dumping their products on our shores at prices that are well below their own costs to produce them?
As I've been chronicling the trade war developments in this article and in "The (Chinese) Empire Strikes Back," I've also emphasized the point that investors who don't know how to make heads or tails about these developments are running toward safe-haven investments, like treasury bonds and dividend stocks. Better to shoot first and ask questions later.
This self-preservation mode continues in force as our subscriber portfolio and the Fill-The-Gap Portfolio continues to solidify gains on a daily basis, outperforming the broad market indices on most of those days.
Though it did not outperform Thursday, the FTG Portfolio continued to roll up gains as investors continued gravitating toward the relative safety of equities that pay them to wait, pay them cash dividends that can be banked, used for spending money, or reinvested to grow portfolio income further.
Fill-The-Gap Portfolio Close, April 5, 2018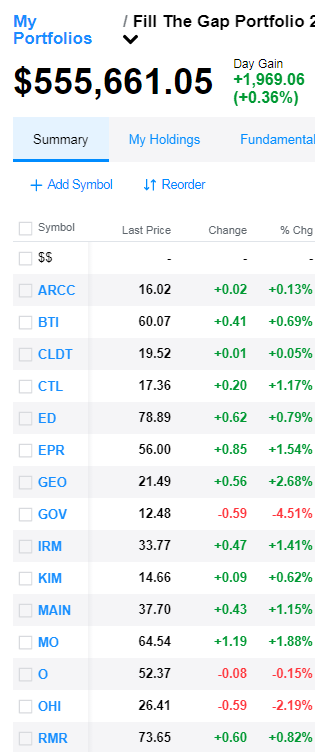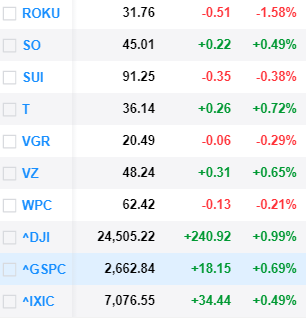 Portfolio Development: Roku Announces Partnership With Sanyo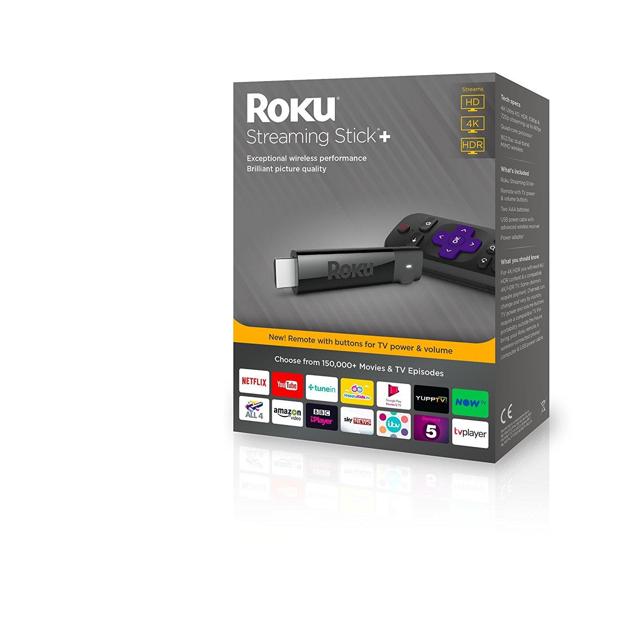 Roku, Inc. (ROKU) announced that the Sanyo brand is now part of the Roku TV™ licensing program. Funai Corporation expects to ship the first Sanyo Roku TVs in Canada this quarter.
'The Roku® operating system makes our smart TVs an attractive option for consumers, with simple navigation and search, an easy-to-use remote, thousands of streaming channels and regular software updates so we can offer a great TV experience to our customers,' said Peter Swinkels, GM, Product Planning at Funai Electric, Inc. 'Millions of households are familiar with the Sanyo brand, and together with Roku's easy-to-use streaming platform that makes a powerful combination.'

'In just four years we have grown the Roku TV licensing program significantly and have launched into other countries such as Canada. We're thrilled to expand the Roku TV program with our 10th brand - Sanyo - through our work with Funai,' said Chas Smith, general manager of Roku TV & Players. 'I am certain that Sanyo Roku TVs will offer Canadian consumers what they're looking for in a TV: value, simplicity and tons of entertainment options.'
The Roku TV licensing program offers TV OEM partners an easy, efficient, and cost-effective way to build smart TVs that consumers love to use. The Roku operating system provides consumers with access to an ever-growing library of content as well as regular, automatic updates so they can be sure they have the latest and greatest features.
From the "about" page on Roku's website:
Roku pioneered streaming to the TV. They connect users to the streaming content they love, enable content publishers to build and monetize large audiences, and provide advertisers with unique capabilities to engage consumers. Roku streaming players and Roku TV models are available around the world through direct retail sales and licensing arrangements with TV OEMs and service operators. The company was founded by Anthony Wood, inventor of the DVR. Roku is headquartered in Los Gatos, Calif. U.S.A.
Roku Stock Reacts
Investors were excited to learn that the company was expanding its partnerships with OEM television manufacturers. This will help Roku expand its reach to millions of more households and gain from the added advertising revenue they derive from all of the shared advertising arrangements they have made with content providers, T.V. companies, and cable companies.
The stock closed up 6.54% on Wednesday. Thursday, it gave up 1.58% to profit taking.
The Fill-The-Gap Portfolio
The FTG Portfolio contains a good helping of dividend growth stocks, like Kimco Realty (NYSE:KIM) and Tanger Outlets (NYSE:SKT), which can be found in our subscriber portfolio. It was built with the express purpose of benefiting from this defensive strategy.
Three years ago, on Dec. 24, 2014, I began writing a series of articles to demonstrate the real-life construction and management of a portfolio dedicated to growing income to close a yawning gap that so many millions of seniors and near-retirees face today between their Social Security benefit and retirement expenses.
The beginning article was titled "This Is Not Your Father's Retirement Plan." This project began with $411,600 in capital that was deployed in such a way that each of the portfolio constituents yielded approximately equal amounts of yearly income.
The FTG Portfolio Constituents
Constructed beginning on Dec. 24, 2014, this portfolio now consists of 22 companies, including AT&T Inc. (T), Altria Group, Inc. (MO), Consolidated Edison, Inc. (ED), Verizon Communications (VZ), CenturyLink, Inc. (CTL), Main Street Capital (MAIN), Ares Capital (ARCC), British American Tobacco (BTI), Vector Group Ltd. (VGR), EPR Properties (EPR), Realty Income Corporation (O), Sun Communities, Inc. (SUI), Omega Healthcare Investors (OHI), W.P. Carey, Inc. (WPC), Government Properties Income Trust (GOV-OLD), The GEO Group (GEO), The RMR Group (RMR), Southern Company (SO), Chatham Lodging Trust (CLDT), Iron Mountain, Inc. (IRM), and Roku, Inc. (ROKU).
In Wednesday morning's article (linked to above), I said:
Though the market bounced higher on Tuesday as investors once again bought the dip from the previous day, readers need to keep in mind the capriciousness of everyday pricing in the markets.
Well, Wednesday certainly delivered more of that capriciousness, in spades, as the Dow sank an additional 350 points in early morning trade. Thursday brought us another in a series of relief rallies with the Kudlow put, the hope that we didn't really need a trade war after all. The sense of relief didn't last much beyond the close of trading when the president shocked the markets once again as he doubled-down on his China trade tariff threats.
Dividend growth investors are reminded that we are basically insulated from the fears that constantly weigh on price-focused investors. This holds true, especially during correction periods that we are still in the midst of.
Readers are encouraged to look at the following table any time their stock market nerve is being tested by volatility. We have enjoyed nine very recent dividend raises in the FTG Portfolio.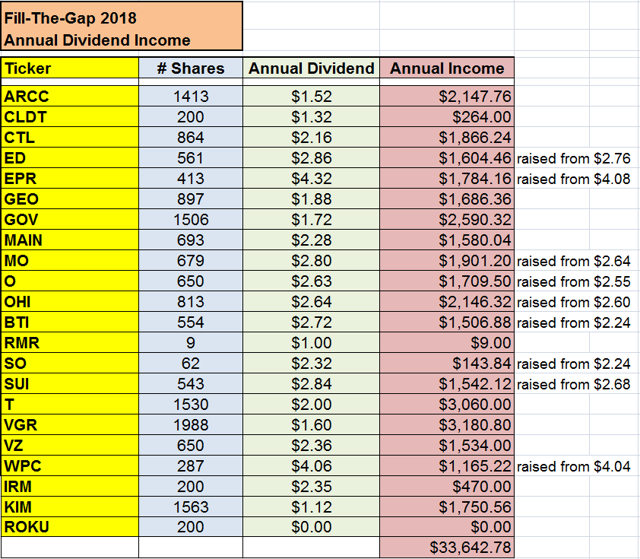 Source: Created by author
Takeaway
No matter which way the wind blows, which political party is in power, or what geopolitical threats loom on the horizon, dividend stocks serve to some extent as a bulwark. Because of their cash-paying characteristic, and their propensity to grow dividends beyond the inflation rate, dividend growth stocks, like many we own in the FTG Portfolio, provide solace at times like these.
They have two components that serve to calm the nerves of anxious investors. Because of those dividends, they tend to fall less in value compared to the general market. The dividends provide a cushion, a floor for the stock price, as it were.
Dividend stocks provide another, very positive focal point based on the dividends, one which can distract the investor from the unpredictable vicissitudes of wild swings in stock prices while at the same time providing constant, positive feedback every time a dividend is paid. This closed loop that exists, as long as these companies continue to pay dividends, is what helps cement the dividend growth investor to this strategy and keeps him comfortably moored.
Your Engagement Is Appreciated
As always, I look forward to your comments, discussion, and questions. How have you handled the brewing trade war? Are you moving to cash? Are you intending to use that cash to catch more bargains on the way down? Please let me know in the comment section how you approach these situations in your own portfolio and how you arrive at your decisions.
Author's note: Should you be interested in reading any of my other articles detailing various strategies to enhance your returns on a dividend growth portfolio, you will find them here.
If you'd like to receive immediate notifications as soon as I write new content, simply click the "Follow" button at the top of this article next to my picture or at the bottom of the article, then click "Get email alerts."
Disclaimer: This article is intended to provide information to interested parties. As I have no knowledge of individual investor circumstances, goals and/or portfolio concentration or diversification, readers are expected to complete their own due diligence before purchasing any stocks mentioned or recommended.
Disclosure: I am/we are long ALL FILL-THE-GAP PORTFOLIO STOCKS. I wrote this article myself, and it expresses my own opinions. I am not receiving compensation for it (other than from Seeking Alpha). I have no business relationship with any company whose stock is mentioned in this article.