Everyone has his or her own measure of successful investing. Most measure their performance over time against some benchmark. The benchmark should be selected to reflect the investor's strategic positioning, but the near-universal fallback is the S&P 500 (SPY). If you're beating SPY, you get bragging rights. So, why not simply invest in SPY as Warren Buffett advises? Well, that's a topic for another day, but I suppose it's another case of a classic tenet of behavior economics: Most of us take up the challenge because we believe ourselves to be smarter than the average bear (or bull as the case may be). But, as I said, a topic for another day.
Today, I want to explore fifteen SPY beaters from the universe of closed-end funds. Few of the fifteen legitimately compare to a benchmark for the domestic, largest-cap equity market, but all of them have beaten SPY's total return for three years, one-year and the year-to-date. Considering that SPY has been on an extended bull run, that's quite an accomplishment from the managers of these fifteen.
The funds took different paths to their market-beating results. Most parlayed high-distribution payouts to reach their market-beating performance levels. This is what one might expect from an assortment of closed-end funds, an investment arena where yield is king. The lowest yielder in the group returns 4.5%; the top yielder pays a whopping 13.3%. The full fifteen post an average 8.3% yield. Some got there with leverage, up to 45%, but more than half are unleveraged.
I generated this list by screening all taxable CEFs for total return at market for year to date, one year, and three years. This is the second time I've written here on the results of this screen. The previous article was six months ago (here), when 34 funds were ahead of SPY for those three time frames. At that writing, I drew a line at funds with at least $300M in assets under management. If I'd used that filter this time, I would have had only nine funds making the cut. So I went down to $100M, which added six to the list.
The Funds and Their Records
The fifteen funds making the cut this time are: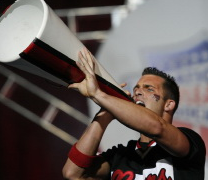 Notice that a third of these top-performing funds, five of the fifteen, are from a single sponsor, PIMCO. Those who wonder why I often seem to be a cheerleader for the PIMCO CEFs might want to ponder that stat.
Nuveen and Liberty All-Star each put two funds each on the list. For Liberty All-Star, those two funds comprise its entire set of offerings. Nuveen by contrast leads all sponsors in number of CEFs with 75 funds. All four of these are unleveraged equity funds. None ranks in the top four for any of the NAV performance stats pointing out that their gains were enhanced by growth of market valuation.
Here are some key stats for the fifteen, with the top four in each category highlighted: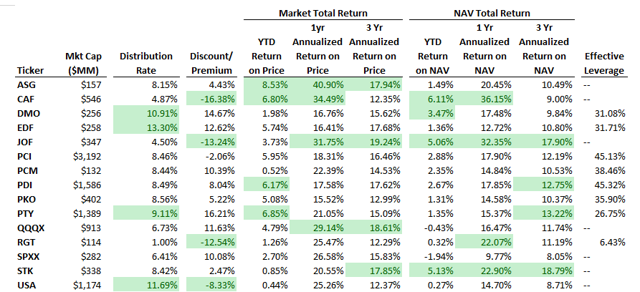 Only five of the funds in the list currently carry a discount.
Eight of the funds are equity funds. All but one of the equity funds are unleveraged, and the one leveraged fund (RGT) only carries 6.4% leverage. I've written in the past about my view that leveraged equity CEFs tend to underperform both the broad market and their unleveraged peers. That opinion finds some support in this list where the equity cohort comprises funds that eschew leverage to generate investment income from option-writing (as for SPXX, QQQX and STK) or realized capital gains.
The seven fixed-income funds on the list are all leveraged, as is typical for the vast majority of fixed-income CEFs. The range is from 26.8% to 45.3% effective leverage, with an average of 36.3%. Successful management of leverage is a key skill for the most effective fixed-income managers. I believe that the exceptional performance of the PIMCO CEFs has much to do with the management of the high leverage these funds carry.
Four of the funds are either wholly international or global funds. Three of these are equity funds (RGT, CAF and JOF), which are also the funds with the deepest discounts. The three international/global equity funds are discounted well into the double digits while the average fund here has a premium of 2.9%. These three also dominate the recent performance stats at NAV. They rank 1, 2 and 4 for one-year NAV returns. Interestingly, these are among a small number of funds in this list that have seen deepening of their discounts. JOF and CAF have negative Z-scores for the past 3, 6 and 12 months, and RGT is at -0.9 for 3 months.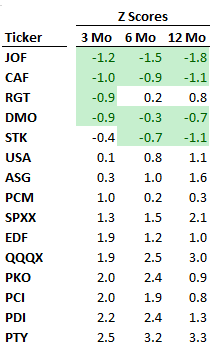 DMO and STK would seem to be offering moderately attractive valuations relative to their average values as well. Otherwise, the funds here have been building premium.
Notice the PIMCO funds at the bottom of that list. There's been some considerable discussion on these pages on the potentially overbought status of many of the PIMCO CEFs. These numbers certainly would argue in favor of that point of view. PTY looks especially ready for a bit of a premium correction with Z-scores at 3.2 and 3.3 for 6 and 12 months respectively and a 16.2% premium that heads the list here. I don't hold PTY, but if I did I would imagine I'd be looking carefully at these metrics with an eye to trading out of the fund. Recently a reader asked about PTY. With this in mind, I'd certainly not be opening a new position or adding to an existing one.
PDI is not far behind, although its premium is half that of PTY. PDI shareholders may want to consider the implications of the fund's run-up in valuation. I have used the premium/discount differential between PDI and its near-clone, PCI, to profitably trade between the two funds while maintaining a position in what I consider to be among the very best opportunities for an income investor. But right now, PCI, despite it being PIMCO's only discounted CEF, does not seem sufficiently better valued than PDI to justify that move. I do, however, understand how several commenters have recently suggested a move out of PDI may be timely. Something to ponder if you're among the fund's shareholders.
The two Nuveen option-index funds, QQQX and SPXX, have also drawn recent attention as funds with unsustainable premiums. I've owned QQQX in the past but became sufficiently uncomfortable with the fund's move to a hefty premium that I exited. Too early it seems, but that's a mistake I can live with. Even if I considered these two as holds, which I don't, I'd be especially wary about adding to holdings of either at this time regardless of their presence on this list of top performers.
Let's turn to DMO and STK, two domestic funds with negative Z-scores. DMO had been my strong choice for a straight mortgage bond holding. Then the premium grew to a point where I found it impossible to hold onto the fund. The premium has been shrinking of late, but it's still at 14.7%. Of course, the fund pays just short of 11% and has turned in some impressive NAV growth for all time frames here. Could well be a fund worth considering again. One thing to keep in mind, however, is that DMO is poised to liquidate and distribute substantially all of the Fund's net assets to shareholders on or about March 1, 2022. That would be at NAV, of course. So in four years, DMO's premium will be gone. I'd be reluctant to enter into a fund that I know will be giving up 15% over the next four years.
STK is an option-income fund that invests in the information technology sector. It's been another long-time favorite of mine. Indeed, one of my first articles at SA was on STK. I still own the fund in my taxable investment account where capital gains tax would be a heavy hit if I chose to sell it. But I've traded out of the fund in my IRA in favor of info tech ETFs. Past performance (all usual caveats apply, of course) tells me that Technology Select Sector SPDR® ETF (XLK) has been a better choice for capital growth (and I've always opted to reinvest STK's distributions, so it's a capital growth play for me). The fee differential between the two funds (1.16% to 0.13%) plays a role, of course, but XLK has been a better performer by a margin exceeding the funds' costs to own.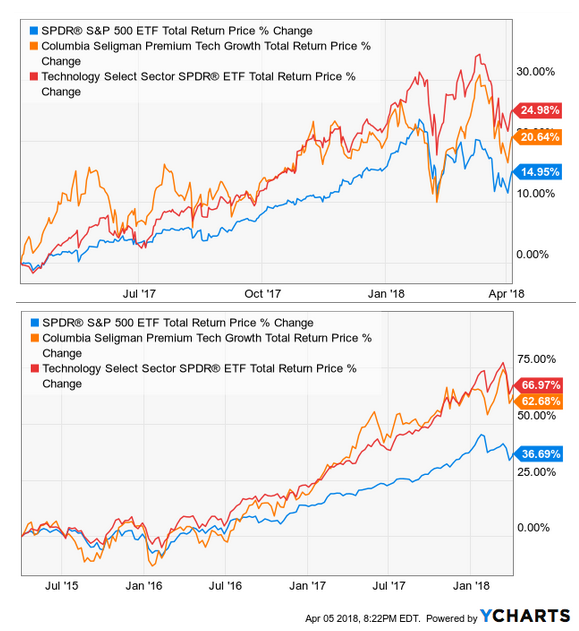 Of course, if you're taking out income, STK is paying over 8%, so an income investor may well find it the better choice. I'm of the view that adding info tech exposure to a high-income portfolio is a good move. The sector has been and likely will continue to be for a long time to come, among the top performing sectors. It's something I want in my accounts, and STK is the best way to get it into a high-yield income portfolio.
I diverged from my discussion of international fund without touching on the non-equity fund in the list, EDF, so let's go back to it. I've held EDF on and off for many years. I was especially bullish on the fund near the end of 2017 (see here; it should not be paywalled, so you can check it out). It's an emerging market bond fund. Yields a massive 13.3%, and at the end of 2017, there was nearly no premium so it was yielding more than that. To me that was the very definition of a buying opportunity. Now, with a 12.6% premium and a Z-score over 2 over the quarter's time since that article, I'd be less enthusiastic. But, depending on your outlook for emerging markets, it can be a solid diversifying element in a high-income portfolio. If the premium puts you off, you might consider its sibling, Stone Harbor Emg Mkts Total Income (EDI), which is paying just under 12% with a near-par valuation (0.33% premium).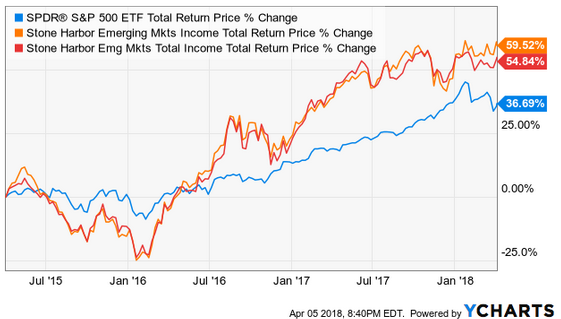 I noted above that this is the second time I've written on this exercise. Last time was a half-year ago when more than twice as many funds (with a tighter limit on fund size, so a smaller pool) cleared the hurdle of beating SPY for YTD (nine months in that case vs. three here), one year and three years. This list has only nine carryovers from that round: The two single-country equity funds, CAF and JOF. Four of the five PIMCO funds (PCI, PDI, PKO and PTY), and three domestic equity funds (QQQX, STX and USA). New to the list are ASG, DMO, EDF, PCM, RGT and SPXX. These are all small funds with market caps under $300M. That was my filter last time, so I don't know if any of these would have been on the list then. Since all of the over $300M funds here were also on October's list, it's likely that most of them would have been there as well.
ASG joins its Liberty All-Star partner, USA. ASG has a 4.4% premium vs. USA's -8.3% discount, the deepest discount for the domestic funds. Both have benefited from loss of discount or having added to premium. USA pays a hefty 11.7% yield, ranking second among the fifteen. ASG pays 8.2% which puts it just below the median yield here. Purely on the numbers, USA looks like the choice of the two, but I've not delved into what distinguishes the two funds for this article. Interested readers will know where to find that.
I find this an interesting filter. It offers a source for ideas across the CEF spectrum. It tends to confirm some strongly held views and, at the same time, may cause on to rethink others. Both sides of that coin are welcome. Last time around I decided to pick a couple of the funds this exercise brought to my attention. JOF has been a good call. I thought about CAF, but decided to pass on it. On the domestic front, I discovered Central Securities Corporation (CET), a well-known fund in some circles but one that was new to me. I did buy it and have been happy with it. Both have taken some battering in the past few weeks but both remain ahead of SPY for the six months.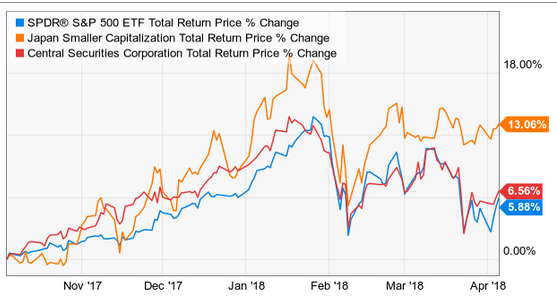 I'll come back to this exercise periodically, and when things look interesting, I'll try to get some of my thoughts out here.
Closing Thoughts
As you've noticed, I'm sure Seeking Alpha is changing. It's gone from a place for open, crowd-sourced, free-for-all discussion of investing topics to one of increasingly restricted access. I have no opinions about these changes other than my preference for maintaining my work here under the old standards. SA has let us authors unlock a small number of old articles; I'll try to do that for mine when I cite them so you can, if you're so inclined, check out the back story. I'll also be writing articles that don't get locked behind the paywall. This one and previous coverage of this topic should be unlocked. You can help as well. Get involved in the discussions and share your ideas with your fellow readers. If you know something I've missed or overlooked, share it with your fellow readers. And if you're not a follower - and I know most of you are - do click the follow button. I'll be writing less frequently than I had been in the past, so at least you won't be barraged by notifications.
Disclosure: I am/we are long EDF, EDI, PCI, PDI, STK, USA, CET. I wrote this article myself, and it expresses my own opinions. I am not receiving compensation for it (other than from Seeking Alpha). I have no business relationship with any company whose stock is mentioned in this article.
Additional disclosure: I am not an investment professional and nothing I write here should be taken as professional advice. Everyone's personal situation is unique. It is the role of finance professionals to provide advice in the contexts of an individual's personal situation. What may be right for my investment goals and risk tolerances may well be quite wrong for someone else. Do your own due diligence. Consult with professionals on your own needs, objectives and tax circumstances before you invest. I do not give advice and ask that readers refrain from asking for it.