2017 Industry Performance Recap and 2018 Outlook
World Semiconductor Trade Statistics (WSTS) defines four main semiconductor product categories applicable in 2017: Discretes, Optoelectronics, Sensors and Actuators, and Integrated Circuits (IC), with each having a corresponding catalogue of sub-categories. Among the four, IC contains the broadest range of sub-categories and end-use applications. IC also is the largest contributor to global semiconductor industry revenues, with three of its sub-categories accounting for 70% of the $419.7 billion global industry revenues in 2017: Memory with $124 billion (30%), logic with 102.2 billion (24.7%), and micro integrated circuits with $ 63.9 billion (15.5%), according to the Semiconductor Industry Association in a February 2018 news report.
Memory comprises products that serve a data storage function and which go by abbreviated monikers such as: DRAM, SRAM, ROM, EPROM, Flash (e.g. NAND, ORNAND), EAROM, and NOVRAM. Micro IC encompasses microprocessors (MPUs), microcontrollers (MCUs), and digital signal processors (DSPs) which, in varying degrees, function as "the brains" of a device. Central processing units (CPUs), graphical processing units (GPUs) and neural processing units (NPUs), being MPU variants, belong to the Micro IC category. Logic is composed of other ICs that perform processing functions but do not fit within the Micro category, such as: Digital Bipolar, General Purpose Logic, Gate Arrays, Standard Cells and Field Programmable Logic, Display Drivers, Touch Screen Controllers, and Special Purpose Logic.
The industry generates revenues from product sales and design licensing to electronics and tech companies. These companies use ICs as components (in myriad iterations) in the manufacture of electronic devices that are ultimately distributed as finished products across a wide array of consumer, commercial, and industrial end-use applications and their corresponding end-use markets (i.e. communications, computing, consumer, industrial/medical/other, automotive, and government/military).
The heaviest buyers of semiconductors have historically been manufacturers and marketers in the Communications and Computing end-markets, where the majority of the finished products are mobile phones and personal computers (PCs, e.g. desktops, notebooks, and tablets), respectively. With PC sales having steadily declined since 2012 and smartphone sales having declined for the first time since 2004 (as reported by Gartner just last month - after having slowed down since 2016), semiconductor companies look to pursue, and otherwise prepare for, opportunities in newly recognized end-markets such as Internet of Things (IoT) and AI. These efforts run alongside the exploration of emerging applications in traditional end-markets like automotive (e.g. autonomous driving), communications (e.g. 5G connectivity), and computing (e.g. cloud computing).
The 2018 KPMG Semiconductor Outlook gives color to the perceived promise of new end-markets as viable revenue streams. When asked what segment or technology semiconductor executives would invest $500 million in, within the semiconductor industry, if they were financiers with this capacity, nearly 60% answered "Microprocessors optimized for AI and neural networks" (33%) and "Sensors/MEMS optimized for IoT and autonomous vehicles" (24%).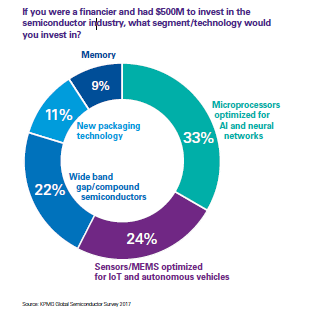 Source: 2018 KPMG Semiconductor Outlook
At the same time, traditional end-markets are viewed to remain valuable. To a question on the importance of the different application/end-markets in driving their respective companies' revenues over the next fiscal year, communication came out on top (i.e. wireless communication in the top spot and Wireline Communication third from the top). consumer, industrial, and automotive also figured in the top 10.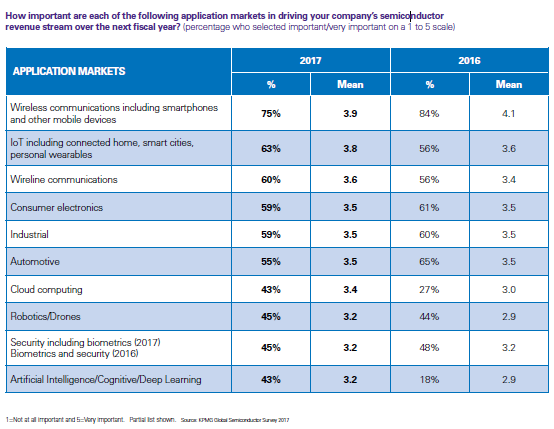 Source: 2018 KPMG Semiconductor Outlook
Intel (INTC), the world's second-largest semiconductor company in terms of revenue, is one example of a company in the midst of diversification to balance its business between being PC-centric (oriented toward the computing end-market) and being data-centric (part of which still caters to the computing end-market but also reaches out to other end-markets, including IoT, automotive, and communications). INTC's diversification is discussed in more depth in a previous article.
Advanced Micro Devices (AMD) is another example of a semiconductor company in the midst of diversification, but on a different scale.
AMD Profile and Strategy
Advanced Micro Devices is a fabless global semiconductor company that serves the computing, consumer, and industrial end-markets. The company has two reportable operating segments. Computing and Graphics and Enterprise, Embedded, and Semi-Custom, Computing and Graphics focuses on PC applications of x86 microprocessors (as standalone devices or as components in accelerated processing units or APUs), chipsets, and GPUs (discrete and integrated, and professional-grade). Enterprise, Embedded, and Semi-Custom covers applications of its core products beyond PCs (i.e. in servers) and includes semi-custom products, like SOCs used in game consoles and a number of industry specific devices (e.g. interactive digital signages, casino gaming machines, and medical imaging devices).
Its business strategy is directed at exploiting a $ 64 billion total addressable market opportunity in the high performance/premium segments of three markets: PCs, Immersive, and Data Center, by strengthening capabilities in three product areas: Graphics, Compute, and Solutions, and thereby tap into a richer customer base.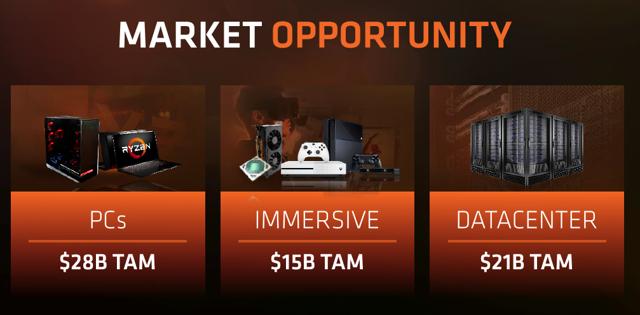 Source: Q4 and FY 2017 Financial Results | January 30, 2018

Source: March 2018 Investor Presentation
Entry into premium segments (contingent on the successful implementation of the company's multi-generational product roadmap and actual take-up by customers) is viewed as the vehicle for achieving a double-digit CAGR and increasing gross margins to 40% by 2020.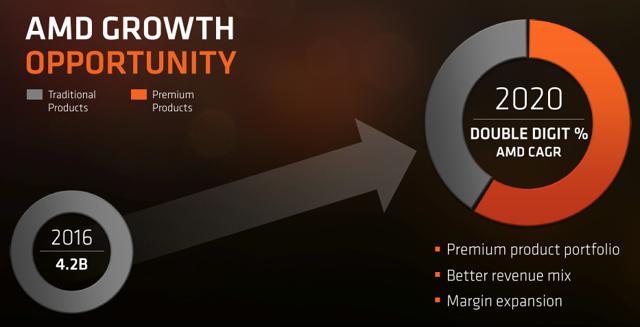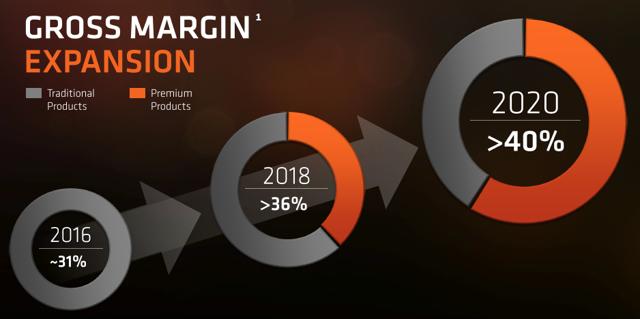 Source: March 2018 Investor Presentation
AMD's latest offerings in its largest TAMs – Ryzen CPUs for PCs and EPYC CPUs for Data Centers - are extensively branded with AMD trademarks, meticulously tiered to appeal to a diverse set of consumers and commercial customers, and overtly benchmarked against the current market share leader, emphasizing the AMD advantage in terms of performance and price.
The yardstick for Ryzen is INTC's iCore range.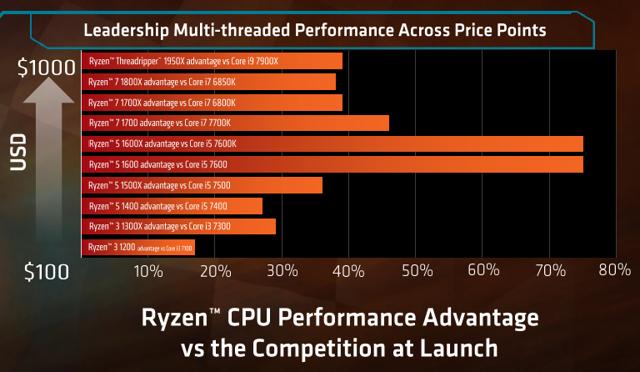 Source: March 2018 Investor Presentation
Meanwhile, for EPYC, the measure is INTC's Xeon suite.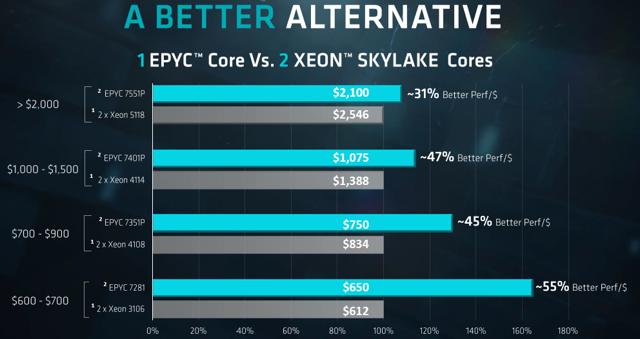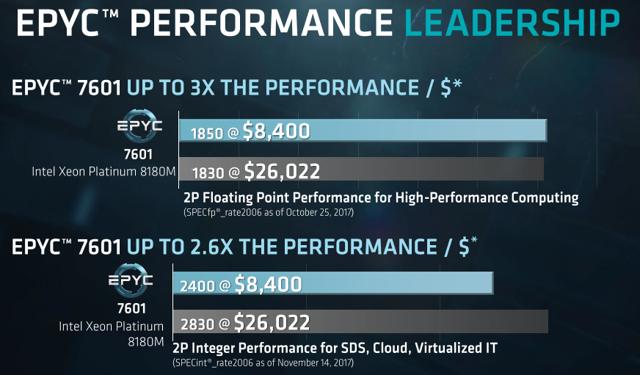 Source: March 2018 Investor Presentation
In Immersive, Radeon GPU offerings are similarly differentiated and skewed to the higher-paying end of the market, while Polaris GPUs address the lower end.

Source: AMD 2017 FAD - Radeon Rising May 16, 2017; March 2018 Investor Presentation
Further, its semi-custom SOC expertise as a leader in gaming consoles is emphasized.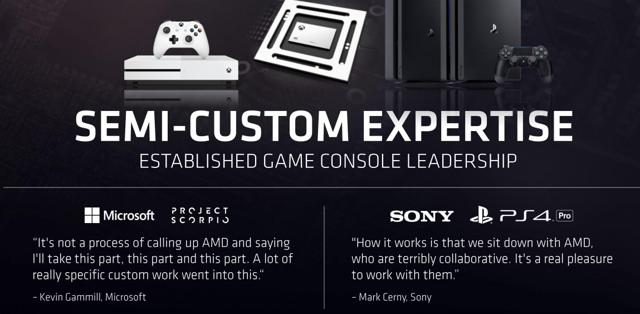 Source: AMD 2017 FAD - The Dawning of a New Era in the Datacenter May 16, 2017
AMD products are promoted through direct marketing and co-marketing initiatives. Sales are fulfilled through a direct sales force and third-party distributors.
AMD's customer base is composed of Original Equipment Manufacturers (OEMs), Original Design Manufacturers (ODMs), large data centers, system integrators, independent distributors and, specific to GPUs, add-in-board manufacturers (AIBs). AMD customers are among the prominent brands in their respective fields.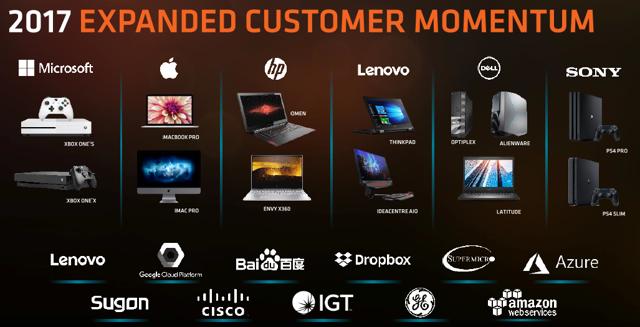 Source: Source: Q4 and FY 2017 Financial Results | January 30, 2018
Under Enterprise, Embedded, and Semi-custom, big names in the data center space that have deployed AMD EPYC are Baidu (NASDAQ:BIDU) and Azure. In gaming consoles, Sony (NYSE:SNE) is the leader.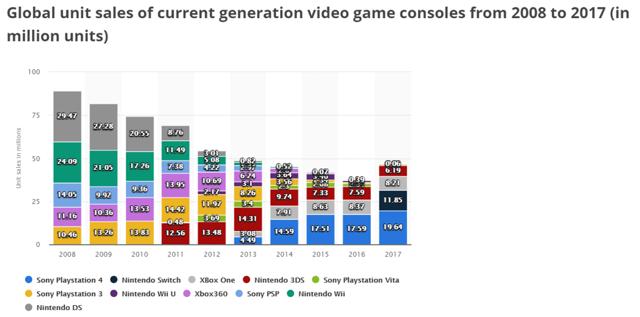 Source: here.
In the Computing and Graphics segment, HP (NYSE:HPQ), Dell, Lenovo (OTCPK:LNVGY), and Apple (NASDAQ:AAPL) occupy the top four places among global PC companies based on shipments.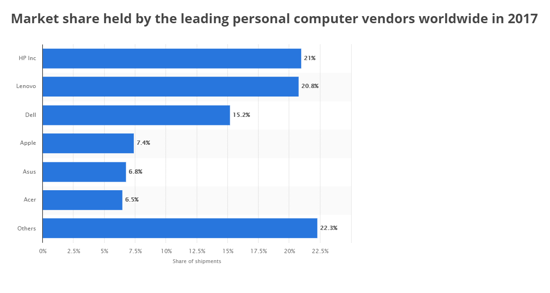 Source: https://www.statista.com/statistics/267018/global-market-share-held-by-pc-vendors/
As of the end of 2017, AMD's largest customers – Sony Interactive Entertainment LLC and Microsoft Corporation (under the Enterprise, Embedded and Semi-Custom segment), and HP Inc. (under the Computing and Graphics segment) — collectively contributed 44% to the company's net revenue.
AMD's two main competitors are INTC and Nvidia (NVDA). INTC, as the legacy market share leader for PCs and servers, has the resources to target AMD customers and partners, and also can influence industry standards and benchmarks, as well as delay access to these standards by AMD and other companies. Indirect competitors in PCs are companies that supply ARM-based components. As for discrete GPUs and semi-custom products for game consoles, NVDA is the primary competitor. INTC is currently considered an indirect-yet-dominant competitor in the graphics arena because it manufactures and markets integrated graphics processors (IGPs), which perform similarly as discrete GPUs. In the event that INTC offers a discrete GPU, it will become a direct competitor in graphics.
4Q 2017 Results and Milestones
2017 was a good year for AMD. Total company financials improved year-on-year (y/y), looking at the fiscal year and the same period. For the fiscal year, revenue was $ 5.33 billion, up by 36% from last year. Gross margin was 34%, up by 11%. Operating income and net income respectively rose to $204 million (from an operating loss of $ 372 million) and $ 43 million (from a net loss of $117 million).
For the same period, revenue was $ 1.48 billion, up 34%. Gross margin was 35%, up 3%. Operating income was $ 82 million (from an operating loss of $ 3 million) and net income was $ 61 million (from a net loss of $51 million).
Segment-level financials tell a more varied story. Computing and Graphics revenue and operating income went up y/y and q/q. Revenue was $958 million (up 60% vs same period last year and 17% last quarter). Operating income was $85 million (from an operating loss of $21 million vs same period last year and $70 million last quarter). Strong sales of Radeon GPUs and Ryzen CPUs drove revenues, as well as increases in ASP. For CPUs, ASPs increased y/y but remained flat q/q. For GPUs, ASPs increased both y/y and q/q due to high demand for desktop and professional GPUs from the gaming and cryptocurrency markets.
Meanwhile, in Enterprise, Embedded, and Semi-Custom revenue was $522 million, a flattish 3% increase y/y and a 37% decline q/q. Operating income likewise decreased to $19 million, from $47 million last year and $84 million last quarter. The revenue dip is attributed to the seasonally lower semi-custom SOC revenues. The lower operating income is charged to an increase in R&D expenses, the absence of a $31 million licensing gain in Q4 2016, and the aforementioned seasonality of semi-custom SOC sales.
Quarter-on-quarter declines also were noted on the total company level, a consequence of semi-custom SOC revenue in the quarter.
On top of the launch and continued ramp of the Ryzen, Radeon, and EPYC, other milestones reported were:
Apple's inclusion of AMD's Radeon Pro Vega GPU in its latest iMac Pro. Baidu's deployment of EPYC platforms in its data centers, Microsoft Azure's deployment of EPYC platforms for its cloud operations, and Hewlett Packard Enterprise's volume shipments of its EPYC-based servers.
On the flipside, main concerns raised during the last earnings call were around:
Security issues in light of the Spectre and Meltdown exploits The impact of blockchain or cryptocurrency market on 2017 performance and the first quarter forecast.
On Security, AMD CEO Dr. Lisa Su stated that: "Security is and always has been a fundamental focus for AMD…" across all of its products, and the company practices vigilance in product design and its product lifecycle. Further, Dr. Su clarified that Meltdown does not apply to AMD processors, and discussed the ongoing measures to address Spectre – currently, through patches in tandem with system updates, and in the long term, through changes in product design, specifically of the processor cores.
On cryptocurrency, the message was that "crypto was one driver but there were numerous other drivers as well." Dr. Su stated that while this market is an important one, there was "really a lot of growth outside of the blockchain market," and reiterated further that AMD "had significant growth in the GPU bus outside of blockchain," with the different facets of the GPU product line having begun to gain traction.
Outlook
AMD expects to increase momentum in 2018, through new premium product launches, a growing portfolio, and expanded go-to-market initiatives with OEM and retail partners - in the Computing and Graphics segment. Launches will include second generation Ryzen desktop CPUs and Ryzen Pro mobile processors (APUs), both of which incorporate Radeon Vega GPUs. The launch of Radeon Vega mobile products will extend penetration of the line-up into high end notebooks.
In Enterprise, Embedded, and Semi-custom, activity will revolve around ramping first-generation EPYC-based systems of major cloud providers, while progressing the developmental milestones of the next-generation server platforms. Having completed the design stage, sampling among customers is slated for the latter part of 2018. Dr. Su also mentioned "dozens of server deals in the quarter, securing key design wins with education financial services, and hosting companies."
Recent Analyst Upgrades
On April 4 th, Stifel Nicolaus upgraded the stock to buy from hold with a price target of $13. The average price target is even higher at $14.65. The stock traded on over a wide margin yesterday and broke through $10 today. A $13 price target is the equivalent of a 30% return.
It's not cheap on a PE basis, but both price/sales and price/book are at one-year lows.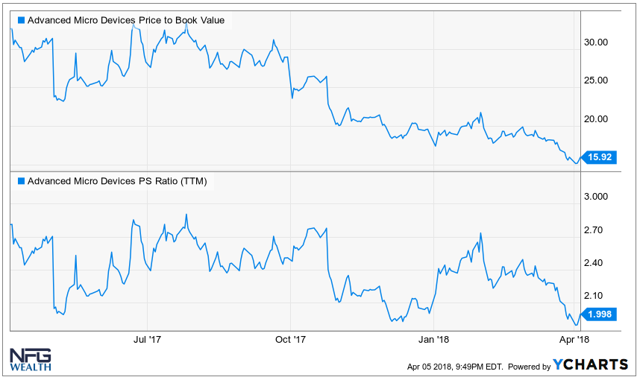 Disclaimer: Please note, this article is meant to identify an idea for further research and analysis and should not be taken as a recommendation to invest. It is intended only to provide information to interested parties. Readers should carefully consider their own investment objectives, risk tolerance, time horizon, tax situation, liquidity needs, and concentration levels, or contact their advisor to determine if any ideas presented here are appropriate for their unique circumstances.
Past performance is not an indicator of future performance.
Investing in any security has risks and readers should ensure they understand these risks before investing.
Real Estate Investment Trusts are subject to decreases in value, adverse economic conditions, overbuilding, competition, fluctuations in rental income, and fluctuations in property taxes and operating expenses.
This post is illustrative and educational and is not a specific offer of products or services.
Information on this blog is not an offer to buy or sell, or a solicitation of any offer to buy or sell the securities mentioned herein, nor is the author compensated by any of the products mentioned.
Information presented is believed to be factual and up-to-date, but we do not guarantee its accuracy and it should not be regarded as a complete analysis of the topics or subjects discussed.
Information presented is not believed to be exhaustive nor are all the risks associated with the topic of each article explicitly mentioned. Readers are cautioned to perform their own analysis or seek the advice of their financial advisor before making any investment decisions based on this information.
Investment decisions should be based on an individual's own goals, time horizon, and tolerance for risk. Nothing in this content should be considered to be legal or tax advice and you are encouraged to consult your own lawyer, accountant, or other advisor before making any financial decision.
All expressions of opinion reflect the judgment of the author, which does not assume any duty to update any of the information
Any positive comments made by others should not be construed as an endorsement of the author's abilities to act as an investment advisor.
Disclosure: I/we have no positions in any stocks mentioned, but may initiate a long position in AMD over the next 72 hours.
I wrote this article myself, and it expresses my own opinions. I am not receiving compensation for it (other than from Seeking Alpha). I have no business relationship with any company whose stock is mentioned in this article.