Real Estate Weekly Review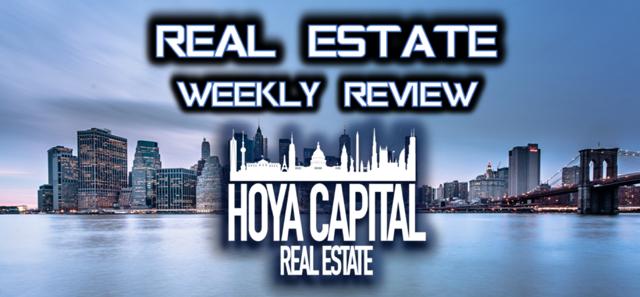 After a strong month of outperformance in March, REITs (VNQ and IYR) delivered another strong week amid a broader risk-off trade. Investors have become increasingly defensive as trade tensions between China and the US escalate. Coming off a 3% gain last week, REITs climbed another 1% while homebuilders (XHB) jumped nearly 4%, powered by strong earnings from Lennar (LEN), the largest homebuilder.
Volatility raged on as the US and China went tit for tat with tariff announcements, truncated by indications that the proposed tariffs (which would not take effect for several months, at the earliest) are simply an opening gambit for negotiations. The S&P 500 (SPY) finished the week down 1%, masking the significant intra-day and intra-week swings. The 10-Year yield climbed 5 basis points to 2.79%, still well below the recent highs of 2.94% in February.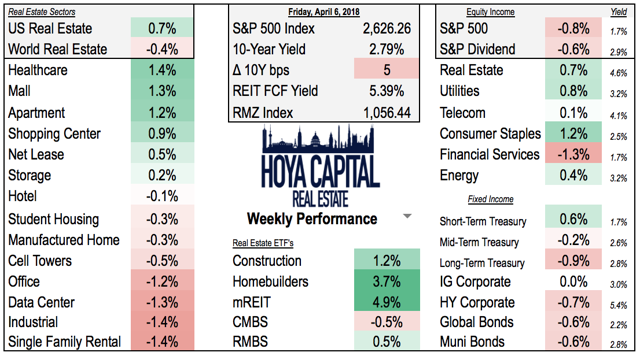 (Hoya Capital Real Estate, Performance as of 2pm Friday)
Amazon's (AMZN) presence and power within the media were on full display this week, highlighting an impressive competitive advantage that the firm wields over competitors and potential regulators. An army of Washington Post-associated journalists flooded the airways and Internet with hundreds of positive stories about the e-commerce giant, bashing critics and crafting a narrative that critiques of the firm's business practice are purely political, in nature. Of course, as we pointed out last week, Amazon's relationship with USPS and its (largely successful) efforts to avoid or minimize taxes have been a bipartisan point of debate for many years. Dozens of academic peer-reviewed studies and analyst reports have explored USPS and Amazon's practices with a range of conclusions. Despite this, the demonstrably false assertion that critiques of Amazon are purely political was repeated and echoed in dozens of mainstream publications. It was an impressive display of media influence that makes us more skeptical that any significant regulation will be imposed on the e-commerce goliath.
In other areas of the real estate sector, mortgage REITs (REM) shot higher by 5% and international real estate (VNQI) finished flat. Within the Equity Income categories, we note the performance and current income yield of the Utilities, Telecom, Consumer Staples, Financials, and Energy. Within the Fixed Income categories, we look at Short-, Medium-, and Long-Term Treasuries, as well as Investment Grade and High Yield Corporates, Municipal Bonds, and Global Bonds.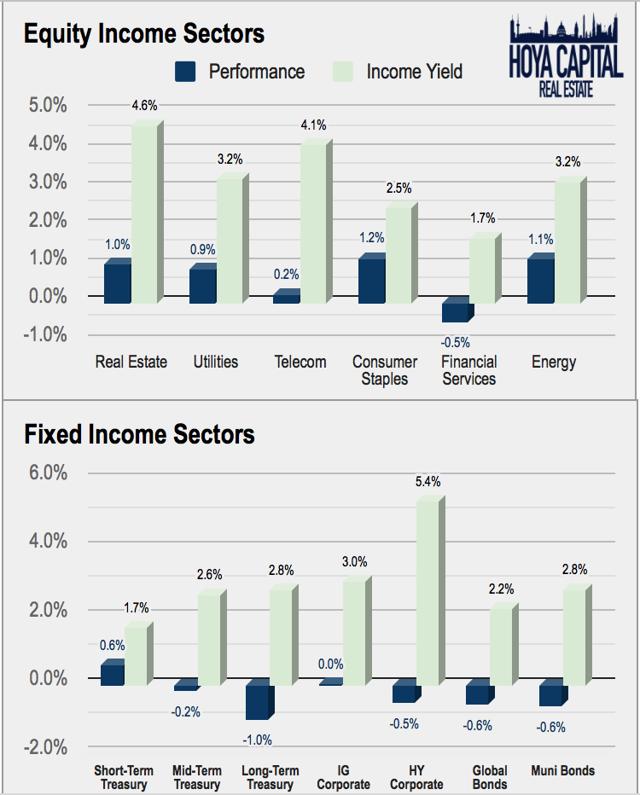 The residential, storage, retail, and healthcare sectors were the best performers on the week led by CBL (CBL), DDR (DDR), Iron Mountain (IRM), National Storage (NSA), Independence (IRT), and Welltower (WELL). Office and industrial REITs were among the laggards. Cousins (CUZ), Douglas Emmett (DEI), Empire State Realty (ESRT), and Prologis (PLD) were among the worst performers.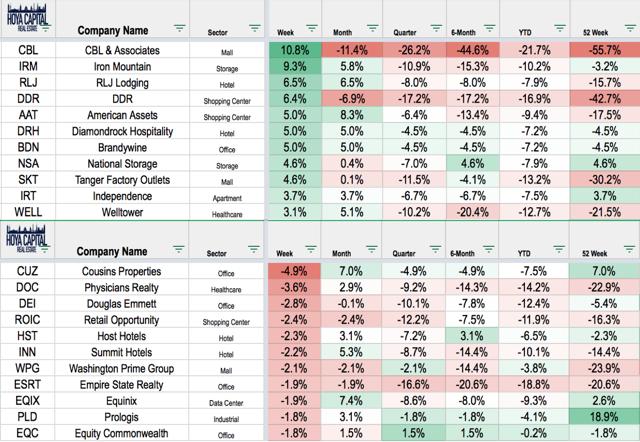 REITs are now lower by 9% YTD, underperforming the 2% dip in the S&P 500. Homebuilders are off by nearly 8%. The 10-Year yield has climbed 39 basis points since the start of the year.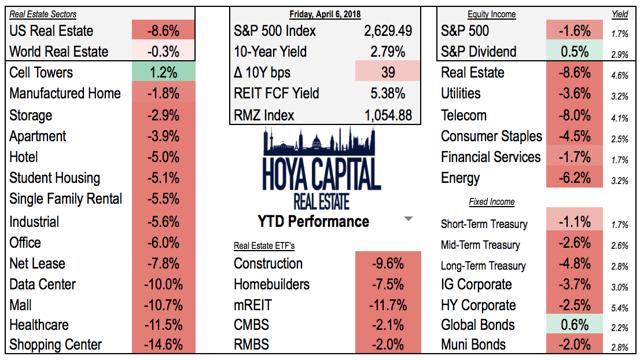 REITs ended 2017 with a total return of roughly 5%, lower than its 20-year average annual return of 12%. Going forward, absent continued cap-rate compression, it is reasonable to expect REITs to return an average of 6-8% per year with an annual standard deviation averaging 5-15%. This risk/return profile is roughly in line with large-cap US equities.

Real Estate Economic Data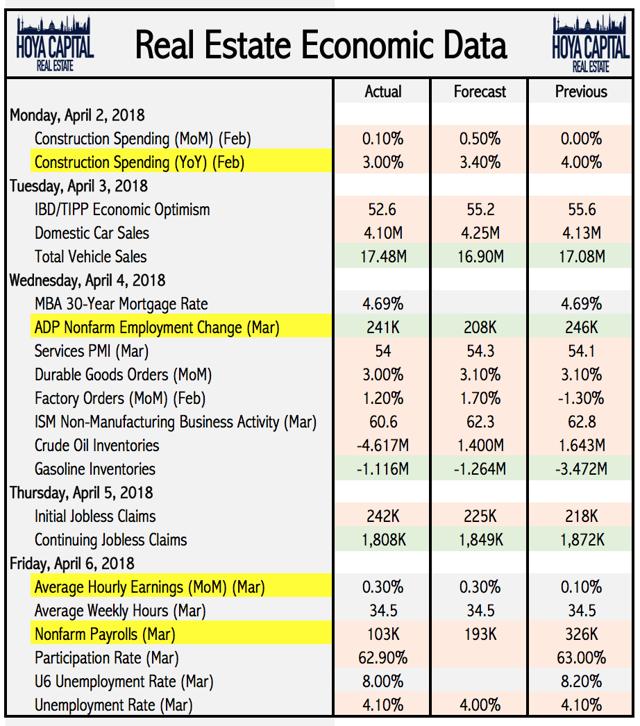 (Hoya Capital Real Estate, HousingWire)
Labor Market Continues to Exceed Expectations
Despite a miss on the headline non-farm payrolls number, evidence of broad-based strength in the labor markets continued to show in March. The BLS reported a 103k rise in employment which, combined with the 50k downward revisions from prior months, was below expectations. Harsh winter weather conditions across much of the country in March, however, seem to have impacted the data, underscored by the 15k drop in construction employment compared to the 65k rise in February.
Earlier in the week, ADP data showed a rise of 241k, beating expectations. Continuing jobless claims and initial claims also continue to hover around multi-decade lows. Across all labor market metrics, the pace of hiring has slowed only modestly despite other signs of tightening labor markets. ADP data continues to show a nearly 2% expansion of the private workforce while BLS data shows that hiring has slowed from the 2% rate in 2016 to 1.6% in February.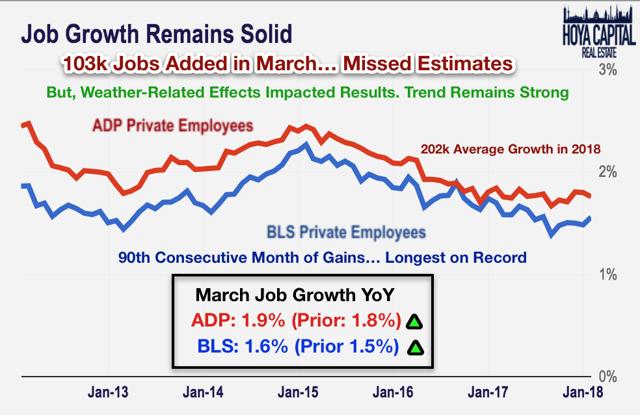 The 2.90% print in average hourly earnings in the January job's report was the primary catalyst that sent markets into a period of intense volatility over the next several weeks. This unexpected uptick jolted markets, sending yields higher as investors expect higher rates of inflation going forward, a sharp break from the Goldilocks economy that had been powering financial markets higher. After downward revisions to that data and two months of moderate wage growth, it appears that Goldilocks conditions may be sticking around, at least for the time being. Average hourly earnings rose 2.72% in March (2.42% for production/nonsupervisory) which was in line with expectations and signals that wage pressure remains modest.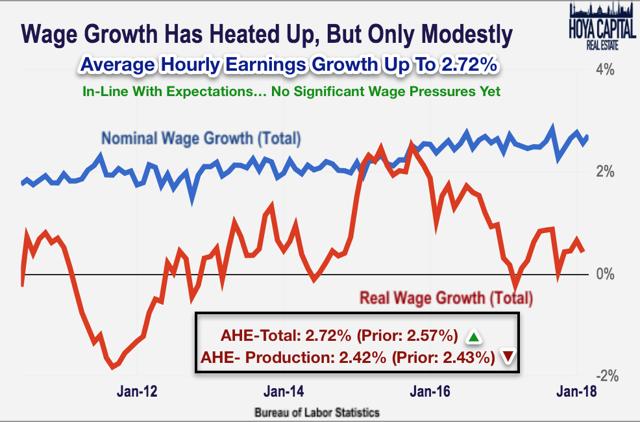 Made in America? Goods-producing sectors have seen a dramatic resurgence since the 2016 election. Manufacturing jobs, which had entered a mild recession in 2016, have seen significant growth in recent quarters. Jobs growth in the goods-producing sectors grew 2.6% over last year, which is within 30bps of the multi-decade high in 2014. On the other hand, the services sectors, which account for 85% of the economy, have been slowing modestly. Services employment rose 1.4% from last year. Weakness in the retail category, which accounts for nearly 11% of the total workforce, has been the primary culprit for the recent decline in services-based job growth.

The most hotly-debate topic among economists is whether or not the 20 million Americans aged 25-54 that are not in the labor force will return or remain on the sidelines. The unemployment rate remained at 4.1%, but the employment-to-population ratio, which remains stubbornly low compared to historical levels, ticked up to 60.4%, the highest level since 2009.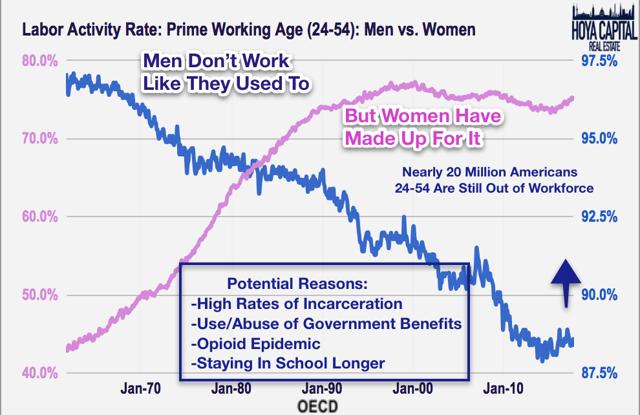 Construction Spending Continues to Moderate
In February, private construction spending grew at the slowest rate since the end of the construction recession in June 2011. Total private spending rose just 3.4% on a seasonally-adjusted annualized basis, near the lowest rate of growth of the post-recession period. On a trailing twelve-month basis, residential spending continues to be the bright spot, rising 10.2%. Growth in nonresidential spending dipped into negative territory for the first time since 2011. Public spending has seen a mild resurgence of late, rising 1.6% on a SAAR basis.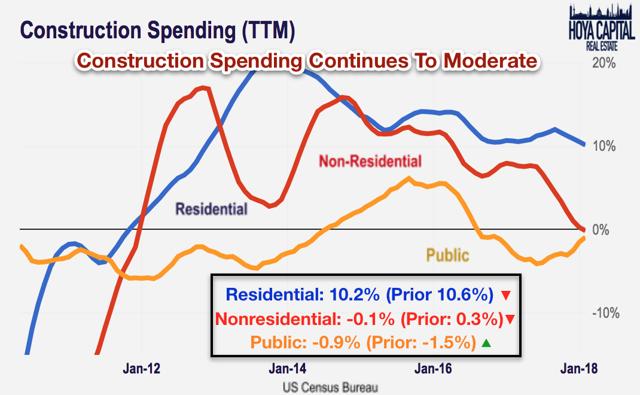 After several years of above-trend supply growth, all of the major nonresidential commercial real estate have seen slowing construction activity. Developers have pulled back amid rising construction costs, tight lending markets, and slowing fundamentals in major CRE sectors caused by pockets of oversupply.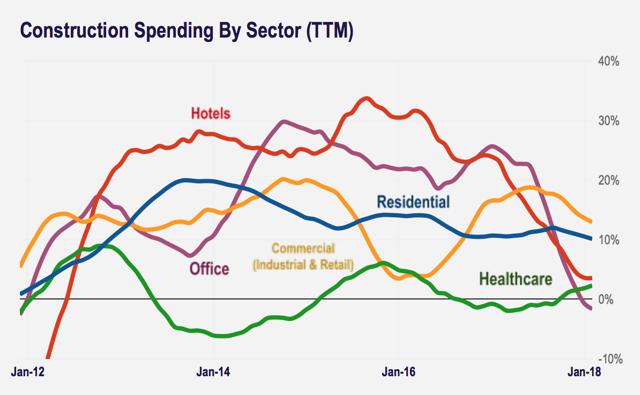 Rising construction costs are a significant concern for homebuilders and developers. The price of US steel is higher by 40% since last October. Lumber prices, which were affected by the 20% tariff on Canada softwood lumber, are higher by nearly 70% since the start of 2017. Turner Construction releases a construction cost index every quarter. Construction costs rose 5.0% in 2017, the seventh consecutive year of accelerating construction cost inflation. Cost inflation has increased every year since 2009 and has exceeded 4% per year since 2013.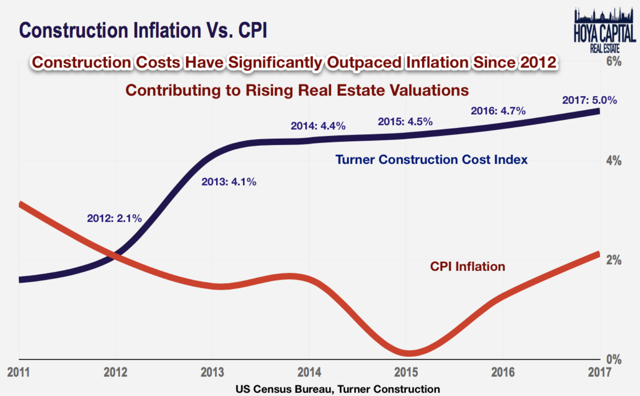 Construction costs have significantly outpaced inflation over the past five years and are the primary source of "tightening" in the construction markets as development yields and margins have decreased. Rising construction costs tend to discourage marginal new construction projects and increase the value of real estate assets by increasing replacement costs.
Bottom Line
REITs and homebuilders rallied this week, continuing their recent trend of outperformance. Investors have become increasingly defensive as trade tensions escalate between the US and China. Coming off a 3% gain last week, REITs climbed another 1% while homebuilders jumped nearly 4%, powered by strong earnings from Lennar.
Job growth fell short of expectations in March, stunted by poor weather in March. Labor markets remain exceedingly healthy, however, as 600k jobs have been added so far in 2018. The post-election resurgence in goods-producing employment continues to impress. Services-producing employment has been dragged down by weakness in retail, which accounts for 11% of the workforce. Amazon's relationship with USPS remains in the spotlight. Analysts contend that the e-commerce giant's deal with USPS is an effective "subsidy" that creates an artificial advantage over traditional retailers.
Construction spending fell short of expectations in February. Growth in private construction spending is near the lowest levels of the post-recession period. Residential development remains the bright-spot. This week, we published our Housing and Construction report: As Housing Recovery Stalls, Is a New Crisis Emerging?. We analyzed the dynamics affecting real estate markets and highlighted that supply growth appears to be stalling after several years of strong growth. We discussed the factors that will impact house prices and rent growth in 2018.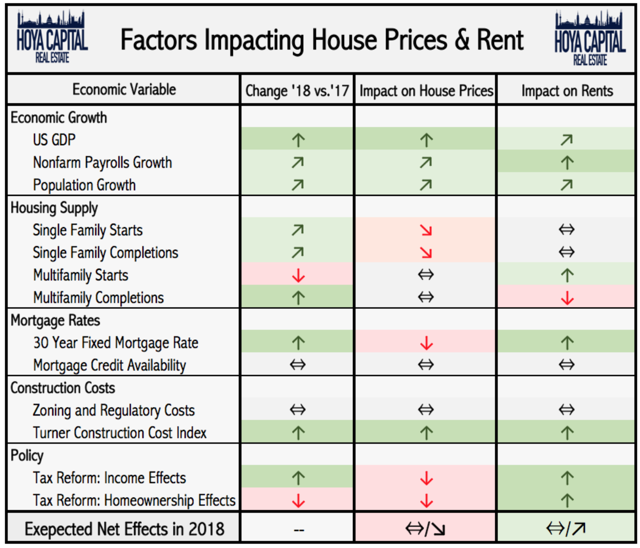 We also published our updated REIT Ranking for the Office sector: Despite Strong Job Growth, Office Fundamentals Remain Soft. Led by US labor markets, the global economy is growing at the strongest rate in decades. Despite robust growth in the office-using employment sectors, office fundamentals continue to be unimpressive. Supply growth has become an issue in the coastal markets after rent growth peaked in 2015. Spurred by sky-high valuations, developers have added supply at a frenetic pace since 2013.
So far, we have updated up REIT Rankings on the Office, Healthcare, Industrial, Single Family Rental, Cell Tower, Apartment, Net Lease, Data Center, Mall, Manufactured Housing, Student Housing, and Storage sectors. We will continue our updates over the next several weeks.
Please add your comments if you have additional insight or opinions. We encourage readers to follow our Seeking Alpha page (click "Follow" at the top) to continue to stay up to date on our REIT rankings, weekly recaps, and analysis on the real estate and income sectors.
Disclosure: I am/we are long VNQ, SPY, MAA, CPT, OHI, PLD, GGP, STOR, SHO, SUI, ELS, ACC, EDR, DLR, COR, REG, CUBE, PSA, EXR, BXP, EQR, INVH, SPG, HST, TCO, AMT, SBRA, AMZN. I wrote this article myself, and it expresses my own opinions. I am not receiving compensation for it (other than from Seeking Alpha). I have no business relationship with any company whose stock is mentioned in this article.
Additional disclosure: All of our research is for educational purposes only, always provided free of charge exclusively on Seeking Alpha. Recommendations and commentary are purely theoretical and not intended as investment advice. Information presented is believed to be factual and up-to-date, but we do not guarantee its accuracy and it should not be regarded as a complete analysis of the subjects discussed. For investment advice, consult your financial advisor.