BioTime From a Glance
BioTime (BTX) is a regenerative medicine company that has two products in its pipeline that could potentially be commercialized within a few years: Renevia and OpRegen. Renevia is a medical device that was developed as a replacement for hole adipose tissue in cell assisted lipotransfer (CAL) procedures by recreating many aspects of the adipose tissue extracellular matrix. OpRegen is a therapy in development for the dry form of age-related macular degeneration. It is currently in Phase I/IIa.
Also in the pipeline are delivery methods HySTem-BDNF, ReGlyde, and Orthopedic (Ankle Fracture).
BioTime also has significant ownership in several companies including OncoCyte (OCX).
Given progress and near-possibility of near-term approval of Renevia in Europe, AgeX going public, and OpRegen to report positive results, I believe there is significant upside on the price of BioTime which is currently undervalued.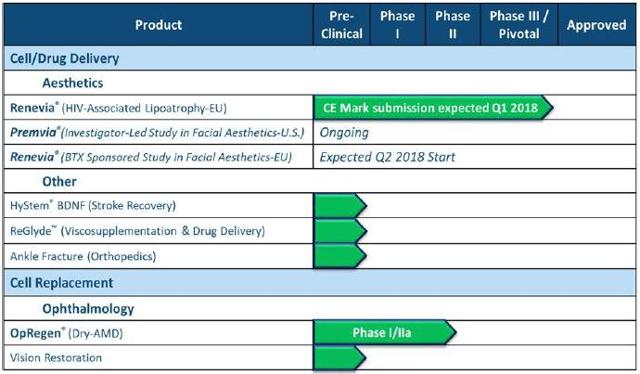 (BioTime, Inc.)
A Closer Look at OpRegen
OpRegen works by replacing missing RPE cells when OpRegen cells are introduced to the subretinal space. RPE (retinal pigment epithelium) cells are the pigmented cell layer outside the retina that nourishes retinal visual cells. The main functions of the RPE are light absorption, epithelial transport, spatial buffering of ions, visual cycle, phagocytosis, secretion, and immune modulation.
Dry macular degeneration is a common eye disorder among people over 65 that caused blurred or reduced central vision. Below are some statistics on dry macular degeneration as a gauge of the potential market size.
There is currently no treatment or cure for dry macular degeneration, but there are drugs aimed at delaying progression of the disease. These include EYLEA (aflibercept), Lucentis (ranibizumab injection), Macugen (pegaptanib sodium injection, laser photocoagulation). The revenues for Lucentis alone were $1.48 billion in 2017. There was no specific segmented data on revenues for EYLEA or Macugen.
EYLEA costs $50 per dose, Lucentis costs $2,000, and Macugen costs $800 per dose. Going off the logic that the most expensive of these products doesn't specifically treat dry macular degeneration, it makes sense that BioTime would be able to charge a premium for an FDA approved treatment. Using $2,000 as the cost per dose of OpRegen and multiplying by the 11 million people in the U.S. gives a market size of $22 billion. Of course, BioTime could charge less per dose and the full market might not be attainable.
A Closer Look at Renevia
Renevia, simplified, is a gel that is injected into the body where there is a deficiency in fat. The technology is well tolerated by the body and restores texture that is similar to what is natural and promotes long-term soft tissue growth. Its most obvious medical application is HIV-associated lipodystrophy which is when HIV patients being virally treated lose a lot of fat tissue in their face.
The prevalence of HALS increases with increased duration of exposure to HAART and is reported to be present in up to 50% of patients on antiviral treatment for more than 1 year, thus affecting more than 100,000 patients in the United States. Considering Europe & United States have comparable treated HIV populations, it is assumed Europe will have a similar market size. If approved in Europe, this market would become available. BioTime recently submitted for CE approval in Europe and they are confident it is months until approved.
There is promising data available; it is reported that treated patients retained an average 70% of the transplanted volume at 12 months and 64% at 18 months.
There is also application for the technology in Renevia for facial aesthetics, which is estimated to be over $5 billion. Its use in facial aesthetics is currently being tested in an investigator-led study as "Premvia" by Dr. Aronowitz, a Beverly Hills-based plastic surgeon.
Ownership in Subsidiaries
BioTime has significant ownership in two public companies, including 46.7% of OncoCyte Corporation and 40.2% of Asterias Biotherapeutics (AST). The total value of their holdings in the public companies equates to $66.6 million; $32.9 million is attributable to OncoCyte and $33.6 million to Asterias. They also own 85.4% of AgeX Therapeutics and its subsidiaries, which includes 94.8% of ReCyte Therapeutics Inc. and 81.7% of LifeMap Sciences Inc. BioTime also owns 98.8% of Cell Cure Neurosciences Ltd., ES Cell International Pte. Ltd, and 99.8% of OrthoCyte Corporation.
Their ownership in subsidiaries also serves as a source of liquidity and have liquidated sizable portions of their holdings over the last year to increase their cash position. A year ago, they owned 57.1% of Asterias and 57.7% of OncoCyte.
Two Successful and Experienced Co-CEOs
BioTime has two co-CEOs with impressive backgrounds in biopharmaceuticals/biotherapeutics. Both CEOs have experience working at bio-companies that ended up being acquired for large amounts, which would be a favorable outcome for BioTime.
Adi Mohanty serves as a co-CEO and director for BioTime and previously worked at Shire Plc (SHPG) where he focused on research, development, and commercialization of novel biological products for rare diseases and served in a number of executive positions including President/Head of Regenerative Medicine and as Global Franchise Head. Shire Plc is one of the largest biopharmaceutical companies with a market cap of $28.6 billion. He also served as VP of Manufacturing and Operations at Transkaryotic Therapies when it was acquired by Shire for $1.6 billion.
Michael D. West serves as the other co-CEO and previously served as CEO, President, and Chief Scientific Officer of Advanced Cell Technology, Inc. (now Ocata Therapeutics (OCAT)). He founded Geron Corporation (GERN), which was one of the first regenerative medicine companies, which now has a market cap of $555M.
I have great confidence in the management team at BioTime and if success of past companies they were involved with are any indicator of success for BioTime, it's good news.
Financials
BioTime just reported a loss of $18.8 million compared to a net income of $33.1 million in 2016. The main reason for the disparity in income is that in 2016, BioTime had an extra $83.4 million in other income from the gain on deconsolidation of Asterias and gain on equity method investment in Asterias.
BioTime has $35.7 million of working capital and less than $2 million of long-term liabilities. The expected operating burn rate over the course of 2018 is expected to be close to $6 million per quarter which means they should have sufficient cash to get BioTime well through 2019. There is minimal concern on the ability to operate in the near term.
DCF Analysis for OpRegen
The two most-likely products to get approved and commercialized are OpRegen and Renevia.
Focusing first on OpRegen, I've calculated the sum of the risk-adjusted discounted cash flows for OpRegen to be $1 billion. Given the number of patients in the U.S. with dry macular degeneration is estimated to be 11,000,000, I used a conservative total patient population of 4,000,000 that would be able to be attainable by BioTime. If OpRegen gets approved by the FDA, it would be the only approved treatment for dry-AMD, and so would assume a fairly large market share. The price of $2,000 is comparable to the most effective drug on market for preventing the progression of wet macular degeneration and also used with dry macular degeneration. As OpRegen would be the only drug approved for the treatment of dry-AMD, it makes sense it would be priced at a premium over existing drugs not specifically approved for treatment of dry-AMD. Stem-cell related treatments are also usually more expensive than traditional medication and so the $2,000 price seems justified. I used the 80% profit margin and 10% discount rate to keep the model conservative. The average success rate for drugs in Phase II clinical trials is 17%, but I used 25% as OpRegen is locally administered and thus, has a lower chance of complications. Given that it only takes one dosage to treat the patient, once all patients are treated, the cash flows end due to no patients left to treat.

DCF Analysis for Renevia
Using a risk-adjusted DCF for Renevia's approval in Europe, its value comes out to be $65.7 million. Given the estimated U.S. HIV-associated lipodystrophy patient population to be 100,000, I used a more conservative 40,000 attainable population, with only 75% being attained by BioTime at peak. I used the same profit margin and discount as for OpRegen. I put the success rate at 60% as there had been no issues in patients and mass retention was very high. On the most recent earnings conference call, management also said approval was likely.

AgeX Therapeutics In Process of Becoming Public
AgeX Therapeutics is a subsidiary of BioTime that is focusing on a pluripotent stem cell platform for novel targets in age-related degenerative diseases. Their initial cell therapy product focus is AgeX-VASC1 and AgeX-BAT1 for age-related cardiovascular and metabolic disease.
Another program at AgeX is Induced Tissue Generation or iTR. In collaboration with Insilico Medicine, a study found a gene COX7A1 that was implicated in tissue regeneration and abnormal expression in many cancer types.
In the most recent earnings call, Michael West said: "We look forward to unveiling our planned milestones and business plans in the coming weeks and months in the context of our planned distribution of AgeX shares to BioTime shareholders and public listing of the company".
Spin-offs are beneficial to the parent companies as the new company is often more focused on a specific line of products and objectives. More focus can be put on the success of the newly formed entity. AgeX is not heavily marketed by BioTime except for in footnotes of financial reports and on earnings transcripts. Because of the low-key nature of AgeX, I believe separating AgeX and making it a public entity should unlock value for shareholders.
BioTime has a mixed history of stock performance following spin-offs. Previously, OncoCyte was spun-off on December 31, 2015. The stock was trading at $4 per share, and by February 12th, the stock was trading at $2.15. The immediate realization was a 25% decline. I believe the reason for the decline was more associated with the biotech industry sell-off starting July 17, 2015, that resulted in a near 50% decline in the S&P 500 Biotech ETF. Before that, Asterias was spun-off on July 25, 2014. In the following months, the stock rallied from $2.48 to $5.28 by April 24th. The immediate realization was a 41% gain.
Considering where BioTime has been trading and likely minimal valuation for AgeX currently, I believe AgeX serves as a catalyst and their shares in the newly-created entity will increase to their value.
BioTime owns 85.4% of AgeX Therapeutics. Given investors bought 14.6% of AgeX for $11 million, that puts the total value of AgeX Therapeutics at $75.3 million. BioTime's claim on that valuation is $64.3 million.
Catalysts
On the most recent earnings conference call, Adi Mohanty said that "we're beginning to see some early functional assessment tests, and we're beginning to see some early encouraging data that we may be able to share as early as the upcoming ARVO presentation at the end of April."
Approval of Renevia in the EU.
Confirmation from the FDA on U.S. entry plans for Renevia and facial aesthetics.
Distribution or public float of AgeX shares to BioTime shareholders.
Risks
Dilution due to raising new equity capital.
If they do not receive regulatory approval, cannot sell medical devices or therapeutic products.
Intellectual property may not be enforceable.
Conclusion
BioTime seems to be undervalued with a market cap of under $350 million. Their shares in OncoCyte and Asterias total $66.6 million. The estimated value of BioTime's ownership in AgeX Therapeutics is $64.3 million. With a market cap of $350 million, the value of BioTime itself after subtracting away the value of their holdings comes out to $219 million. With promising data for OpRegen and recent submission for CE Mark for Renevia, I believe these pipelines are undervalued. Doing a risk-adjusted DCF analysis, I value OpRegen alone to be $1 billion. The value of Renevia is $65.7 million. Given my estimated value of OpRegen at $1 billion, AgeX Therapeutics of $64.3 million, shares of Asterias and OncoCyte of $66.6 million, and Renevia of $65.7 million, I value BioTime at $1.2 billion. At their current market cap of $350 million, my estimated target value is 3.43x their current market valuation.
Trading near their all-time lows now seems to be a good time to buy shares of BioTime at a great price. Potential catalysts in the near term will likely help correct BioTime's price higher.