Quick Take
Unity Biotechnology (UBX) intends to raise $85 million from the sale of its common stock, according to an S-1 registration statement.
The firm is developing an early stage pipeline of small molecule medicines designed to eliminate senescent cells for a variety of disease conditions.
UBX is preparing to enter Phase 1 trials for its lead candidate.
I'll provide a final opinion when we learn details about IPO terms.
Company & Technology
Brisbane, California-based Unity was founded in 2009 as Forge and changed its name to Unity in 2015.
Management is headed by Chairman and CEO Keith Leonard, who has been with the firm since January 2016 and was previously President and CEO of KYTHERA Biopharmaceuticals (KYTH) through its acquisition by Allergan (AGN) in 2015.
Investors in the firm have invested $174 million to-date between several rounds of financing and include firms such as ARCH Venture Partners (27.5% pre-IPO), WuXi Pharma (8.9%), Venrock (7.3%), Mayo Clinic (6.9%), Baillie Gifford & Co. (7.0%) and Fidelity Growth Company Commingled Pool (6.1%). CEO Keith Leonard owns 5.8% and President Nathaniel David owns 8.5%.
Unity has created an early stage pipeline of senolytics medicines that operate to selectively eliminate senescent cells in the areas of osteoarthritis, ophthalmology and pulmonary disease.
Below is a brief interview video with Unity founder Nathaniel David
(Source: Hello Tomorrow)
Unity's current pipeline status is shown below: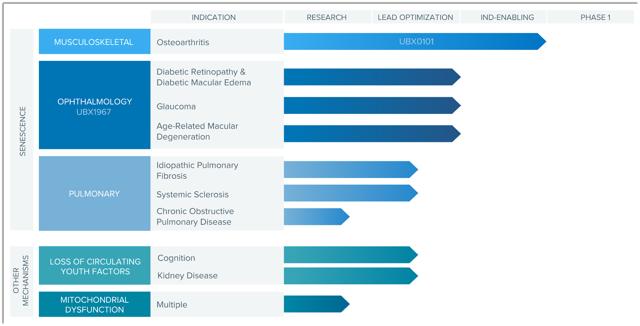 (Source: Unity Biotechnology)
Market & Competition
According to a 2017 market research report by GlobalData, the global osteoarthritis market is expected to reach $3.5 billion in the seven major markets by 2026.
This represents a projected CAGR of 8.1%.
Key drivers in the growth in demand include an aging population and the continued introduction of therapies 'priced at a substantial premium to the generics and small-molecule therapies.'
Notably, the existing market is primarily served by generics and 'no product is anticipated to lose patent protection' during the period.
The U.S. is expected to generate the highest demand, with an up to 75% share by the end of 2026. The two comparison pie charts below show the forecast changes between the U.S., the 5EU and Japan: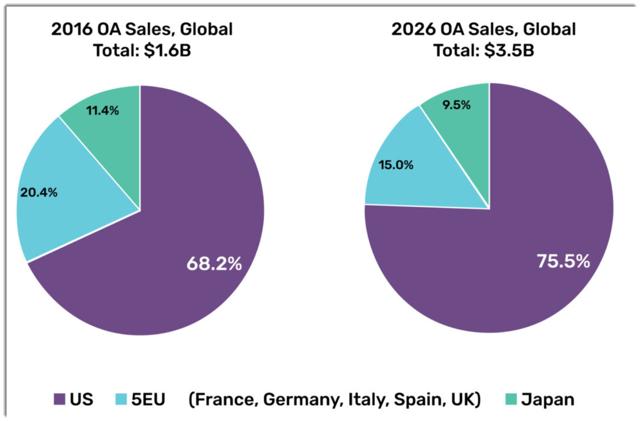 Major competitive vendors that provide a range of treatment options include:
Management says that it 'co-owns a patent family directed to the treatment of senescence-related diseases, including osteoarthritis, by removal of senescent cells in or around the site of the disease. The other co-owners of this patent family are the Buck Institute for Research on Aging, the Johns Hopkins University, and Mayo Clinic, each of which has granted us an exclusive license in the field of senescence.'
Financials
UBX' recent financial results are typical of early stage biopharma firms in that they feature little revenue and significant R&D and G&A expenses associated with its development of treatment candidates.
Below are the company's operational results for the past two years (Audited GAAP):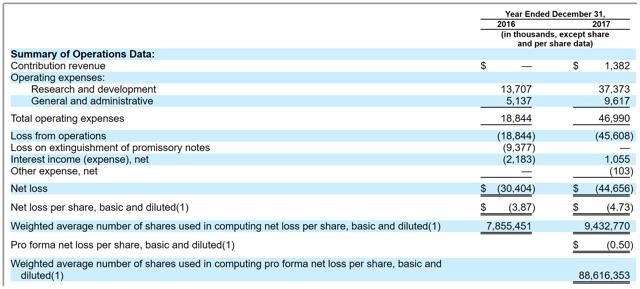 (Source: Unity S-1)
As of December 31, 2017, the company had $86.5 million in cash & marketable securities and $11.2 million in total liabilities.
IPO Details
UBX intends to raise $85 million in gross proceeds from an IPO of its common stock.
There is no evidence of an expression of interest for existing shareholders to buy into IPO. Biopharma IPOs typically feature at least one investor willing to 'support' the IPO by purchasing shares at the IPO price.
Management says it will use the net proceeds from the IPO as follows:
to fund our planned Phase 1 clinical study and subsequent clinical development of UBX0101;

to fund our planned IND-enabling studies and Phase 1 clinical study of UBX1967

to advance our research and development efforts, including conducting additional preclinical and IND-enabling studies in our other senolytic pipeline programs and our programs targeting other aging mechanisms; and

the remaining proceeds for working capital and general corporate purposes
Listed bookrunners of the IPO are Goldman Sachs, Morgan Stanley, Citigroup and Mizuho Securities.
Expected IPO Pricing Date: Not on calendar.