Bloody Friday
Apr. 06, 2018 6:10 PM ET
SPY, DIA, TLT, TBT, VOO, SH, SDS, IVV, SSO, TIP, SPXU, UPRO, SPXL, TMV, IEF, RSP, SPXS, VFINX, RINF, SHY, TBF, EDV, TMF, CYB, VTIP, TTT, CNY, EPS, ZROZ, PST, SCHP, MBB, VGLT, IEI, TLH, BKT, GOVI, BIL, VMBS, VGSH, VGIT, UST, UBT, DTYS, GOVT, TYO, SHV, STIP, SPTL, GNMA, SCHO, SPIP, GSY, DLBS, SCHR, BXUB, STPZ, LTPZ, VUSTX, TIPZ, STPP, SPLX, FLAT, TBX, SPUU, TYD, SPTS, SPTI, BXUC, DTYL, EGF, TYBS, SFLA-OLD, SPMB, SPDN, SPXE, AGZ, DLBL-OLD, RISE-OLD, TAPR, DTUS, FTT, TFLO, TIPX, SPXT, TDTF, TDTT, DTUL, TUZ, USFR, PPLC, FIBR, GBIL, HYDD, SPXV, DFVL, TYNS, RYARX, SPXN, DFVS, DMRL, YPS, USMC, TBLL, PBTP, USTB
616 Comments
Summary
On Friday, the market ran fresh out of patience with the increasingly aggressive trade banter.
This was a truly manic week that started and ended with precipitous declines in U.S. stocks.
The major risk after Thursday evening is that the Trump administration ultimately backs China into a corner by proposing more in tariffs than China imports in U.S. goods.
In that scenario, Beijing may "go nuclear" (so to speak).
I regret to inform you (again) that the threat of a trade war with China is real.
And if you don't believe me (or your own eyes and ears), then just ask Treasury Secretary Steve Mnuchin, who said as much on Friday afternoon in an interview with CNBC. Here's the actual quote:
I'm cautiously optimistic that we will be able to work this out. But there is the potential of a trade war.
Yes, there is the "potential" for that, and the odds of the situation spiraling even further out of control increased materially on Thursday evening when the Trump administration decided to look into the possibility of proposing an additional $100 billion in tariffs on China in retaliation for Beijing's retaliation (and no, there are no typos there).
This is precisely what everyone was afraid of - one retaliation begets another until it becomes impossible to distinguish "offense" from "defense" and "provocation" from "reaction".
In his official statement, Trump cited China's move to counter the 301 list, characterizing Beijing's retaliatory measures as "unfair". That's not entirely consistent with Wilbur Ross's Wednesday interviews in which the Commerce Secretary called China's measures both "proportionate" and "expected."
The reaction from markets was not favorable. The S&P (SPY) dove more than 2% Friday, closing the week on a decidedly sour note after kicking things off Monday with the worst start to a second quarter in nearly nine decades.

(Heisenberg)
Needless to say, that chart just underscores the notion that 2018 is nothing like last year in terms of precipitous swings in either direction.
You'll recall that on Wednesday evening, in "This Means War", I talked at length about the political calculus for Trump. Specifically, I said the following about China's soybean broadside:
Soybean farmers are furious - and that's an understatement. The panicked response from growers (found at the link there) underscores the notion that China is acutely aware of what's going on here and is fully prepared to try and neutralize any political points Trump hopes to score. Needless to say, the soybean bit is just one example of a dynamic that's playing out across multiple industries.
I also highlighted a few passages from Goldman's take. Here's the key bit:
We view the inclusion of soybeans in [Wednesday's] announcement as political in nature and reflective of the escalation of the trade dispute with the US. Soybean tariffs impact US Midwest political swing states and come at a cost that China appears willing to pay.
The point: it doesn't take a leap of logic (nor does it require saying anything necessarily pejorative about the Trump administration) to come to the conclusion that Thursday evening's escalation was motived by China's rather transparent attempt to hit Trump and the GOP where it hurts politically. Indeed, Trump basically acknowledged as much in his statement, which contained the following passage:
I have also instructed the Secretary of Agriculture to use his broad authority to implement a plan to protect [America's] farmers and agricultural interests.
There you go. It also looks like Trump is effectively trying to make it impossible for China to retaliate with tariffs. If the U.S. were to up the ante to $150 billion in total tariffs, that would exceed U.S. goods exports to China: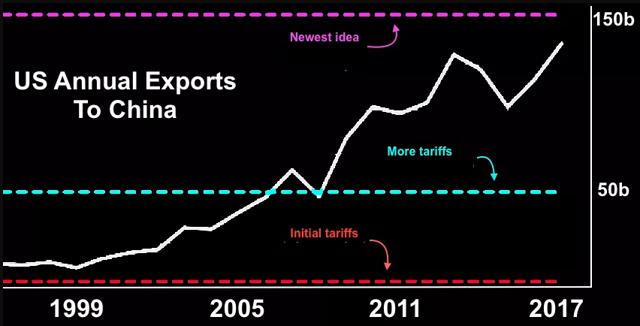 (Heisenberg)
Do you see the problem with that? If not, allow me to quickly explain. It would corner Beijing into going the so-called "nuclear route", and the thing investors need to understand is that China actually has several "nuclear" options, two of which are devaluing the yuan and selling Treasurys (TLT). Here's what Goldman had to say about this on Friday in the wake of the latest escalations:
In 2017, the US exported $131 billion in goods to China and imported $506 billion [so] if the US were to impose tariffs on an additional $100 billion on imports, taking the total to $150bn, China would be unable to respond fully through retaliatory tariffs as there are simply not enough US exports to retaliate against. However, China would have other means of retaliation. Although China would be unable to fully retaliate through tariffs on goods in the event that the White House imposed sanctions on $150 billion in imports, Chinese policymakers could take other steps to retaliate. First, a currency depreciation could be used to offset some of the effect of tariffs. Second, Chinese authorities could sell some of its large official-sector holdings of US Treasuries, which would lead to a tightening of US financial conditions. Third, Chinese authorities could limit access for US companies to the Chinese domestic market, particularly in the services sector, where the US exports $56 billion in services annually and runs a $38 billion surplus.
None of that would be good news for markets. In fact, all of it would be decisively bad. A sudden devaluation of the yuan (as opposed to say, a staggered devaluation) could destabilize things literally overnight. If you need proof of that, go back and look at what happened in August of 2015 following the yuan devaluation.
As far as the Treasury liquidation is concerned, that's an issue that markets have been grappling with all year since Bloomberg suggested China was looking at diversifying away from U.S. debt in early January. I've talked exhaustively both here and on my site about the feasibility of going this route for China. There's a long list of reasons to think this isn't a desirable option for Beijing, but it's by no means out of the question. If you want an in-depth discussion of this, see here, but here's Bloomberg with the simple reason why China would want to be careful:
Few China watchers would disagree that dumping the country's vast holdings of Treasuries, officially standing at $1.2 trillion, represents a nuclear option. After all, it would impose losses on China itself, and potentially cause mayhem in the world's deepest bond market.
For now, the long end is of course supported by the risk-off sentiment that's intermittently swept through markets amid the trade tensions. On Friday, amid the chaos, 10Y yields dove 6bp, breaking below the 50-DMA at ~2.83%.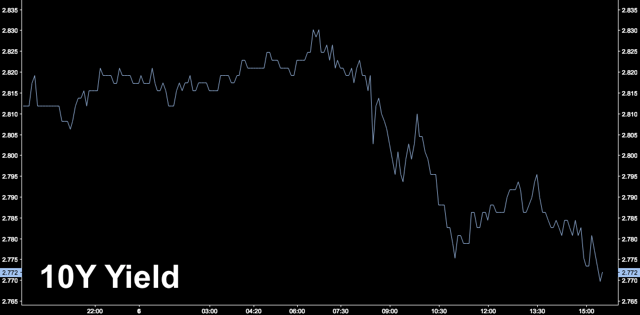 (Heisenberg)
If you look at S&P futures, you can see how truly manic the last several days have been. The following chart is annotated to show the moment just after 3:45 a.m. ET on Wednesday when China's reciprocal measures were proposed and the moment on Thursday evening when the Trump administration said it was considering proposing an additional $100 billion in tariffs in connection with the 301 probe: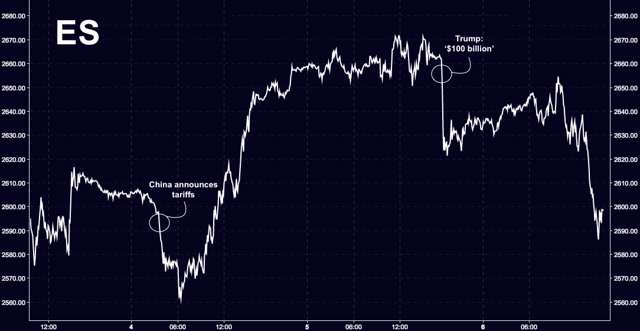 (Heisenberg)
Obviously, there is nothing particularly comforting about that. This is when I get to quote myself again. Recall this from the "This Means War" post linked above:
The bad news is that this is playing out against an exceptionally fraught political backdrop and indeed it seems as though markets have become almost completely beholden to politics over the past four weeks. Ultimately, that will spell trouble if the fundamentals are relegated to the backburner for too long.
Multiple analysts and traders have reiterated that sentiment over the past 48 hours.
"It's becoming childish," AMP Capital Investors Nader Naeimi told Bloomberg on Friday, adding that "at some point investors will say enough is enough, there's just too much political volatility now."
And here's what former trader turned Bloomberg columnist Richard Breslow had to say in his Thursday missive:
And there lies the problem with opinions being so diametrically opposed. Today, it's not things have calmed down a bit. It's trade tensions ebb. "Bellicose" has been replaced with "Calm Reasoning"

We've gone from "get out, don't you know we're in a correction that's heading straight to becoming a bear market" to "Yo loser, you have to be in it to win it. And by the way, where's your stinkin' correction now?"
Since he wrote those words less than 36 hours ago, we've reversed course again. Now, we're back to "get out!"
Where this goes from here is an open question, but just to reiterate the point above about China running out of options, Washington is backing Beijing into a corner with this. If the Trump administration goes ahead and publishes a list in conjunction with the proposed additional $100 billion in tariffs, we could well be on the fast track to a "surprisingly" weak yuan (CYB) fixing in the not-so-distant future.
This article was written by
Perhaps more than any other time in the last six decades, the fate of markets is inextricably intertwined with the ebb and flow of geopolitics. It's become increasingly clear that one simply cannot fully comprehend market movements without a thorough understanding of concurrent political outcomes. Drawing on extensive experience in both politics and finance, Heisenberg will help demystify a world in which investors can no longer hope to conceptualize of markets as existing in anything that even approximates a vacuum.
Analyst's Disclosure: I/we have no positions in any stocks mentioned, and no plans to initiate any positions within the next 72 hours. I wrote this article myself, and it expresses my own opinions. I am not receiving compensation for it (other than from Seeking Alpha). I have no business relationship with any company whose stock is mentioned in this article.
Seeking Alpha's Disclosure: Past performance is no guarantee of future results. No recommendation or advice is being given as to whether any investment is suitable for a particular investor. Any views or opinions expressed above may not reflect those of Seeking Alpha as a whole. Seeking Alpha is not a licensed securities dealer, broker or US investment adviser or investment bank. Our analysts are third party authors that include both professional investors and individual investors who may not be licensed or certified by any institute or regulatory body.