It is the nature of businesses that in even the best-run companies unexpected difficulties, profit squeezes, and unfavorable shifts in demand for their products will at times occur. - The Father of Growth Investing (Philip Fisher)
Trading Analytics
Welcome to another edition of Integrated BioSci Rounds Report for Friday (April 06, 2018). As usual, we'll elucidate notable trading analytics for the day, recent insider transactions, and interesting market developments. Without further ado, let's dive into the first notable trade with Crispr Therapeutics (NASDAQ:CRSP), a bioscience focusing on the innovation and commercialization of gene-editing medicines by leveraging on the power of the highly promising (CRISPR/Cas9) editing platform. As follows, the stock traded $0.60 higher at $43.27 for 1.41% profits.
Notably, the FDA approval re Luxturna of Sparks Therapeutics (NASDAQ:ONCE) foretells the coming of more gene therapy as well as gene editing molecules from firms like Crispr. As the novel (individualized medicine), gene-editing can revolutionize the way we managed cancers as well as genetic conditions like beta-thalassemia and sickle cell diseases. We assessed that CTX-001 has a robust chance of delivering positive clinical outcomes. Despite the substantial prospects in this highly promising niche, concerns arise regarding the safety of the CRISPR/Cas9 editing platform. Interestingly, the researchers retrieved their claims (and stated that it is in fact safe). Per the article published on bioRxiv, Kellie Shaefer et. all noted,
Our previous publication suggested CRISPR-Cas9 editing at the zygotic stage might unexpectedly introduce a multitude of subtle but unintended mutations, an interpretation that not surprisingly raised numerous questions. The key issue is that since parental lines were not available, might the reported variants have been inherited? To expand upon the limited available whole genome data on whether CRISPR-edited mice show more genetic variation, whole-genome sequencing was performed on two other mouse lines that had undergone a CRISPR-editing procedure. Again, parents were not available for either the Capn5 nor Fblim1 CRISPR-edited mouse lines, so strain controls were examined. Additionally, we also include verification of variants detected in the initial mouse line. Taken together, these whole-genome-sequencing-level results support the idea that in specific cases, CRISPR-Cas9 editing can precisely edit the genome at the organismal level and may not introduce numerous, unintended, off-target mutations.

Our analytic research revealed that CRISPR/Cas9 has been utilized for millions of years by bacteria to edit their own genome (as a defense mechanism against virus); hence, it should be the safest of all platforms (like Zinc Finger Nuclease). That aside, as a company that is advancing at a rapid pace Crispr has been streamlining its management team lately. Perhaps, the company is injecting new blood in the game to ready itself for the aggressive growth phase. Accordingly, the firm retired Tyler Dylan-Hyde and appointed Shelby Walker as Head of Intellectual Property on March 26, 2018. Moreover, there was the appointment of Steve Caffe, M.D. as Head of Regulatory Affairs on April 04. Dr. Caffe has an illustrious 25-year track record of experience in this field and held senior leadership positions at many leading biotechnology and pharmaceutical companies. CEO Sam Kulkarni, Ph.D. enthused,
Steve's extensive experience in regulatory strategy and operations across multiple therapeutic areas and geographies will be a tremendous addition to the team. We are thrilled to have Steve join us at such an important time for our company as we advance multiple programs to the clinic.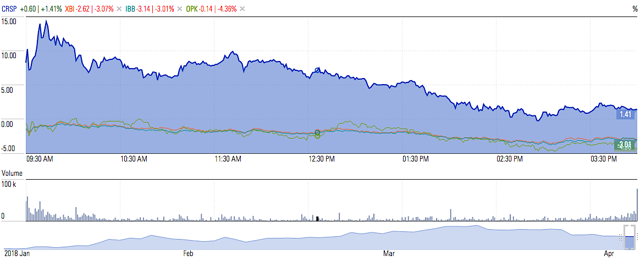 Figure 1: Notable BioSci movers. (Source: Morningstar).
Looking at the big picture, the trade war with China is exerting its effects, as the broader bioscience markets took a beating for the day. As follows, the iShares of NASDAQ Biotechnology Index (NASDAQ:IBB) traded down $3.16 (-3.03%) at $101.03. Moreover, the SPDR S&P Biotech (NYSE:XBI) exchanged hands $2.59 (-3.03%) lower at $82.88. Regardless of the market's extreme pessimism for the day, there are substantial prospects in the bioscience sector: one that delivers hope for patients while rewarding supporters with substantial wealth in the long haul. And, it's only a matter of when rather than if the trade war will be abated.
Insider Transactions
In monitoring insider transactions, one should analyze the data with the grain of salt. That being said, we wish to share with you the quote from the Former Fidelity-Magellan Manager (Peter Lynch): "Insiders might sell their shares for any number of reasons, but they buy them for only one they think the price will rise." Notably, three interesting transactions made our list for the day came from Opko Health (NYSE:OPK), a diversified healthcare company seeking to establish industry-leading positions in large rapidly growing markets. The 10% owner, CEO, and Chairman of the Board (Dr. Phillip Frost) has been acquiring shares aggressively over the years. His latest purchase occurred on April 05, 2018, in which he bought 10K shares for $32.5K to up his stakes to 190.08M shares. Moreover, Frost acquired 153K shares for $458.7 and 80K shares for $245.8K on April 03 and March 29, respectively.
As a serial acquirer, Opko operates multiple subsidiaries, including products, diagnostics, therapeutics, and strategic investments (as shown in figure 2). The pharmaceutical business category centered around two molecules: Rayaldee (a treatment for secondary hyperparathyroidism in stage 3-4 chronic kidney disease with vitamin D deficiency, and Varubi (a drug used to treat chemotherapy-induced nausea/vomiting, to launch by the partner, Tesaro). The biologic business featured a once-weekly human growth hormone injection - partnered with Pfizer (NYSE:PFE) - that is currently in the phase 3 study, and a long-acting factor VIIA for hemophilia (that is entering phase 2A study).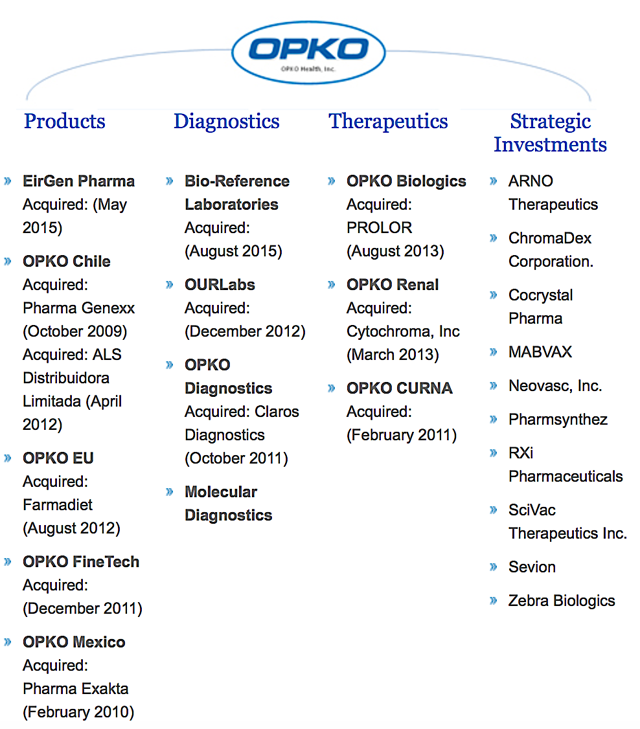 Figure 2: Business franchises of Opko (Source: Opko Health)
Over the years, Opko made numerous acquisitions to grow its various businesses. At the heart of the company is its diagnostic laboratory category, which is powered by the Bio-Reference Laboratories (NASDAQ:BRLI) acquisition (made back on June 4, 2015). The said buyout solidify Opko as the nation's third-largest clinical laboratory. Interestingly, Bio-Reference enabled Opko with the focus on core genetic testing business with 420 sales associates to drive growth and to leverage new products (including the proprietary 4Kscore prostate cancer diagnostic and Claros1 in-office immunoassay platform).
Of note, we featured Bio-Reference Laboratories in our prior site ("360," the predecessor of Dr. Tran BioSci) and it's one of our strongest buy recommendation that was acquired. We elucidated that diagnostic labs are lucrative businesses that generated substantial revenues. And, Bio-Reference was procuring over $832M sales as well as generated significant profits back on Oct. 2014. Following the $1.47B acquisition that, in and of itself, sent shares sharply over 33% in a single day, Dr. Frost remarked,
For almost thirty years Dr. Grodman and his team at Bio-Reference have produced a record of innovation and organic growth while building cutting-edge diagnostic franchises in women's health, cancer, and genetics. Bio-Reference's national infrastructure, reach, and extensive payer network will be invaluable to the adoption of Opko's 4Kscore test by physicians and patients across the country. However, even more strategic is the company's leadership position around the world in diagnostic sequencing services for rare disorders through its GeneDx business unit and its emerging cost-effective tumor sequencing services through GenPath Oncology.
Final Remarks
In all, notable developments made our Rounds Report for the day despite a highly negative trading session. Crispr is one of the rare stocks that made waves in the midst of the aforementioned trade war that is reflective of its improving fundamentals. Due to the exotic nature of gene editing, it is not unusual to see concerns regarding its safety. The fact that the researchers recently receded their negative claims gave more evidence to the safety and efficacy this of highly promising therapeutic. As for Opko, we wish to note that despite the aggressive purchases by Dr. Frost (the strong Chief who puts his money where his mouth is), shares have tumbled over 77% since 2015. One of the main reasons is that the reimbursement rate for diagnostic imaging is declining while Opko has yet to secure a blockbuster. Of note, there is a higher-level intelligencepublished in advanced and exclusively for subscribers of Integrated BioSci Investing. In the aforesaid article, we elucidated the Rounds Report in much greater details and provided specific recommendations.
Author's Notes: We're honored that you took the time to read our market intelligence. Founded by Dr. Hung Tran, MD, MS, CNPR, (in collaborations with Analyst Vu, and other PhDs), Integrated BioSci Investing ("IBI") is delivering stellar returns. To name a few, Nektar, Spectrum, Atara, and Kite procured over 439%, 96%, 160%, and 83% profits, respectively. Our secret sauce is extreme due diligence with expert data analysis. The service features a once-weekly exclusive Alpha-Intelligence article, daily analysis/consulting, and model portfolios. Subscribe to our marketplace now to lock in the current price and save money for the future.
Disclosure: I/we have no positions in any stocks mentioned, and no plans to initiate any positions within the next 72 hours. I wrote this article myself, and it expresses my own opinions. I am not receiving compensation for it (other than from Seeking Alpha). I have no business relationship with any company whose stock is mentioned in this article.
Additional disclosure: I like to inform our readers of Seeking Alpha's recent policy change, in which the company implemented the paywall (not only to my articles but to all articles that are published over 10-day). This is in place, as the company is, after all, a business. And, the revenues from ads are not adequate to support the high-quality research that the company is providing. If you are a REAL TIME FOLLOWER, you will be notified immediately of our new research for you to continue to benefit from our due diligence. You can also gain access to all of my old articles and much more by taking the 2-week FREE trial of my marketplace, Integrated BioSci Investing.