Breakout Forecast Selections for Week 15
Market conditions continue with extreme volatility. The positive momentum gauge remains strongly in the red zone, declining very slightly this past week from a value of 16 to a value of 14, but still in low probability range of positive momentum breakouts. Volatility in the market remains at high levels and we have not been above the midpoint value of 60 on this gauge since January (week 4). The ongoing correlation study between the momentum gauge values and breakout performance remains very highly correlated, such that periods of high negative and low positive momentum indicate low probabilities of gains from breakout conditions. The positive inverse conditions are also highly correlated with excellent returns when the momentum gauge shows high positive momentum values and low negative values.
Total Return Chart: +59.83%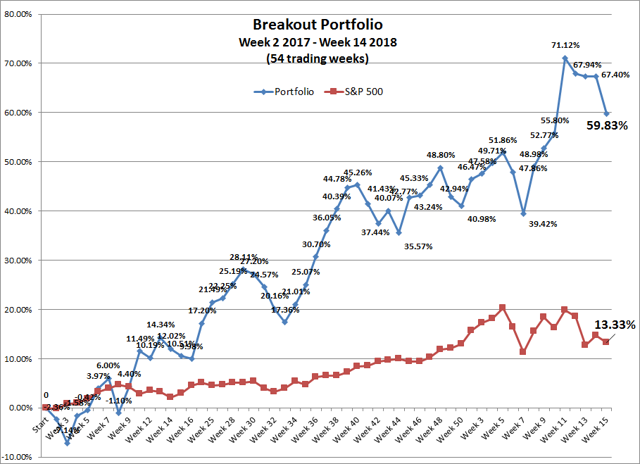 My momentum gauge is based on the count of the momentum stocks screened as either positive accelerating or negative accelerating stocks based on my research algorithm. The negative momentum indicator has increased from 51 last week to 57 this week, suggesting slightly more negative momentum in the market than last week. The all-time low for the positive momentum selection gauge is 8 during week 14 and all-time high is 120 during August 2017.



Market ETF net outflows as measured by FactSet have continued into the first part of the month: ETF Outflows Continue In First Week Of April.

This week I have selected 8 breakout stocks from the following sectors: 3 technology, 1 services, 1 healthcare, 2 consumer goods, and 1 financial.
The two new selections of positive momentum stocks for this week include:
Resolute Forest Products (RFP) - Consumer Goods/Paper Products
Senseonics Holdings (SENS) - Healthcare/Medical Appliances
These stocks are not necessarily recommended for long-term buy/hold unless you are comfortable with very large price swings. As I continue to observe, strong momentum events usually last from one to three weeks and may encounter some substantial decline before returning again to positive gains.
These are the most volatile selections I offer from among all the different Value & Momentum portfolios. Proposed entry points for each of the selected stocks are as close to the highlighted prices in yellow on the charts at market open. All stocks are selected for high short-term breakout results over one to three weeks.
Breakout Stock Charts for Week 15
Note: all breakout stocks are selected based on my algorithm to increase the frequency of 10% gains within a short period of time. Price targets are estimated through an unrelated technical charting process for those who are looking for estimated exit points, however it is possible the momentum in these selections may move well beyond the initial target.
Resolute Forest Products - Consumer Goods/Paper Products
Price Target: 12.00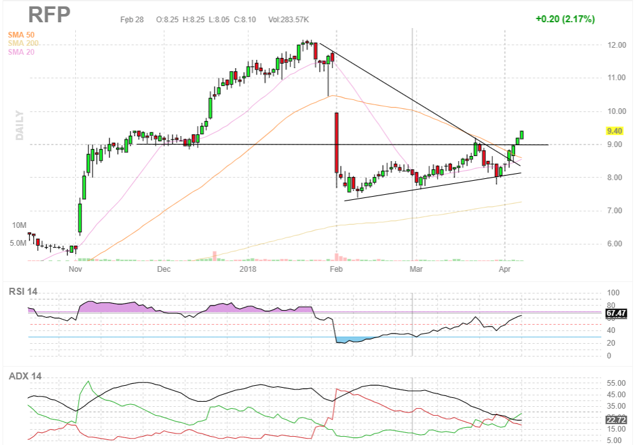 RFP has strong technical parameters for breakout selection this week with increasing RSI, money flow, and other key indicators. The price currently broke through resistance at 9 on strong positive momentum. Current fundamentals, technical and sentiment variables may be strong enough to retest prior January highs around 12/share. The last time the technicals were this strong predates the Nov. 2017 breakout conditions.
Resolute Forest Products, Inc. operates in the forest products industry in the United States, Canada, Mexico, and internationally. The company operates in five segments: Market Pulp, Tissue, Wood Products, Newsprint, and Specialty Papers. The Market Pulp segment offers market, recycled bleached kraft, and bleached hardwood kraft pulp used to make a range of consumer products, including tissue, packaging, specialty paper products, diapers, and other absorbent products.
Senseonics Holdings - Healthcare/Medical Appliances
Price Target: 4.50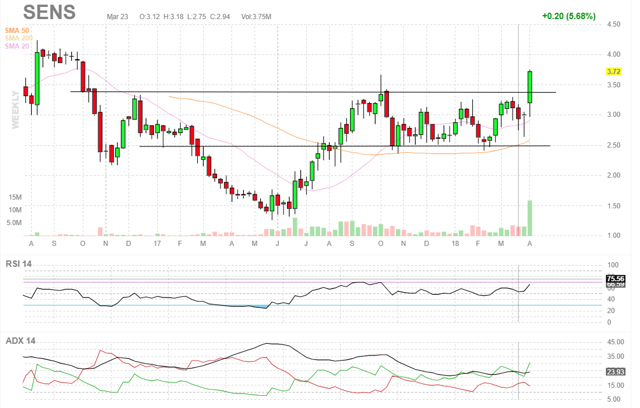 SENS has strong technical parameters for breakout selection this week with increasing RSI, money flow, and other key indicators. The price is currently broke through resistance around 3.50/share and is moving higher on strong momentum. Current fundamentals, technical and sentiment variables may be strong enough to break above resistance to a price target to the upper limit of the positive price channel around 4.50.

2018 YTD Chart: +18.64%

Cumulative return with 1-Week holding period.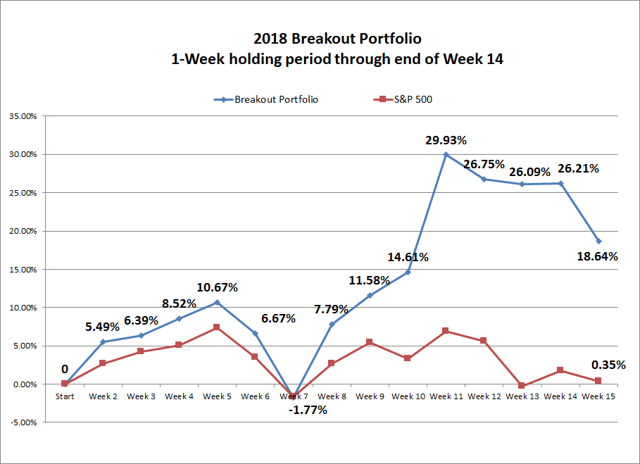 Breakout Forecast Performance Results:
Total Breakout portfolio returns by week for the past 5 weeks are listed below through the end of last week to illustrate the rolling returns of prior top performers and total portfolio returns:
| | |
| --- | --- |
| Breakout Forecast | Portfolio gains past 5 weeks / Top 3 Performing Stocks |
| Week 14 | -7.57% / (NSTG) +2.51% (NLS) +1.10% (OMED) -3.14% |
| Week 13 | -0.68% / (UTI) +3.82% (KGC) +2.59% (HBIO) +2.04% |
| Week 12 | -3.53% / (GPRK) +19.20% (VSLR) +17.65% (NEPT) -4.68% |
| Week 11 | -9.71% / (NTEC) +0% (ERII) -2.93% (KDMN) -6.22% |
| Week 10 | +5.17% / (CLSD) +34.28% (CCXI) +16.32% (CERS) +15.30% |


2-Week Holding Period Returns
The next charts show the cumulative return for a longer fixed 2-week holding period instead of the 1-week holding period charted above. Because 2-week holding periods overlap with weekly selections, I have separated it into two charts, Odd and Even weeks:
Using 2-week holding periods, the ODD Weekly Breakout portfolios have returned +20.05% compared to 0.63% for the S&P 500 YTD over the same holding periods.
The EVEN Weekly Breakout portfolios have returned +18.55% compared to -4.89% of the S&P 500 in the equivalent 2-week holding period.
Chart 1. Odd 2-Week Holding Chart 2. Even 2-Week Holding

Please click the "Follow" button at the top of the page and enjoy free updates on the progress of each of the different portfolios I offer that are outperforming the S&P 500 in each of their respective time periods.
I think these breakout stocks will serve you well in week 15 and beyond. I hope you all do well with these stocks and protect your downside while volatile market conditions continue to produce increased risks. All the very best and have a great week of trading!

JD Henning, PhD, MBA, CFE, CAMS
Disclosure: I/we have no positions in any stocks mentioned, and no plans to initiate any positions within the next 72 hours.
I wrote this article myself, and it expresses my own opinions. I am not receiving compensation for it (other than from Seeking Alpha). I have no business relationship with any company whose stock is mentioned in this article.
Editor's Note: This article covers one or more stocks trading at less than $1 per share and/or with less than a $100 million market cap. Please be aware of the risks associated with these stocks.