Summary
Cuban doesn't mince words when it comes to his opinion of gold.
Considering how far off base his supply side argument was, it gives his other statements on gold zero credibility.
There are times to hate gold, this is not one of them.
Mark Cuban...billionaire, Mav's owner, investor, philanthropist, and future U.S. Presidential candidate?...doesn't mince words when it comes to his opinion of gold. In an interview yesterday he said this about the precious metal:
I hate gold. Gold is a religion. There is some fundamental value to gold (implies a tiny amount with a gesture of his hand) but everything else, it's a collectable, I see gold and bitcoin as being the same thing. As an investment, hate is not strong enough, hate with extreme prejudice as an investment.
Cuban continued and said the following when comparing gold to bitcoin:
Both collectibles, their value is based off of supply and demand. The good news about bitcoin is there is a finite supply that will ever be created, and the bad news about gold is they will keep on mining more.
When confronted with the fact that Goldman Sachs says we only have 20 years left of mineable gold, Cuban responds: "Well then in 20 years we can have another conversation."
When asked "you don't see gold as money then" his response was:
No I don't see it as an alternative to currency, not at all. Let's put it this way, I don't see people in Puerto Rico carrying around big bags of gold to try and save things.
And the coup de grâce:
Let me say it one more time, hate with extreme prejudice is not enough, hate with double extreme prejudice with an ounce of hot sauce.

Q:You're in the camp of gold is just a pet rock? Cuban: "Pretty much, but I would buy a pet rock first."
Well, where do I begin? First let me say that as a gold investor (or more specifically gold stock investor), I love reading things like this as it just shows how negative sentiment really is for gold. This despite the fact that the SPDR Gold Trust ETF (NYSEARCA:GLD) is outperforming the S&P 500 Total Return Index year-to-date by a decent margin.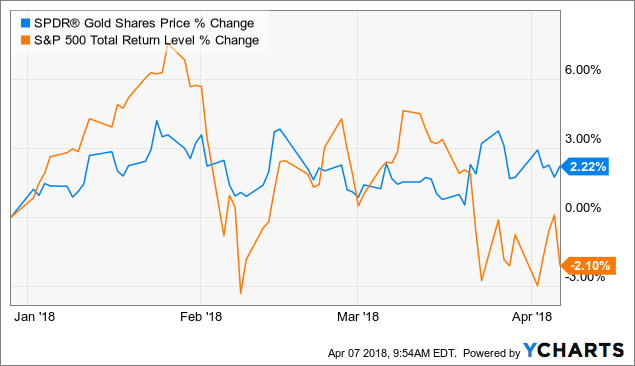 And the fact that GLD has been basing for about 1.5 years and is on the verge of a major breakout...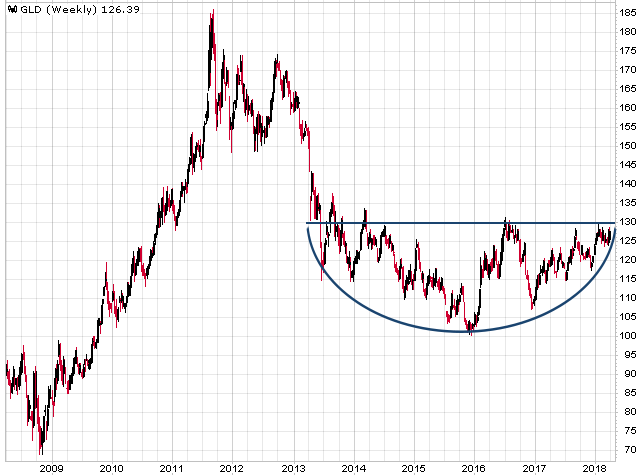 (Source: StockCharts.com)
...while the S&P is on the verge of possibly a much deeper correction: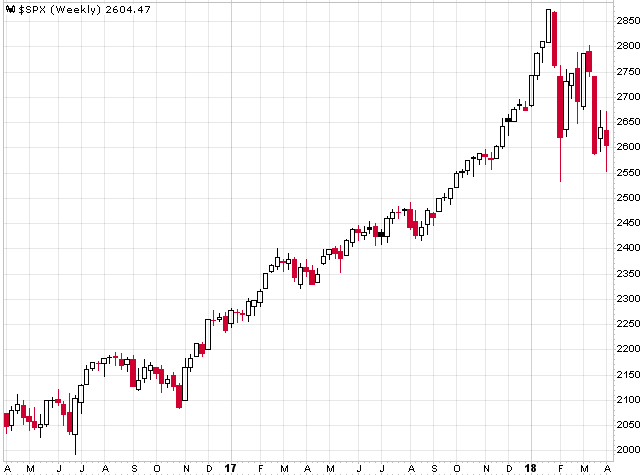 (Source: StockCharts.com)
Gold is not a religion. To describe gold in this light is incredibly narrow-minded. Especially considering that not too long ago the U.S. Dollar was backed by gold.
Gold has been used as a form of currency for thousands of years. It most certainly is still an alternate form of currency today, although this one protects purchasing power while the U.S. Dollar's value continually erodes - and the value of all global currencies consistently declines for that matter.
Let's put it this way, if people in Puerto Rico had big bags of gold, they would be using it to try and save things. The problem is nobody in that country has "big bags" of the precious metal.
To go from backing the U.S. Dollar to a "collectable" status is quite a jump, one that doesn't really make much sense.
Cuban might know a lot about certain sectors and investment classes, but he doesn't understand the gold market, what drives it, and how it's valued. This is simply a case of discussing a topic and forming an opinion before doing your research.
Case in point, his comments about bitcoin and gold and how he compares the two. Again, he says bitcoin and gold are the same thing, in that both are collectibles and their value is based off of supply and demand. He continues his argument by saying the good news about bitcoin is there is a finite supply that will ever be created, and the bad news about gold is they will keep on mining more. He seems to be implying that he believes bitcoin has the stronger fundamentals because of its "limited supply."
But there are many things wrong with this line of thinking. The first, is the annual gold supply is increasing by about 3,000 tonnes per year, or roughly 1.5% of the total above ground stock. That's a negligible increase as it amounts to about $135 billion worth of new gold supply every year at current prices. That's worldwide production. Compare that to the amount of global inflation per year (and the increase in government debt as well). There is far more inflation being introduced into the global monetary system annually than there is new gold supply.
The demand for gold increases as the global money supply expands, as there is more money chasing gold. This is economics 101 when it comes to supply/demand fundamentals. These mining companies can't extract ore from the ground fast enough to keep up with this growth in the money supply. This problem is only resolved via higher prices for gold.
As for this finite supply argument, Cuban doesn't understand that his statements are contradictory. Bitcoin hasn't reached its finite supply figure yet, as just like gold, it's still being "mined." There is about 20% of the supply of bitcoin still left to "mine." Compare that to about 20% of current mineable gold reserves in the world. In other words, both gold and bitcoin have the same percentage of supply that has yet to hit the market.
Yet Cuban didn't pick up how his statements were contradictory even when he was confronted with Goldman Sachs' research that said we only have 20 years left of mineable gold (which was actually published in 2015).
Considering how far off base his supply side argument was, it gives his other statements on gold zero credibility.
Of course, one could argue that these gold mining companies will find more gold reserves down the road and actually have more than 17 years left of mineable gold. If that is the case then wouldn't Cuban's statements hold water? No, because the question is "what will be the quality of those ounces?" (i.e. how many can be mined profitably) and Cuban's statements about the finite supply of bitcoin overlook the supply of other cryptocurrencies (both current and future). Bitcoin's supply might be limited, but there is nothing stopping 100 or 1000 other bitcoin copycats from hitting the market (which we are already seeing). I would even argue that it's not assured that bitcoin's supply is actually going to be finite.
Gold and bitcoin aren't the same, there are strong fundamentals that support the price of gold. The same can't be said for bitcoin. If anything, bitcoin is a religion, not gold.
There are times to hate gold, this is not one of them. When the price of the metal gets more inline with its fair value (which is at least in the $2,000's), then it might be time to be more blasé about it. Or if it enters a bubble, then it will be fine to "hate" gold. But certainly not now, not when the fundamentals are so strong (rising inflation, rising interest rates, rising debt, peaking mine supply, etc.) Combined with the current chart setup, now seems like a very appropriate time to be buying this asset class.
As a side note, Cuban made over $1 billion when he sold his internet company to Yahoo back in 1999. He always talks about how if you are an investor who doesn't know too much about markets, then the best way to invest your money is to put it in a cheap S&P 500 SPX fund. Clearly he wouldn't recommend buying gold. Good advice? It depends on when you buy and where things are at in their respective cycles. Had he taken his own advice and invested $1+ billion in an S&P 500 index fund at the start of 2000, then no...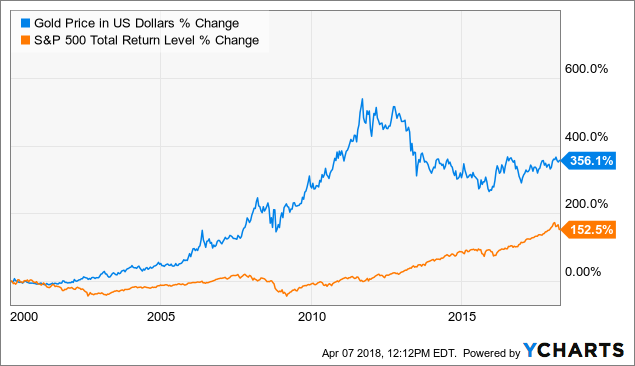 GLD is still in a bull market cycle and the valuations in the stock market are near historic highs. Over the next few years, I expect GLD to outperform general equities and this lead against the S&P since the turn of the century will increase even more. Gold is highly likely to outperform pet rocks too during this time.
The Gold Edge
I believe we are close to breaking out of this range in the gold market and I expect gold stocks to start showing some very strong gains. Join The Gold Edge today and see which companies I think are best positioned for outsized returns during this next phase of the bull run. Some new features have also been added to The Gold Edge service recently. I also just did a three part series titled "How To Be A Successful Gold Stock Investor." I have been far outperforming the HUI over the last 5 years (showing strong gains even while the index is still down by over 60%).
This article was written by
In-depth coverage and analysis of gold and the gold mining sector
I'm a private investor with a strong track record of outperformance, and also currently work as a research consultant for high-net-worth clients who invest in the precious metals sector.
My focus was mostly on Tech/Internet when I started investing, but almost 20 years ago I became extremely interested in the gold and silver sector as I anticipated a major bull run.
I've been doing in-depth research on gold and silver miners since then. I'm familiar with their stories, their stock patterns, their highs and lows, their operations/projects, their successes and failures, their management teams and turnover at the top, and all other facets of these precious metal companies.
This sector is my singular focus as I expect a massive bull market will unfold. These mining stocks are the cheapest they have been in over a decade, some in fact, are near multi-decade lows as they are oversold and significantly undervalued. I expect strong appreciation in these mining stocks as the bull market in gold and silver recommences.
I believe in buying value, and not chasing the next hot stock. I use several basic investing principles, the main one being buying the balance sheet. I wait for opportunities to present themselves and then establish positions. I believe in doing your homework, and I have a very research intensive focus.
*Disclaimer* I am not a Certified Financial Advisor. My research and articles should not be interpreted as a recommendation to purchase, sell, or hold any security at any time. The accuracy, completeness, or timeliness of the information posted in my articles is not guaranteed. Do not rely on any statement that I make in my articles. All readers and subscribers should always conduct their own research and should consult a professional financial advisor when it comes to making investment decisions.
Analyst's Disclosure: I/we have no positions in any stocks mentioned, and no plans to initiate any positions within the next 72 hours. I wrote this article myself, and it expresses my own opinions. I am not receiving compensation for it (other than from Seeking Alpha). I have no business relationship with any company whose stock is mentioned in this article.
Seeking Alpha's Disclosure: Past performance is no guarantee of future results. No recommendation or advice is being given as to whether any investment is suitable for a particular investor. Any views or opinions expressed above may not reflect those of Seeking Alpha as a whole. Seeking Alpha is not a licensed securities dealer, broker or US investment adviser or investment bank. Our analysts are third party authors that include both professional investors and individual investors who may not be licensed or certified by any institute or regulatory body.