Litecoin's Best Days Are Behind It
Summary
Litecoin Statistics.
Effect of Founder's Divestment.
Declining Interest In Litecoin.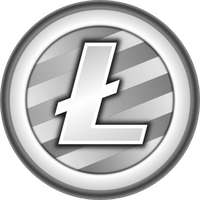 (Source: CoinMarketCap)
Litecoin (LTC), founded by Charlie Lee, was supposed to be superior to Bitcoin for small, frequent transactions.
It was even called digital silver, while Bitcoin was called digital gold. However, reality often strays far from intent.
Litecoin Transaction Statistics
Bitcoin:


(Source: BitInfoCharts)
Litecoin:

(Source: BitInfoCharts)
Bitcoin handles roughly 7 times as many transactions per hour compared to Litecoin. For a cryptocurrency that was supposed to be the frequent, small transaction size alternative to BTC, Litecoin has failed to catch up in terms of volume.
Besides volume, its median transaction value also proves that virtually nobody uses it for its intended purpose: small transactions, such as buying coffee or groceries.

(Source: BitInfoCharts)

(Source: BitInfoCharts)
In fact, Litecoin's median transaction value is significantly off-peak from its January 5th high of $5,594, yet its current (as of writing) median transaction value of $207.81 is still far from the average of $27.65 (National Grocers Assoc. 2013 study). (Just in case, adjusted for inflation, the previous figure is only $29.48–a minor difference.)
Litecoin Wealth Distribution
Another metric to track Litecoin's progress as a high transaction volume coin is wealth distribution.

(Source: BitInfoCharts)
As shown above, 45.1% of all Litecoin is owned by 100 addresses. The number of people with that share is likely much smaller, because people can possess LTC from multiple addresses. Meanwhile, there are approximately 81,000 active addresses in the Litecoin network. This means that 0.12% of all active addresses control nearly half of all Litecoin. I realize that wealth inequality is a natural occurrence in capitalistic markets, but in Litecoin's situation, this imbalance is a sign that people are not treating Litecoin as a medium of exchange, but instead as a store of value.
To make matters worse, even Bitcoin has wider distribution of wealth than Litecoin.

(Source: BitInfoCharts)
If you look at the top three richest Litecoin users, they have 1.6% of total LTC each. The top fifteen have 1% or more of total LTC each as well, meaning 15 people (at most) control 19.8% of the total supply of LTC. Not only does Litecoin have a smaller network of users compared to Bitcoin, but its higher concentration of wealth undermines the network effect (Metcalfe's Law) that Litecoin currently has, because a majority of coins are in the hands of a minority of users.
Litecoin Founder
Another issue I have had is with Charlie Lee's (Litecoin founder) decision to sell all of his Litecoin in an attempt to exculpate himself from accusations of price manipulation. Don't get me wrong; I do not doubt Charlie's integrity and honesty concerning his choice, but I do think it was the wrong decision for him to bail while the coin was on a bullish run.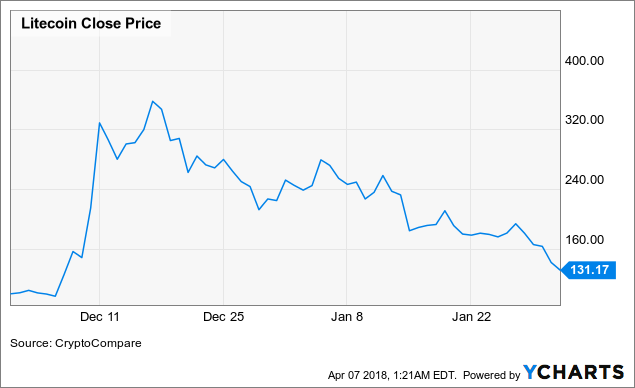 Charlie announced that he sold all of his Litecoin on December 20th, 2017. If you look between 12/11/17 and 12/25/17, you will see that Litecoin peaked at $364.34 on 12/17/17.
Looking at an excerpt from Charlie's 12/20/17 announcement on Reddit, it is very likely that he triggered the decline in value:
In the past days, I have sold and donated all my LTC. Litecoin has been very good for me financially, so I am well off enough that I no longer need to tie my financial success to Litecoin's success – Charlie Lee
From 12/17/17 to 12/29/17, Litecoin fell from $364.34 to $202.02, losing 45% of value in under two weeks.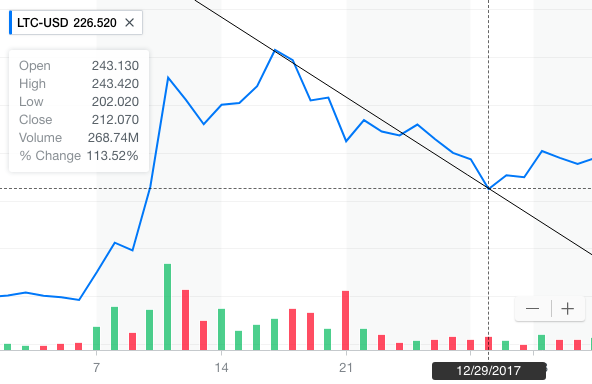 (Source: Yahoo Finance)
If you extend the price graph to present day, Litecoin has lost 68% of its value since the $364.34 high back on 12/17/17.

(Source: Yahoo Finance)
Excluding the mid-February rally, the cryptocurrency has steadily trended downwards, and there is no bottom in sight. The combination of low volume and a steady decline in price from March onwards is also concerning, because that is an indicator that people are losing interest in Litecoin (or cryptocurrencies in general), and are slowly selling stakes since the price has not changed. There is always the possibility that people will jump back in if there is any hint of a rally, but the rally may not matter if the price has significantly fallen from where it is now by then.
Interest In Litecoin
One proxy I use to gauge interest is tweets per day.

(Source: BitInfoCharts)
The most tweets Litecoin had ever received in one day was 31,000 on 12/9/17, which was certainly an outlier since that was the height of crypto-mania. After that, tweets per day settled into a range between 5,000 to 7,000, with the occasional jump on news. Now, tweets are below 2,000 per day, which is essentially the same volume of tweets generated daily before cryptocurrencies gained broad news coverage after late 2017.
The decrease of interest in Litecoin is also shown by Google Trends.

(Source: Google Trends)
Using Google's index value range from 0–100, search interest in "litecoin" was no greater than 11 before November of 2017, after which it climbed to 100 as the media helped catapult cryptocurrency prices to all-time-highs. Since then, we have witnessed a decline of search interest to an index level of 4.
Final Decision on Litecoin
Originally proposed as a better option for frequent, small transactions as opposed to Bitcoin, Litecoin only has one-seventh the average number of transactions of Bitcoin, and its wealth distribution is more concentrated than Bitcoin's. What's worse is that the coin's founder, Charlie Lee, completely divested his stake with the mere promise to continue promoting Litecoin. Even if his divestment was bona fide, holders of Litecoin reacted as if a CEO had sold all of their stock in a company at the peak share price, and had run away with the proceeds. One could argue that Charlie added liquidity to the market by selling his stake, but whether the added liquidity even partially offset the decline due to a negative reaction is questionable.
Overall, I do not believe Litecoin possesses any catalysts that could lead to a higher market cap/price in the future, especially since its price has fallen in tandem with levels of interest in the cryptocurrency.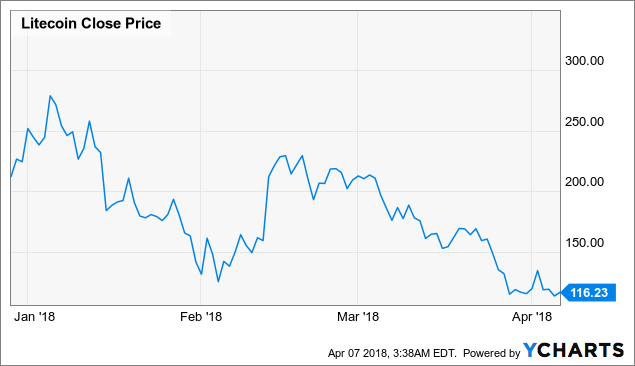 I would not pretend to know how low exactly Litecoin will go, but from the reasons I listed, I am confident Litecoin's price will go lower moving forward.
This article was written by
Investor with a focus on technology stocks.
Analyst's Disclosure: I/we have no positions in any stocks mentioned, and no plans to initiate any positions within the next 72 hours. I wrote this article myself, and it expresses my own opinions. I am not receiving compensation for it (other than from Seeking Alpha). I have no business relationship with any company whose stock is mentioned in this article.
Seeking Alpha's Disclosure: Past performance is no guarantee of future results. No recommendation or advice is being given as to whether any investment is suitable for a particular investor. Any views or opinions expressed above may not reflect those of Seeking Alpha as a whole. Seeking Alpha is not a licensed securities dealer, broker or US investment adviser or investment bank. Our analysts are third party authors that include both professional investors and individual investors who may not be licensed or certified by any institute or regulatory body.