Building on the strength of this year's software IPOs thus far, yet another contender has thrown its hat in the ring: Smartsheet (NYSE:SMAR), a Bellevue, Washington, company that was founded over ten years ago and specializes in workflow and team collaboration software. For now, the company has listed a placeholder figure of $100 million for its IPO, but if prior IPO valuations in the year to date are any indicator, Smartsheet will likely be vying for a much bigger deal.
The first quarter of 2018 brought only a few deals in the software space, but they were successful enough to invite a wave of listings in the second quarter. Aside from Smartsheet, other software deals expected in Q2 this year include the unicorn DocuSign (DOCU), as well as the Dell subsidiary Pivotal Software (PVTL).
Smartsheet hasn't yet outlined its pricing or valuation intentions in its IPO. But based on the valuations of predecessor IPOs this year and Smartsheet's own growth trajectory, it's more than likely to notch the vaunted $1 billion mark in this deal. A quick check-in on how IPO valuations have fared this year: Dropbox (DBX), up 44% since its IPO, is currently trading at 9x forward revenues, while security-as-a-service company Zscaler (ZS) is trading at a mammoth 16x forward revenues. So assuming Smartsheet can generate just 40% revenue growth this year (growth will likely trend much higher, given how robust it was in FY18), it would only take a 7x forward revenue multiple for Smartsheet to crack the billion-dollar mark.
Furthermore, the success of Zscaler's IPO - far more lucrative than both Dropbox and Spotify (SPOT) - has effectively demonstrated that the highest-profile company doesn't necessarily have the biggest IPO pop. In other words, the fact that Smartsheet is a relatively low-profile company that's not really on Silicon Valley's radar isn't a liability to this deal.
In fact, Smartsheet has a luminous comparable in Atlassian (TEAM), whose 75% stock appreciation over the past twelve months has made it one of the best performers in the entire technology sector. Atlassian trades at 14x forward revenues, marking a good anchor for Smartsheet's own valuation.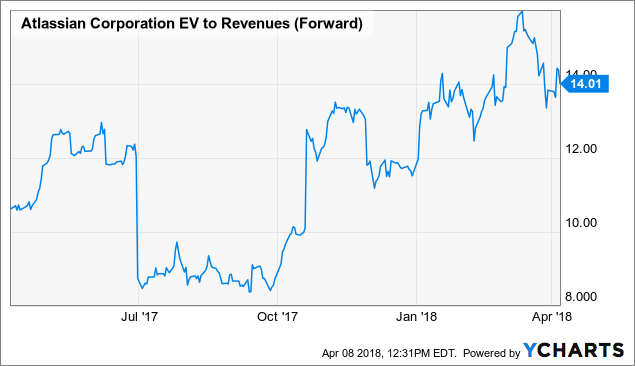 Smartsheet's pricing details aren't yet known, so it's premature to call a favorable opinion on this IPO. But based on the success of software IPOs this year and on the rich valuations of two of Smartsheet's peer buckets - recent IPOs and Atlassian - the company looks like an early winner.
A Fortune 100-trusted work collaboration platform
At the heart of Smartsheet's business is a "cloud-based platform for work execution" built for large enterprises and trusted by 90 of the companies in the Fortune 100. In addition, the company counts two-thirds of the broader Fortune 500 in its client base. Smartsheet's traction among major companies has been incredible, and the company's growth trajectory now hinges heavily on the company's move downmarket.
The driving focus of Smartsheet is to enable teams to have visibility into their workstreams, take accountability for completion of tasks, and improve productivity. Work items in Smartsheet are organized by means of grids, cards, calendars, and the like. Process movers such as deadline notifications, status updates, and approval requests are automated within the system to speed up the time to completion. The platform is designed to be simple to use from an end-to-end basis. The diagram below, taken from Smartsheet's S-1 filing, maps out this concept:
Figure 1. Smartsheet collaboration flow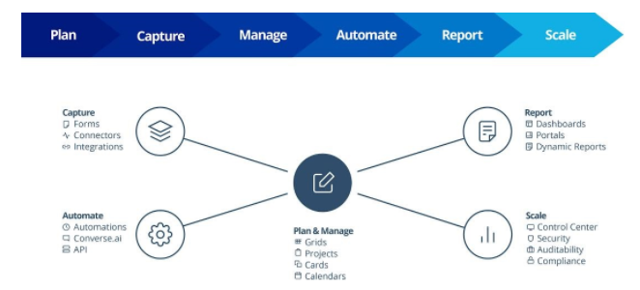 Source: Smartsheet S-1 filing
Smartsheet also is compatible with a slew of integrations to third-party applications such as Salesforce.com (CRM), as well as popular document and office software from Microsoft (MSFT) and Google (GOOG) (GOOGL). These third-party applications, via Smartsheet's API, can push an update directly into the application.
Atlassian's Jira software performs extremely similar functions, though Atlassian is primarily tailored to software development teams.
Subscription business model with huge land-and-expand potential
As previously mentioned, Smartsheet is predominantly catered to large enterprises. Particularly notable blue-chip customers include Starbucks (SBUX), Netflix (NFLX), Hilton (HLT), Cisco (CSCO), and HP Inc (HPQ).
As a pure SaaS business, Smartsheet deploys the business model most favored by Wall Street - recurring subscription-based revenues, huge gross margins, and a client base that tends not only to renew subscriptions but enlarge them.
Smartsheet emphasizes the so-called "land-and-expand" business model - that is, start off a customer with a small deployment (say, in just a handful of teams or one department), with the hopes of eventually expanding to more departments and to the entire company as a whole. These companies expend huge sales efforts even to win small initial deals, with the assumption that the renewal will come with huge upsell opportunities.
This strategy seems to be working for Smartsheet, which reports increasingly large dollar-based net retention rates, most recently 130% for FY18. This is a popular metric for evaluating SaaS companies, as renewal expansions often drive a lot more of the revenue growth than new business does. See Smartsheet's growth in net expansion rates below: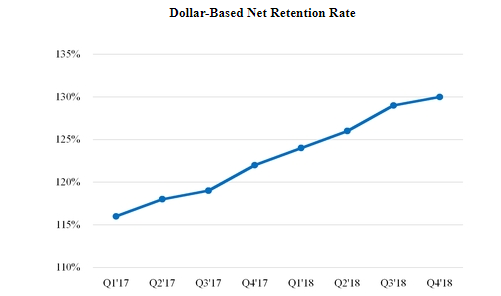 Source: Smartsheet S-1 filing
Typical subscriptions to Smartsheet's platforms are sold on an annual basis, with some sold on a monthly basis. Subscription tiers, ranging from lowest to highest, are as follows: Individual, Team, Business, and Enterprise, with more than half of Smartsheet's revenues deriving from the latter two categories.
The largest of Smartsheet's customers has an ACV of over $2 million. The company counted 92,000 customers overall at the end of FY18. Though large accounts dominate at Smartsheet, over-concentration in a single customer is not a major concern - the company disclosed that no customer accounts for more than 3% of revenues, and the top 10 customers make up less than 10% of the total revenue base.
Over $100 million in revenues at a 66% growth rate
The most striking aspect of Smartsheet's financials is the fact that it's growing revenues so quickly after having broken the $100 million revenue mark. See the company's financials below:
Figure 2. Smartsheet FY16-FY18 results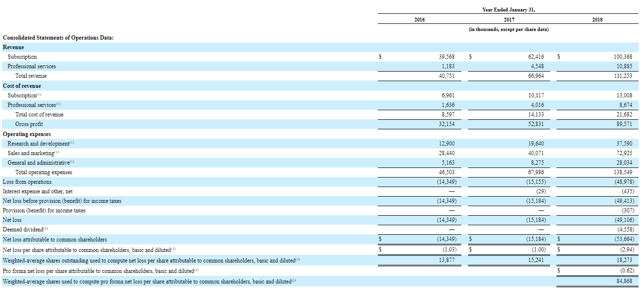 Source: Smartsheet S-1 filing
Revenues grew 66% y/y to $111.3 million, an astounding growth rate. To put this figure into context: Zscaler, which is at a similar revenue scale and is valued at a sky-high multiple of revenues, is growing at just a 51% growth rate, though its operating margin is slightly better than Smartsheet's.
Among software companies, Smartsheet also has a best-in-class gross margin of 81% in FY18. This is helped by the fact that Smartsheet has a higher mix of subscription revenues (90% of total revenues) than the typical subscription software company, which typically has about 15-20% of its revenues dedicated to professional services that are done basically at cost. Smartsheet also effectively has a very low, near-breakeven margin for its services revenue, but its huge 87% subscription gross margins help to balance out the total gross margin.
And like other software companies, Smartsheet is dumping a huge portion of its revenues into its sales force, spending 65% of FY18 revenues on sales and marketing to drive its growth. As the company continues to scale, we'll expect to see some better sales leverage, but at the moment, Smartsheet is posting sizable losses. GAAP operating loss in FY18 was -$49.0 million, or an operating margin of -44%.
Because Smartsheet typically bills its customers upfront for a year of service, however, its actual cash burn is much lower. Operating cash flow in FY18 was -$13.6 million, or a -12% OCF margin. With $61 million of cash on its balance sheet plus the expected IPO proceeds, and the fact that it has no meaningful debt on its balance sheet (outside of a $1.3 million convertible liability), Smartsheet has plenty of liquidity to fund its losses as it continues to scale toward profitability.
Final thoughts
With Smartsheet's highly lucrative and scalable business, the company looks to be an early IPO winner. A SaaS business built on >80% gross margins and a huge track record for upselling and expanding a blue-chip client base is almost certain to win an elevated revenue valuation multiple from investors, as Dropbox and Zscaler have been able to do. Add that to the fact that Smartsheet is growing at 66% y/y, a much faster growth rate than is typical for companies that have broken past the $100 million revenue mark.
More to come as more details surface on the company's IPO pricing and timing.