Hologic Looks Iffy For Now
Summary
A falling share price and low P/E after a string of consecutive earnings beats make HOLX look attractive.
HOLX has reduced its debt and is consistently growing revenues and net income.
Unfortunately, a narrow moat and stiff competition, along with weak organic growth, make the company just a HOLD in my view.
A strong R&D pipeline and sterling image as a champion of women's health aren't enough to draw me in without a dividend in this choppy market.
Revenues and earnings have been lifted by tax cuts and recent acquisitions, explaining the too-good-to-be-true valuation.
Hologic Inc. (NASDAQ: NASDAQ:HOLX) is a Bedford, Mass.-based company founded in 1984 that describes itself as a champion of women's health. The company seeks to "help improve and save lives through early detection and proactive treatment." Shares of Hologic have taken a tumble of late, falling from January highs of over $44/share to just $36.43/share, after an almost 3% drop on Friday.
When I saw the company now trades at a P/E ratio under 10 and has seen significant revenue and net income growth for the past four years, my interest was piqued. Unfortunately, when I dug a little deeper I found a company that has a narrow moat which leaves it at risk in an exceedingly competitive industry. I also found HOLX was buoyed by tax cuts and acquisitions which make its current P/E and EPS figures fairly useless. The recent earnings beats may not be as impressive as they seem. Still, it's not all negatives at Hologic; in fact the company's improving financial strength, impressive reduction in debt, strong R&D pipeline and 21st century appeal undoubtedly make it one to watch. As for now, without a dividend to draw me in, I am unconvinced by flailing recent acquisitions and concerned by a narrow moat with strong competition. I see HOLX's long-term prospects as bright, but for now the company is just a HOLD in my view as it has a lot to prove in the coming months.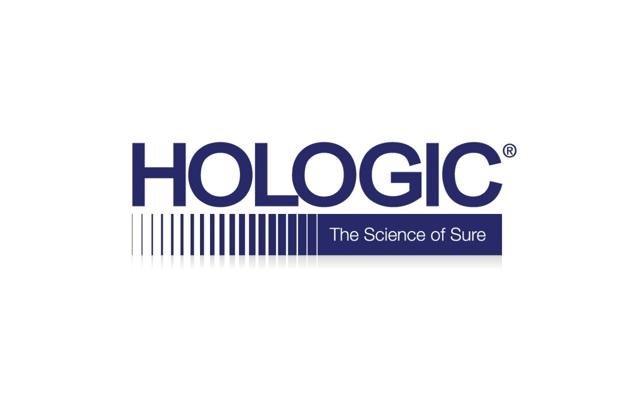 Source: Hologic
The Business
Hologic is a developer, manufacturer and supplier of premium diagnostics products, medical imaging systems and surgical products. The company proudly focuses on women's health through its five operating segments: Diagnostics, Breast Health, Medical Aesthetics, GYN Surgical and Skeletal Health. 2017 was a transitional year for HOLX. On January 31, 2017 the company sold its blood screening business to its operating partner Grifols SA (NASDAQ: GRFS) for a sales price of $1.85 billion. The sale resulted in a gain of $899.7 million recorded in Q2 of FY 2017 and as a result the company recorded a tax obligation of $649.5 million, which they paid the same year. Then, just two months later on March 22, HOLX acquired Cynosure, Inc. adding the Medical Aesthetics segment to their business. Cynosure is a developer, manufacturer and supplier of a wide array of light-based aesthetic and medical treatment systems. HOLX also acquired two of its distributors Medicor Medical Supply and Emsor SA in tuck in acquisitions for $19 million and $13.1 million respectively in 2017.
Beginning in 2013, an almost entirely new management team was slowly brought into HOLX and thus far they have done a great job stabilizing revenues and increasing net income. Still, HOLX faces stiff competition and is burdened with a narrow moat, especially in its Breast Health segment where the company's mammography business competes with the likes of General Electric Company (NYSE: GE). Q1 2018, from September 30, 2017 through December 31, 2017, was a strong one for the company, however this was mostly due to a large recognized tax benefit in the quarter. This substantial tax benefit makes the company's PE of under 10 not as impressive as it may appear on the surface. Nevertheless, HOLX is a rapidly expanding business that is trading at reasonable prices given its growth rate.
Diagnostics – Although, much of the diagnostics business was sold to Grifols in 2017, HOLX still operates the diagnostic services which fit in more readily with its focus on women's health. The primary diagnostics products include the Aptima family of assays, which run on the Panther and Tigris systems, the ThinPrep system, and the Rapid Fetal Fibronectin test. The Aptima assays are meant to detect STDs, HPV and Trichomonas vaginalis. The ThinPrep system is used for cervical cancer screenings and finally the Rapid Fetal Fibronectin test is used to asses the risk of pre-term birth. In Q1 2018, which actually ends December 31, 2017 remember, diagnostics was the second segment in terms of revenue with $285 million.
Breast Health – The breast health segment of HOLX's business was its largest in terms of revenue in Q1 2018, with an impressive $288 million coming in. The company's products include digital mammography systems, computer-aided detection, or CAD, for mammography and minimally invasive breast biopsy devices, breast biopsy site markers, and breast biopsy guidance systems. The most advanced system used by HOLX uses a technology called tomosynthesis to produce 3D images that show multiple slice images of the breast. There is stiff competition in this industry, but HOLX has managed to create world class products that have kept customers coming thus far.
Medical Aesthetics– The new medical aesthetics business, which perfectly aligns with HOLX's stated goals of becoming the source for women's health products include the, SculpSure, PicoSure and MonaLisa Touch products which enable medical practitioners to perform non-invasive and minimally invasive procedures to remove hair, treat vascular and benign pigmented lesions, remove multi-colored tattoos, revitalize the skin, reduce fat through laser lipolysis, reduce cellulite, clear nails infected by toe fungus, ablate sweat glands and improve gynecologic health. This segment also uses radio frequency medical devices for surgical applications, like facial plastic and general surgery, gynecology, ear, nose, and throat procedures, back and thigh procedures, ophthalmology, oral and maxillofacial surgery, podiatry and proctology. This business accounted for $91 million in revenues in Q1 2018 and has yet to become profitable as it goes through the transitional stage post acquisition.
GYN Surgical – This segment is one of HOLX's most profitable. In Q1 2018, the segment produced over $30 million in operating profit on $107 million in revenues. Products include, the NovaSure Endometrial Ablation System and the MyoSure Hysteroscopic Tissue Removal System. Novasure is a one time treatment for abnormal endometrial bleeding, while MyoSure is a minimally invasive procedure that removes fibroids, polyps, and other pathology within the uterus.
Skeletal Health– This is HOLX's smallest segment by far accounting for only $19 million in revenues for Q1 2018. Skeletal health products include the Discovery and Horizon X-ray bone densitometers that assess the bone density of fracture sites, as well as mini C-arm imaging systems that assist in minimally invasive surgical procedures on a patient's extremities.
Improving Financial Strength
Since 2013, HOLX has consistently improved its financial strength while growing considerably. Total revenues have been buoyed by acquisitions and more recently tax reform, but it's Hologic's ability to manage its debt burden through this transitional period that has impressed me most. Although the company still has significant debts it has been focused on reducing its leverage ratio for over 5 years. An overall reduction in operating costs and expenses emphasizes the company's new, more efficient approach as well. This cost reduction was also aided by the sale of HOLX's blood screening business which operated at lower margins.
Fiscal Year Ended

In $ MM

September 30, 2017

September 24, 2016

September 26, 2015

September 27, 2014

September 28, 2013

Total Revenues

3,059

2,833

2,705

2,531

2,492

Total Operating Costs and Expenses

1,689

2,284

2,249

2,251

3,399

Net Income(loss)

756

331

132

17

(1,173)

Long-term debt obligations, less current portion

2,199

3,059

3,227

4,118

4,194
Table compiled by author from 2017 10-K
At the Raymond James 39th Annual Institutional Investors Conference on March 6 th, HOLX emphasized its "track record of sustainable growth", improving margins further lifted by tax reform, solid R&D pipeline and strong fundamentals. The company highlighted growing revenue and EPS figures, although they failed to mention that these stellar 2017 figures were mainly a product of the sale of HOLX's blood screening business, which raised cash, and the subsequent acquisitions of Cynosure, Medicor, and Emsor SA, which raised revenues. Still, I believe these moves were the rights ones for the company and illustrated HOLX's dedication to women's health as well as continued growth. The strong numbers posted in 2017, even without one-time events, are impressive for a transitional year.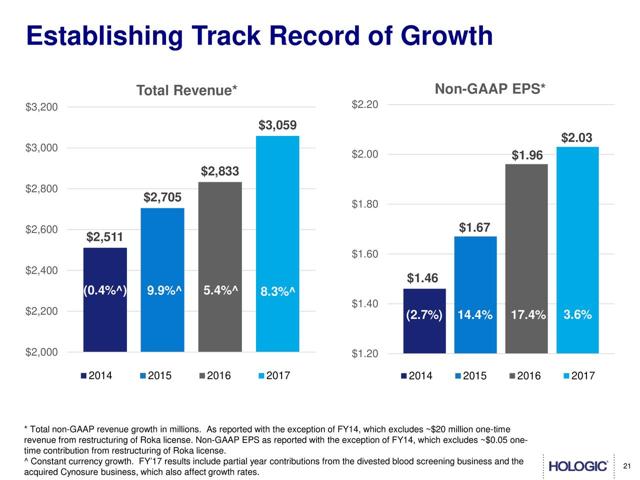 Source: Investor Presentation at Raymond James 39th Annual Institutional Investors Conference
Like I said previously though, the main takeaway from 2017 was actually the reduction in net debt and leverage ratio. The massive debts that scared away investors, like myself, in the past are finally dissipating and with the stock falling off highs from early January shares are looking increasingly attractive.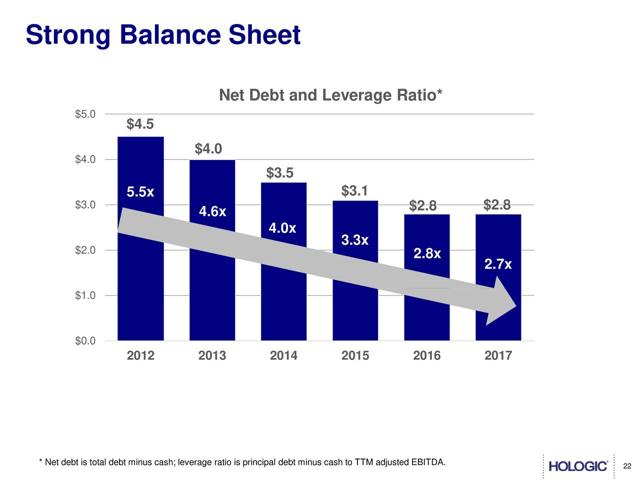 Source: Investor Presentation At Raymond James 39th Annual Institutional Investors Conference
2017 also saw a reduction in operating cash flow and FCF. Both of these figures were affected by the ~$650 million tax cost of the divestiture from the company's blood screening business. The numbers are still well within healthy ranges and HOLX expects 2018 to see an improved FCF figure near $650 million.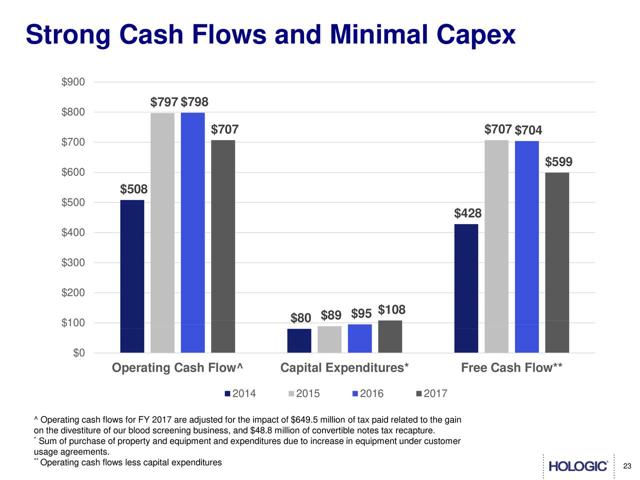 Source: Investor Presentation At Raymond James 39th Annual Institutional Investors Conference
I would describe 2017 as a transition year for HOLX, with the major acquisition of Cynosure and multiple tuck in acquisitions clouding results. The reduction in debt, consistent revenues, and improving R&D pipeline were the real story in my opinion, making 2017 a strong year overall where the company continued to improve its financial strength.
Solid Q1 2018 Aided by Tax Cuts
In Q1 2018 Hologic beat on EPS estimates of $0.55 by $0.05 and earned revenues of $791.1M which also beat estimates, in this case by $5.17M. However, its important to note the company recognized an income tax benefit of over $300 million for the quarter and there were an additional 4 selling days vs Q1 2017. Even without these benefits, total revenues were still up 6.4%, driven by international revenues which increased 15.8% due in large part to the Cynosure acquisition. Looking at net income for Q1 2018, without the impact of the substantial tax benefit, we can see it was actually pretty steady vs. the year prior and not the stand out figure that it appears. There were many positives in Q1 though, HOLX was able to continue eliminating debt for example. They paid down $241 million in principal on their convertible debt in just Q1 2018 and announced plans to call the remaining $200 million by next quarter. The tax cuts have obviously gone to good use at HOLX and the company will continue to benefit from them going forward.
Three Months that Ended

In $ MM

December 30, 2017

December 31, 2016

Total Revenues

791

734

Income Tax Benefit(loss)

311

(29.6)

Net Income

407

87

Cash and cash equivalents

665

646
Table compiled by author from Q1 2018 10-Q
Another positive from Q1 was HOLX's commitment to international diversification. Although the recent trade wars and possibly increasing tariffs won't be helping this business segment in the near term, I believe international expansion is the right move for HOLX in the long run.
| | | |
| --- | --- | --- |
| Percentage of Revenues by Region | Dec. 30, 2017 | Dec. 31, 2016 |
| United States | 75.5% | 77.9% |
| Europe | 11.5% | 10.7% |
| Asia-Pacific | 8.7% | 8.4% |
| Rest of World | 4.3% | 3.0% |
Table compiled by author from Q1 2018 10-Q
One more bright spot in the Q1 2018 report was the increasing adoption of HOLX's 3D mammography technology. The leading "Genius" brand was able to increase its market share during the quarter. The company also recently gained approval from the FDA for new innovations in mammography technology. Clarity HD high-resolution 3D imaging and Intelligent 2D imaging technology will help the current industry-leading systems at HOLX provide higher resolution 3D images for radiologists, enhanced workflow for technologists, and a more comfortable mammography experience.
The quarter wasn't all positive though, and one real area of concern going forward is the struggling surgical business, which saw revenues drop 7.1%. HOLX's Myosure tissue removal system continued its consistent growth, but Novasure has faced significant pressures from a stagnant endometrial ablation market and stiff competition. This is a serious concern for HOLX because their surgical business has some of the company's highest margins. The skeletal health segment of HOLX's business also declined in Q1 with revenue down 7.3%. To add to the pain, the medical aesthetics division struggled in Q1 and even Chairman, President and CEO Steve Macmillan admitted in the Q1 conference call:
We still have a lot of work to do to fully capitalize on the potential of the medical aesthetics market…
The positives here are 1) the booming medical aesthetics industry remains a potential growth area for the company, 2) Cynosure's revenues vs. last year when it was an independent company are actually up 12.2% and 3) new products from the R&D pipeline will help replace lost revenues in the segment. Still, a revenue and net income flop in Q1 was not what investors wanted to see from HOLX's newly acquired business. Overall, the quarter was solid: revenue was up, a tax benefit boosted earnings, and the R&D pipeline produced strong results, but the company also saw 3 out of 5 operating segments struggle due to stiff competition. The narrow moat of HOLX may be coming back to bite them.
Improved R&D Pipeline and A 21st Century Appeal
One of the best aspects of the Hologic story is the company's aforementioned improving R&D pipeline. The recent FDA approval of HOLX's mammography innovations should be just a beginning for the company. To prove this, in the Q1 conference call Macmillan announced the launch of Cyonsure's TempSure Envi, a new radio-frequency platform that minimizes facial fine lines and wrinkles, tightens skin through soft tissue coagulation, and improves the appearance of cellulite. The company intends to expand the TempSure platform into their surgical business with added procedures as well. In an increasingly vain, image obsessed world I see this new product as a step in the right direction and am hopeful it will help sustain both surgical and aesthetic revenues at HOLX in the future. HOLX has coupled acquisitions and a strong R&D pipeline to help bolster the company's growth story and it seems to be working.
Steve MacMillan - Chairman, President and Chief Executive Officer in Q1 2018 Conference Call:
Second, a research and development pipeline that was barren four years ago has now generated new products that are contributing more than 10% of quarterly sales. And as we look to the future, we are particularly encouraged because our international businesses and our R&D pipelines both have the potential to contribute to sustainable growth for a very long time.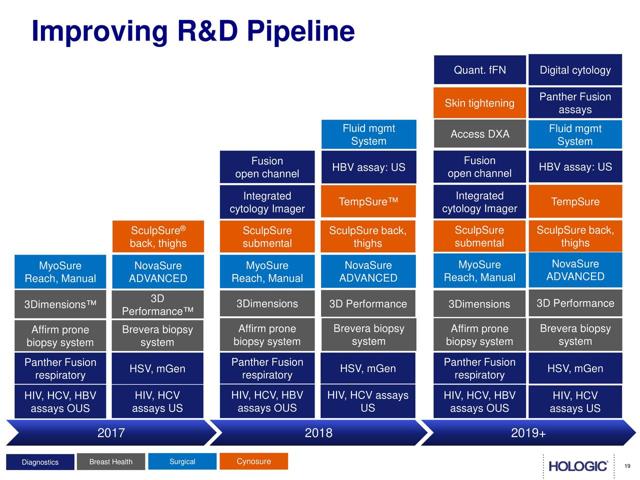 Source: Investor Presentation At Raymond James 39th Annual Institutional Investors Conference
Throughout the 20th century women's health has often been characterized by conjecture, superstition and even outright chauvinism. Hologic's 21st century model for women's health, with care from womb to tomb is a refreshing approach and definite positive for the company's image. The effects of a business model that cares, or at very least purports to, is hard to quantify, but in my opinion there is real value in customers feeling like a company has their best interests in mind. When HOLX partners with cancer survivors, like Erin Andrews of ESPN and music star Sheryl Crow to encourage women to get tested for cervical cancer or get a mammogram, both shareholders and the general public are benefitting. I see the company's "Science of Sure" strategy, and image as a champion of women's health, as a win-win approach. I am hopeful more companies will follow suit.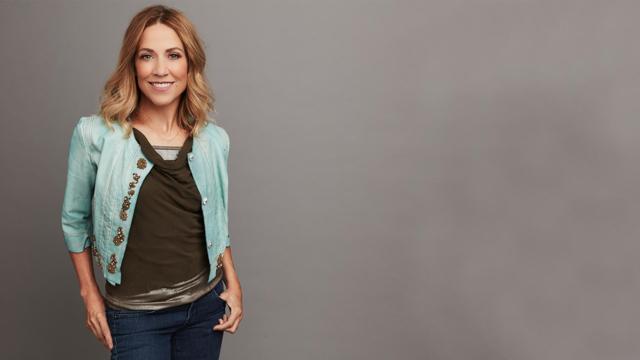 Source: Hologic
Narrow Moat A Long-Term Issue?
My number one concern when it comes to Hologic, and the main reason I am not a buyer of the stock, is the company's narrow moat. HOLX's breast health and surgical businesses for example, on a worldwide basis, compete with products offered by giants of industry like General Electric Company, Siemens (OTCPK:SIEGY), Koninklijke Philips N.V. (PHG), FUJIFILM Holdings Corporation (OTCPK:FUJIY), and Toshiba Corporation (OTCPK:TOSYY) (OTCPK:TSHTY). So far, HOLX has been able to maintain and even gain market share vs. its competitors in its mammography business, but there will always be stiff competition that affects the bottom line.
The recent failings of HOLX's Novasure in the company's surgical business are a perfect example of the rampant competition that the company faces. Boston Scientific Corporation (NYSE: BSX) and its endometrial ablation product, the Genesys HTA™ System, have recently taken a notable portion of market share from HOLX's Novasure and serve as proof of a narrow moat that could affect many of HOLX's major segments. In Q1 the surgical and breast health segments of HOLX's business accounted for 33.7% of the company's revenues. I do believe management has attempted to address this issue through its R&D pipeline and image, but I remain unconvinced as the business still seems to be affected by competition that has no problem developing similarly effective products.
Conclusion
Although HOLX may be a solid long-term investment, I do not think now is the time to buy. I have serious doubts about the company's ability to outperform fierce competition in many of its key segments. There are undoubtedly many positives when looking at HOLX and its growth story. Management has done a commendable job turning the company around from its 2013 woes, putting an emphasis on its position as a champion of women's health, paying down debts and increasing revenues. However, in this choppy market I am looking for investments that will pay me to hold them through the ups and downs as their growth story develops and HOLX isn't offering a dividend. Also, with an ongoing trade war causing surging tariffs, now may not be the best time for increasing international revenues like those seen at HOLX, even if I like the move long term. Recent results on the surface appear to be a signal to buy, but when closely dissected it becomes clear acquisitions have boosted revenues and tax reform has done the same with earnings. HOLX's organic growth is nowhere near what it appears. This is a company that I will be watching in the coming weeks though as there is a lot to like, and if the price continues to drop, a potential value play may show itself. For now though, HOLX is a HOLD and I think it's best to just wait and see how things develop.
This article was written by
Fortune Markets and Economy Reporter. Prev. Business Insider Investing Reporter. MS Business Journalism. I'm mostly a passive investor these days(and I think you probably should be, too), but I still "seek alpha" with a portion of my portfolio.The more I learn, the more I realize just how much I have to learn. Do your own research...blah, blah, blah...*some quotes about investing or something*
Analyst's Disclosure: I/we have no positions in any stocks mentioned, and no plans to initiate any positions within the next 72 hours. I wrote this article myself, and it expresses my own opinions. I am not receiving compensation for it (other than from Seeking Alpha). I have no business relationship with any company whose stock is mentioned in this article.
Seeking Alpha's Disclosure: Past performance is no guarantee of future results. No recommendation or advice is being given as to whether any investment is suitable for a particular investor. Any views or opinions expressed above may not reflect those of Seeking Alpha as a whole. Seeking Alpha is not a licensed securities dealer, broker or US investment adviser or investment bank. Our analysts are third party authors that include both professional investors and individual investors who may not be licensed or certified by any institute or regulatory body.