Sector P/E Data - Might Be Worth A Look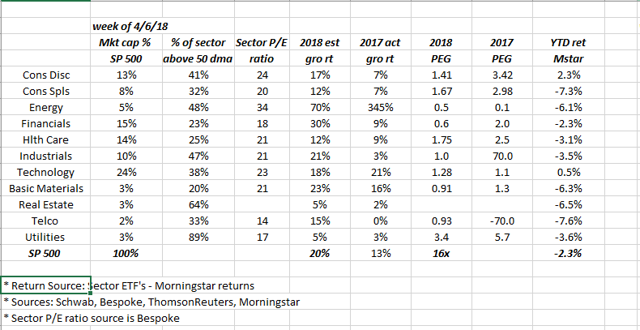 A reader asked about sector P/Es a few weeks ago - haven't updated the above spreadsheet in a few years:
Financials - big jump in earnings growth rate, but i do think a lot of that is Berkshire's (BRK.A, BRK.B) gain. Berkshire is now the fifth-largest holding in the S&P 500 by market cap.
Energy still shocks me - the growth rate has been through the roof the last two years, and the sector has gone nowhere, no doubt due to Exxon's (XOM) and Chevron's (CVX) percentage of the sector.
Technology should be fine in Q1 '18, but a lot of the big cash repatriation should already be in the numbers.
Don't ignore the sector as a percentage of the S&P 500's market cap either: remember, Technology, Financials, Health Care and Consumer Discretionary (which is really being powered by Amazon and Netflix) make up 67% of the entire index's market cap. Tech, Financials and Health Care are 54%.
When earnings start, focus on the companies that are executing - the big buyback programs don't seem to be driving stock prices unless revenue and execution are present.
Out this week with more on this.
Thanks for reading.
This article was written by
Brian Gilmartin, is a portfolio manager at Trinity Asset Management, a firm he founded in May, 1995, catering to individual investors and institutions that werent getting the attention and service deserved, from larger firms. Brian started in the business as a fixed-income / credit analyst, with a Chicago broker-dealer, and then worked at Stein Roe & Farnham in Chicago, from 1992 - 1995, before striking out on his own and managing equity and balanced accounts for clients. Brian has a BSBA (Finance) from Xavier University, Cincinnati, Ohio, (1982) and an MBA (Finance) from Loyola University, Chicago, January, 1985. The CFA was awarded in 1994. Brian has been fortunate enough to write for the TheStreet.com from 2000 to 2012, and then the WallStreet AllStars from August 2011, to Spring, 2012. Brian also wrote for Minyanville.com, and has been quoted in numerous publications including the Wall Street Journal.