Be it man-made or simply a whim of nature, the Earth's temperature is undeniably warming up. With 2017 going down in the books as one of the hottest years within the historical record, something which appears to be the case practically every year, objective data indicates that planet Earth is warming up.
How can investors position themselves to benefit from this trend? I would argue that one good approach is to look for companies operating in industries that stand to benefit from the increase in global temperature. One such industry is the humble air-conditioning industry. As temperatures go up all over the world, existing cooling systems will be forced to work harder than ever before, and owners of buildings previously bereft of A/C will eventually bow to necessity and install such a system.
One company operating in this space which I have had my eyes on for quite a while is Comfort Systems USA (FIX). Founded in 1997, Comfort Systems provides installation, renovation, maintenance, repair, and replacement services for mechanical systems, primarily HVAC systems.

Through its 36 subsidiaries, Comfort Systems offers nationwide service to a wide variety of commercial, industrial, and institutional customers. The company currently has over 4600 projects in various stages of completion. These projects comprise 81% of the company's revenue and generally involve either the installation or expansion of an HVAC system within the customer's building or buildings.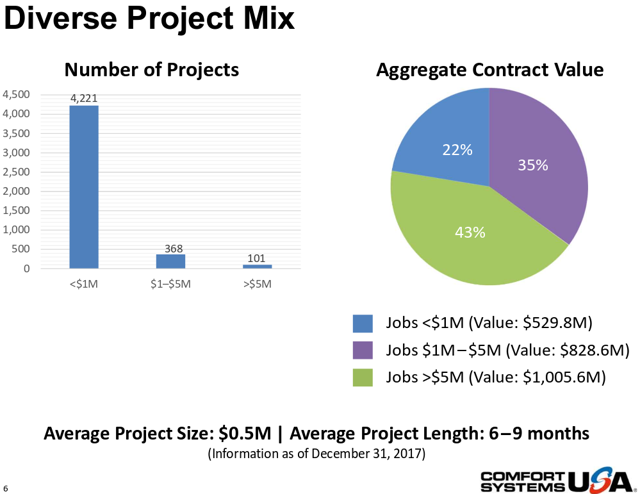 Source: Comfort Systems Investor Presentation
Projects can either take the form of "design and build" or "spec and plan" projects. In "design and build" projects, Comfort Systems designs and installs the HVAC system for a customer's building from scratch. Projects of this type are typically conducted using a consultative approach that results in long-term relationships being forged between Comfort Systems and its customers."Spec and plan" projects are somewhat more impersonal. In these sorts of projects, the customer hires a third party to design the HVAC system and Comfort Systems' job is simply to install it. These projects are typically "put out to bid", meaning that Comfort Systems typically has to compete on the basis of price.
The remaining 19% of Comfort Systems' revenue comes from service/maintenance on already installed HVAC and controls systems. This revenue consists both of situational, "one-off" repair jobs and of service contracts, under which the customer pays a monthly or quarterly fee to Comfort Systems in exchange for specified services as required. Since these contracts typically last for 1 - 4 years, they provide an element of stability to Confort Systems' income statement. As such, I am pleased to see that revenues in this area have increased from $76 million in 2011 to $116 million in 2017.

Source: Comfort Systems Investor Presentation
Comfort Systems' operational results speak for themselves and help to explain the rapid rise in the price of its stock over the past 2-3 years. Consistently rising revenue has translated into gains in both operating cash flow and earnings per share. It is also worth pointing out that Comfort Systems has remained continuously free-cash-flow-positive for the past 19 years. This includes the real estate downturn of 2007-2010.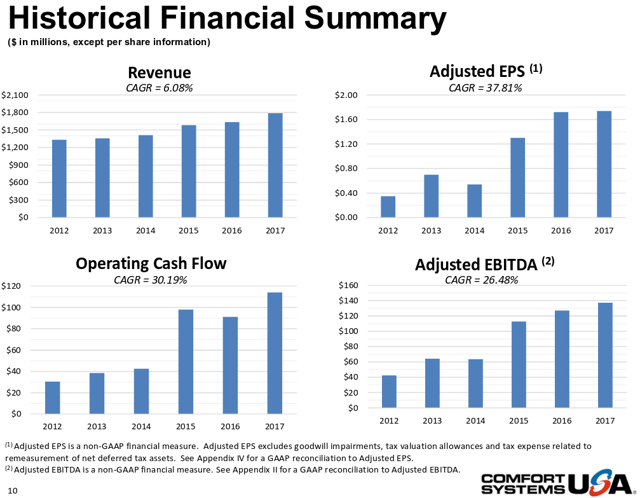 Source: Comfort Systems Investor Presentation
Comfort Systems instituted a dividend in 2006, and has steadily raised it since then, although increases have not occurred with the clockwork-like regularity that some demanding dividend growth investors may expect from their investments. Yield-chasers will be disappointed in Comfort Systems - after the recent run-up in price, the stock now yields about three-quarters of one percent. Investors who appreciate the importance of dividend growth in determining the total return of a dividend growth stock should not let this low starting yield dissuade them, as the dividend growth rate has been quite robust over the past decade.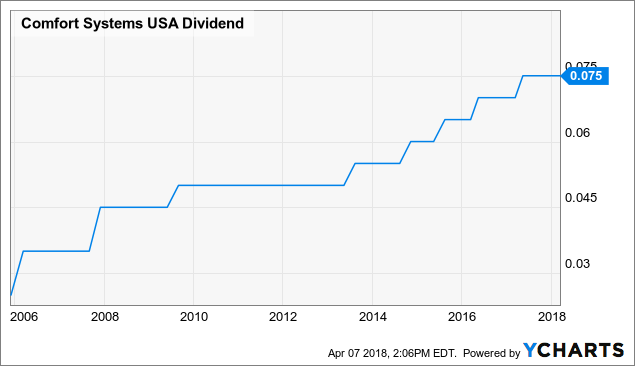 Dividend payments are not the only use of Comfort Systems' free cash flow. Over the decade from 2006 to 2016, dividend payments have, on average, consumed only about a fourth to a third of the company's free cash flow. The company has made use of its current share repurchase program since 2007 and has repurchased 7.6 million shares of stock under it. Critically, Comfort Systems' management has repurchased these shares at an average price of $13.75 - substantially below the company's current price of around $40 per share. This demonstrates that, rather than buying back shares willy-nilly and thereby wasting shareholder dollars, Comfort Systems deploys capital into share buybacks when it is most likely to prove accretive to shareholders, although the company did buy back 300,000 shares in 2017 at an average price of $34.23.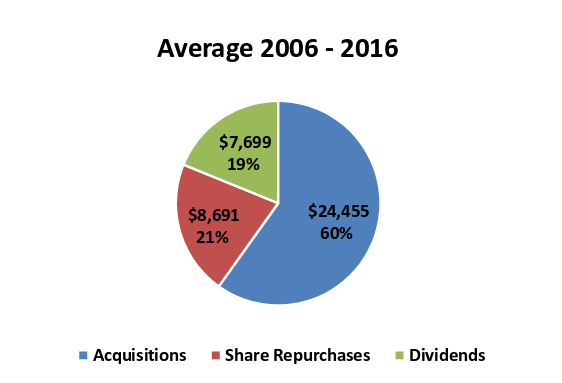 Source: Comfort Systems Investor Presentation
The bulk of Comfort Systems' free cash flow, over the past decade or so, has gone into acquisitions. Acquisitions allow the company to expand its national footprint and to increase the economies of scale that it enjoys when competing within the highly fragmented landscape of the HVAC services industry. While acquisitions usually come with a concomitant amount of indebtedness, Comfort Systems seems to have been able to avoid over-leveraging itself. With only $60.5 million in total debt at year-end 2017 relative to a $1+ billion market capitalization, the company's debt ratios are extremely conservative, especially when compared to the boundary's set by the debt covenants that the company is obliged to respect. This extremely favorable balance sheet position suggests that dividend payments from Comfort Systems are unlikely to be "crowded out" by debt service costs any time soon.

Source: Comfort Systems 10-K Filing; Table by Author
Such debts as Comfort Systems do have all maturities during or before the year 2021. The largest single liability that the company has is a $45 million draw on a credit facility that expires in 2021. The majority of the other borrowings represent various debts from other companies that Comfort Systems assumed when it acquired those companies.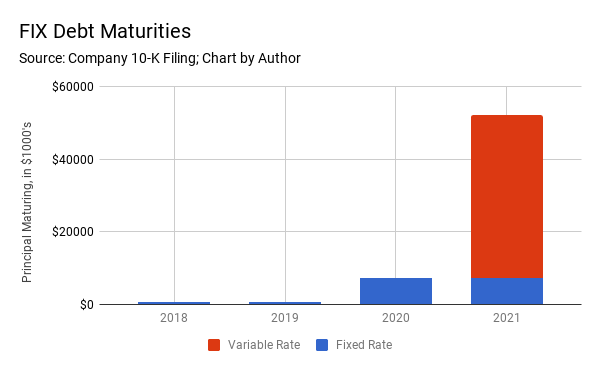 Risks
While I consider Comfort Systems USA to be a "great business", I believe that the drastic run-up in the price of the stock has left very little 'margin for error' on the table. I believe that this is an erroneous state of affairs.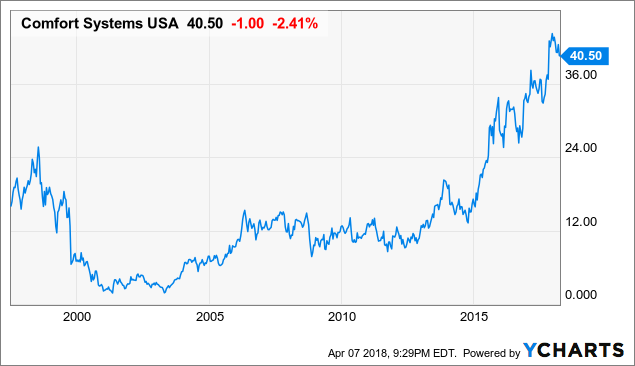 Over a third (38%) of Comfort Systems' 2017 revenues came from projects that were associated with new construction. Should the construction industry enter a downturn similar to the one that we saw in 2007-2010, it is likely that Comfort Systems' project backlog - and eventually its revenues - would suffer materially. Of course, the company's strategic emphasis upon building up its maintenance services book of business should help reduce the importance of new construction going forward.
In addition to the cyclical nature of the construction industry, Comfort Systems could potentially be adversely affected by structural changes in the economy that could ultimately work its way into the construction industry. In particular, the so-called "death of retail" could pose a threat to Comfort Systems, given that 13% of its 2017 revenue was derived from projects associated with retail, restaurant, or entertainment properties. Should the economics of "brick and mortar" retailers continue to deteriorate in the face of online competition, these retailers may not have the funds necessary to embark on the sort of projects that Comfort Systems specializes in. Of course, it is also possible that certain unprofitable retail properties with particularly ancient HVAC systems will actually be more incentivized to seek out HVAC-related services in an attempt to cut costs through greater energy efficiency.
Finally, the recent trade spat between the US and China introduces the risk that the imported components that Comfort Systems' suppliers use to assemble HVAC components will either go up in price or no longer be available. If this were to happen to the extent that deliveries of HVAC components to Comfort Systems were delayed, then Comfort Systems might not be able to complete its projects in the time specified to its clients. This could potentially inflict both reputational and financial damage to the company. There is also the risk that Comfort Systems will have to "eat the cost" of any additional tariffs placed on HVAC components that the company needs to complete projects that have already been negotiated and upon which work has begun.
Closing Thoughts
Comfort Systems USA is a company with a lot going for it. With long-term tailwinds in the form of global warming on its side as well as impressive operational results in the here and now, the company's stock price has reacted accordingly.
Unfortunately, as a prospective investor, I do not share the joy of long-term Comfort Systems investors at this development. I feel that the stock is currently trading without much "margin of safety", and its dividend yield has also been compressed to less than 1%. Given the cyclicality of the construction industry -which is a significant source of revenue for Comfort Systems - as well as the possibility of supply difficulties due to escalating trade tensions between the US and China, I believe that investors should require an additional margin of safety before taking a position in this high-quality, but high-priced business.
Disclaimer: Use my work as a starting point for your own due diligence, not as a substitute. All investments involve the risk of loss of income as well as the principal. Consider consulting with an investment adviser before making any investment. I am not a tax professional or investment adviser. Please consider consulting with a tax professional before making any investment. Author-generated charts are subject to error due to discrepancies in source data or securities being listed on multiple international markets.

Like what you read? Click the "Follow" button at the top of this page!
Disclosure: I/we have no positions in any stocks mentioned, and no plans to initiate any positions within the next 72 hours. I wrote this article myself, and it expresses my own opinions. I am not receiving compensation for it (other than from Seeking Alpha). I have no business relationship with any company whose stock is mentioned in this article.