BioSci Research On Myovant Sciences (Part I): Is This A Big Winner In The Making?
Summary
Myovant is innovating a stellar molecule (Relugolix) for the treatment of pain and heavy bleeding associated with endometriosis and uterine fibroids, respectively.
Relugolix is also being investigated as a potential treatment of advanced prostate cancer.
The three aforesaid franchises have a stellar chance of delivering positive outcomes in 2019 (and to gain regulatory approvals).

Through the entire twentieth century, with a single exception, every time major war has broken out anywhere in the world or whenever American forces have become involved in any fighting, whatever, the American stock market has always plunged sharply downward. At the condition of actual fighting most stocks were selling at levels vastly higher than prevailed before there was any thought of war at all. - The Father of Growth Investing (Philip Fisher)
Myovant Sciences (NASDAQ:NYSE:MYOV) is an unpopular company on Wall Street. Most investors have yet to hear this name. In the Integrated BioSci Rounds Report, we came across this potential big winner through our tracking of insider transactions. Notably, the company is brewing an enriched pipeline of advanced-stage molecules, seeking to fulfill the needs of women as well as men's health. And, there is the substantial unlocked value of this pipeline which positioned the firm to become a multifold winner within next few years.
Despite its low profile status, some whale investors have been purchasing shares aggressively to send the stock on an uptrend. As follows, the share price traded north by $9.96 at $21.20 for over 88% profits in the past year. In this report, we'll elucidate the fundamentals as well as the substantial pipeline's prospects for investors to decide whether they should invest in this bioscience.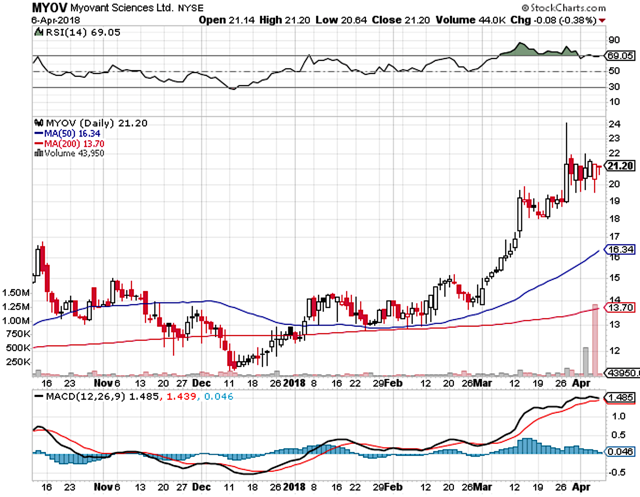 Figure 1: Myovant Sciences stock chart. (Source: StockCharts)
Fundamental Analysis
Based in Brisbane, CA, Myovant is focused on the therapeutics innovation that serves women's health, endocrine diseases in areas of high unmet needs, and prostate cancer. The company is powering an interesting pipeline of medicine (as shown in figure 2). At the heart of the pipeline is Relugolix - an oral, once-daily, GnRH receptor blocker that is currently being assessed in the Phase 3 (LIBERTY1/2, SPIRIT1/2, and HERO) trials for uterine fibroids-heavy menstrual bleeding, endometriosis-pain, and advanced prostate cancer, respectively. The outcomes for those trials are expected in 2019.
Through a collaborative partnership with Takeda, Relugolix was investigated as a potential treatment for pains and heavy menstrual bleeding (associated with uterine fibroids) in Japan. With positive results, Takeda is now seeking for marketing approval with the Japanese authority. Furthermore, MVT-602 is in its preclinical phase as a potential medicine for female infertility as part of the assisted reproduction.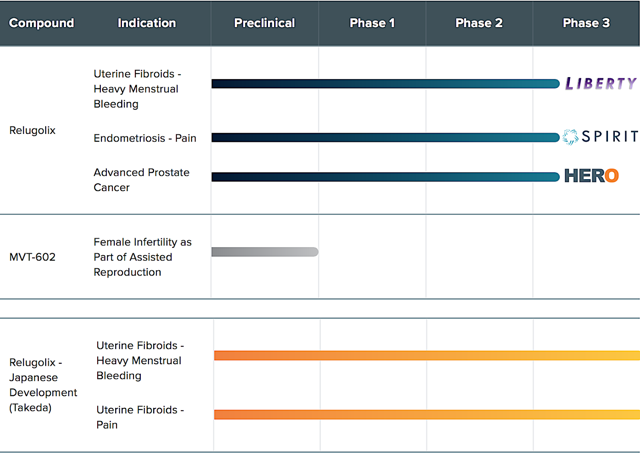 Figure 2: Therapeutic pipeline (Source: Myovant Sciences)
As a condition due to the endometrial tissue growing outside of the uterus, endometriosis occurs in up to 11% of all women (though many non-severe cases are unnoticeable). With every ovulation cycle, the female hormone (estrogen) surges and recedes, thereby subjecting the lining of endometrial tissue to slough off: this leads to both pain and excessive bleeding for patients afflicted with endometriosis.
And, it can cause the deterioration of the quality of life. Aside from the pain control with NSAIDs for mild cases, the hormonal regulation with an estrogen agonist - like leuprorelin or leuprolide (Lupron) is the next step. If that fails, the surgical removal of accessory endometrial tissues (i.e. surgical tissue fulguration) is the subsequent course of action.
Uterine fibroids (leiomyomas) are benign tumors of the uterus. Histologic confirmation is not necessary for the diagnosis in most cases. There are both growth and regression of fibroids. Asymptomatic or mild symptoms can be observed with watchful waiting. Severe disease is treated with hormonal therapy while more severe cases are managed with surgery.
Of note, the endometrial cells are responsive to the effects of estrogen: drugs that regulate estrogen level are highly efficacious and safe therapeutic options. Molecules that regulates estrogen level are either blockers or enhancers (agonists). It is paradoxical that giving estrogen can treat a condition, in which the symptoms are exacerbated by estrogen release itself.
This is because the excess estrogen given (at high dose) will cause negative feedback loops to the pituitary gland and the hypothalamus to prevent endogenous estrogen from being released (as depicted in figure 3). And, we prognosticate the blockage of estrogen via an antagonist like Relugolix should be equally, if not more, efficacious than an estrogen enhancer.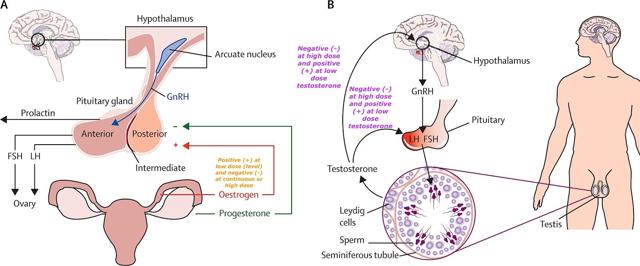 Figure 3: Hypothalamic-pituitary feedback loops (Source: Lancet, enhanced by Dr. Tran BioSci)
As a gonadotropin releasing hormone ("GnRH") blocker, Relugolix acts on the pituitary glands to suppress the effects of GnRH (as shown in figure 4). As a result, this inhibits the production of steroid hormones downstream in the testes as well as the ovaries. In the testes, the suppression of the male hormone (testosterone) can be both a safe and efficacious approach for the management of hormone-dependent prostate cancer.
As for the reduction of estrogen synthesis in the ovaries, it is good for alleviating the pain associated with endometriosis. The use of Relugolix in combinations with a low-dose add-back estrogen and progestin are most likely the ideal treatment for patients with endometriosis and uterine fibroids.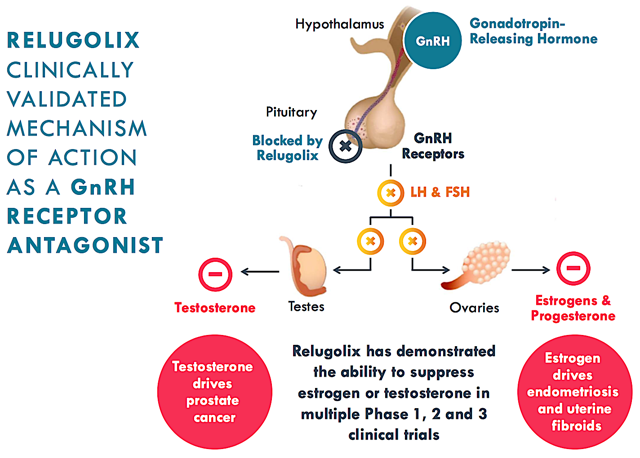 Figure 4: Relugolix mechanism of action (Source: Myovant investor presentation)
For the quarter ended Dec. 31, 2017, there were $41.8M ($0.70 per share) net losses, compared to the $8.1M ($0.15 per share) for the same period a year prior. The higher decline was due to the ongoing LIBERTY 1/2, SPIRIT 1/2, and HERO Phase 3 clinical studies which were initiated in 2017. It is the norm for a developing bioscience to incur an increasing loss as its drug is advancing into the later stages of clinical investigations.
Looking at the balance sheet, there were $235.9M in cash/funding for the said period, of which $128.9 million and $107.0M came from the financing agreements with NovaQuest and Hercules. The total liabilities stand at $26.7M. Based on the $117M operating expenses in the trailing twelve months ("TTM"), there should be adequate cash to fund further therapeutic innovation for at least two years (prior to needing any additional financing).
In monitoring insider transactions, one should analyze the data with a grain of salt. That being said, we wish to share with you the quote from the Former Fidelity-Magellan Manager (Peter Lynch): "Insiders might sell their shares for any number of reasons, but they buy them for only one they think the price will rise."
Three notable insider transactions were presented in table 1. Interestingly, the 10% owner (Andrew Lo) acquired 1.1M shares for $22.5M to increased his ownership to 38.3M shares on April 02, 2018. The other 10% stakeholders - Svf Investments and Roivant Sciences - also accumulated similar amounts to Mr. Lo on that same day.
| | | | | | |
| --- | --- | --- | --- | --- | --- |
| Company | Insider | Shares Traded | Date | Value | Shares Owned |
| Myovant Sciences | Andrew Lo (10% owner) | +1,110,015 (+3%) | 04/02/2018 | +$22,500,004 | 38,341,357 |
| Myovant Sciences | Svf Investments (10% owner) | +1,110,015 (+3%) | 04/02/2018 | +$22,500,004 | 38,341,357 |
| Myovant Sciences | Roivant Sciences (10% owner) | +1,110,015 (+3%) | 04/02/2018 | +$22,500,004 | 38,341,357 |
Table 1: Notable insider transactions. (Source: Dr. Tran BioSci, compiled data from Openinsider)
In the midst of the current market volatility due to the China Trade war, Myovant still presents as a stellar purchase for the serious bioscience investors. Even with a highly conservative estimate, Relugolix should procure at least $800M in peak sales in the foreseeable future. And yet, Myovant has a meager $1.3B market cap. In multiplying the price to sales ("P/S") ratio of 4 to the current market valuation, the result is $3.2B. Taking the 25% discount on the said result yielded $2.4B true worth for Myovant (which is 1.8X higher than its current market valuation). In terms of share price, 1.8 X $21.20 revealed $38.16 per share.
Final Remarks
While there are different approaches to valuing a bioscience, certain techniques tend to be more applicable than other depending on the stage in the lifecycle of a company. For an older firm (already generating significant earrings), the discount cash flow valuation works best. In contrast, comparative market analysis (and using the sum of the parts) is applicable throughout a growth company lifecycle.
Readers wishing to learn more about our valuations can check out other analytical research on other firms such as Protalix Biotherapeutics (NYSE:PLX), Gilead Sciences (NASDAQ:GILD), Exelixis (NASDAQ:EXEL), and Mallinckrodt (NYSE:MNK). Investors should be cognizant that the main risk for Myovant is whether Relugolix can deliver robust clinical outcomes for the Phase 3 (LIBERTY, SPIRIT, and HERO) trials. Moreover, even if Relugolix will be approved, it might not generate substantial sales due to market competition and other unforeseen variables.
Editor's Note: This article covers one or more microcap stocks. Please be aware of the risks associated with these stocks.
Author's Notes: We're honored that you took the time to read our market intelligence. Founded by Dr. Hung Tran, MD, MS, CNPR, (in collaborations with Analyst Vu, and other PhDs), Integrated BioSci Investing ("IBI") is delivering stellar returns. To name a few, Nektar, Spectrum, Atara, and Kite procured over 398%, 86%, 151%, and 83% profits, respectively. Our secret sauce is extreme due diligence with expert data analysis. The service features a once-weekly exclusive Alpha-Intelligence article, daily analysis/consulting, and model portfolios. Subscribe to our marketplace now to lock in the current price and save money for the future.
This article was written by
The #1 Biotech Service for Growth Investing and Catalyst Power Trading
As an astute devotee of Warren Buffet, Ben Graham, Phillip Fisher, Sir John Templeton, and Peter Lynch, Dr. Harvey devoured any resources/books on these gurus to learn their craft for over two decades. In the process, he refined their investment approaches specifically to biotech and founded Integrated BioSci Investing: The Number #1 Biotech Service for Long-Term Growth Investing and Power Catalyst Trading. 

Since inception, our flagship portfolio has delivered over 31.23% annual average (i.e. 187.39% for roughly six years). As you can appreciate, we're adept at assisting and serving institutional/retail investors/traders who are looking for alpha. Dividend investors wanting to boost your return can also benefit greatly from our investment research. We currently have over 20 docs in our service for us to tap into their clinical insight for your gains.

Check out some of our binary event forecasts that lead to meteoric gain like the 359% single-day pop from Madrigal Pharmaceuticals (MDGL)'s NASH data release. During his training at the world-renown Columbia University, Harvey Tran, M.D., M.S., developed a passion/edge for analyzing the intricacies of various preclinical/clinical studies, biostatistics, and science/medicine. Importantly, it allowed the physician-scientist Harvey to realize the internal working of various therapeutic in-development that the market tends to overlook.

In recent years, Dr. Harvey founded and led two healthcare roll-up companies. The endeavor helped him gain deep insight into the inner working of a corporate board. His experience as a consultant to common/professional investors and institutions gave him a huge advantage in biotech analysis. The combination of elite training and a passion for biotech provided Dr. Harvey with an aptitude for delivering highly accurate clinical data forecasting that is crucial to picking winning biotech investments for you.

Follow us for the latest research. And, take our FREE 2-week trial to Integrated BioSci Investing to start your winning process now!

Check out Dr. Harvey's LinkTree for his complete experience. You can make your one good decision a year as Mr. Buffett recommended by checking out  Integrated BioSci Investing!
Analyst's Disclosure: I/we have no positions in any stocks mentioned, and no plans to initiate any positions within the next 72 hours. I wrote this article myself, and it expresses my own opinions. I am not receiving compensation for it (other than from Seeking Alpha). I have no business relationship with any company whose stock is mentioned in this article.

I like to inform our readers of Seeking Alpha's recent policy change, in which the company implemented the paywall (not only to my articles but to all articles that are published over 10-day). This is in place, as the company is, after all, a business. And, the revenues from ads are not adequate to support the high-quality research that the company is providing. If you are a REAL TIME FOLLOWER, you will be notified immediately of our new research for you to continue to benefit from our due diligence. You can also gain access to all of my old articles and much more by taking the 2-week FREE trial of my marketplace, Integrated BioSci Investing.
Seeking Alpha's Disclosure: Past performance is no guarantee of future results. No recommendation or advice is being given as to whether any investment is suitable for a particular investor. Any views or opinions expressed above may not reflect those of Seeking Alpha as a whole. Seeking Alpha is not a licensed securities dealer, broker or US investment adviser or investment bank. Our analysts are third party authors that include both professional investors and individual investors who may not be licensed or certified by any institute or regulatory body.