SecureWorks: On The Way Down
Summary
SecureWorks has sunk to new all-time lows on the back of its Q4 earnings report.
Despite a modest top-line beat and decent FY18 guidance, SecureWorks showed an alarming decline in its gross margins.
Revenue growth has slowed down to the single digits, as SecureWorks faces competition from best-of-breed companies like Splunk as well as emerging startups.
Its relationship to Dell (which owns 86% of the company) is another risk, as Dell is exploring multiple avenues for paying down its debt which can involve gutting its subsidiaries.
Though SecureWorks appears cheap, the risks far outweigh the opportunities.
There seems to be a storm of issues swirling around SecureWorks (NASDAQ:SCWX) at the moment, in a 2018 that has thus far seen the stock plunge 12% to new all-time lows. At this point, value investors are likely crowding around the stock, wondering: is this the right time to buy into a rebound?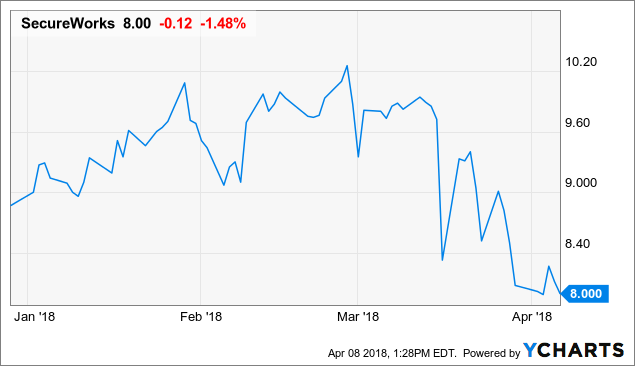 As with most falling knives, buying into SecureWorks now would be playing with fire. The stock has attracted a bevy of Wall Street downgrades recently, and while analyst opinions should almost always be taken with a grain of salt, the considerable power they have over negative market sentiment should definitely be noted. I don't see SecureWorks climbing out of this hole, at least not anytime soon.
The spectre of Dell
Some investors might be thinking: how bad of a position can a company owned by Dell (DVMT) be in? After all, doesn't the PC giant have essentially unlimited resources to "save" SecureWorks?
In my view, the fact that Dell has a controlling stake in SecureWorks - 86% of the company, according to the 10-K that SecureWorks filed a couple of weeks back - is more of a risk than a safeguard.
The reason is simple. Dell has recently been struggling with its >$50 billion debt load, and in the wake of new Trump tax regulations that limit interest deductibility to just 30% of EBITDA, it's no longer capital structure-optimal for Dell to retain the huge debt that it incurred in buying EMC two years ago.
The company has explored a variety of options to raise cash quickly to pay down debt. One of the major strategies that it has floated has been a "reverse merger" of VMware (VMW), in which Dell acquired a majority stake through its purchase of EMC. Like SecureWorks, Dell currently owns about nine-tenths of VMware, and is proposing to absorb it in order to take advantage of VMware's huge free cash flows to help pay down Dell's debt. The consensus opinion among VMware shareholders is that it's a terrible, value-destroying transaction for VMware owners, and the possibility of an unfavorable acquisition has sent VMware shares sliding over the past month.
Then there's the IPO of Pivotal Software (PVTL), filed last month and expected to raise hundreds of millions sometime in Q2 or Q3. Pivotal is another wholly-owned subsidiary of Dell, and though its S-1 filing currently states that none of the IPO proceeds will be funneled to Dell and its debt repayment efforts, some market observers have hypothesized that this may change.
The bottom line: with its recent intentions toward VMware and speculation of doing the same in the Pivotal Software IPO, Dell doesn't seem too concerned about sacrificing limbs to save the body. Even the recent strength in PC shipments isn't enough to accelerate Dell's debt paydown, and this puts SecureWorks' assets at risk.
Gross margin decline the salient takeaway from earnings
Here's a look at the quarterly results that prompted the decay in SecureWorks shares: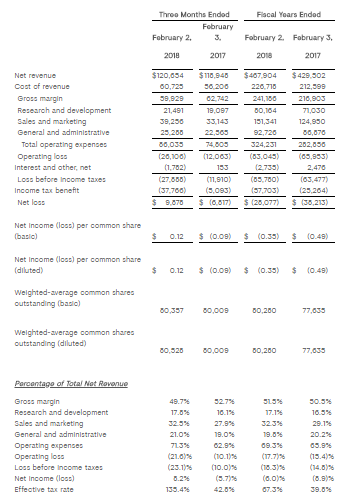 Source: SecureWorks investor relations
On a nominal basis, SecureWorks grew revenues by 1.4% y/y to $120.7 million in the fourth quarter (though the company disclosed that when excluding the impact of a 53-week fiscal year in the year-ago fourth quarter comparison, revenues are actually up 9.7% y/y). This is marginally better than the $117.7 million that analysts were expecting, but the top-line beat was all but ignored as investors digested the blows to profitability.
Notice that SecureWorks' gross margin declined a massive 300bps to 49.7% in 4Q17. With a gross margin now under 50%, SecureWorks is already one of the lowest-margin companies in the software sector. A similar decline in gross margins is what sent shares of Twilio (TWLO), a customer communications-focused PaaS company, spiraling to multi-year lows two quarters ago.
Is the gross margin decline an implicit hint that competition is heating up? SecureWorks has retained its position in the Gartner Magic Quadrant for Managed Security Services in 2018, but more agile and cloud-friendly security vendors have become increasingly popular with IT buyers in recent days.
The dark horse here is Splunk (SPLK), which focuses on extracting insights from machine-generated data. The primary use case for this data has thus far been security-related, but it can also extend to business analytics. Splunk's ~40% growth as it marches to a ~$2 billion run rate has propelled the stock to all-time highs in recent months. Other threats include AI-driven startups like Darktrace, which looks increasingly appealing against "legacy" providers like Dell SecureWorks as it continues to rack up awards.
The gross margin decline has exacerbated a huge profitability drop. Sales and marketing expenses have also leapt up 460bps as a percentage of revenues, despite producing just a modest gain in top-line revenues this quarter. These two negative effects have produced an operating loss of -$26.1 million in 4Q17, more than doubling last year's losses and widening the GAAP operating loss margin to -21.6%, from -10.1% in last year's fourth quarter. We'll ignore GAAP net income here as it includes noise from the Trump tax bill, but SecureWorks' pro forma EPS of -$0.12 also missed analysts' expectations of -$0.08 by a sizable amount.
And looking ahead, the coast looks stormy as well, with this year's guidance of -$0.16 to -$0.20 in pro forma EPS disappointing against Wall Street's expectations of -$0.16, despite a modest beat to top-line guidance.
Cheap valuation doesn't excuse the risks
With 81.773 million shares of SecureWorks currently outstanding (86% of which, as previously mentioned, are controlled by Dell) currently trading at $8 per share, SecureWorks currently has a market cap of $654.2 million. Netting out its clean balance sheet cash of $101.5 million and no debt, SecureWorks currently has an enterprise value of $552.7 million.
Against the company's guidance range of $512-$516 million in revenues for this coming year, that's an EV/FTM revenue multiple of just 1.08x - possibly one of the lowest valuation multiples in the software sector. Yet SecureWorks shouldn't be considered a value play. At its huge ~$500 million scale, it should be producing positive profits - or at least, positive cash flows (OCF for the prior year was essentially breakeven; free cash flow was -$13.1 million). But on the contrary, SecureWorks is slowing down growth while seeing worsening margins - a terrible harbinger for future performance.
And uncertainty over Dell's intentions for its many subsidiaries adds another wrinkle for SecureWorks investors. As it currently stands, I'd steer clear of this name.
This article was written by
With combined experience of covering technology companies on Wall Street and working in Silicon Valley, and serving as an outside adviser to several seed-round startups, Gary Alexander has exposure to many of the themes shaping the industry today. He has been a regular contributor on Seeking Alpha since 2017. He has been quoted in many web publications and his articles are syndicated to company pages in popular trading apps like Robinhood.
Analyst's Disclosure: I/we have no positions in any stocks mentioned, and no plans to initiate any positions within the next 72 hours. I wrote this article myself, and it expresses my own opinions. I am not receiving compensation for it (other than from Seeking Alpha). I have no business relationship with any company whose stock is mentioned in this article.
Seeking Alpha's Disclosure: Past performance is no guarantee of future results. No recommendation or advice is being given as to whether any investment is suitable for a particular investor. Any views or opinions expressed above may not reflect those of Seeking Alpha as a whole. Seeking Alpha is not a licensed securities dealer, broker or US investment adviser or investment bank. Our analysts are third party authors that include both professional investors and individual investors who may not be licensed or certified by any institute or regulatory body.