Alibaba: Where's The Bottom?
Summary
Alibaba has been caught in one storm after another. After reaching a new high above $200 in January, the share price is now back to below where it started 2018.
Beside the pressure from macro headwinds and competition, the stock also suffers from the perennial concern over its accounting and the possibility of interferences from the Chinese government.
The share price is now just above the well-tested multi-month support line at $164.
Could the low end of the analysts' price target prove to be an indication of a bottom as it did in the past?
The Volatile Stock Market Thus Far In 2018
Hangzhou-based Internet titan Alibaba (NYSE:BABA) has been caught in one storm after another. After a triumphant climb to a new price record in January, the stock wobbled before tumbling late in the same month as a rise in the 10-year treasury yield raised concerns that higher interest rates could ensue. In the next few trading sessions, Alibaba lost much of its gains for the year. Still, its performance was still better than that of the popular tech benchmark, the Technology Select Sector SPDR ETF (XLK), whose share price dipped below where it was at the beginning of the year. Subsequently, it managed to recoup some of the losses as sentiment improved in line with the broader market on favorable economic data and a belated response to an upward revision in its FY2018 revenue growth guidance.
Unfortunately, before it could recover to the above $200s level it achieved just a month earlier, Fed chief Jerome Powell's upbeat outlook on the economy and inflation spooked the market in the final trading sessions of February. Amid a flurry of deal-making, including a major investment in its Southeast Asian unit, Alibaba benefited from substantial positive media and analyst coverage and its stock staged another rebound from early March. Just when market players thought all is good, President Trump became the party spoiler with his firing of the first salvo against China with retaliatory tariffs on up to $60 billion in Chinese imports. Alibaba's stock reversed course and turned into a downtrend lasting till today. At this point, its year-to-date ('YTD') gains have all but completely disappeared. In contrast, another benchmark, the First Trust Dow Jones Internet ETF (FDN) still manages to be up 8.8 percent for the year.
First, Decide If Alibaba Is
For You
If you want a sleep-well-at-night ('SWAN') stock, then Alibaba is not for you. It is already bad enough to be regarded as the world's most shorted stock - it would take Alibaba almost two more days than Tesla (TSLA), the most controversial stock by far (at least on Seeking Alpha, judging by the perennial tussle between the bulls and the bears among the contributors and the commenters which regular readers would know), to cover the short interest. It is also frequently singled out and accused by writers (or for the matter, research houses) for various shenanigans. I have, in comments, addressed certain frivolous claims. For some claims which I could offer more substantiation in rebuttals, I did so through published articles. Many savvy readers also contributed their own defense of Alibaba.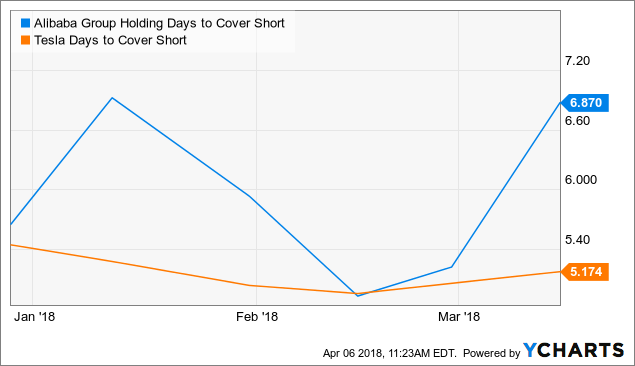 Nevertheless, Alibaba is like a giant octopus with wide tentacles and it is hard for anyone to fully comprehend the entire company. Despite my best efforts in analyzing Alibaba, I admit I still feel like one of those blindfolded men in the describing-the-elephant parable (see the drawing below).
(Source: The Northstar Journal)
Whenever accusations of fraud surface, investors ponder whether there is any truth or just another attempt by short-sellers to talk down the stock. The sophistication of the research done by established outfits like Muddy Waters meant that the allegations could be rather persuasive. No one can confidently say there is absolutely nothing wrong happening if something that appears credible is being brought up, probably not even the insiders at that instance, as the company is simply so big. Hence, until you have derived your own conviction in an investment in Alibaba, it is best to stay on the sidelines, lest you have to let go of your stake in moments of panic-selling when some shareholders decide to adopt a 'sell first and ask questions later' mode resulting in the stock price crashing.
Alibaba Has Been Making Big Moves But Its Share Price Is Not
It is healthy for investors to be skeptical but when you have decided to step into the house that co-founder Jack Ma is building, I suggest paying attention to what the company is doing to maintain its growth. It would be highly concerning if Alibaba keeps producing stellar revenue growth but its news flow has been quiet. I keep myself updated on new initiatives and investments of Alibaba and consider the implications of those on its long-term prospects. When I find there is something worthy to share with fellow Seeking Alpha members, I write about it if time permits. In doing so, I also hope to hear from the community any nuggets of information or thoughts that I might have missed. As such it has been fulfilling and helpful personally to participate in the vibrant comments stream of my prior articles on Alibaba.
Now that I am certain Alibaba is on the right track - actively seeking new markets or strengthening its foothold in less established ones - my attention is turned to its valuation. Despite making great strides in expanding its business influence and customer base in recent months, the share price appreciation of Alibaba remains stubbornly lagging that of Amazon (AMZN). I argued in The Potential Of Alibaba Is Severely Underestimated that the under-shopped Chinese relative to the Americans augurs well for Alibaba. The shopping center floor space per capita in China remains at a paltry 1.8 square feet NLA, a tiny fraction of that in the U.S. (23.5 square feet NLA). In addition, the upscaling of the local consumers is also a major tailwind for Chinese e-commerce firms.
The over 250 comments that ensued following the article provided an excellent sentiment gauge for Alibaba, as readers shared their myriad views regarding the company. As seen from the chart below, the share price movement of Alibaba has been rather stagnant in the past six months while Amazon managed to stay in the positive territory year-to-date despite facing the same stormy market environment and receiving a series of verbal blows from President Trump during the week.
Interestingly, while the share price movement of Alibaba has been disappointing, it is not unexpected. The share price was already fluctuating within a triangle formation since August last year when I wrote the below passage in a mid-December article.
"I drew a rough extrapolation of the 200-day MA into the first quarter of 2018 which shows a good run-up towards the current support-line near $165, limiting the price downside. Should the triangle pattern continues, the share price could head for $200 and higher next year."
Unfortunately, while the share price did breach the $200 psychological level, it was unable to break out of the resistance line and on April 4, it even touched $166.13 at the lowest, just above the support line. Traders have plenty of profits playing the ups and downs but for the longs, it's back to square one again, as if there has been no fundamental progress made since August 2017. All the positivity following yet another highly successful Singles' Day event have all but apparently forgotten.

(Source: Chart from Yahoo Finance, Drawings by ALT Perspective)
Will The Support At $164 Hold?
The share price has rebounded whenever it came near to the support line in the past six dips since August 2017. Given that the prevailing price at $167.52 is only a couple of dollars above the support line at $164, the question is, "will the support hold up again?" After all, the share price had already breached the 200-day moving average, something which had not happened since 2016 April. If the support line doesn't hold, what is the next price level it could fall to? To answer this, I turned to the price targets from Wall Street analysts.
Interestingly, the share price has touched the bottom end of the price target range more often than it has for the consensus price target. The silver lining from this revelation is that the low end of the price target appears to be a rather good indicator of a bottom. Should the share price go below $164, perhaps it could reach for $143, the lowest price target level presently. Note that in the past three occasions when the share price went below the low end of the price target, the target price was not revised downwards. Hence, it's not a case of the tail wagging the dog, which would make the low end of the price target an ineffective indicator of the bottom.
Conclusion
Despite all the negativity surrounding Alibaba and its stock, its fundamentals continue to improve. According to Investopedia, the Piotroski F Score is used to "determine the strength of a firm's financial position" and in turn "determine the best value stocks," with nine being the best and zero being the worst. It is a productive way to rank stocks as the criteria involve profitability; leverage, liquidity, and source of funds; and operating efficiency categories. Alibaba's Piotroski F score has risen to its highest since its listing at 6.0 and is a testament to its improving operating numbers.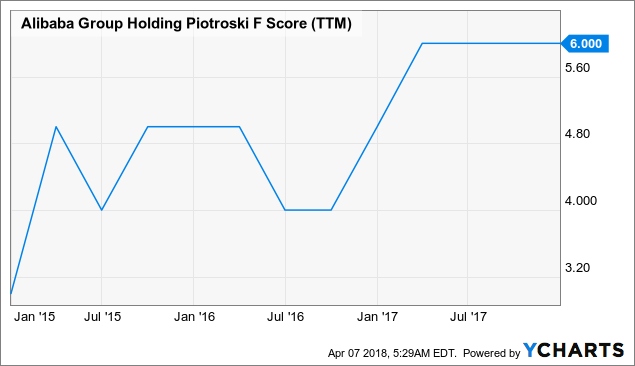 Key common indicators, the Price-to-free-cash-flow (P/FCF) and price/sales (P/S) ratios are near one-year lows. P/FCF is now just 23.4x, compared with 34x just seven months ago. P/S has also fallen to just 12.9x from 18x in September 2017.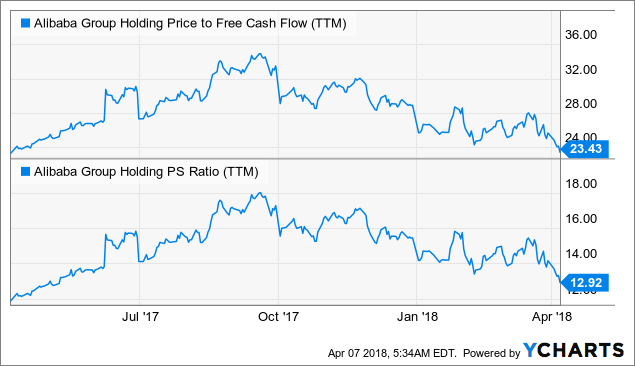 Major Alibaba shareholder SoftBank's (OTCPK:SFTBF)(OTCPK:SFTBY) decision to borrow $8 billion backed by its Alibaba holdings demonstrated its confidence that it would be able to achieve greater returns than if it were to sell the stake outright for cash. It can be argued that the low-interest rate for the loan at 1.5 percent justified the act. However, Naspers (OTCPK:NPSNY)(OTCPK:NPSND)(OTCPK:NAPRF) did not choose to borrow when it needed $10.6 billion recently. It decided to sell a portion of its massive stake in Tencent (OTCPK:TCEHY)(OTCPK:TCTZF). Nasper should be able to obtain similar interest rates if it was to borrow against its holdings in Tencent but it is telling that it chose to part with some of its Tencent ownership for cash instead.
The sustained undervaluation despite the fundamental improvements and the numerous positive strategic moves by Alibaba indicates that the market is perhaps too bearish on its prospects. Concerns that major shareholders such as Alibaba would trim their stakes causing an overhang should now be allayed following Softbank's signal that it would rather borrow against its Alibaba stake than sell any portion of it.
The share price has breached the 200-day moving average and the multi-months support at $164 now appears vulnerable. China has not yet responded to the second salvo of President Trump's trade tariff rhetoric. The sell-down of tech stocks also continues to weigh on Alibaba. If the support does not hold, the low-end of the analysts' price target range (currently at $143) looks to be a credible bottom as the share price had rebounded without fail in the past from there. An entry at this point would be a good risk-reward. Should the trade barbs turn out to be more bark than bite, and Alibaba continues to deliver on its results, investors would stand to profit handsomely.
What's your take? Readers who make a comment will have access to the comment thread indefinitely. Hence, please freely share your thoughts, let me know if you found this article useful, or provide your feedback in the comments section.
Author's Note: Thank you for reading. If you would like a refreshing take on stocks that you own or are interested in, try looking here. Besides US companies, I cover a number of Asian stocks as well. If you wish to be informed of my new ideas via email so that you have time to read them before the articles get locked behind a paywall 10 days from publication, please select "Receive email alerts" when accessing on a desktop computer.
Editor's Note: This article discusses one or more securities that do not trade on a major U.S. exchange. Please be aware of the risks associated with these stocks.
This article was written by
I am honored to have been categorized as a 5-Star financial expert and ranked among the top 2% of financial bloggers on TipRanks in 2017/18. For a period, I was among the top 3 "Opinion Leaders" for Insider Ownership and Services, as well as top 5 for Long Ideas and Fund Holdings. I am an avid reader of market news and company publications with the aim of improving my investment acumen. I enjoy expressing my findings and opinions through writings. My appreciation and understanding of business strategies improved to a whole new level since completing an MBA (Distinction) from a FT100 MBA school. I have worked in companies with businesses that span multiple industries, according me with the exposure to a myriad of sectors.Check out my Author's Picks and over 190 Editor's Picks, among the highest in Seeking Alpha, if not the most.
Analyst's Disclosure: I am/we are long BABA. I wrote this article myself, and it expresses my own opinions. I am not receiving compensation for it (other than from Seeking Alpha). I have no business relationship with any company whose stock is mentioned in this article.

I may initiate a position in Tencent within the next 72 hours.
Seeking Alpha's Disclosure: Past performance is no guarantee of future results. No recommendation or advice is being given as to whether any investment is suitable for a particular investor. Any views or opinions expressed above may not reflect those of Seeking Alpha as a whole. Seeking Alpha is not a licensed securities dealer, broker or US investment adviser or investment bank. Our analysts are third party authors that include both professional investors and individual investors who may not be licensed or certified by any institute or regulatory body.