The share price of refiner Marathon Petroleum (NYSE:MPC) neared a 52-week high last week (see figure) as the revised Renewable Fuel Standard [RFS2] came under renewed attack in Washington D.C. The company's management has been an active participant in the lobbying effort to overhaul the biofuels blending mandate due to the large Renewable Identification Number [RIN] expenditures that it has incurred over the years. Last week's news that the U.S. Environmental Protection Agency [EPA], which oversees the implementation of the mandate, is awarding "hardship exemptions" to a number of merchant refiners that could ultimately reduce their blending obligations has led to a sharp RIN price decline, resulting in reduced RIN expenditure expectations for Marathon Petroleum in 2018.
While 2017 was characterized by a large amount of RIN price volatility even by historical standards (see figure), the average weighted price across the four major price categories was only slightly lower at $0.81 than the previous year's value of $0.85. Between a higher overall blending volume (the total national biofuel volumes that must be blended steadily escalate on an annual basis through 2022) and the company's own need to purchase RINs to make up for its lack of internal blending, Marathon Petroleum's total expenditure amount in 2017 soared to $457 million, or a sizable fraction of its net income of $3.4 billion, from $288 million the previous year. Its annual RIN expenditures, as reported in its 10-K filings, have more than doubled since 2015 and tripled since 2014. Assuming that the company made steady purchases throughout the year to satisfy its deficit (merchant refiners are required to submit a specific number of RINs in proportion to their market share to the EPA every year), then it acquired around 564 million RINs (weighted basis) last year.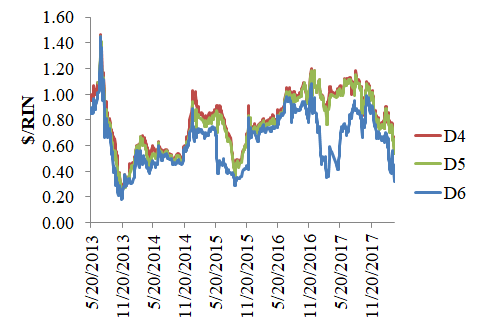 Source: EcoEngineers (2018)
The good news for Marathon Petroleum and its shareholders is that RIN prices have tumbled from their early January levels, let alone the weighted high of $1.04/RIN recorded in 2017. This year, the weighted price has already fallen from $0.76 to $0.40, or a decline of 47%. The average weighted price in 2018 to date of $0.64 signals that the refiners' total expenditures this year could be as much as 20% lower on a YoY basis; as recently as March prices indicated that the decline would be only half of that. In other words, Marathon Petroleum's expected 2018 RIN expenditure amount has been reduced by $45 million over the last month alone.
These figures assume that 2018's average weighted price to date will persist through the rest of the year, which would in turn require RIN prices to rebound in the coming months. Such an outcome cannot be eliminated, especially given past volatility in the RIN market. That said, the management at Marathon Petroleum and other refiners are actively working to ensure that such a rebound does not happen. If these efforts are successful, then the company's 2018 RIN expenditure could end up being much lower still. If the weighted RIN price remains at its current levels until the end of December, then the refiner's total expenditure can be expected to come in as low as $271 million, which would be its lowest amount in three years.
Whether or not Marathon Petroleum's costs under the blending mandate actually fall by almost $300 million this year will depend in large part on the success or failure of the company's lobbying effort in Washington D.C. A fundamental driver of RIN prices is U.S. gasoline consumption, with past price spikes being attributed in part to the mandate requiring a volume of biofuels consumption exceeding 10 vol% of gasoline demand (the so-called "blend wall"). The presence of low gasoline prices since late 2014 has kept RIN prices lower than they would have been otherwise by prompting increased gasoline consumption. The steady increases to annual gasoline demand that have been recorded since 2015 appear to have ended, however: U.S. gasoline consumption fell slightly in 2017 from the previous year, and this January's volume (the most recent month available) was nearly 2% lower on a YoY basis. RIN prices have declined this year despite rather than because of the outlook for blending economics, which is why the lobbying effort will largely determine 2018's expenditure amount.
Marathon Petroleum's main hope for substantially lower RIN expenditures moving forward is one of the myriad RFS2 "reform" efforts that is being pursued by national politicians. Last week's news that the White House is attempting to restart March's failed mediation by President Donald Trump between advocates for biofuel producers and merchant refiners suggests that the EPA's mass awarding of hardship waivers is a negotiating tactic intended to bring the two sides to a compromise. Several of the comments made by Marathon Petroleum's management team during the company's Q4 earnings call in February supported this notion. Chairman and CEO Gary Heminger stated that the company is "very, very involved" with the reform efforts, while President Donald Templin sounded confident that any changes made to the blending mandate would be major, although specific details were not forthcoming:
We have consistently believed that the RFS is broken and we need either significant reform or repeal. MPC has always been focused on a long term solution that in our view permanently addresses all the issues and problems with the RFS...But our view is that you need to have a long term solution. And we're actually, fairly optimistic or optimistic about the legislative efforts that are ongoing in Washington D.C. led by Senator Cornyn and others and we think it will result in a solution that I think has some short term relief but more importantly has a long term solution to RFS eliminating the mandate and allowing our transportation fuels and other transportation fuels to be able to participate in a free market.

...[W]e've actually we've been having dialogue with a number of legislators and I guess we have some perspectives on things that we think will work. They've been - I think they need to make sure that they have a solution that works for the energy industry that works for the corn ethanol industry. So I think there's lots of perspectives that are currently being considered. We are hopeful that we should see legislation in the not too distant future Paul, but I think it's premature for us to try to speculate as to what that will be since a number of legislators are working on that.
Mr. Heminger concluded that he is "fairly confident" that a consensus would be reached "this spring." The weighted RIN price has fallen by 43% since those comments were made. At the same time, however, last week also saw EPA Administrator and noted RFS2 critic Scott Pruitt losing support in the White House after a string of reports of possible ethics violations, injecting additional uncertainty into the reform effort's prospects. While lower RIN expenditures for Marathon Petroleum in 2018 are possible, much must still happen before such an outcome can be considered probable.