If something cannot go on forever, it will stop. Herbert Stein Economist
In the following commentary we review capital market performances around the world in the first quarter of 2018. For a longer term perspective over the past 92 years please see our end of year 2017 commentary.
Asset Class Performance in Q1 2018
Most asset classes began the year with small losses. The exceptions were foreign bonds and gold with 4.4% and 1.7% returns respectively, and real estate with an 8.1% loss.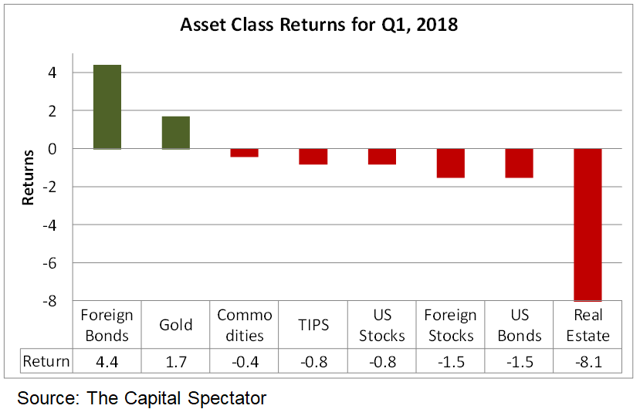 U.S. Stock Market
The U.S. stock market lost 0.8% in the first quarter, breaking a 9-quarter winning streak.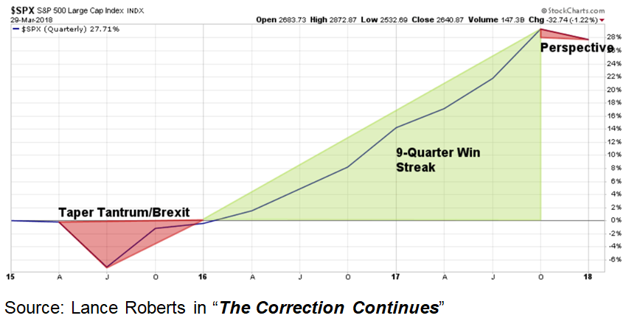 On the style front, value stocks lost 3.6% while growth stocks earned 3.2%, and large companies performed better than smaller companies. We use Surz Style Pure® classifications throughout this commentary.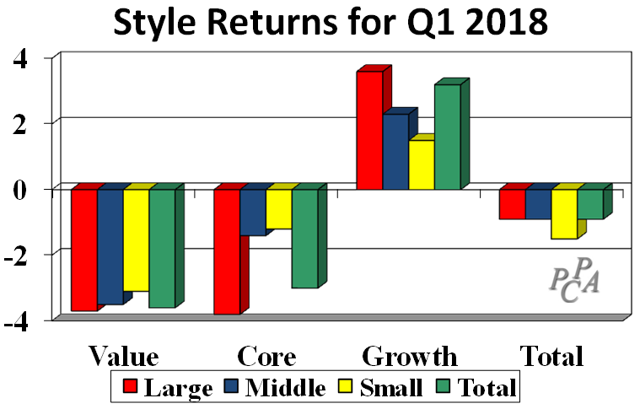 On the sector front, InfoTek and Consumer Discretionary were the only sectors with positive returns.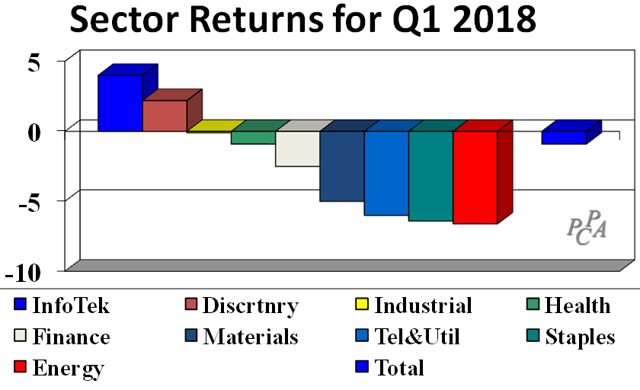 Drilling deeper into US market segments, the following heat map shows performance within style-sector cross-sections, where we see that small-cap growth technology (TECH) and large-cap growth consumer discretionary (DISC) performed best with 12.5% returns, while mid-cap core energy (ENER) stocks lost the most, with a 22.5% loss. There was a wide 35% spread between the best and worst market segments.

Foreign Stock Markets
Looking outside the U.S., foreign markets eked out a 0.4% return, exceeding EAFE's 1.4% loss but lagging the U.S. stock market's 0.8% return. Like the U.S., growth stocks were the best performing.
Latin America dominated with an 8.5% return. Canada was the worst performing country with a 6.5% loss.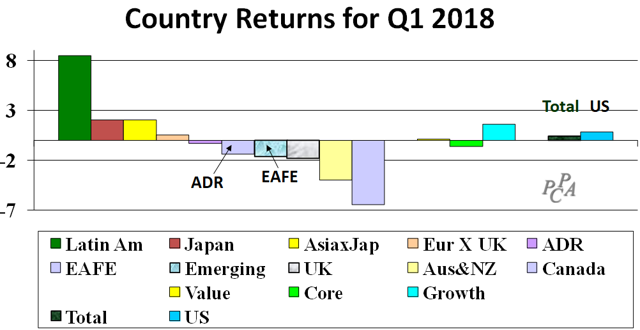 On the style front, growth stocks performed best with a 1.6% return, while core and value stocks suffered minor losses.
Looking in more detail in the following heat maps, the best performing segments were Financials in Latin America and Healthcare in Asia ex Japan (China) with 10.5% returns. The worst performing segment was Healthcare companies in Canada with a 12% loss.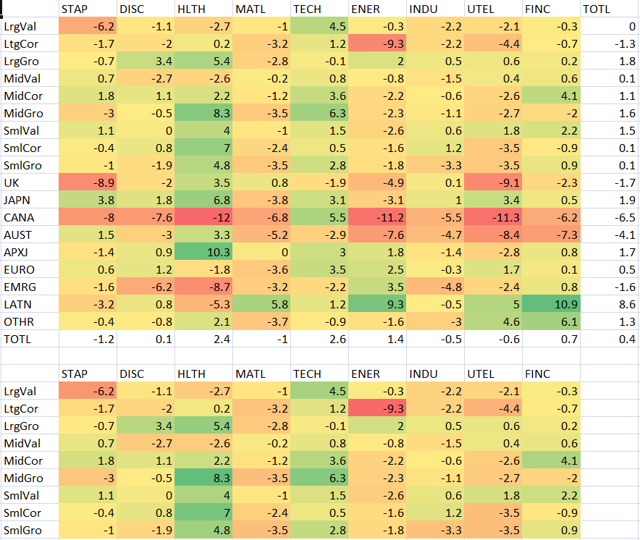 So Far, So Good, Until…
It's easy to slip into a sense of comfort, enjoying the great ride we've had for the past 9 years; so this quarter's minor disappointments should serve as a cautionary alert. Importantly, nothing that bad has happened - yet - but there are bad things lurking on the horizon as reported by the World Economic Forum.
Disclosure: I/we have no positions in any stocks mentioned, and no plans to initiate any positions within the next 72 hours. I wrote this article myself, and it expresses my own opinions. I am not receiving compensation for it. I have no business relationship with any company whose stock is mentioned in this article.
Additional disclosure: I am a sub-advisor of the SMART TDF Index and the originator of the 1st and only Robo Analyst that integrates Age with Risk. Please visit my Blog at seekingalpha.com/...

Age Sage builds better asset allocation models that help Baby Boomers transition through the Risk Zone that spans the 5-10 years before and after retirement. Implementation of these models can be done for less than 6 basis points. Boomers are poised for a sucker punch that they'll never shake off.