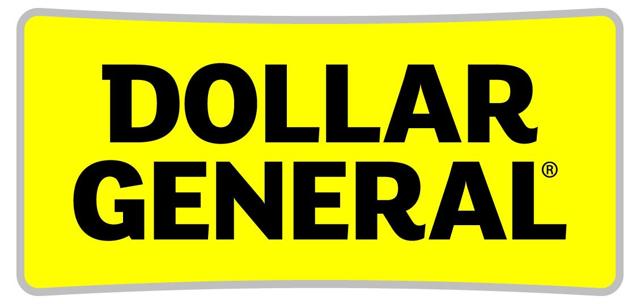 Business Overview And Recent Trends
Dollar General (NYSE:DG) is the largest dollar store chain in the United States in terms of sales, and the second largest after Dollar Tree (NASDAQ:DLTR) if measured by the number of stores operated. I liked this stock when it was trading in the 70s, and mentioned it as a good recession-proof stock pick last May. After almost one year, I am pleased to see the stock up almost 35% and I think it's worth updating my thoughts on the company's prospects and the attractiveness of DG as an investment.
In order to re-assess the company's prospects, it's necessary to understand what the company does and how it competes in its industry.
Dollar General manages small-box stores averaging 7,500 square feet, mainly in the southern, southwestern, midwestern, and eastern United States, in a variety of rural, suburban and urban communities. Unlike many other retailers, Dollar General's value proposition is rather simple - providing a relatively low assortment of highly consumed products at convenient prices. In order to be able to offer products at attractive prices, Dollar General's assortment has a limited depth, while the company maintains direct relationships with its suppliers, which allows them to have a smooth supply chain.
Despite the general weakness in retail brought by the increasing penetration of eCommerce concepts, I think we can expect Dollar general's business to be relatively resilient, and the recent trends seem to be a sound confirmation of that. In fact, after a deceleration that sent comps growth to just 0.8% in 2016, Dollar General's organic growth started to accelerate again in 2017, with comps growing 2.7%, basically in line with the growth reported in 2014 and 2015, with flat gross margins at 30.8%, which suggests growth was not boosted by an increase in promotional activity. On the other side, we did see a moderate contraction in profitability due to higher SG&A, which led to an 80bps contraction in adj. EBIT margin to 8.7% of sales, compared with 9.5% of sales in 2016. The increase in SG&A was primarily a result of increased compensation and additional training for DG's store managers, whose effects should start reverse to reverse after Q1, as the company will anniversary the significant investments of 2017 and start to generate some cost leverage.
An Attractive Business Model
There are several reasons to like Dollar General's business. In particular, there are a few factors worth mentioning that help increase the level of stability in the business, such as:
A low exposure to the negative effects of eCommerce growth. Dollar stores don't seem to be particularly affected by market share loss to eCommerce giants such as Amazon (NASDAQ:AMZN), thanks to the different positioning, the no-frills offering and the scarce advantages that switching to the eCommerce channel would bring to customers. This is helped by the fact that many customers don't want to pay for shipping or for an annual subscription like Amazon Prime. Other customers don't like or can't wait for the goods to be shipped. Others prefer to walk through the aisle of a store and see the products before deciding what to buy.
Long-term growth trajectory. Thanks to the versatility of its business model and customers' increasing preference for cheaper shopping alternatives, Dollar General has been on a long-term growth path for decades, reporting positive comps growth every year since 1990, with growth rates ranging from 0.90% to 15.50%: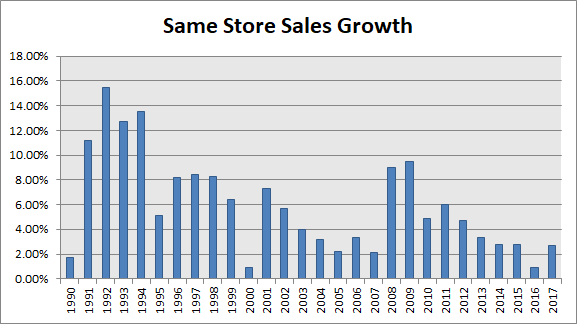 Source: Author's elaboration based on data from filings and sentieo.com

Anticyclical Nature. This is probably the most interesting among Dollar General's characteristics since it significantly decreases the risk of an investment in the stock. Dollar General's business has shown a strong countercyclical nature. Recessions, with the higher unemployment levels they bring, tend to boost Dollar General sales, as consumer behavior changes and people start to be more price-sensitive and in many cases rely on assistance programs such as the SNAP (Supplemental Nutrition Assistance Program). Conversely, comps growth tends to decline when the economy is booming but has always remained in positive territory. It's not a case that same-store sales growth has reached lows in 2000 and 2007, right before the recessions. And it's not a case that they are again at such a low level, with the unemployment rate near 15-year lows. Let me just show you how strong the correlation between same store sales growth and unemployment rates is: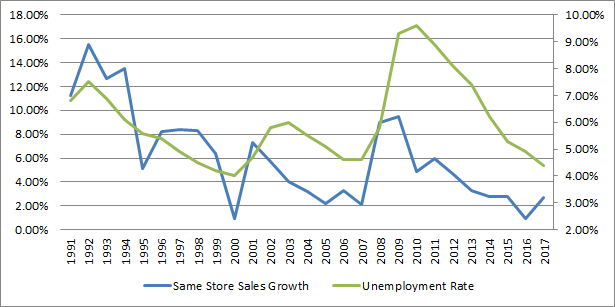 Source: Author's elaboration based on data from filings, sentieo.com and tradingeconomics.com

A Portfolio Insurance Against Economic Downturns
Dollar General was able to grow organically in any market condition, with spikes during economic downturns. The USA has lived almost 10 years without a recession since 2008-2009. While the economy looks in good shape and the unemployment rate contracted further in 2017, temporary downturns are a natural component of every economic trend, even the strongest ones. DG's countercyclical nature, together with the apparent secular growth of the business model despite the concerns of increasing competition from eCommerce players, make this stock an excellent all-weather pick that helps increase stability in a diversified equity portfolio.
The management forecasts a 2.5%-3% growth rate for comps over time, which I think might be even conservative if the country fell into a new recession. Moreover, EBIT margin is expected to expand as well, thanks to the contribution of some SG&A leverage generated by the positive SSS growth: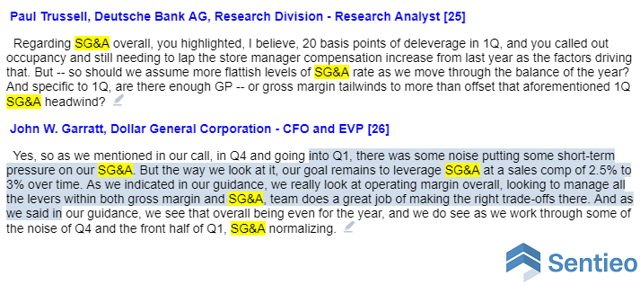 Source: Q4 earnings call

Risks
I mentioned a low exposure to the risks of the increasing penetration of eCommerce and the reasons why Dollar General's business continues to grow. It's also worth mentioning that Dollar General relies heavily on lower-income brackets of the population, which tend to be less willing to shop online than the average consumer. In general, the major risks I see for Dollar General's business at the moment are not on the demand side but rather on the supply side. I guess readers are familiar enough with the "trade war" between the U.S. and China and the numerous import tariffs that have been introduced in the past few weeks, which increase the costs of outsourcing for many companies in the sectors hit by those tariffs. The possibility of a further escalation increases risks for Dollar General and the chances of an increase in COGS, which could hurt gross margin and make the company's products less attractive. The management recognizes the current weight of China as a supplier despite the trials to move some sourcing to other regions with competitive prices:
Final Thoughts
The stock is currently trading at 15-16 times 2018E EPS expectations of $6.07, not an expensive multiple at all, considering the solid growth trends, the anti-cyclical nature of the business and the current valuation multiples in the stock market. With SSS growth in the 2.5%-3% range, 900 new store openings expected in 2018 (which translates into a 6.1% growth in the store fleet) and some moderate EBIT margin expansion, I estimate EPS growth in the 9%-12% range, which would make the current valuation fair at worst and moderately cheap at best.
I think Dollar General remains a good stock to hold in a diversified portfolio thanks to its solid and versatile business model characterized by a significant anti-cyclical component. The company seems to be able to grow in every economic condition, with comps up moderately in a positive year and substantially when a recession occurs. Even the slowdown in 2016, which scared many investors and generated an almost 25% contraction in the stock price, turned out to be a temporary phenomenon, with comps returning to healthy growth rates without any particular push of the side of promotions.
In conclusion, I still think this stock is a good pick in a diversified equity portfolio, as it seems to offer the good combination of growth, stability and a countercyclical component at a price that looks absolutely fair.
Thanks for taking the time to read the article. If you liked it, click on the follow button at the top of the page. You will get my articles as soon as they are published. I am available to further discuss the topics of this article in the comments section. If you are interested in having access to my best long and short ideas in the consumer and tech areas, please consider joining Consumer Alpha. A 2-week free trial is currently available.
Disclosure: I am/we are long DG.
I wrote this article myself, and it expresses my own opinions. I am not receiving compensation for it (other than from Seeking Alpha). I have no business relationship with any company whose stock is mentioned in this article.