Provectus Biopharmaceuticals Is An Opportunity With Great Risk And Great Potential Reward
Summary
Provectus (PVCT) has a oncological immunotherapeutic drug in a Phase 3 trial.
Provectus also has a very promising psoriasis drug with results reported by Professor James G Kreuger of Rockefeller University.
New Management took over a year ago and has made encouraging changes.
None of this is priced into the current market price.
Provectus Biopharmaceuticals, Inc. is an Opportunity with Great Risk and Great Potential Reward
The last time I wrote about Provectus Biopharmaceuticals was over three years ago (Exciting Product Development Developments For Provectus' Lead Drug PV-10 ) so it seems time for an update.
First the good news. Provectus has two major drugs at relatively advanced stages of development: PV-10, a cancer drug, and PH-10, a dermatolgic drug. Both are solutions of Rose Bengal, a dye that has been in therapeutic use in humans for almost a century. Provectus has patent protection for special methods of manufacturing clinically pure Rose Bengal, as well as for its use in therapeutic purposes. You can read about its Intellectual Property here. (Patents).
Four trials are currently being run on PV-10. Two are on its use in treating melanoma. One is a Phase 3 trial: PV-10 vs Chemotherapy or Oncolytic Viral Therapy for Treatment of Locally Advanced Cutaneous Melanoma. This is an international multicenter, open-label, randomized controlled trial (RCT) of single-agent intralesional PV-10 versus systemic chemotherapy or intralesional oncolytic viral therapy to assess treatment of locally advanced cutaneous melanoma. Further information here: (ClinicalTrials.gov )
It should be noted that reaching this stage is already a significant achievement. According to Fdareview.org only 9% of drugs make it to Phase 3. Cancer drugs are particularly difficult. However the published results of the Phase 2 study, available here, show that it was quit effective.
Also, PV-10 in Combination With Pembrolizumab for Treatment of Metastatic Melanoma. This is an international multicenter, open-label, sequential phase study of intralesional (IL) PV-10 in combination with immune checkpoint inhibition. It is being studied together with Keytruda (pembrolizumab) which is owned by Merck (MRK). Similar drugs include Opdivo (nivolumab) that is owned by Bristol Myers-Squibb (BMY). Further information here. (ClinicalTrials.gov). PV-10 has been shown in murine models to have a synergistic effect with several checkpoint inhibitors. See "Efficacy of Intralesional Injection with PV-10 in Combination with Co-Inhibitory Blockade in a Murine Model of Melanoma (Poster). This study also showed that PV-10 enhanced the performance of anti-CTLA4 drugs suchs as Yervoy (ipilimumab), also owned by Bristol Myers-Squibb (BMY) in murine models. Some preliminary results have already been reported: Preliminary Results of a Phase 1b/2 Study of PV-10 and Pembroluzimab in Stage IV Melanoma. (Poster)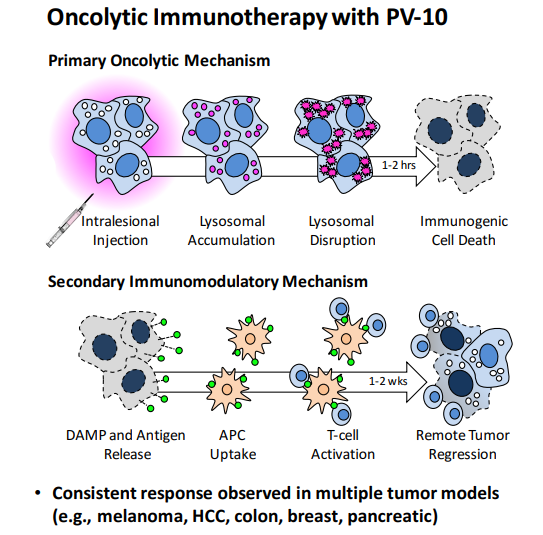 Two more studies are investigating the effectiveness of PV-10 on various tumors of the liver.
One is: A Phase 1 Study of PV-10 Chemoablation of Neuroendocrine Tumours (NET) Metastatic to the Liver. This study is intended to determine the safety, tolerability and reduction of biochemical markers (Chromogranin A or, if deemed appropriate, 5-hydroxyindoleaceticacid) and troublesome symptoms (particularly diarrhea and flushing) of intralesional injection of PV-10 in subjects with NET metastatic to the liver that are not amenable to resection or other potentially curative therapy. Further information here. (ClinicalTrials.gov)
And also: A Study to Assess PV-10 Chemoablation of Cancer of the Liver. This open-label study will evaluate the safety, tolerability, pharmacokinetics and effect on tumor growth following a single intralesional injection of PV-10 in subjects with either (a) hepatocellular carcinoma (HCC) that is not amenable to resection, transplant or other potentially curative therapy or (b) cancer metastatic to the liver. Further information here. (ClinicalTrials.gov) Some good results have been reported: Percutaneous Rose Bengal as an Oncolytic Immunotherapy for Hepatic Metastases ((Poster)
Several Phase 2 studies of PH-10, Provectus' dermatological drug for psoriasis and atopic dermatitis have been completed, but no results have been reported. However recently James G. Krueger of Rockefeller University, one of the leading experts on dermatological diseases, reported the results of a study. Among the results were: "More than 500 disease-related genes were down-regulated after 4 weeks of treatment with PH-10 and expression of a wide-range of central "psoriasis related" genes including IL-23, IL-17, IL-22, S100A7, IL-19, IL-36, and CXCL1 were effectively normalized-treated lesional skin had values in the same range as baseline non-lesional skin." At the end of the poster was: "Conclusions: The results of this study establish that PH-10 has highly significant ability fo modulate psoriatic inflammation, including key cytokine drivers of this disease..." The full poster is available here. (Poster)
There are a lot more published results available here. (Publications)
In sum, this Provectus's representation of its product pipeline: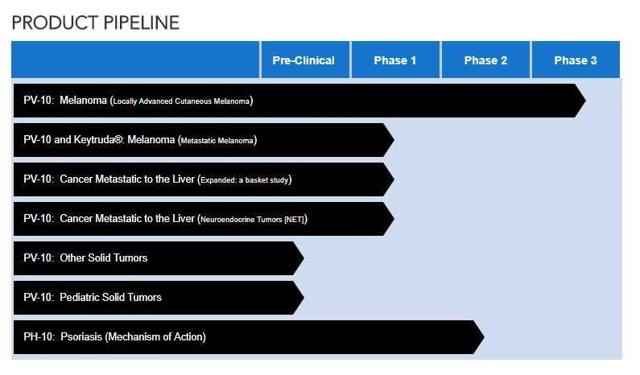 Included in the intellectual property (IP) are several patents that they hold together with Pfizer (PFE). These include recent Patents (9,808,524 and 9,107,887).
If you had never heard of Provectus and you read up to here, you would probably think that Provectus (OTC:PVCT) has a market value of at least $500 million and possibly several times that. You would be probably be shocked to learn that its market value is about $30 million.
Now comes the bad news. Despite its having two exciting drug candidates under development, one for various cancers and one for autoimmune skin diseases, Provectus underwent a near-death experience a year ago from which it has not yet fully recovered, as evidenced by the stock price that languishes at 6-7 cents. During most of its existence as a company, Provectus suffered from grossly incompetent management.
A year ago, this changed.
Nothing that important is to be learned from recounting the details of the past. It is the present and the future that are interesting and investable. Let me say at the outset, that putting money into this company is very risky, but potentially very rewarding. Nonetheless, do not invest any money that you cannot afford to lose.
According to the recent 10-K, filed on March 23, 2018, Note 2 of the Notes to the Consolidated Financial Statements (page 38), " The Company's cash and cash equivalents were $105,504 at December 31, 2017, compared with $1,165,738 at December 31, 2016. The Company continues to incur significant operating losses and management expects that significant on-going operating expenditures will be necessary to successfully implement the Company's business plan and develop and market its products. These circumstances raise substantial doubt about the Company's ability to continue as a going concern..."
Just about a year ago, new management took over the company. A group of shareholders closed a definitive financing with Provectus Biopharmaceuticals, Inc. giving them effective control over the company. The group of shareholders is called the PRH group, where the "P" stands for Ed Pershing, the "R" stands for Dominic Rodrigues, and the "H" stands for Bruce Horowitz. Soon, Mr. Rodrigues was named Chairman of the Board, Mr. Pershing was added as a Board observer and named Chairman of Provectus' renewed Strategic Advisory Board and Mr. Horowitz was named a member of the Board, and also appointed as the Company's chief operations consultant to manage company operations with input and assistance from Mr. Rodrigues. Three of the old board members resigned as part of the agreement.
The members of the PRH group were all accomplished business people of great depth and experience. This information is adapted and excerpted from the company website.
Mr. Rodrigues has finance, corporate development, and leadership experience at various companies including SAIC Venture Capital Corporation, where he was an observer or member of the board of directors of 11 different firms. Before he became part of company management, he blogged about the company for many years (PVCT Blog) and provided very high quality information and analysis. The archive of his blog remains a great source of background information about the company.
Mr. Horowitz was Managing Director of Capital Strategists, LLC, where he focused on corporate strategic planning for and capital markets formation of domestic and international private and public companies.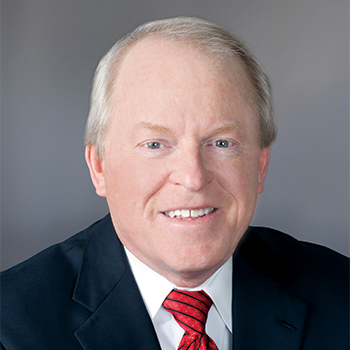 Mr. Pershing is founder of PYA Analytics, one of the leading healthcare accounting and consulting firms in the United States, with offices in Atlanta, Knoxville, Nashville, Kansas City, and Tampa. Under Ed's leadership, PYA achieved national recognition, most recently ranked as the Modern Healthcare 15th largest Healthcare Consulting Firm and INSIDE Public Accounting Top 100 Firm. PYA now has more than 270 employees and five affiliate companies, and serves more than 3500 clients in 48 states.
Mr. Horowitz is Managing Director of Capital Strategists, LLC, where he has focused on corporate strategic planning for and capital markets formation of domestic and international private and public companies.
One of the most significant ways in which the impact of the new management was felt very quickly was in the swift reduction of management and administrative expenses. According to the recent 10-K, G&A expense for 2017 was $5,517,570, while in 2016 it was $16,299,633, a 66% decrease. This is in addition to the new accomplishments discussed below, and this also reflects only 9 months of control by new management. This is indicative of the seriousness and competence of the new management.
Very significant progress has been made in the Phase 3 study since new management took over. In March 2017, there were 9 study sites listed as recruiting, and an additional 2 sites listed as not yet recruiting. In March 2018 there were 21 study sites listed as recruiting, with an additional site listed as not yet recruiting. Moreover, the new sites include sites in France, Germany, Italy and Mexico. Sites in the US include such well-regarded cancer treatment institutions such as M.D. Anderson Cancer Center in Houston Texas, Moffitt Cancer Center and Research Institute, St Luke's University Hospital and Health Network, and other leading centers. There is virtually no chance that institutions like these would participate in the study if it were not a serious and real effort.
On the whole, the new management has been quite shareholder-friendly, arranging a tranche-based financing approach that has so far not diluted current shareholders since they took over. The future is very uncertain. However has so far elected not to talk publicly very much about their plans and expectations. Given the resources detailed above and others not covered in this relatively short presentation, they could very easily do much more to raise the stock price. I hope to give more detail on this in a future article.
Here are some sources for more research. Perhaps the best source is the archive of the blog the Dominique Rodrigues used to run before he took over PVCT. Here it is. (PVCT Blog)
Another good source is the company website.
Also the following company board on Investorvillage: PVCT Provectus Biopharmaceuticals - InvestorVillage
In recent months a patient has reported his experiences undergoing treatment with PV-10. It was summarized here. This material was taken from a melanoma patient discussion board and completely uninfluenced by the company.
Reminding all readers that the company is still very speculative and uncertain, it seems that the potential reward is at least as great as the risk.
The following summary is taken from the company's Letter to Shareholders.
Provectus' approach to drug development is centered around designing clinical studies for success based on science and medicine, rather than supporting the broadest possible label at the outset. The Company has bifurcated its overall clinical development program into two complementary and related paths based on the features of our investigational drugs and their rational applicability and relevancy to different patient populations. In cancer, for example, we believe PV-10 has important implications as a single agent for earlier stages of disease (i.e., Stage III or earlier), while combination of PV-10 with other classes of therapy or therapeutic agent is more appropriate for more advanced stages (i.e., Stage IV). Our ongoing preclinical and clinical work in melanoma, cancers of the liver, pancreatic cancer, and pediatric cancers, as well as our work in inflammatory dermatoses, follows this approach.
The opportunity to bring Provectus' lead investigational drugs for cancer (PV-10) and dermatology (PH-10) to market, and deliver advanced healthcare solutions around the world for unmet medical needs in disease areas affecting tens of millions of patients and their caregivers are exactly why the PRH Group was drawn to the significant challenges of reorganizing, restructuring, and financing this Company. There are no shortcuts to success in biotechnology drug development. The road to regulatory approval and commercial acceptance is long and expensive, and success is never assured. Nevertheless, we are confident that our current Provectus team, together with additions over time, possesses the expertise, technical know-how, experience, and commitment to excellence needed to maximize the value of the Company for the benefit of our shareholders.
Editor's Note: This article covers one or more microcap stocks. Please be aware of the risks associated with these stocks.
This article was written by
M Plaut is a private investor and writer. I have been a full time investor since 2002, and I specialize in energy and financial companies. I have a strong bias for dividend paying stocks but am open to good opportunities wherever they present themselves. I have never worked for anyone else as an investment professional, but so far my personal performance in managing my own money has been ok.
Analyst's Disclosure: I am/we are long PVCT. I wrote this article myself, and it expresses my own opinions. I am not receiving compensation for it (other than from Seeking Alpha). I have no business relationship with any company whose stock is mentioned in this article.
Seeking Alpha's Disclosure: Past performance is no guarantee of future results. No recommendation or advice is being given as to whether any investment is suitable for a particular investor. Any views or opinions expressed above may not reflect those of Seeking Alpha as a whole. Seeking Alpha is not a licensed securities dealer, broker or US investment adviser or investment bank. Our analysts are third party authors that include both professional investors and individual investors who may not be licensed or certified by any institute or regulatory body.