Editor's note: Seeking Alpha is proud to welcome Long Term Wins as a new contributor. It's easy to become a Seeking Alpha contributor and earn money for your best investment ideas. Active contributors also get free access to the SA PRO archive. Click here to find out more »
SiteOne (SITE) was established in 2001 under John Deere, but as of 2014 it is a standalone company. Its market is highly fragmented and SITE commands only 10% market share of this $18B market. Despite its relatively small size, it is 4x larger than the next 10 competitors combined. It has grown and will continue to grow mostly through acquisitions. Since the beginning of 2014, SITE has acquired 24 companies, and management is looking at 250 potential targets.
It is pursuing a roll-up strategy, which has become quite popular especially with the current low level of interest rates. The purpose of a roll-up is to acquire small companies in the same business and extract higher returns through economies of scale. This wouldn't work for a market segment dominated by a few behemoths, but in a highly fragmented industry it can be quite successful if done properly. The risks are overpaying for acquired businesses, not managing them properly to extract the maximum benefits, and pursuing the strategy at an inopportune time such as prior to a recession. It is one thing to try and survive a slowdown in the economy, but if debt is excessive, it becomes much harder.
To help judge how efficiently SITE is being ran, we can look at various matrices -- return on equity, return on assets, and return on invested capital. We don't have enough data going back longer to make a sound conclusion, but so far we can say that the new investments are paying off.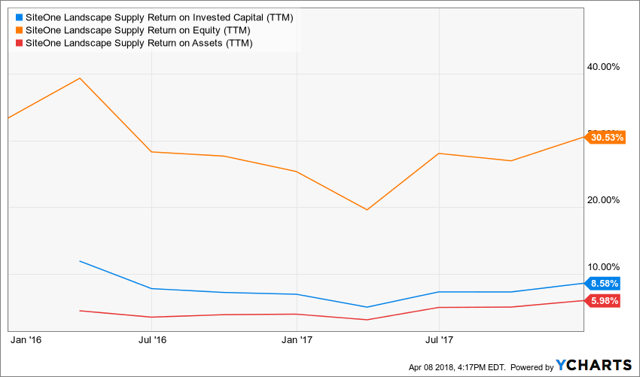 SITE currently has only 3 distribution centers and it is spending money to improve efficiencies. With such an aggressive acquisition strategy, it is important for management to build the necessary infrastructure, both hardware and software, to benefit financially from its larger scale. Management stated its goal is to achieve 10% EBITDA margin, and currently it is at 8.4%, so there is more room for improvement. With major investments planned in its supply chain, the margin should tick higher.
I would place SITE in the same business as Home Depot and Lowe's. All three are dependent on healthy housing market and construction spending in general. Also, having knowledgeable and highly trained sales associates is key to winning business. Lastly, the sheer weight of some of their products make them immune to threats from Amazon (NASDAQ:AMZN) or other online retailers.

You can see that SITE's valuation ratios is higher than that of the 2 giants, but revenue growth has been a lot higher (again due to acquisitions). At the same time, revenue and profitability per employee is high which is important since this is a relatively high-touch business. Lastly, keeping an eye on debt is very important for a business growing through acquisitions.
As expected, its debt level is higher, but I would argue that is not a bad thing at this stage of its growth. If SITE management can find targets (but not overpay for them), it should take full advantage of the low interest rate environment and build an even more dominant business. As a shareholder, I want them to reinvest every dollar either to acquire new businesses or to improve its efficiencies. When asked about the debt level, management stated that they can spend $150-180M on acquisitions/year and not add to the leverage ratio. When pushed a little harder by a UBS analyst on possible threat from other competitors pursuing similar roll-up strategy, management claimed that acquisition prices have been relatively stable with few other bidders.
As I don't expect a recession in the short to intermediate term, I am not worried about their debt level or the growth strategy being pursued. However, I am keeping an eye on their working capital, which increased significantly last quarter. Management attributed it to supply chain changes, including a new distribution center, and a change in customer mix to more commercial customers which have longer term payments. Long term, the key macro variables to watch are new housing starts, strength in home improvement, and commercial construction growth.
So, what is the stock worth? I am somewhat reluctant to put a target price at this stage of its growth. Yes, I can forecast a high growth period 10-15 years out and put a terminal GDP-like growth rate at the end, but at the end of the day my estimates will be very wrong. It is currently trading at $77.40 and its market cap is about $3B. This is the type of stock I will hold for a long time if management is able to continue to reinvest and grow the business. Don't get me wrong, it operates in a cyclical business, so its growth will not be linear.
Disclosure: I am/we are long SITE. I wrote this article myself, and it expresses my own opinions. I am not receiving compensation for it (other than from Seeking Alpha). I have no business relationship with any company whose stock is mentioned in this article.