Boeing (NYSE:BA), Deere (NYSE:DE), and Caterpillar (NYSE:CAT) are three of the most trade sensitive positions on US equity exchanges. Dow Jones components BA and CAT make the 30-company exchange all the more vulnerable to the vicissitudes of tariff regimes and trade wars as investors scurry to make sense of the unfolding drama. They are also three of the most oversold positions to date with each company poised to crash through their respective 200-day trading average as the ebb and flow of proposed and counter proposed tariff regimes streak across the computer screens of investors worldwide. There is little economic reasoning for any of these positions taking the market punishment meted out since reaching peaks in early February - cut short by a presumed sighting of inflation in the back of a 2.9% wage growth post for supervisory and production workers in the January jobs report which happened to be the largest wage growth move since 2009. That the wage growth move was confined to an 18% slice of the labor force didn't fully register among investors until well into the following market week. Meanwhile, the wage growth of the remaining 82% of non-supervisory and non-production workers the labor force remained stuck at 2.42% YOY growth, a level that has shown little upward mobility since 2008.
At the same time, the Trump Administration's first foray into the realms of tariffs came to fruition after being petitioned for relief by two foreign-owned solar panel manufacturers and by Michigan-based Whirlpool over imported washing machines. The market plunged into correction territory on the news for the first time since the early opening days of trading in 2016.
Both GW Bush and Barack Obama made similar tariff decisions early in their respective administrations over EU and South Korean steel and low-end Chinese tires, respectively. Both forays caused more harm than good in terms of domestic jobs lost. Both presidents did not go down the tariff path again and followed the pattern of previous administrations in dealing with international trade conflicts. The Trump Administration has decisively parted ways with this pattern with its proposal of steel and aluminum tariffs in early March. The S&P benchmark has fallen almost 8% from its January high through Friday's market close (6 April).
Figure 1: Boeing against the S&P 500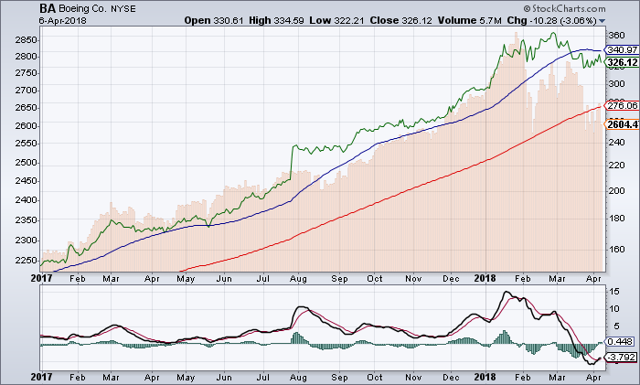 Aircraft sales and their parts are the single largest industrial category of US exports to China, which places BA in the proverbial crosshairs of any trade conflict between the two countries. To date, China's countervailing tariff proposals slapped a 25% tariff planes between 15,000 and 45,000 kilograms that includes older Boeing models China has purchased in years past. The tariff proposal, however, specifically exempts the 737 Max8 which weighs in at just over 45,000 kilograms empty.
It goes without saying that BA is especially vulnerable to a trade fight. About 55% of the company's commercial planes are sold abroad and employs about 141,000 people in the US, about the same number as the entire steel and aluminum sectors combined. That number jumps dramatically when considering BA's suppliers across the country. A full 23% of the company's commercial revenue stream, or $11.911 billion derived from China through the end of 2017. Only the Middle East market at $12.287 billion was a bigger market for the company over the period. China is on track to be the world's largest aviation market by 2022.
BA had a stellar 2017 from just about every measure. Operation earnings through the end of 2017 were up just over 76% YOY even though overall revenues for the company declined slightly by 1.25% to $93.392 billion over the period. The decline was more a function of the delivery schedule of commercial aircraft which now comprises 61% of total revenues. Fewer twin aisle commercial aircraft were delivered which was more than offset by higher deliveries of single aisle aircraft. The company's defense operations delivered fewer C-17 Globemaster, AH-64 Apache helicopters and F-15 Strike Eagle deliveries which limited by government spending under the Budget Control Act (2011), recently lifted by the recently passed $1.3 billion budget deal. A full $400 billion in discretionary spending above the BCA limit is now in force. Roughly $65 billion is slated for the military. Offsetting revenue came from higher spending on weapon systems. EPS for the period posted a $5.90 gain over the period, a gain of just under 77%. Dividends per share were up $0.62 to #3.13/share for a 25% gain YOY. Moving forward, the company's commercial backlog came to $421.345 billion or 86% the total backlog of $488.145 billion through the end of December 2017. The company's share price through the end of December soared 91%, carrying the price-weighted Dow Jones Industrial Averages to its best annual return since 2013. BA has now dipped below its 50-day trading average (blue line, main frame). Market momentum (lower frame) turned sharply to the downside at the turn of the month into March, dropping negative by the middle of the month. After peaking at $363.48 on the 22nd of February, BA has fallen to $326.12 crossing into correction territory at 10.28% down from its most recent market high (Figure 1, above).
Figure 2: Deere against the S&P 500 Benchmark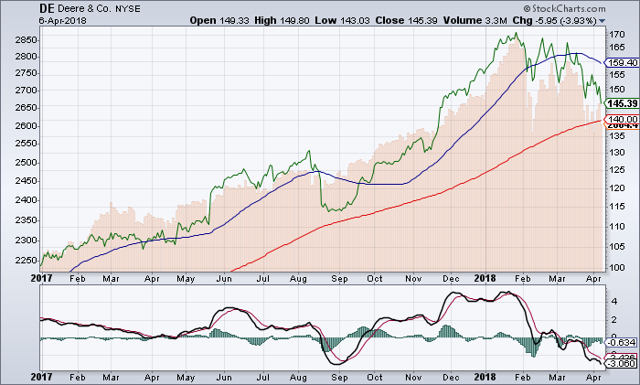 Deere (DE) net sales in its agricultural and turf machines segment rose 18% in the 3-month segment ending 28 January 2018, posting $4.243 billion in comparison with $3.598 billion YOY. The sector represents just over 71% of the company's total revenue stream. Operating profit for the period came to $636 million which was up 51% YOY with the agriculture and turf segment responsible for 61% of the resulting stream.
DE breaks down its revenue stream into two geographic segments: sales inside the US and Canada, and sales outside of North America. Sales outside of North America comprised 42% on $5.974 billion in total sales, or $2.509, with a YOY increase of just over 33% for the period. Operating income on sales outside of North America almost doubled at $146 million as compared with $76 million YOY. The net loss to Deere (DE) through the 1st quarter 2018 came to $965 million through the 1st quarter 2018. On account of the Tax Cuts and Jobs Act (TCJA), the company took a $1.243 billion income tax charge for its equipment operations, offset partially by a credit on its financial operations of $278 million for a $531 million loss or $1.66/share for the period.
DE rode strong market momentum through much of the fall and winter months of 2017-18 before the market correction of early February (lower frame). The stock has yet to recover from the market hit, dipping below its 50-day trading measure in sync with the fall of the greater market. Two market surges followed by successive market dips finally sent the stock below its 50-day trading measure for the duration through Friday's market close (6 April) by the second week in March as the Trump Administration's tariff proposals began to go public. DE fell in close proximity to the S&P benchmark leaving the stock precariously perched above its 200-day trading measure at Friday's market close. For 2017, the stock was up just over 53%. After peaking on the 23rd of January at $171.49, DE has fallen to $145.39 and well into correction territory, down 15.22% from its most recent high (see Figure 2, above).
Figure 3: Caterpillar against the S&P Benchmark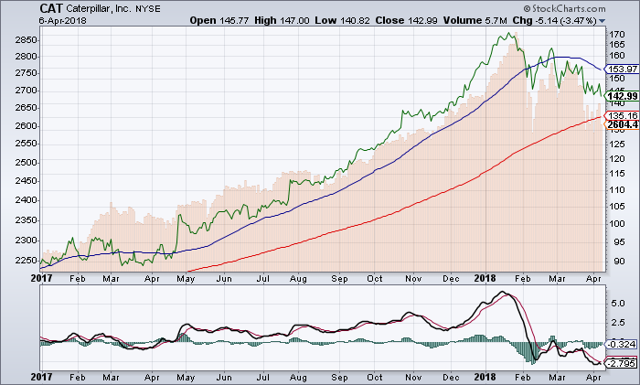 Caterpillar (CAT) was also blessed with a banner year through the end of 2017. Operating profit soared to $4.406 billion, up $3.91 billion YOY and revenue and sale totals tied well into synchronized global growth throughout the period. Global growth, aptly assisted by a weak dollar in world currency markets and price increases across most company segments translated into higher demand for the company's products which drove higher sales volume across all geographic areas. Construction equipment at 45% of total revenue, increased 23% YOY. Energy and transport sales at 37% of total revenues, increased 11% YOY while resource industrial sales meshed with the improving financial health of mining companies, driving sales up 31% for the period. Construction profit came to $3.258 billion, up 97% YOY. Resource industry sector profits came in at $690 million after a $1.047 billion loss in 2016. Meanwhile, energy and transport profits at $2.883 billion were up 30% YOY. Dividends came to $3.10/share for the period, up 1% on 2016.
Geographically, North American sales revenue was up 19% while Latin American sales volume was up 25% for the period. Europe, Asia and the Middle East was up 16% while Asia/Pacific was up 23%. Much of the growth in the Asia/Pacific theater came from China as governmental spending on infrastructure remained strong. Operating profit derived from abroad came to $3.842 billion, or 94% of all operating profit through the end of 2017.
CAT's market performance for the year was equally stellar, up 69% which generated strong market momentum throughout much of the year (lower frame). The stock peaked in the second to last week in January at $179.89, slightly before the S&P benchmark in the first week in February. Since peaking, CAT has fallen 16.33% and except for one poke above its 50-day trading measure in the closing days of February, the stock has continued to fall deeper into correction territory hovering perilously close to its 200-day trading measure through Friday's market close (main frame) in Figure 3, above.
Each of these companies wildly outperformed in 2017. Each appeared to peak in unison with the S&P 500 benchmark before falling in sync with the Benchmark as investors streaked for the exits, thoroughly convinced they had seen the whites of inflation's eyes in the aftermath of January's jobs report. Meanwhile, the first phase of the administration's tariff regime was already in place. Steel and aluminum protection proposals would come roughly a month later, driving market uncertainty skyward. None of these stocks were able to recover fully from the market's correction bid. The second phase of the administration's protectionist regime kept downward price pressure firmly in place. All three issues have been oversold as political, rather than economic, factors dominated - and continue to dominate - market play. Underlying economic fundamentals of each of these issues remains strong, offering up a strong buy signal.